If you are looking for Mediterranean luxury in Paso Robles, California, look no further than the Allegretto Vineyard Resort.
The acclaimed luxury resort, nestled in the heart of Paso Robles wine country, was recently awarded (May 2023) the prestigious AAA 4 Diamond Resort for the 7th consecutive year. This achievement reflects the Allegretto's steadfast commitment to excellence in providing unparalleled hospitality to its guests.
Surrounded by grapevines and olive trees, Allegretto Vineyard Resort in Paso Robles, California, is the ultimate in Mediterranean luxury. Transporting you from the hills of Paso Robles of California's central coast wine country and San Luis Obispo county to a Tuscan villa complete with an abbey, artistic masterpieces, meditation labyrinths, a chapel and an inner piazza courtyard of plants and fountains.
When travelling, Paso Robles hotel offerings are plentiful, but none are like Allegretto Vineyard Resort, created by hotel tycoon Douglas Ayers to represent a 100-200-year-old Mediterranean villa and built to promote wellness, relaxation and an escape from the everyday. It's truly a place of physical, mental and spiritual rest and renewal.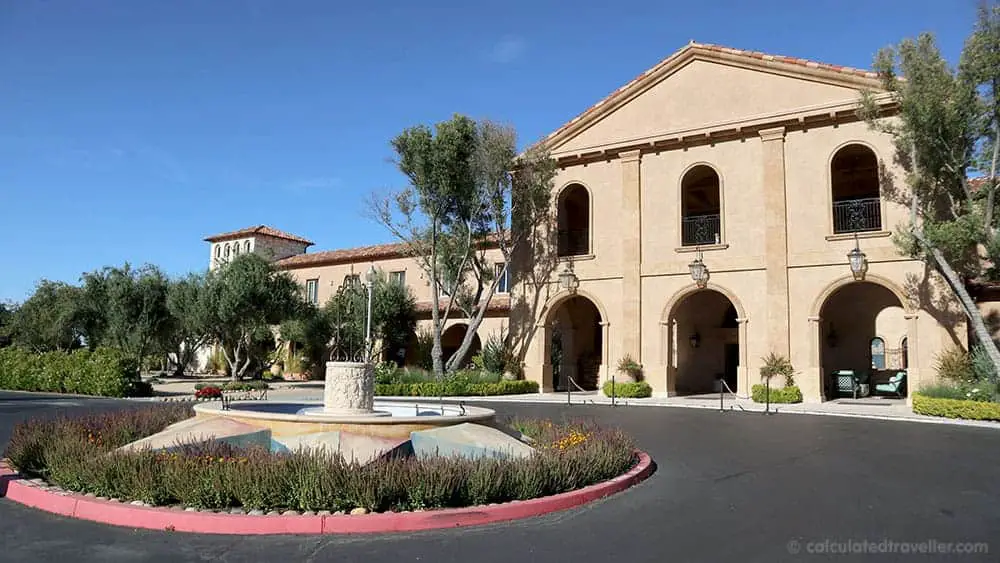 The wine resort features 171 well-appointed guest rooms and suites, onsite dining, a full-service spa, a vineyard, olive oil and wine tasting, and 40,000 square feet of conference and event space.
With a large circular driveway and expansive exterior of plastered arched walls and hanging lanterns, this Tuscan-inspired resort seems slightly out of place across from the chain hotels and fast food restaurants in the area. But its odd location is quickly forgotten once you immerse yourself in the environment after entering the doors that lead to the lobby.
The lobby, with its soaring ceilings and a stunning chandelier overhead, walls of beige sand, roaring fireplace, dark rustic wood, overstuffed leather seating and tile floor underfoot — Brings upon a welcome feeling of belonging and relaxation.
Allegretto Vineyard Resort Paso Robles – Suite 228
Allegretto Resort has several room selections, from 2 queen suites to one-bedroom king-size suites with terraces as well as pet-friendly accommodations.
My room, suite 228, is lushly decorated with rich tones of burgundy, dark wood furnishings and marble counters. At first glance, the room decor feels a little dated since hotels in this part of California typically feature beach tones of beige and aquamarine. But now that I've lived in this environment at the resort, I can't see it decorated any other way.
With two queen size beds, a wardrobe, a desk and chair, luxurious white bedding and pillows galore, it's a very comfortable living space.
The bathroom has a large marble and glass shower, double sinks, a lighted makeup mirror, plush bathrobes, and slippers.
The bar area contained a bar fridge, Keurig coffee maker, and complimentary bottled water.
What's in the room
in-room safe
plush bathrobes and slippers
iron, ironing board
bar fridge
complimentary water
Keurig coffee maker
lighted makeup mirror
Bluetooth radio
power saver lights (lights will only turn off if you have your room key in the slot)
A feature that I appreciated is the sanitized remote control for the tv. I don't recall staying in a hotel that has ever provided a sanitized remote control before, and I've watched tv in a lot of hotels — I love it and wish more hotels did this!
Another thing – and this is going to surprise you, I loved the abundance of light courtesy of the overhead light fixture. All too often, rooms are too dark, with only the bedside table lamps to illuminate the room. Without ample light, it is difficult to get any work done. So, it is a bit of an oddity to provide so much light for a hotel such as this which is more suited for romance, relaxation and enjoyment but a welcome treat for this writer/business traveller with old eyes.
PRO TRAVEL TIP: Allegretto Vineyard Resort is pet friendly!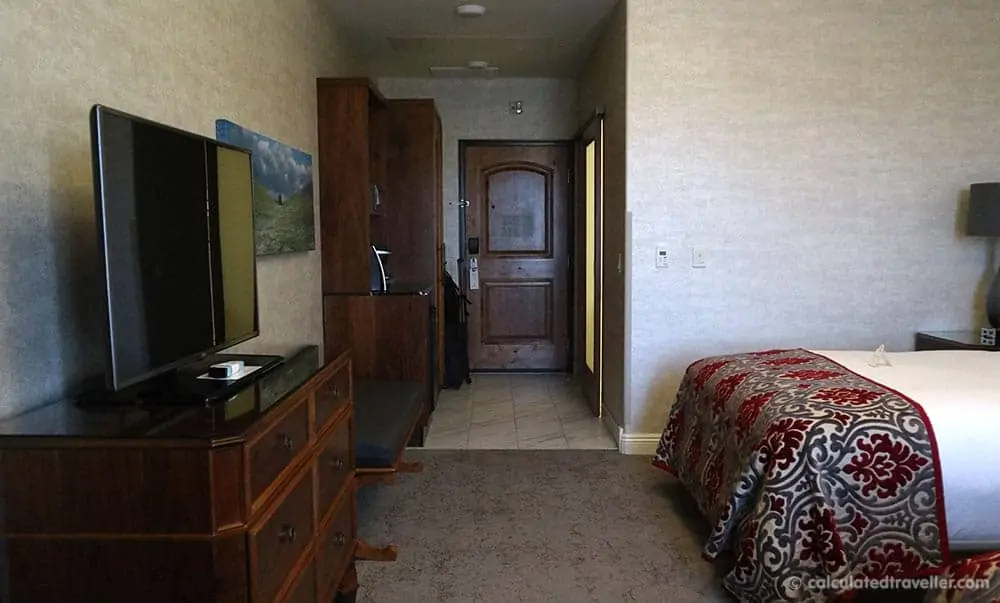 Suite 228 is not without faults, however.
The clocks were set on 24-hour time, and for someone not accustomed to knowing that 18:30 was 6:30 pm, it was a bit troublesome every time I referred to it.
It's a long walk to the elevator when you are dragging a full piece of luggage behind you on the carpet.
The door lacks soundproofing, and I could hear people talking in the hallway as well as music and laughter into the night.
I could not find any recycling bins in the room or on the property.
In reality, my recommendation when staying at Allegretto Hotel is that you don't spend too much time in your room; the entire property is yours to explore, enjoy, relax, and refresh in.
The staff is impeccable; everyone from the valet, registration desk, and service staff was very friendly and always made us feel welcome and appreciated.
Dining is available in the room or in Cello Ristorante and Bar – dining indoors or al fresco on the patio.
We had the opportunity to enjoy the breakfast buffet on the patio with a nice assortment of pastries, fruit, yogurt, eggs, roasted potatoes, bacon, maple sausage and a specialty dish of the day. If the breakfast buffet is not to your liking, there is also a selection of breakfast items on the menu and, of course, freshly squeezed orange juice or grapefruit juice.
The star of Allegretto Vineyard Resorts is the property itself.
Better explained in photos, I shall share what I saw with my eyes and camera below. But the images do not do this resort justice as Allegretto is best when experienced.
The calm of sitting in the chapel of Abbaye de Lerins, watching the sunlight as it shines through the stained glass window creating a kaleidoscope of light on the Madonna.
The peace when walking the Sonic Labyrinth as the motion-activated sound guides your mind to a meditative state.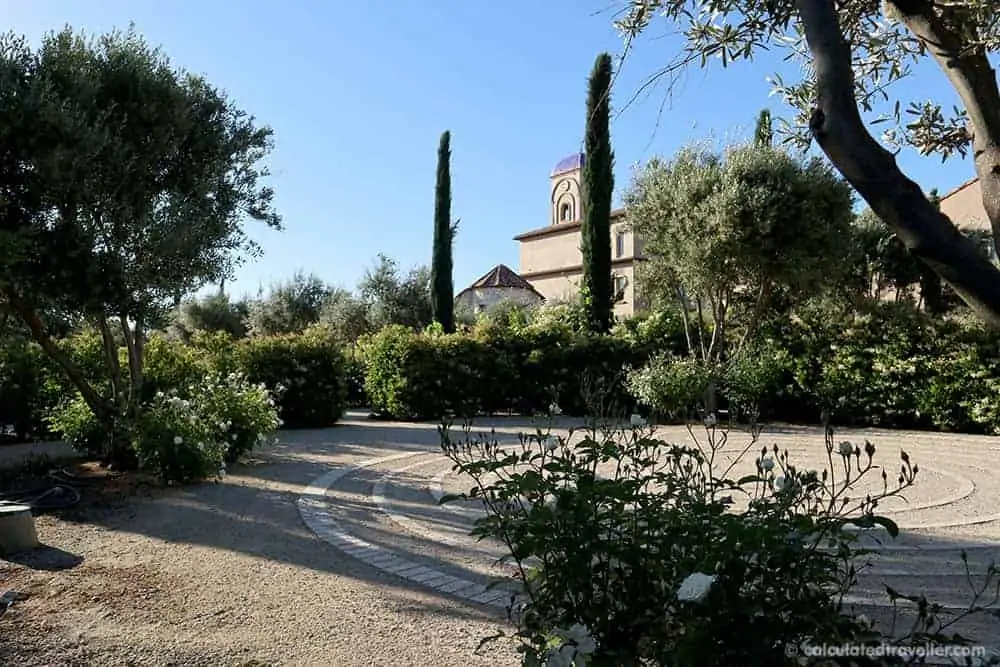 The rejuvenation of your body as you swim in the full-size heated saline outdoor Fontainebleau Pool nestled with a view of the grapevines of the vineyard or exercise in the well-equipped fitness room with the same (albeit wallpaper) view.
The pampering as you destress with a relaxing treatment at the Allegretto Spa.
The romance of a stroll through the gardens and discovering that perfect spot to sit hand in hand, enjoying each other's company and perhaps a glass of wine.
A private gastronomic affair in the Murano Private Dining Room or perhaps an exclusive tasting of Allegretto Wines in the Willow Creek Tasting Lounge. From brilliant white wines, such as the Duetto or Chardonnay, to bold red wines like Malbec, Tannat, and Cabernet Sauvignon, guests sample the pure passion of crafting collectible wines. 
– Read our article Tasting Paso Robles California Wine Country, where we suggest some other fine vineyards in the area.
The camaraderie as you enjoy the company of friends, both new and old, over a mid-morning cup of coffee in the Piazza Magica courtyard.
The enlightenment you feel as you explore Allegretto Vineyard Resort, full of exquisite sculptures, artwork, furnishings, and antiquities found around each corner and personally chosen by Douglas Ayers himself. Learning about the history, symbolism, and artist of each item via the detailed signage next to each work of art.
The marvel you feel as you examine the many rings that circle the giant slice of the Sequoia tree that fills the room of the aptly named Sequoia Library. Imagine the tree's memory and over 2,000-year life history as it was alive during the time of Christ's birth, the building of the Great Wall of China, and the beginning of the Roman Empire until it was cut down in the 1950s. This section is taken from 100ft up in the air – one can only imagine the size of the circumference of its trunk at ground level.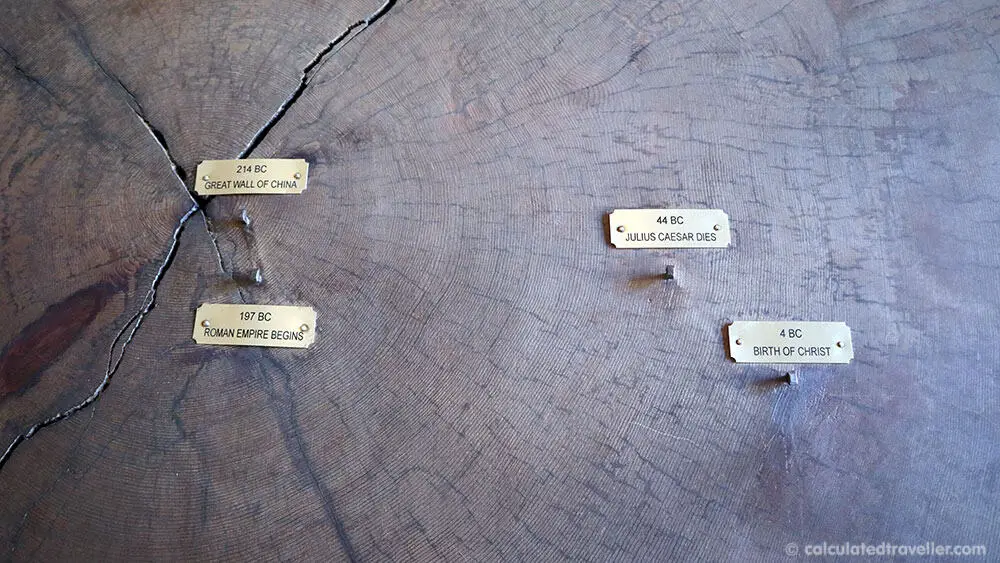 The warmth of the fire as you end your day, warming your body and your soul, only to return to your suite to nestle under the plush covers of your bed and dream of another day and another fantastic experience at Allegretto Vineyards Resort.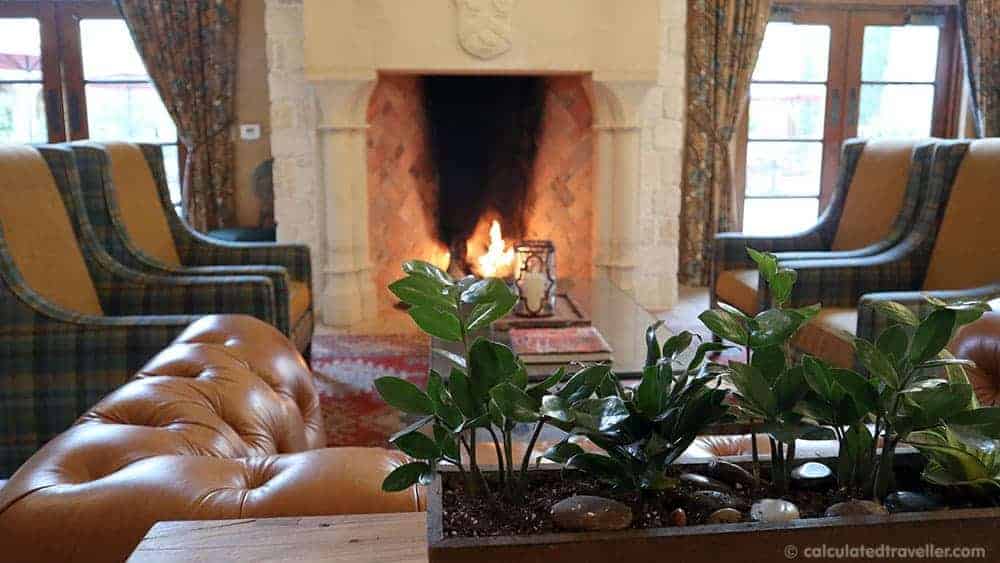 Have you visited Allegretto Vineyards Resort before? Share your experience with us below.
Allegretto Vineyard Resort by Ayres
2700 Buena Vista Drive, Paso Robles, California
Click here for more Allegretto Vineyard Resort reviews
Looking for a California Beach Destination? Check out our article here.
For more hotel reviews in California, check out:
– A Pismo Beach, California, stay at the Inn at the Pier
– Hilton Anaheim Convention Hotel for Work and Play
For attractions in the area:
Travel Assistance was provided by Visit California and Visit Paso Robles, who did not review or approve of this article before publication. All opinions are entirely my own.