I always take a package of baby wipes when travelling; they are helpful for a multitude of things not involving babies (or, in my case, great for BIG babies).
In fact, baby wipes are such practical portable pieces of travel gear that I keep smaller-sized pocket baby wipes packages in my purse for daily use at home! It's one of my biggest expert home tips!
I use Cottonelle Flushable Clean Cloths, but there are many brands/products on the market. However, a critical piece of advice is to please be a considerate traveller and double-check that the brand of baby wipes you are packing in your bags are genuine travel flushable wipes. Also, it's good to ensure that the plumbing can handle them before you well, um, flush.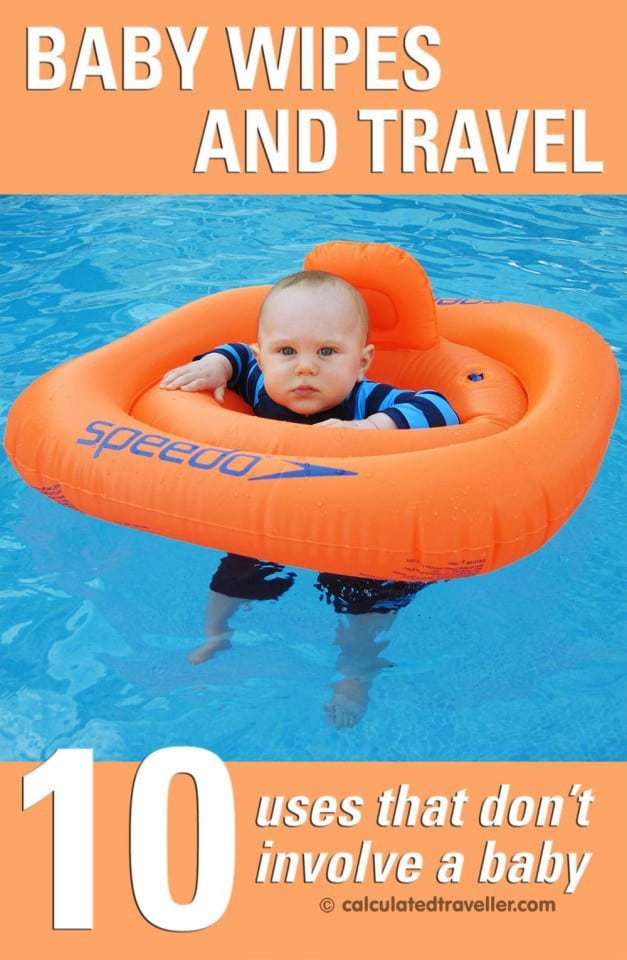 My 10 Favourite Uses for Baby Wipes For Travelling
Baby wipes are great for obvious uses like cleaning dirty, sticky fingers (whether your kids' or your own). Bonus if you got your fingers sticky eating barbecue ribs on a picnic in July.
Did you miss the Calculated Traveller tip about bleach wipes? Baby wipes are better than nothing…
No soap in the restroom, and you forgot/ran out of hand sanitizer? Travel baby wet wipes to the rescue!
Wet wipes are perfect for wiping your hands after you've put on another layer of sunscreen—I hate that sticky feeling of sunscreen on the palms of my hands. Travel size wipes also work well to remove sand from your feet; no more walking with sand in your shoes!
Have you been hit with a gastrointestinal bug? Use the travel toilet wipes for what they were initially intended for. Keep flushable wipes travel packs in your purse.
Baby wipes are great for wiping down the toilet seat in public restrooms. (see #5 above)
Use baby wipes for a quick wipe down to freshen up after a long flight.
Keep your travel wet wipes in the fridge/cooler bag, and they are perfect for a refreshing cool down after a hot day.
Use baby travel wipes when there is no shower available when camping or beaching. Bonus points if you did #8 and put them in your cooler first.
Baby wipes double as a makeup remover if you are trying to pack light.
Another point, I usually like to be environmental, and I'm sure you do too.
I find those hard plastic baby wipes travel cases that you can refill as an annoyance when travelling. They aren't compact, are heavier than the resealable travel packages, they don't stay sealed, and the baby wipes dry up. Instead, I like to buy a larger tub of Cottonelle travel wipes and put some in a resealable zip-lock bag.
Using baby wipes is also great for those with sensitive skin! Whether you're using one to remove makeup, wipe over a steering wheel, or just as a quick fix, you needn't worry about your hands or skin reacting poorly to the ingredients since they are formulated for newborn baby skin.
You can also find that baby wipes can clean more than just your skin. When travelling, you may find that you've accidentally packed a dark shirt with deodorant marks. Never fear; baby wipes can be used as a stain remover (they've even been used to remove hair dye stains)! Just a quick clean, and you should be ready to go. The same goes for leather shoes. While I wouldn't recommend using baby wipes to clean your leather shoes all the time, if you're travelling and got your shoes dirty by accident, baby wipes clean in a pinch.
Can you fly with baby wipes and take wet wipes on a plane?
Absolutely, I do it all the time! So raid that diaper bag and take those baby wipes travelling today!
Don't forget to read:
– Top 10 Tips for Flying With a Toddler
– 5 Preparation Tips for the Smart Traveller
– The Benefits of Amazon Prime when Travelling. Membership has Rewards
Do you have any other baby wipe uses to share?