Known for its heritage murals and an award-winning fiddler/step dancer by the name of April Verch, Pembroke Ontario's present certainly does complement its long and eventful past. Located in the picturesque Upper Ottawa Valley of Renfrew County within Ontario's Highlands, Pembroke is a city full of surprises.
Roadtripping from Toronto to Pembroke on my way to Ottawa for a conference, I did not research or make a plan for what to see and do in the area before my visit. I'm not sure what I was expecting. Certainly not this!
Drive Time
Pembroke Ontario to Toronto = approximately 4 hours
Pembroke Ontario to Ottawa = approximately 1.5 hours

Initially known as Miramichi, Pembroke's growing lumber industry appealed to numerous European settlers, the first being Daniel Waters in 1823. Located at the junction of the Muskrat River and the Ottawa River, Pembroke was incorporated as a town in 1878 and as a city in 1971. This confluence and proximity to Canada's capital city of Ottawa is what led to an increase in the flow of civil servants, money and construction which, in turn, set the stage for what Pembroke is today.
The estimated population of Pembroke Ontario is 15,000.
As of today, forestry and farming form vital aspects of the economy just as they have historically. The timber industry also serves Pembroke well. With local timber products including lumber, plywood, veneer, hydro poles and fibreboard. Due to her accessible location on the Trans-Canada highway, Pembroke attracts copious tourists who seek to indulge themselves in the feeling of oneness with the spirit of history, cuisine and nature.
Pembroke Ontario Surprise #1 – The Heritage Murals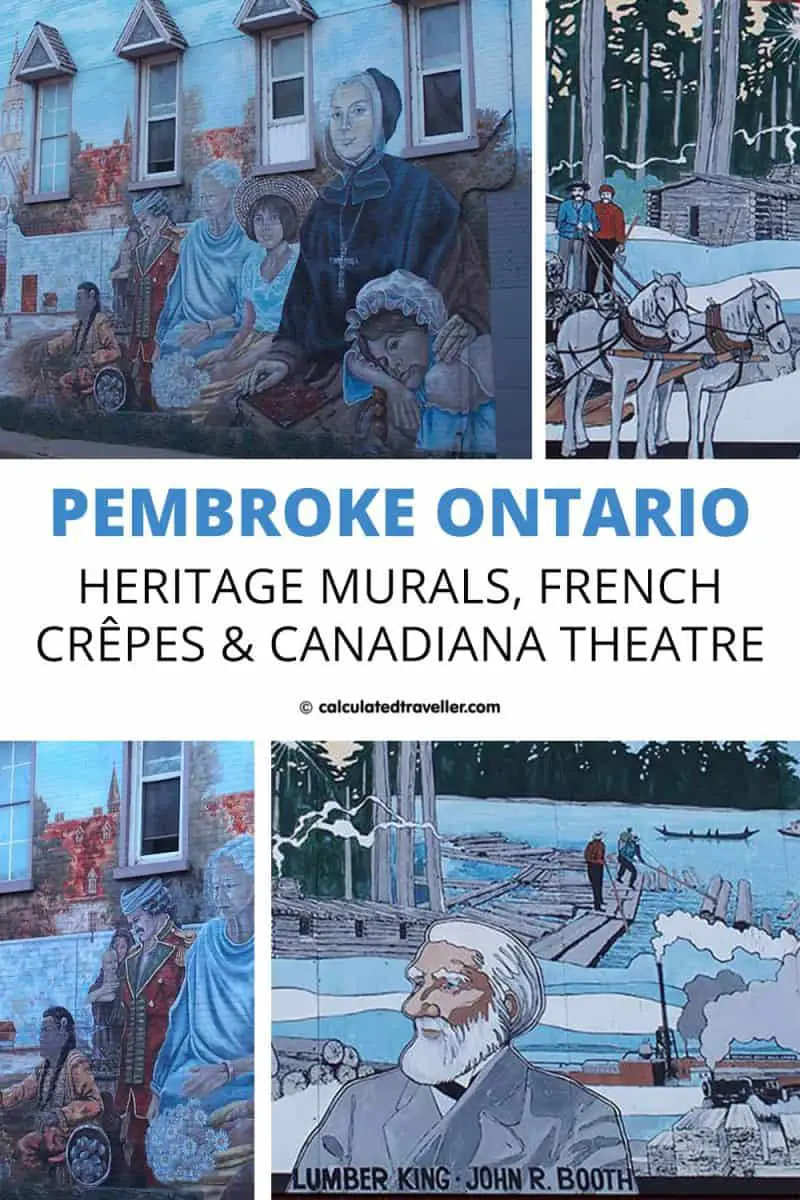 I'm a massive fan of street art and always have my eyes on the lookout for some great examples, be it a random tag on a wall or a piece of art commissioned by the city.
People always think of large, populated cities such as New York, Los Angeles, or Toronto as the only places to find urban art. The more I travel, the more I've confirmed that this is not true – especially in the case of the City of Pembroke.
I had no idea that there was going to be so many great examples on the walls of the buildings throughout the downtown area until we pulled into the public parking lot and saw our car surrounded by fine examples.
Sadly, we didn't have the time to see each one of the 30 plus full-scale Heritage Murals that are scattered throughout the downtown core.
To follow are a few examples.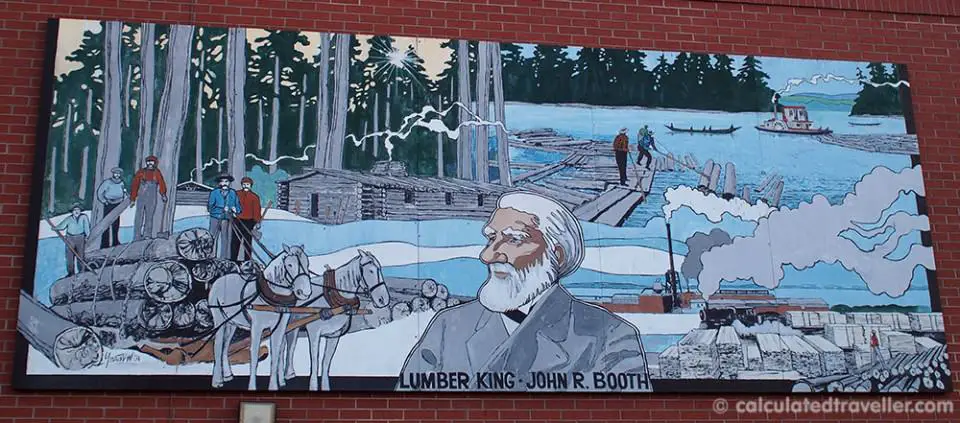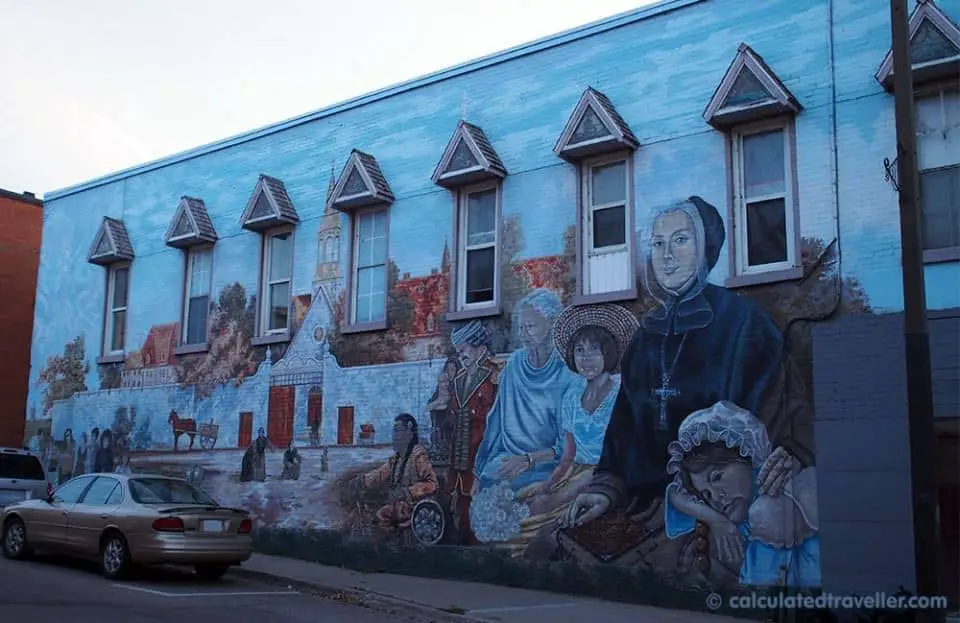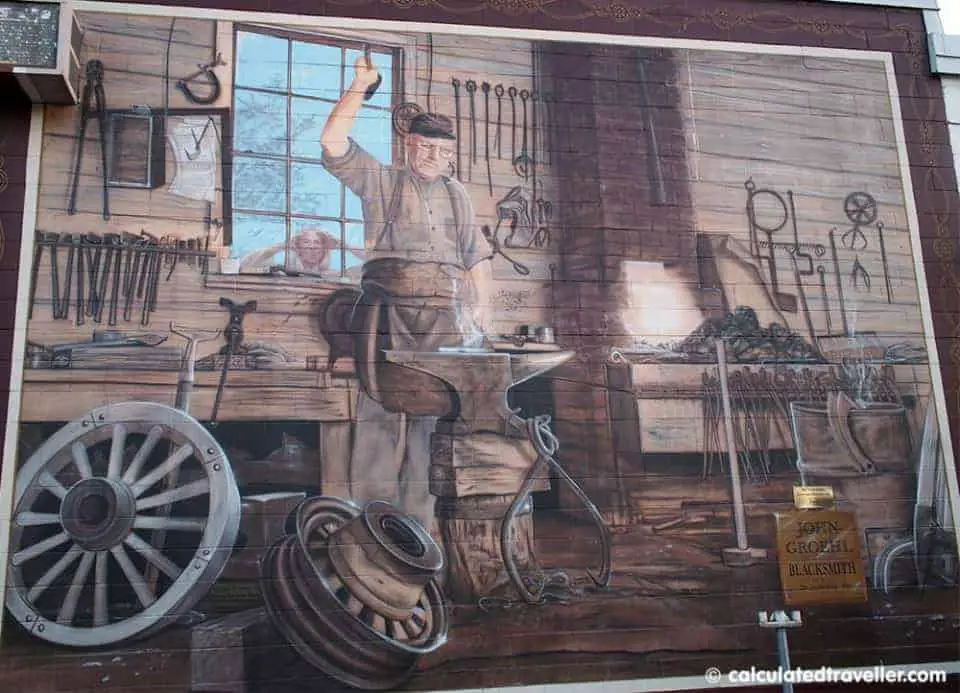 Surprise #2 – French Crêpes
A Parisian French Crêpe Restaurant in a small town like Pembroke Ontario?
Mais Oui!
The Nook Crepêrie Inc.
26 Pembroke St W, Pembroke, Ontario
We didn't have reservations and were lucky to find a table. For a Tuesday night, we were surprised that the restaurant was as busy as it was.
Here's what we ate at The Nook Crêperie: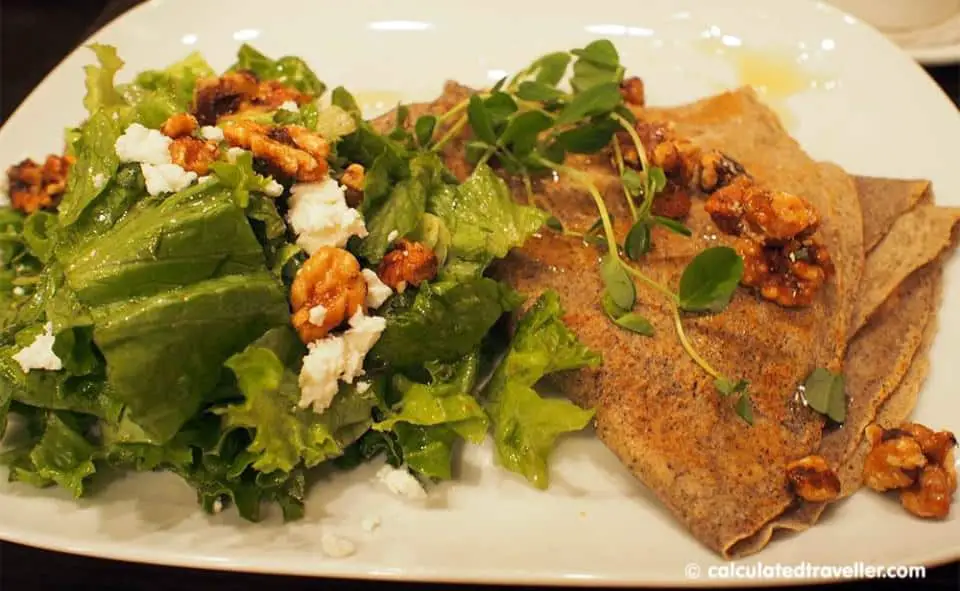 Custom Crêpe – $14.99
What I loved is that they were very willing to make alterations to their menu and make my crêpe gluten and lactose- free. My crêpe was filled with goat cheese and topped with the same dressing as the salad.
Nook Salad: A fresh green leaf lettuce salad tossed in a homemade white-wine and herbes-de-Provence vinaigrette. It is topped with goat cheese and crunchy honey-roasted walnuts.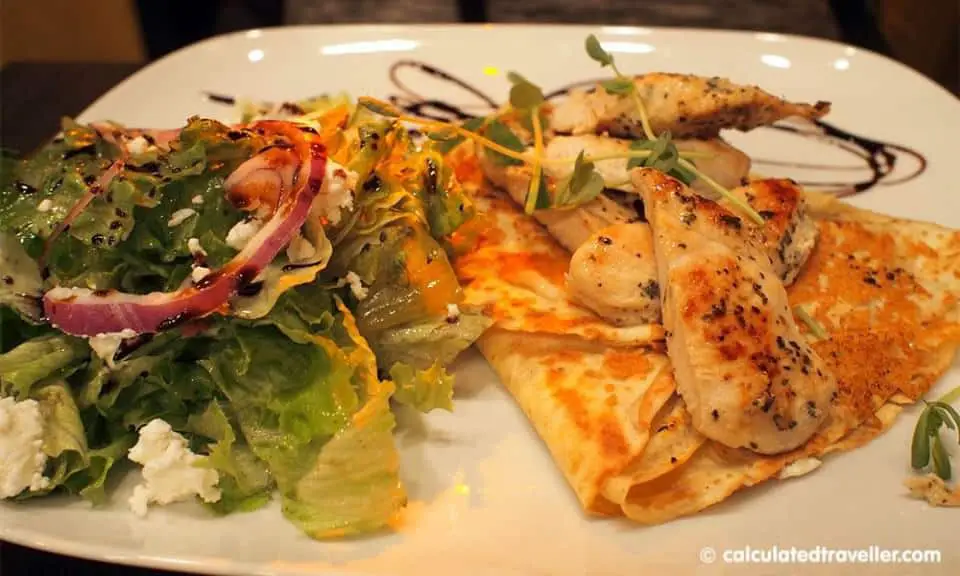 Provencale – $15.99
Savoury crêpe filled with French Gruyère cheese, mozzarella and imported herbes-de-Provence with chicken.
Salade Modena: A crisp green leaf lettuce salad is tossed with a homemade vinaigrette made with reduced balsamic vinegar, garlic, basil and olive oil. It's topped with red onion and goat cheese.
Crêpe Suzette – $10.49
Sweet crêpe smothered with homemade orange and Grand Marnier liqueur caramel. Flambéed with Brandy and served à la mode.
Fandango – $9.99
A sweet crêpe rolled up with dark and milk Lindt chocolate and pecans inside and topped with a drizzle of caramel and chocolate sauce. It is served à la mode.
If you didn't stop at the Nook for dinner, do make time to stop in for dessert.
Surprise #3 – Stone Fence Theatre
I was utterly unaware that musical comedy theatre was quite popular here in Ottawa Valley until I saw a performance by the Stone Fence Theatre.
According to their website:
"Stone Fence Theatre is a non-profit charity founded in October 2002 dedicated to cultural, heritage and economic development in the Ottawa Valley. We are based in Killaloe, Ontario, although we have performed in many places around the Ottawa Valley and have no permanent home yet."
If you visit the Ottawa Valley and want to laugh some down-home Canadiana comedy, put on your "Canadian Dinner Jacket" (plaid flannel shirt) or a "Canadian Tuxedo" (denim top and denim pants) and drop by for a show eh? You're sure to have a G' day, eh!
Additional Things to Do in Pembroke, Ontario
For those who like their vacations with a touch of adventure and adrenaline, Pembroke also offers some fantastic river-rafting services where one can speed along the Ottawa river.
Pembroke also hosts an annual Old Time Fiddling and Step Dancing Festival, which happens during the Labour Day weekend at Riverside Park. This festival is one of the most important events of the city as people from all over the region flock each year to join in on the toe-tapping fun.
Heritage murals, French crepes and Canadian Musical Theatre – 3 things I didn't know I would find in Pembroke Ontario!
Small town Ontario, Canada as a travel destination is starting to become habitual for me lately as I've been yearning to explore more of my home country via mini road trip adventures. You never know what surprises you'll uncover with just the cost of one tank of gas.
---
In case you missed it, on this same road trip north of Toronto, I visited Wilno Ontario and made a few discoveries there too – see the article: A Journey of Discoveries in Wilno Ontario
If you are road-tripping to the Canadian Capital of Ottawa, you may enjoy this article: Family-Friendly Ottawa with Kids
Ontario's Highlands Tourism provided travel assistance. As always, the opinions expressed in this post are my own.