Our first "sighting" of Playa del Carmen, Mexico was from our cruise ship balcony while docked on the island of Cozumel when we noticed that a lot of passengers were choosing to take the ferry over to the mainland since there was more to see and do there versus staying on the island.
With idyllic sandy beaches, warm sunshine, multiple Mayan ruin sites to tour and a plethora of fun eco-adventure activities, we knew that Playa del Carmen (PDC) wasn't going to be a single cruise ship port day for us. Playa del Carmen is definitely a town where one day is not enough.
A plan for an extensive exploration of Playa del Carmen quickly went on our travel wish list and this past winter we checked it off the list with a fabulous week exploring the town, Riviera Maya and the surrounding area.
Go Local and use Public Transport in Playa del Carmen.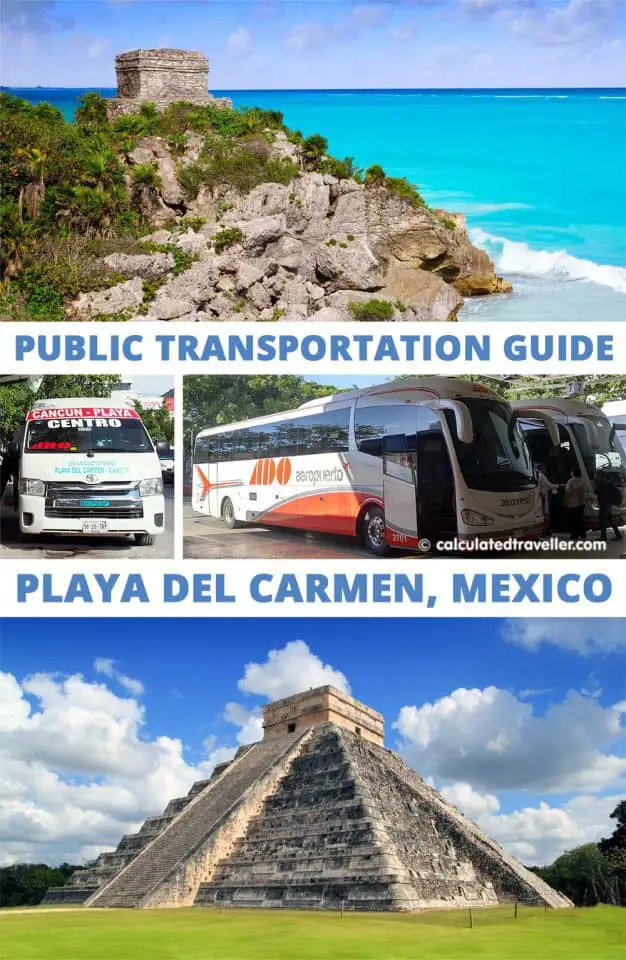 Our travel preference to keep costs in Mexico low is to utilise the various forms of public transportation options. We typically do this whenever we travel if possible.
We are always happy to ride the bus with locals and share a glimpse of their daily activities, and often ask fellow passengers for advice on fabulous places to eat, where to shop, and where to relax.
PRO TRAVEL TIP: As usual, use a reasonable amount of precaution and common sense for your safety while riding any form of public transportation. Taxis are always the best option if you are out late into the evening.
Travelling within Downtown Playa del Carmen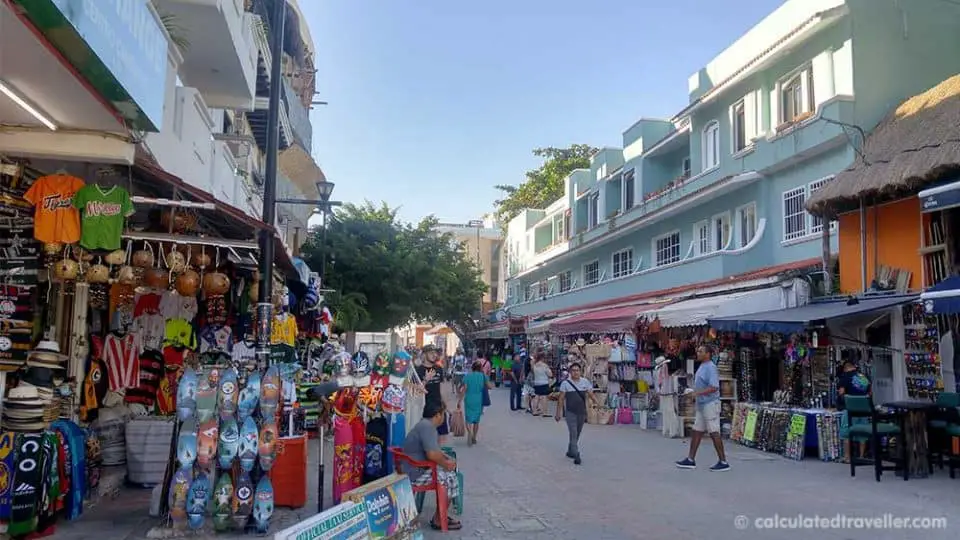 Although taxis are readily available, downtown PDC is a very pedestrian-friendly for walking and biking with streets for pedestrian-only traffic and designated bike lanes indicated.
Travelling outside Downtown Playa del Carmen
For trips outside of the downtown core of Playa del Carmen, you have an option to use buses and Colectivos (shared minivans). Both are good transportation options for day trips such as a visit to the famous Chichen Itza or Tulum ruins, Xcaret Park, Xel-Ha Park, Akumal, Cancun or other nearby resort properties.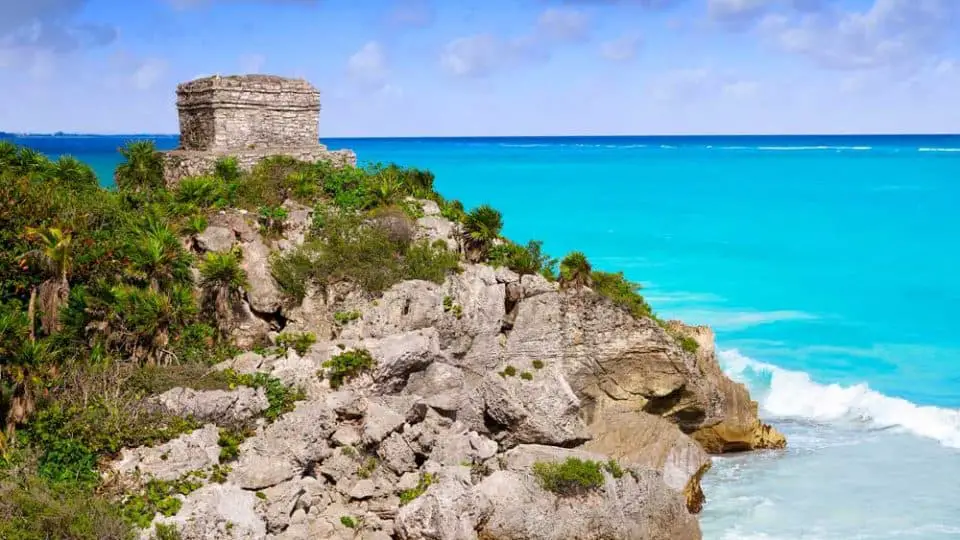 We generally found PDC public transportation to be affordable, convenient, well organised, efficient, and safe for all our daily adventures.
Described below are some of the various PDC public transportation choices for visitors in the Playa del Carmen, Cancun or Tulum areas of Mexico.
Note: There are additional public bus routes, which we did not use, as they appeared to travel into more local neighbourhoods.
Airport Transportation to Playa del Carmen from Cancun Airport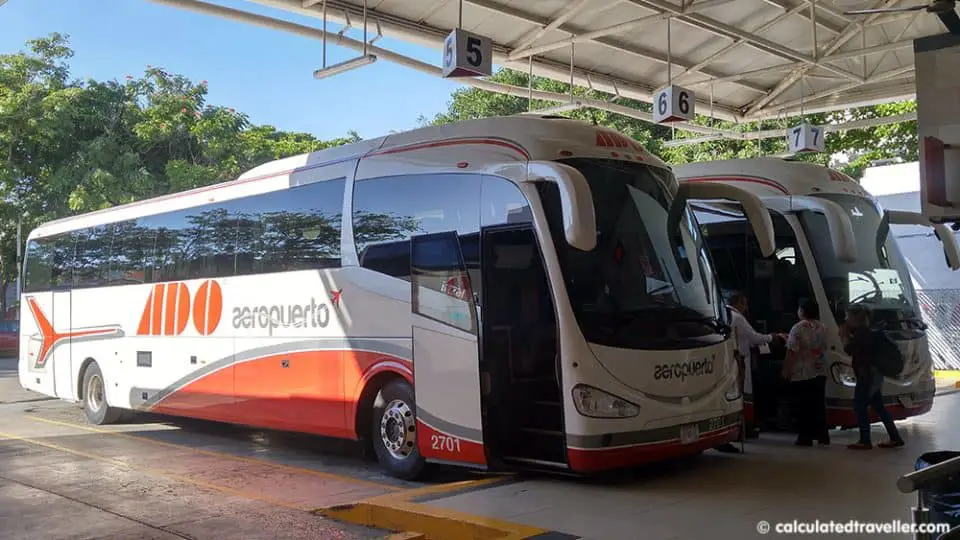 Playa del Carmen has an airport, but it is for regional flights only. The closest international airport being Cancun International Airport (CUN).
Tourists and locals most commonly use the ADO (Ah-Day-Oh) bus for travel from Cancun airport to PDC, operating every 30 minutes, from the Cancun airport Terminal 3 to the central PDC Tourist ADO bus terminal (located at 5th Ave. and Juarez Street).
They are modern buses with air conditioning, clean washrooms, comfortable seats, entertainment, and WIFI. If your airplane lands at a different terminal, there are free airport shuttles to transfer passengers between terminals.
To find the ADO bus stop at Terminal 3, you'll have to exit the terminal and pass through the hallway of timeshare salespeople, private shuttles, tours salespeople and taxi drivers. Once outside the Terminal 3 exit on the right-hand side past the beverage stand, you'll see a small red ADO ticket cart managed by employees with red shirts.
The 45-minute ride to downtown PDC is about 180 pesos ($9 US) one way, while a shared shuttle or private taxi will cost about 500-1200 pesos ($25-60 US) one way. Therefore, if you are travelling as a family or a large group, it may be more cost effective and convenient to book a private service.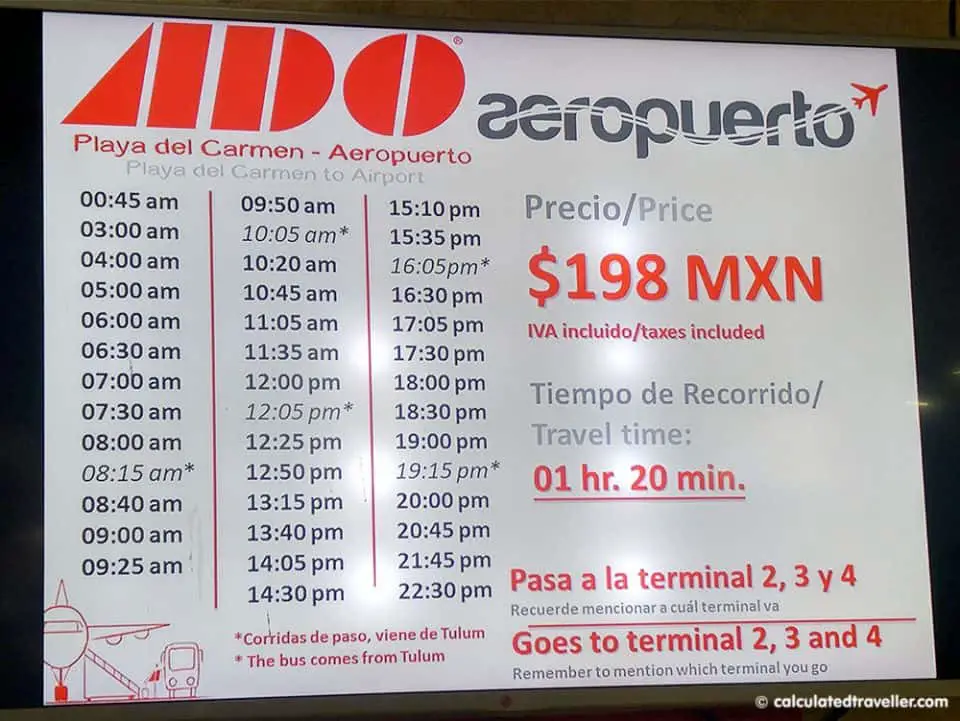 We also used the ADO bus to visit the Chichen Itza ruins.
How to get to Chichen Itza using Public Transportation from Playa del Carmen
One of the most popular tours/day trip excursion and a must-see while in the area is a visit to the Chichen Itza ruins. Many tourists prefer to book from one of the many tour group excursions sold from carts throughout the tourist zone on 5th Avenue or online.  Here are some excellent tours if you prefer pre-booking online.
For those who prefer to do things on their own, such as we do, there are daily ADO bus rides available from downtown Playa del Carmen bus terminal to the Chichen Itza ruins with multiple departure and arrival times.
Private tours with guides will cost around 3000 pesos ($150 US) and take about 2.5 hours of drive time. It's essential to consider your priorities and weigh the pros and cons between touring on your own or joining a private guided tour for Chichen Itza.
PRO TRAVEL TIP: If making an independent trip to Chichen Itza, try to buy your ADO Bus tickets a few days early. We purchased our ADO tickets three days in advance, and our tickets were discounted 25% for pre-purchasing and cost 550 pesos ($28 US) per person roundtrip.
The entrance fee is around 300 pesos ($15 US) per person.
The bus leaves daily at 8 am from the main ADO Bus Station and arrives in Chichen Itza around noon. The 3.5-hour ride takes you through several picturesque small towns providing a sense of local life beyond the tourist zones as the bus stops to pick up additional passengers.
Return departure from the Chichen Itza to Playa del Carmen is at 4:30 pm Chichen Itza time.
Note: We discovered that there is a 1-hour time difference in this area which gives you an additional hour at the ruins. Make sure you ask the bus driver to confirm the local departure time.
Taxis in Playa del Carmen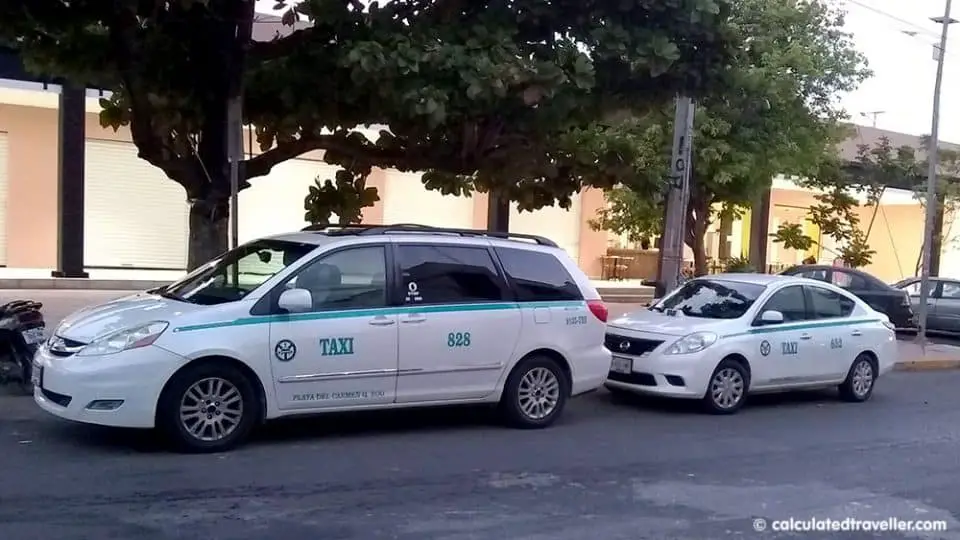 There are taxis to be found everywhere in the tourist areas of Playa del Carmen, and they typically operate 24/7. In PDC taxis are white with a turquoise strip along its side and generally consists of small sedans or larger mini-vans. However, taxis in Cancun have a green stripe while those in Tulum have a red one to identify its home base. Priced according to fixed zones of travel, taxi rates should be confirmed before your ride as there are no meters inside the vehicles. Hotel staff suggested that most fares were calculated at 20 pesos ($1 US) per minute, but I suggest you confirm the rate at your hotel and negotiate for the best price.
Looking for some all-inclusive hotels and wondering where to stay that's close to Playa del Carmen public transportation bus system? Read our article here about where we stayed while in the city.
Colectivos in Playa del Carmen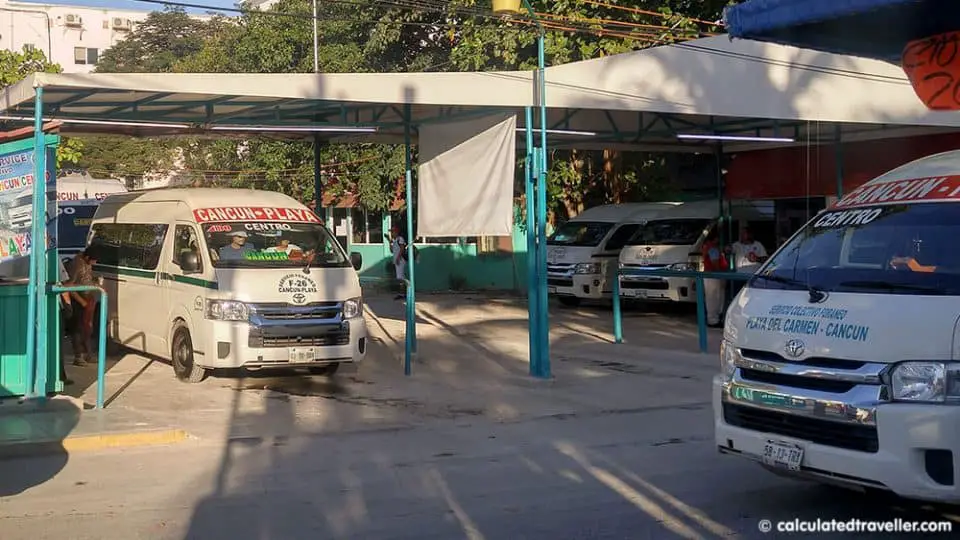 In Playa del Carmen, Colectivos (single L in Mexico) are small white mini-vans with air conditioning and seating for 12-15 people. Colectivos provide economical shared transportation for locals and tourists along the Hwy 307 corridor, covering areas from Playa del Carmen to Tulum and Cancun. Many of the resorts, attractions and Mayan ruins are along this highway making Colectivos a very convenient way of moving throughout the city.
PRO TRAVEL TIP: Colectivos leave once the vans are full. They don't operate on a schedule.
We quite enjoyed riding the Colectivos; many of the locals were friendly and helpful when we weren't sure where we were going. But remember you're in Mexico and English is their second language. We've found that you can't go wrong with a friendly, polite "Por favor" (please), "Gracias" (thank you) and Bon Diya (good day)!!!
PRO TRAVEL TIP: the route is painted clearly on the front of each van, but it never hurts to ask for confirmation of the destination and the price before you hop inside.
The main Playa del Carmen Colectivo bus terminal is near Calle 2 Norte between Avenue 15 & 20th, with a designated area for the Tulum ruins route (40 pesos ($2US) one way) and the Cancun route (45 pesos ($2.25 US) one way).
PRO TRAVEL TIP: One of our favourite restaurants is located nearby. Read our article where to eat in Playa del Carmen.
If you prefer a guided tour of Playa del Carmen and Tulum you may wish to consider:
The fare is based on distance travelled to your final destination, so it's best if you ask for the cost before you board when you tell the driver where you would like them to stop. I also recommend that you have exact change to make it easy on the driver but don't worry if you have no coins – they'll have change available. You pay your fare once you reach your final destination.
PRO TRAVEL TIP: Ask the driver as you exit your Colectivo where the pick-up stop for your return journey is as it may not necessarily be in the same spot.
Should you be walking to the Colectivo stop and you see one coming along the road, you can wave at it as it approaches. If it is safe to pull over and stop, the driver will stop and pick you up. Drivers can pick up anywhere along the route, but they will only stop and let passengers off at designated stops.
Ferry Service from Playa del Carmen
The ferry terminal is in downtown Playa del Carmen at the base of Juarez Street.
There are 3 Ferry service companies which provide roundtrip rides between downtown Playa del Carmen and Cozumel Island 7 days a week from 9am-9pm. Ticket booths can be found throughout the downtown area, and a one-way ticket is 200 pesos ($10 US) for the 45-minute trip. The ride can get very bumpy as it sails into open water where the waves can be quite choppy.
In Cozumel, we like to visit Playa Paradise beach and to spend the day shopping at the colourful stores and snorkel along its famous coral reefs.
For passengers landing into Cozumel airport and planning to stay on the mainland in Playa del Carmen, a short taxi ride and ferry service is the most convenient way to visit Playa del Carmen on the mainland.
Note: Cost of the taxi from Cozumel airport to the ferry is around 120 pesos ($6 US).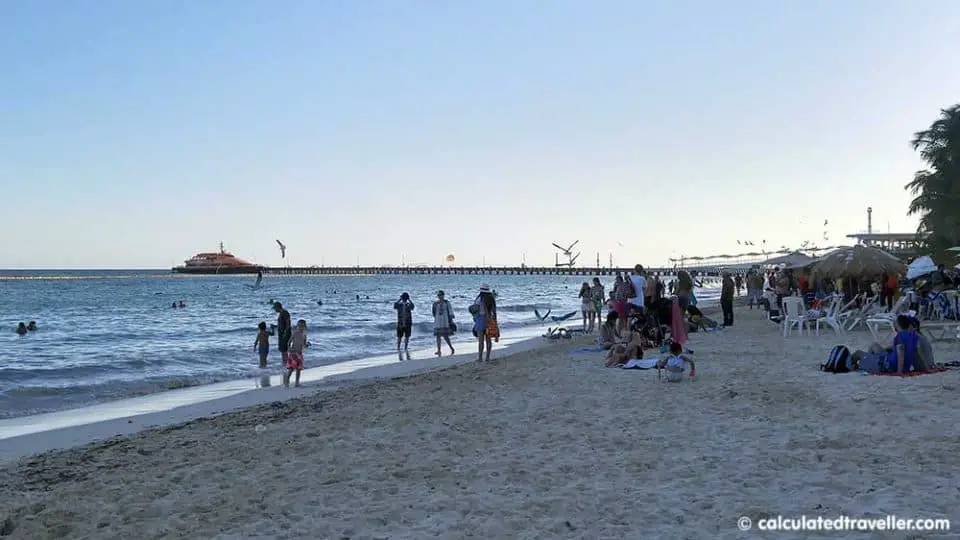 ---
These are some of the convenient public transportation options in Playa del Carmen, but you can research others which may fit into your adventure.
We had a great time in Playa del Carmen and enjoyed using the various public transportation options to get us to our destination.
We have always enjoyed the freedom of visiting and touring at our own pace, and are always looking for dependable, affordable, safe, and reliable public transportation wherever we travel.
Visitors can use the public Playa del Carmen buses, taxis, shared vans and ferry services to visit this region and discover it's well preserved historical sites, adventure parks and cultural neighbourhoods.