Travelling and eating on a budget in Playa del Carmen restaurants is easy to do if you eat local, and stay away from fine dining establishments. When you compare the exchange rate of the US dollar to the Mexican peso your dollar goes far! Even though we are Canadian, we still relate things to the American dollar, and on our last trip to Playa del Carmen, the exchange for $1US was 20 pesos.
We wanted to challenge ourselves and see what we could eat on a budget and stay at a limit of under 200 pesos = $10 US per meal. Of course, you can eat comfortably and go lower than this, but we think that 200 pesos get you a good meal including drink/alcohol.
PRO TRAVEL TIPS:
All the restaurants mentioned here are North of Avenue Benito Juárez as that is the area we were staying. There is plenty more South but we'll save that for another adventure.
We don't have any specific vegetarian restaurants on this list of Mexican Food spots. We did notice a couple of speciality vegan options but we are carnivores ourselves and didn't try any of them.
Breakfast was free at our hotel and we feel that that is the best way to eat on a budget!
Street food is plentiful with taco carts in parks and on street corners but since we couldn't get the names of the carts we opted to leave those out of this travel guide to Playa Del Carmen restaurants.
Read our review of Hotel Barrio Latino here.
Tips for Where to Eat in Playa del Carmen on a Budget
Stay off of 5th Avenue or Quinta Avenida. Prices may sound cheap when compared to North American prices, but they aren't. We saw prices triple what we would find one block up on 10th Avenue
Eat local. We saw Steak and Lobster for $20US on 5th Avenue and yes this is a great deal in New York but you are in Mexico, and this is a little pricey if you ask me.
Stay away from the chains. Sorry McDonald's, Starbucks, KFC, Subway — I'm eating locally in Playa del Carmen.
Bottled sodas/drinks (refresco) cost about 20 pesos each, so considering that tacos are typically 15-20 peso each you may decide to order a beer or cocktail instead. We learned this the hard way when we ordered two sodas (20 pesos) each, and our dish was only 70 peso!
Bring your own water/water bottle. You can buy a 2.5-litre jug of water at the local variety store for 25 pesos. The same size jug of water at Walmart was 23 peso. Here is the refillable water bottle that I travel with and love.
Obviously, stay away from any restaurants located within hotels.
If eating street food from carts – practice safe eating! Ensure that the food is piping hot when served and that the cart is busy with lots of customer turnover — if there is a long line up of locals, you are probably safe.
Navigation Tip for Understanding the Streets in Playa del Carmen

Avenues or "Avenida" and run parallel to the beach. The Riviera Maya is '0', and the main tourist street is 5th Avenue, 10th Avenue is next, followed by 15th and 20th. Therefore 20th Avenue is four blocks north from the beach.
Streets or "Calle" run perpendicular to the beach and to make it more confusing also have names with numbers. The major road to the west side is Avenue Benito Juárez, and the next block is Calle 2 Norte (2nd Street North) and increases from there. The next major street is Avenue Constituyentes which in essence is Calle 19 Norte.
Watch out for streets that have the same name but with the word "Bis" added to the end such as Calle 12 Norte and Calle 12 Norte Bis. This duplication confused us, and we kept thinking they were typos when we were looking for places but basically "Bis" means "again" so it's the next block.
Don't forget to check out our guide to public transportation in Playa del Carmen!
There are good local eats everywhere you look in Playa del Carmen here are a few that we recommend.
Taqueria El Fogon
Address: 30 Avenida Norte S/N
Taqueria El Fogón is on 30th Avenue and Av Constituyentes close to the Walmart, making this a great spot to visit for a meal after picking up supplies to keep in your hotel fridge.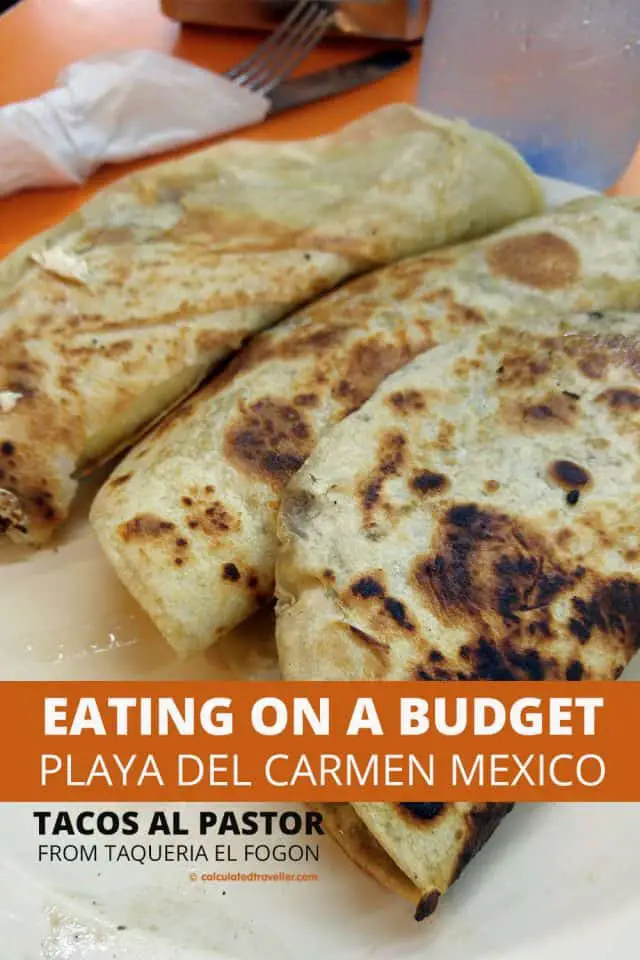 We ate here twice. On our first visit to El Fogón we over ordered and stuffed ourselves to the brim with beef fajitas with cheese (the cheese was a bit salty for our taste), taco al pastor (seasoned pork cooked on a rotating spit and carved – similar to middle eastern shawarma – and served with pineapple). We also ordered one of the specialities, El Fogón Pollo (136 pesos) — marinated boneless chicken breast grilled and served with grilled green onion, guacamole, roasted green peppers, onion, cheese, baked potato with sour cream, tortillas and a hot tomato-based soup of pork, onions and white beans.
We also received a complimentary plate of a radish cucumber salad and chips with assorted salsas.
I expected the soup to be spicy, but it was savoury and delicious – if anyone has the recipe, please comment below because I'd love to attempt to cook this at home.
All three of the salsas, on the other hand, were very spicy! So be warned.
La Brocherie Rôtisserie
Address: 15 Avenida Nte 159, between 4th and 6th Streets.
With owners originally from France, La Brocherie menu offerings are a little different from the others on our list of cheap eats in Playa Del Carmen as this was the only restaurant that offers a variety of salads and paninis.
We came here specifically for lunch only to discover that they don't open until 2 PM. I'm glad we returned because their roasted chicken was one of the best.
Seasoned with herbs and cooked on a rotisserie their ½ chicken dinner was juicy, moist and tender; served with plain white rice, (not spicy) salsa and tortillas. It was lunch, so we shared the dish, but next time I'll get my plate all to myself — 130 pesos.
Wednesday evenings they serve a special French Beef Bourguignon served with potatoes and carrots that is said to be excellent (we didn't try it ourselves) for 175 pesos. Reservations are recommended to ensure availability.
Service is excellent and the decor was lovely. I did feel a little underdressed in my casual shorts and a sweaty t-shirt but this is Mexico after all, and no one seemed to mind.
Las Quekas
Address: 15 Avenida Nte S/N
There are a few Las Quekas locations in Playa del Carmen; we ate at the 10th Street and 15th Avenue site. Outdoor seating only with patio tables and chairs.
Quesadillas (15 pesos each) and Sopa (18 pesos each) are what the speciality is here. No nonsense and without any frills — meat, sauteed onions, and cheese but tasty and at the price of about 80 cents US, you can afford to try a few different varieties.
On our first visit, we sampled Chicharron (sauteed pork crackling), Carne (beef), Pollo (chicken), seta (mushroom) and returned here later in the week to get some more!
Chicharron was my favourite because I found it had the most flavour, but it probably isn't the healthiest of choices to make.
Assorted hot sauces are also included.
Asadero el Pollo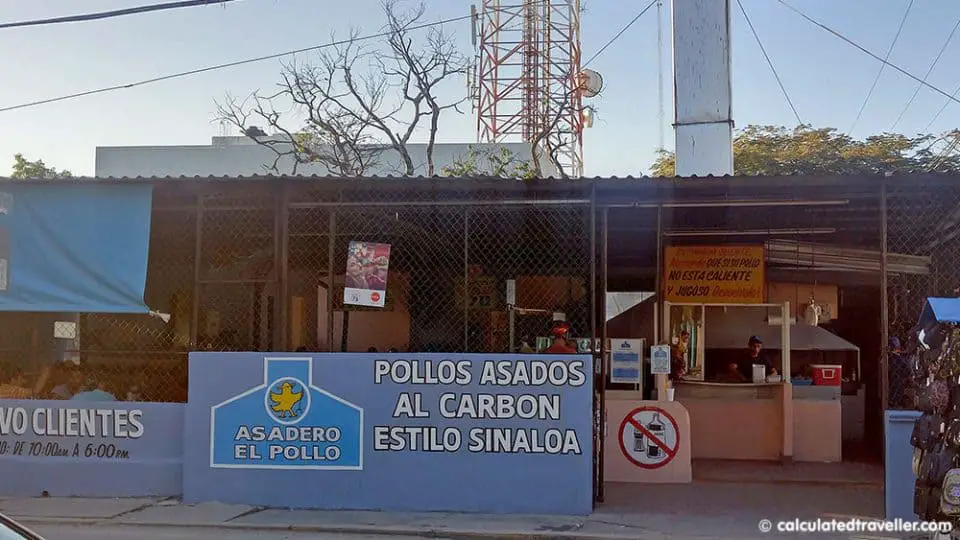 Address: Calle 2 and 20 Avenida Nte
Asadero el Pollo is on the corner of 2nd and 15th just north of the Collectivo (local bus) depot.
Local food at it's best, they serve one thing only – roasted chicken cooked over charcoal and it is truly delicious. Don't be nervous of the chainlink fencing walls, walk into the open-air dining area, and sit at an empty patio table and a waiter will quickly approach. Be warned though that this restaurant is busy so you may have to wait for an empty table/seat.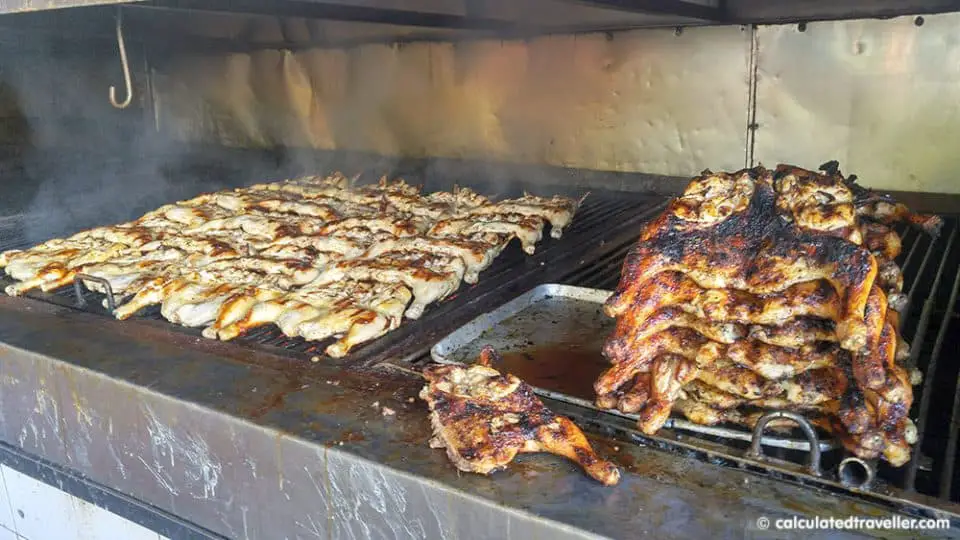 The chicken is flattened and roasted on a charcoal grill and cut into pieces; served with Mexican rice, pickled Spanish onions, tortillas and a very spicy red salsa. Be aware that depending on which package you order that a soft drink (refresco) may or may not be included in the price.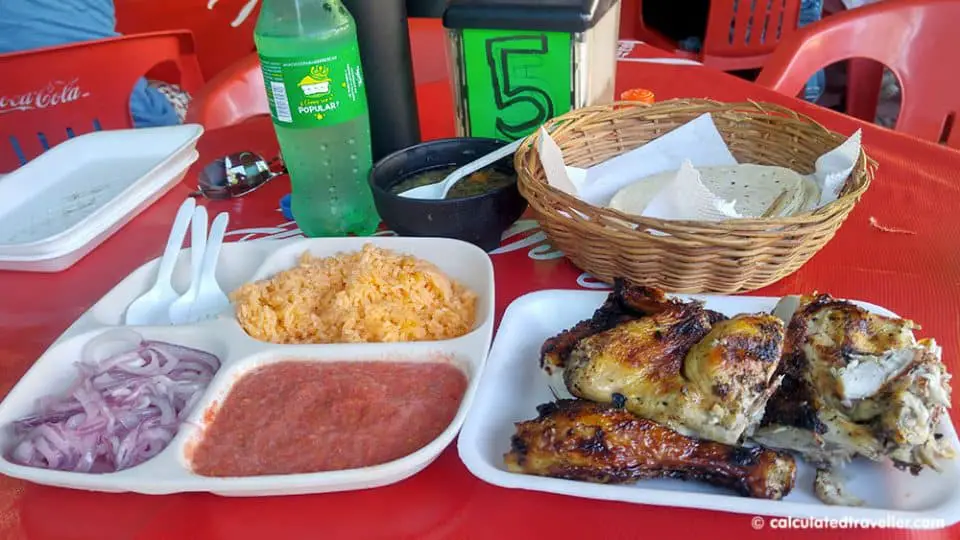 Our ½ chicken dinner = 110 peso
I highly recommend that you put Asadero el Pollo on your list of Playa del Carmen restaurants to visit!
Don Sirloin
Address: 10 Avenida Norte, between Calle 12, Calle 14
With a few locations in Playa del Carmen, Don Sirloin is famous for their beef you can probably guess at by their logo with the bull. We visited the site across from the famous Coco Bongo night club.
Opening at 5 pm this is a dinner/late-night food spot.
Service is excellent as our waiter Raul looked after us well and made some great recommendations from the menu.
Overzealous when it comes to the menu once again we ordered too much food and could have shared one order but we wanted to try a few different types of fajitas and the price was such a bargain resistance was futile.
Alhambra is a beef filet that is cut into cubes and grilled.
Arrachera Beef Fajita
Arrachera is beef cooked with 'bacon' and peppers. The bacon is more like ham than what I would consider crispy bacon. Served with refried beans, and tortillas.
Sirloin Beef Fajita
Sirloin marinated and seasoned beef cooked on a rotating spit and sliced – similar to Middle Eastern shawarma. Served with refried beans, tortillas, and spicy pineapple salsa.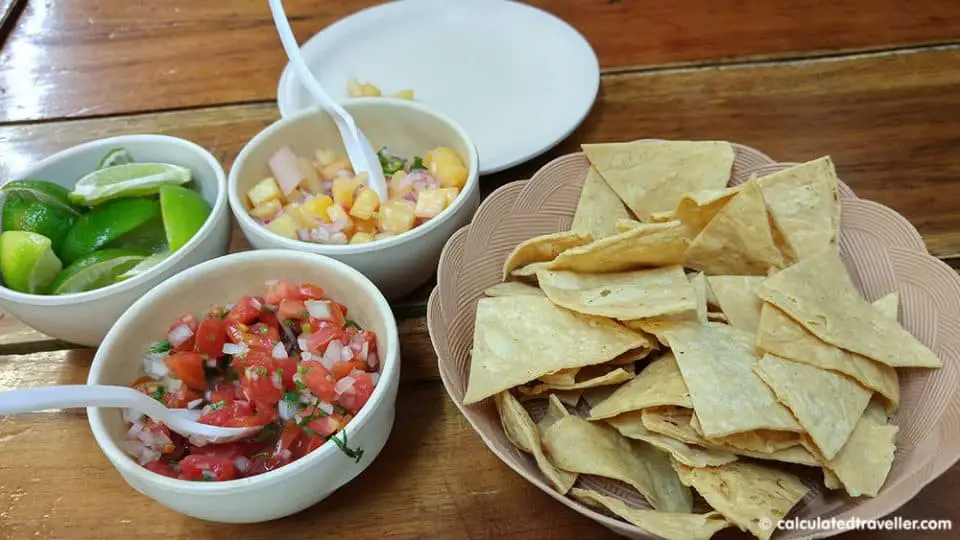 Tomato salsa served with our meals was not spicy at all, and the fresh tortilla chips were crisp and warm.
Note: Cheese costs extra
I enjoyed the flavours of the Arrachera Beef Fajita to be better finding the beef to be more tender, and the addition of the ham to add more flavour but both dishes were excellent.
Chimichurri Pizzeria
Address: 77710, Calle 6 Nte 151 between 10th and 15th Avenue
Chimichurri Pizzeria is a pizza place, but also offers empanadas direct from Argentina. A tiny restaurant with two tables that seat four people each; this tasty spot is across the street from the Mercado Playa del Carmen. We rebelliously did not try the pizza but instead, we tried the Carne Arabe and the Carne empanadas. The empanadas were so good we ordered a third Pollo empanada immediately after we devoured the first ones. There is a bit of a wait while they warm the empanadas up in the oven but be patient because warm empanadas are worth the wait. The empanadas have a crisp outer baked shell with lots of juicy flavourful filling — and some chimichurri sauce of course on the side.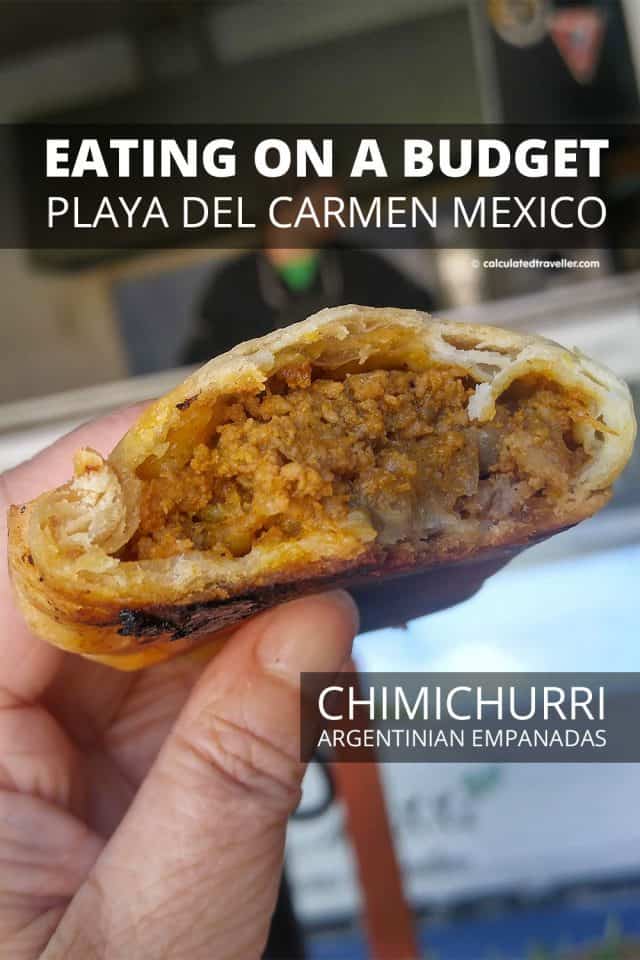 We returned in the evening for dinner the next day looking forward to their beef short ribs promotion. Unfortunately, they didn't have it available, but the pork ribs were on special for 160 pesos.
Included with the ribs is a choice of potato wedges or french fries with or without cheese on top and a simple salad of lettuce, tomato and onion with an oil and vinegar dressing. The pork was a bit dry, but the delicious chimichurri sauce made it a winner.
PRO TRAVEL TIP: Make sure that you aren't in a hurry when you dine at Chimichurri Pizzeria because it did take a while for our meal to be ready.
El Pechugon Rosticerias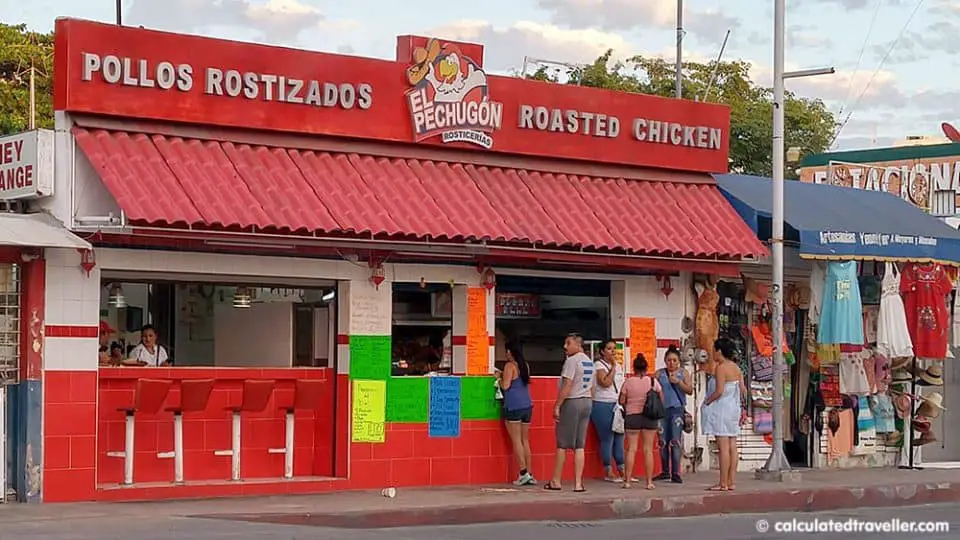 Address: Av. Puerto Juárez Mza. 08 Lte. 04
Another chicken place but this one is different from the rest in that it is cooked on a rotisserie right before your eyes to lure you in with the delicious aroma, and the tasty sight of the chickens spinning around and around. El Pechugon Rosticerias is located one block north of the central ADO bus station on Juarez Street. There isn't a lot of seating here as it is primarily a take-out joint, but there is a long bartop table with perhaps six stools.
We thoroughly enjoyed their Pollo and papas — roast chicken and roasted potatoes.
Package Lunes 160 pesos = one whole chicken, tortillas, ½ order of roasted potatoes, spaghetti, Mexican rice, salsa, roasted jalapenos.
We were overzealous when ordering and ended up once again with too much food as the price was such a bargain. We quickly realised our folly as we watched our server assembling our meal with multiple containers and bags. We took our food to go and ended up sharing it with the staff at our hotel and still had enough food for lunch the next day.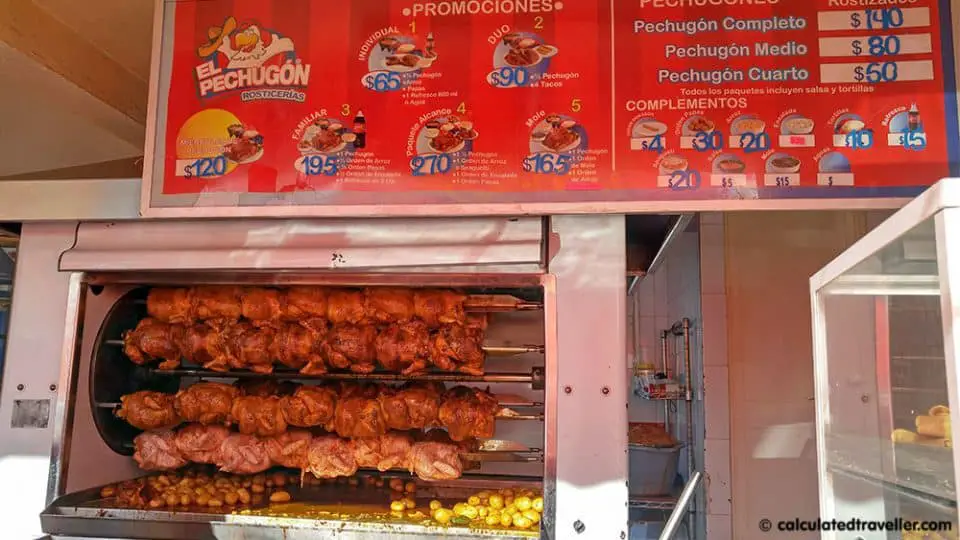 The roasted potatoes were especially tasty due to the potatoes cooking on the grill and being self-basted by the drippings from the chicken hanging above.
El Pechugon Rosticerias should definitely go on your list of Playa del Carmen restaurants if you are travelling with the family because the Package Lunes is more than enough food for a family of 4.
PRO TRAVEL TIP: Ask for plastic forks and paper plates (no extra charge).
---
Yes, we ate a lot of chicken. This was not intentional – it's just how it happened… A few foods that we didn't try in Playa del Carmen and regret missing out on now that we reminisce is seafood (especially fish tacos), ice cream, and churros! (eek) So, if you can suggest a few places to eat in Playa del Carmen – please let us know for our next visit to the city.
What do you think of our suggestions? Have you eaten at any of these delicious Mexican restaurants in Playa del Carmen?
Let us know in the comments below. We'd love to hear what you thought of our Playa del Carmen food reviews.
Love Latin cuisine? So do we! Check out these related articles:
– Tex Mex Good Eats at Braceros Mexican Grill and Bar Amarillo Texas
– Discovering the Taco – Vallarta Food Tours
– Getting my Guacamole on in San Antonio Texas
– In Search of Empanadas in Old San Juan