Ray swings in the hammock outside our room number 13 of Hotel Barrio Latino in Playa del Carmen Mexico and lazes the day away as I sit writing in the patio chair next to him.
This whole week in Playa del Carmen town has been "lazy". Spending our days at the beach, feeding our food cravings everywhere we go, exploring the local neighbourhood away from the hectic hustle and bustle of the tourist zone on 5th Avenue, and avoiding the crowds and the hawkers.
Our room at Hotel Barrio Latino is a basic king-size bed, with a small wooden dresser, an open closet with shelves, a bar fridge, a simple tiled shower, an air conditioner and a ceiling fan. There is no microwave, no television, no clock radio, no rugs cover the tiled floor and there is no view of the ocean. Hotel Barrio Latino is not a fancy beachside resort — it's simple accommodations in the local part of the town of Playa del Carmen but at such a low price per night, I'm not complaining.
What Hotel Barrio Latino does offer is complimentary continental breakfast with fresh pressed, yummy fruit juice, locally purchased pastries, jams, cereal, hot chocolate, tea, and excellent coffee served daily from 8 am to 10 am.
The free WiFi is strong enough to watch Netflix, the air conditioning is frosty cold, there is a secure safety box in the room, a nice shaded relaxing cabana area in the back of the property, we have our own hammock outside our room as well as a clothes-line for our wet bathing suits, and the very friendly staff at the front desk is helpful and they speak English.
PRO TRAVEL TIP: Bring some bug spray with you when lounging in the cabana area especially at dusk.
Note: In case you are wondering, the juice contains spinach, papaya, lime, orange juice, water. (When I master the recipe I'll update this article).
The best part about Hotel Barrio Latino is the location on 4th Street between 10th and 15th Avenue — one and a half blocks north of the tourist zone!
The hotel is short walking distance and just a few minute to:
Check out our Playa del Carmen restaurant guide .
Read our Playa del Carmen transportation guide with tips to touring the city, as well as Chichen Itza, Tulum and Cancun!
The not-so-good about Hotel Barrio Latino

There are a couple of night clubs on the corner of the street, and the music is loud and plays late most nights (3 am). The music is louder on Thursday, Friday, and Saturday. Bring earplugs or make plans to join in on the festivities.
Breakfast ends promptly at 10 am with no exception. We witnessed breakfast staff closing the door to the kitchen while people were in the process of pouring coffee, so they had to drink it black without any milk or sugar. Breakfast staff did warm up to us after a few days and even offered a few smiles after multiple compliments on the juice and the coffee, but they weren't the happiest breakfast staff in the morning. They also did not speak any English so be warned.
The door to our room locks with a simple key and no additional deadbolt. We never felt unsafe since there is always someone at the front desk and the main gate to the complex is locked at all times. We always carried our room key with us which was a bit bulky, but we could have given the key to the front desk staff for safe-keeping whenever we left the hotel.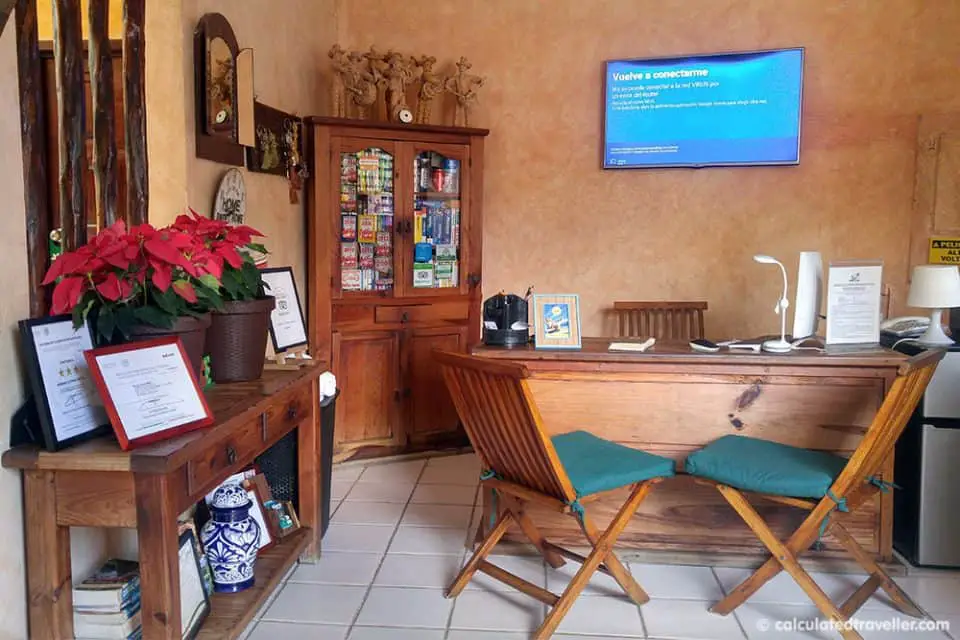 A deposit is required for beach towels (available at the front desk), but we find it easier to bring our own and not worry about it. See our prefered travel towel here.
PRO TRAVEL TIP: Water is safe to drink, but we bought jugs of water from a small local grocery shop one block north of the hotel. 2.5 litres cost 25 pesos. The same jug of water from Walmart is 23 pesos.
Riviera Maya Playa: The Beach in Playa del Carmen Mexico

The beach at Playa del Carmen, Quintana Roo is close to the hotel approximately three short blocks South. The beach is free to use if you have your own towel/chair but if you are looking to rent a chair and umbrella, negotiate and compare offerings before making a decision.
One beach spot right at the Fourth Street entrance charged 100 pesos for pesos beach lounger with umbrella, restrooms and showers.
A beach spot next door was 200 peso basic beach lounge chair, umbrella and two pina colada per person (no restrooms or showers).
Here we were able to negotiate 150 pesos for one chair with umbrella and two pina colada. Husband Ray prefers lying on the sand, and I prefer the beach chair.
A little farther along the shore is 'Inti Beach Club' for 300 pesos each you receive a comfortably cushioned lounger with an umbrella, no drinks, with restrooms and showers but with much swankier surroundings and cool chill music.
There are other beach clubs farther down along the strip but they are mostly connected to the more expensive Playa del Carmen hotels. So, check to see with resort staff if they allow non-staying guests.
TIP: Beach Massages range from as low as $18US/hour to $30US/hour
The Barrio Latino Hotel has only 18 rooms in total. Only one of their rooms has a television; it's next to reception so it will be noisier.
Even though our room was next to the breakfast area and was noisy in the morning with the sound of the blender we didn't mind it at all because it acted as our alarm clock.
Would we stay at Hotel Barrio Latino Playa del Carmen again?
Based purely on the location of the hotel, access to local transportation for day trips to Tulum, Chichen Itza, Cancun, and Cozumel — Absolutely! Everything is a few blocks away, and the price is very budget-friendly.
I'm not going to lie, but initially, I was disappointed since we had just left a Celebrity Cruise that morning with much more luxurious accommodations. Moving to more basic accommodations afterwards was a bit of a shock, but I quickly got used to it and really learned to love the rustic charm.
For more reviews of Hotel Barrio Latino click here.
For other hotels in Playa Del Carmen click HERE
Have you been to Playa del Carmen Mexico before? What did you love about the city?