When you are travelling, you want clothing that is comfortable, looks great, and is easy care wash and wear. For me, merino wool fits that bill on all fronts and I was pleased to discover Ramblers Way, a sustainable clothing company that uses American-made and ethically sourced merino wool.
Ramblers Way has a strong commitment to environmental responsibility. "We believe in creating a sustainable world that can enrich the lives of generations to come," said Tom Chappell, founder and president of Ramblers Way. "The clothing industry is the second largest polluter on Earth, so we see an opportunity to rethink how to produce clothing people will love as much for how it feels and how it looks as how it's made."
Ramblers Way uses Rambouillet wool, also knows as French Merino Wool, and is made from the fleece of Rambouillet Sheep — an American breed of Merino known for their ability to survive harsh conditions. Sourced from ethical ranchers in Montana, Colorado, Wyoming, Nevada and Texas, the wool is "spun and sewn in America embracing a bygone era of textiles." They also produce a line of clothing that uses sustainably grown pesticide-free Pima cotton.

Why choose Merino Wool for Travel?
There are so many performance fabrics out on the market for the traveller on the move. My favorite at the moment is anything merino wool. Yes, merino wool. It's pricey but it's perfect for travel for so many reasons.
Warm
Comfortable
Breathable
Natural
Wrinkle resistant
Soft
Lightweight
No itch
Antibacterial
Washes well in the sink
Fast drying
Biodegradable
Renewable
Ramblers Way – "Good-Natured Fashion"
Ramblers Way sent me four items for testing and review.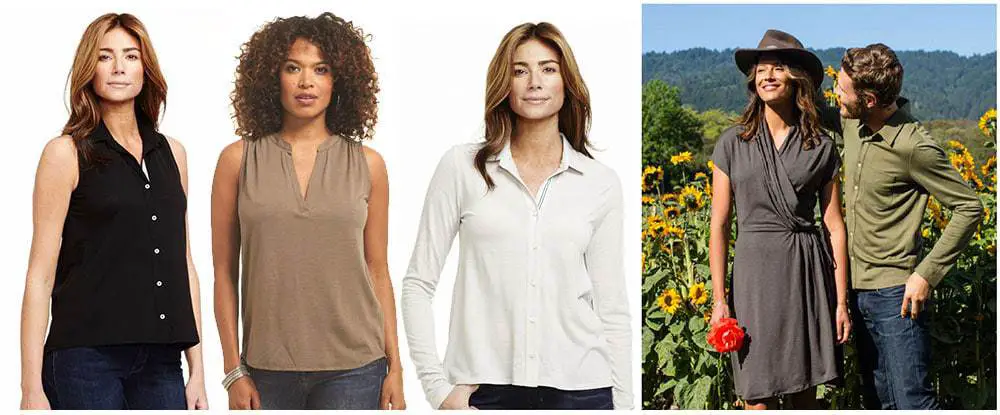 Wool Swing Blouse with Sleeves in Rock Salt
MSRP: $120 US
Wool Sleeveless Swing Blouse in Black
MSRP: $130 US
Wool Bree Tee Sleeveless in Taupe
MSRP: $115 US
Wool Asymmetrical Wrap Dress in Charcoal
MSRP: $250 US
All four products get high marks for their casual style and easy care fabric.
I took the Bree Tee and the Sleeveless Swing Blouse with me on our last Caribbean cruise, and I ended up wearing the two items most days of the trip. They quickly became my two favourite items in my suitcase.
My favourite feature of the shirts was the longer back tail. There was no need to worry about exposing anything when bending over. They were very comfortable, kept me fresh even in the hot Caribbean sun and yet were comfortable and provided some warmth when I was cold from the air conditioning.
The shirts were easily washed in the hotel sink, a quick squeeze inside a clean, dry towel and draped over the towel rack they would dry by the morning with no ironing required.
The styling of the blouse was perfect when worn with shorts for touring the city during the day and was also dressy enough to wear in the evening to dinner with chinos.
I also liked the placement of the buttons on the front of the shirts with no peeking or gaping as you wear it. A nice stylish touch is the contrasting ribbon detail along the placket.
My one disappointment in the Swing Blouse with Sleeves is the rock salt colour. Entirely, personal preference but the colour isn't white, and it isn't beige, nor is it off white — it's more like a dirty grey/white. I still love the shirt and the style but wish the colour was a bright white like the photo. The shirt does have the same longer back tail as the other shirts making it perfect to tuck into pants. I plan on wearing this one under a sweater or a jacket versus wearing it on its own.
The dress is a beautiful neutral colour, and again, the fabric feels fabulous against your skin. The one issue I have with the dress is the styling. One of the problems when it comes to online shopping, unfortunately, but the folds of the fabric added extra bulk to my petite frame. Thankfully Ramblers Ways has a great return policy and offers an exchange or full refund within 30 days.
I mentioned fabric care earlier and I love that you can wash this wool in the machine or by hand.
Use gentle cycle in warm or cool water
Use mild detergent
No bleach or fabric softener
Wash like colors together
Close all zippers
Lay flat or tumble dry on low setting
To avoid pilling, wash occasionally with a coarse fabric like denim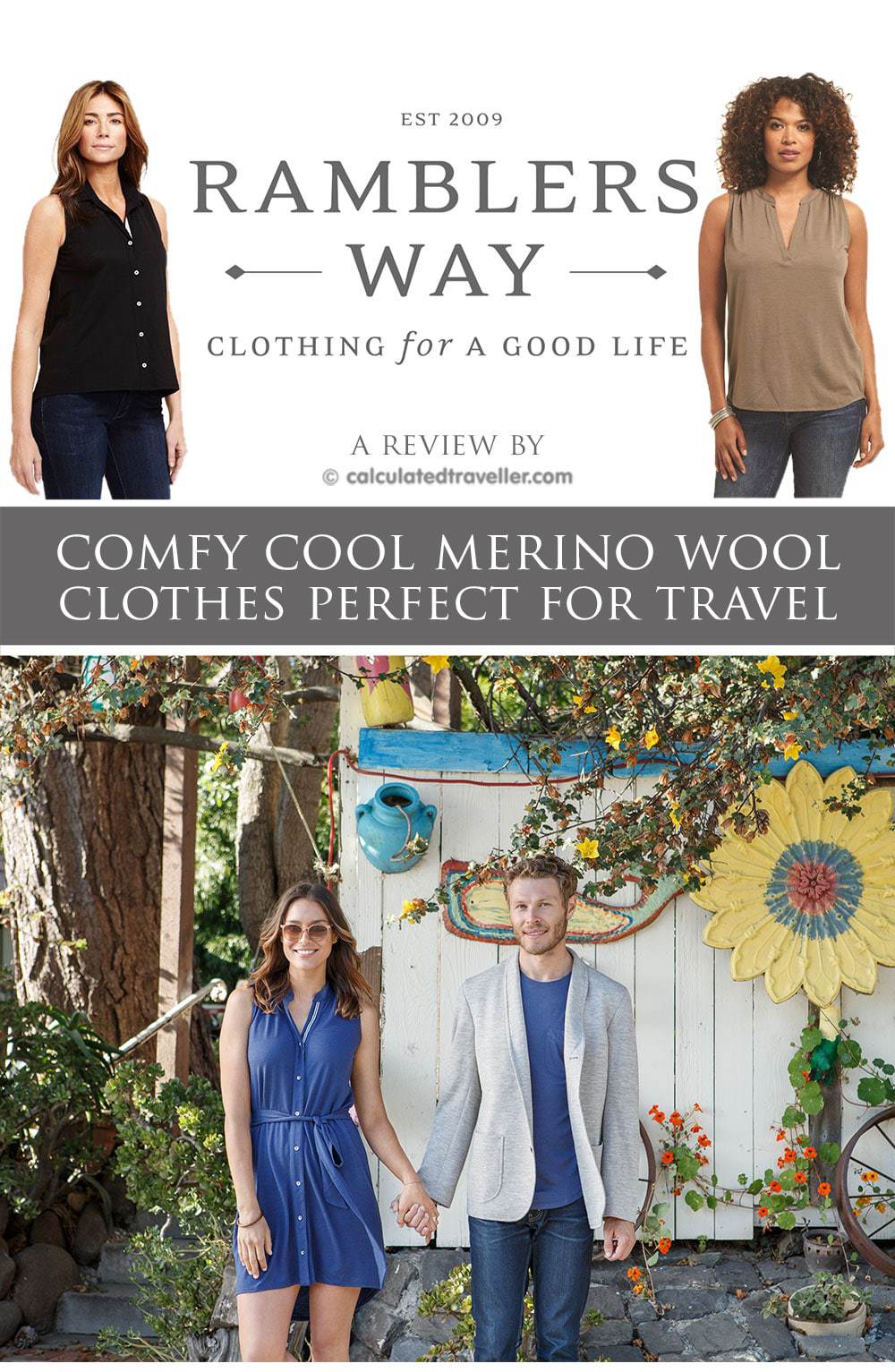 All in all, I think that Ramblers Way is a great product with great designs for both men and women and I look forward to seeing what other designs they come up with in the future.
Ramblers Way carries a broad range of products from underwear to jackets. You can purchase Ramblers Way products online at their website or in a few retail stores in the New England area of the United States.
I was provided samples for review purposes and did not receive financial compensation for this review. All opinions are entirely my own.
For more travel clothing reviews:
– Anatomie – Style and Travel-ability – Review
– Icebreaker Merino Wool — A Hot Weather Review
– Travel Clothing Reviews
– WAMA Underwear Review: Organic Hemp Underwear for Eco-Friendly Travel