In this article, we look at organic underwear, or more specifically, hemp underwear. Will it go the distance and pass our tests for eco-friendly travel?
Read on as we dive deep into organic hemp underwear and see if it makes it onto our packing list and into our suitcase for our next trip.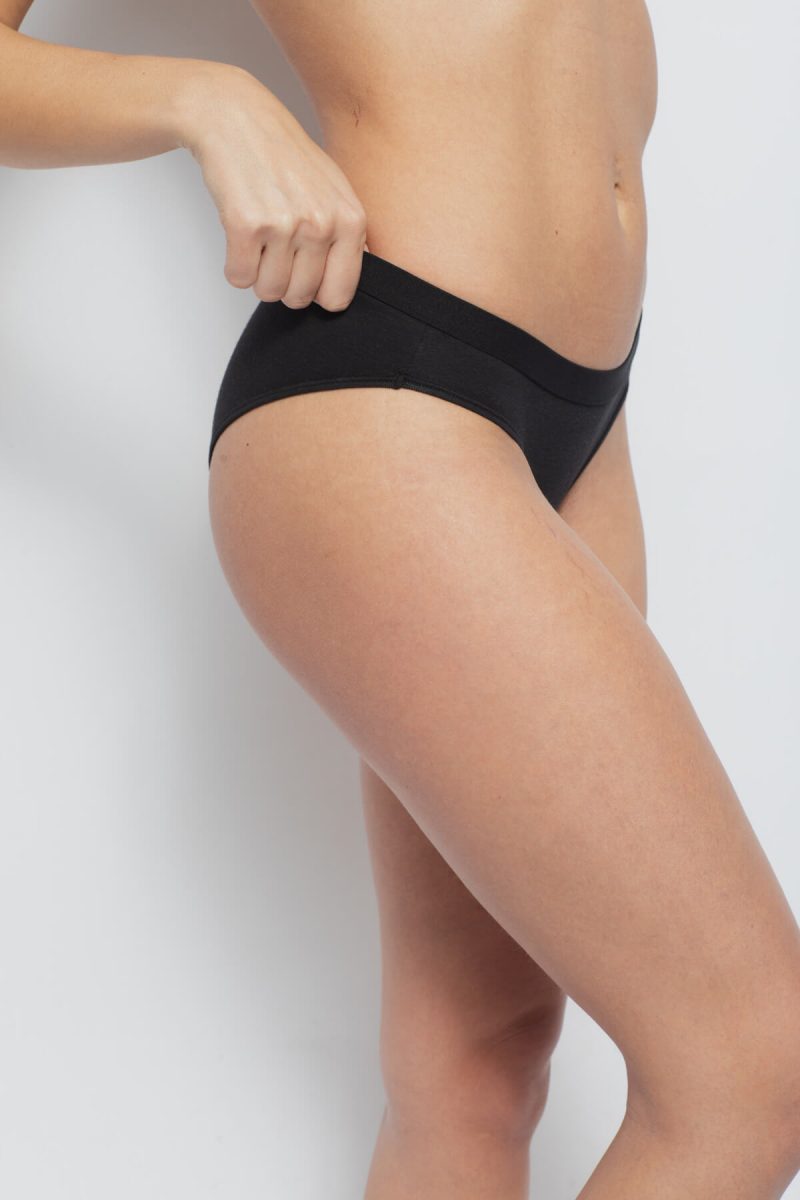 Three important factors when choosing travel underwear
1. Comfort and fit
When you are out exploring the world, you want underwear that is soft, don't rub, chafe, or irritate your skin, and most importantly, you must avoid a wedgie at all costs!
Underwear is a very personal thing, but if it doesn't fit properly, you don't feel comfortable as you constantly need to adjust and re-adjust.
2. Easy care
I'm a big proponent of travelling light, and as a result, I only travel with three pairs of underwear—one clean pair, one pair that needs a wash, one pair for spare. As a result, travel underwear needs to be easy to wash in a hotel sink and quick to air dry overnight. The worst thing ever is when your underwear is scratchy and stiff as cardboard after it gets washed and line dried because it didn't go into the dryer with fabric softener.
3. Durability
Travel underwear, especially when you only travel with three pairs, needs to be durable and go the distance (pun intended). Travel underwear is washed more frequently during one trip versus the multiple pairs of panties in your dresser drawer at home.
Do you agree?
PRO TRAVEL TIP: Read our article How to Choose the Perfect Travel Underwear
Currently, my travel underwear collection consists mainly of synthetic fabrics other than a few specialized items, such as this cotton tank top with a built-in zippered pocket. I have, however, been exploring more natural sustainable alternatives such as organic cotton and merino wool clothing as well as organic underwear.
It's as if the good folks at WAMA Underwear were reading my mind when they reached out to introduce us to their line of hemp underwear and offered us some product samples to test and review. I was instantly intrigued.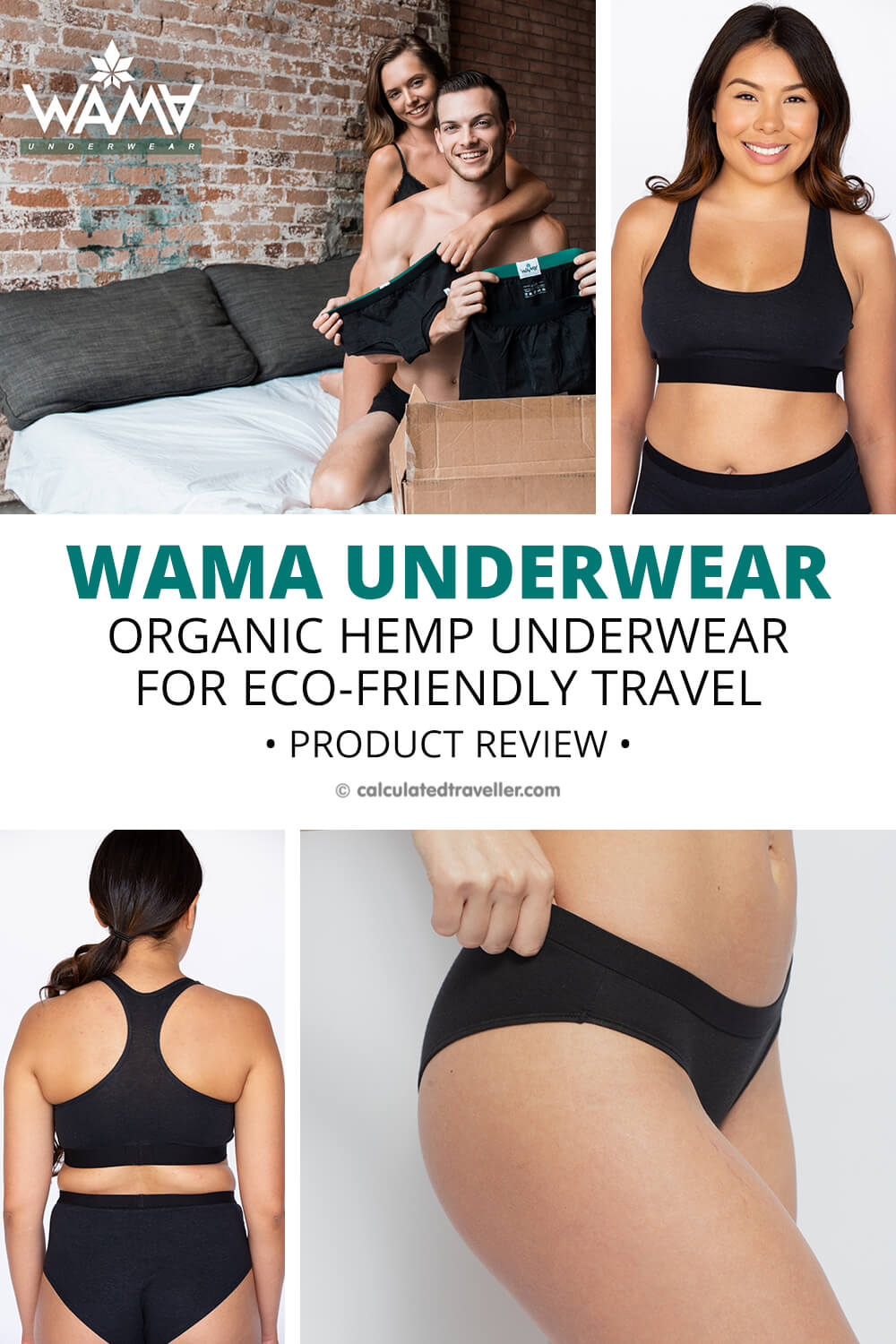 I have never seen, touched, or felt hemp underwear (or hemp fabric) before, so I had lots of questions.
Will the fabric smell or have an odour?
Will they be rough against your skin?
Will they stretch out as you wear them?
Will they be difficult to wash and take forever to dry?
Will they be hot, uncomfortable, and sweaty?
Will they be bulky and heavy?
Continue reading this organic underwear product review for our results.
About WAMA Underwear
WAMA Underwear's focus is on making premium, well-made, eco-friendly underwear everyone can wear while simultaneously displaying the many benefits of hemp underwear. Hemp, along with being organic and eco-friendly, is breathable, anti-bacterial and can even prevent odours.
As a PETA approved vegan company, WAMA Hemp Underwear ensures sustainable practices in the making of their products with their Supplier Code of Conduct. WAMA Underwear is manufactured in China, the worldwide leader and expert in quality hemp production, and partners with ethical factories with a permanent WAMA member based in China to oversee production.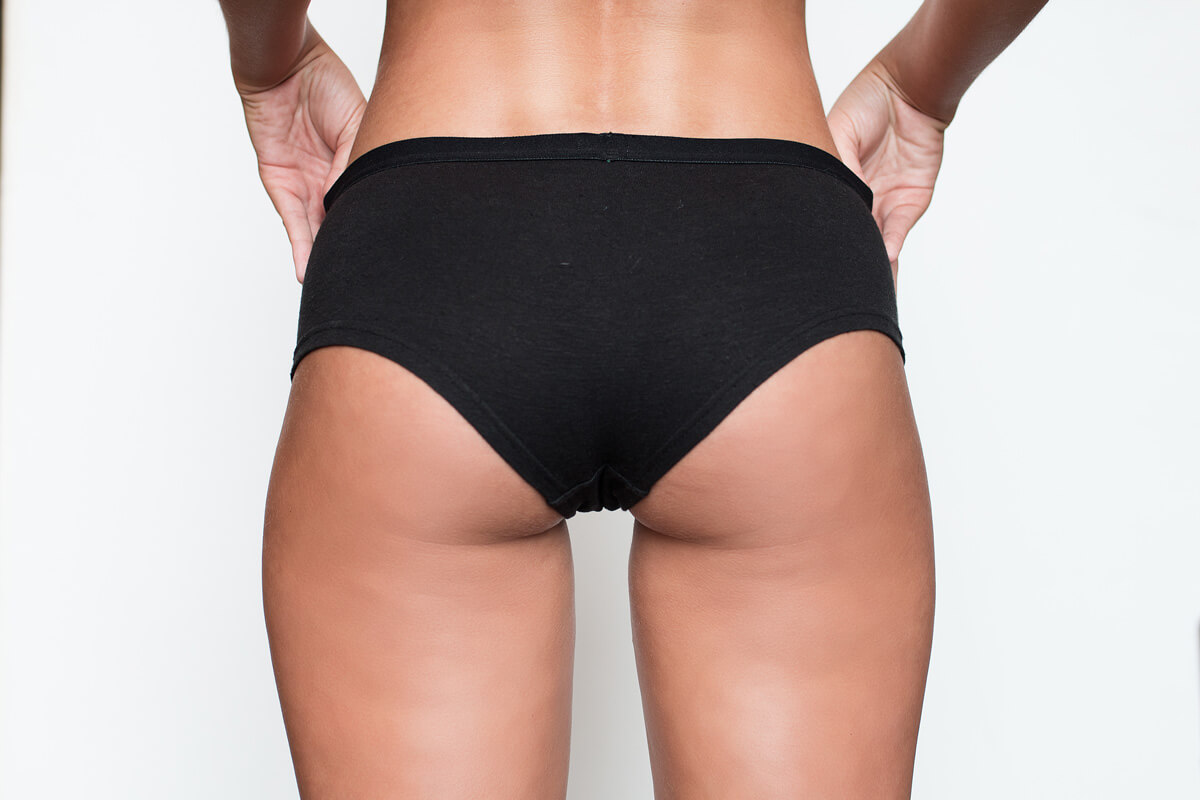 About hemp fabric
Hemp cloth is a cannabis Sativa fibre, also known as industrial hemp. Hemp fibre has been used to make clothing and fabrics for thousands of years and is most commonly sourced in China (explaining their expertise). Hemp cloth is made through a process known as "retting," which removes the strands of fibre from the plant and then spins the strands together to form thread.
Does hemp contain cannabidiol (CBD)?
Yes, but CBD is actually a non-intoxicating substance, while THC (tetrahydrocannabinol) is the substance that creates the intoxicating effects found in cannabis. Though hemp does also contain THC, it is in such low amounts that it has no impact on the wearer.
Why is hemp underwear an excellent choice for sustainable underwear and eco-friendly travel?
Naturally breathable and moisture-wicking
Anti-bacterial
Contains anti-odour characteristics
Durable and long-lasting fabric
Eco-friendly (All hemp clothing can be composted!)
Pesticide, herbicide, and fungicide free
WAMA Hemp Underwear Products Reviewed – Organic Women's Underwear
Made of 53% Hemp, 44% Organic Cotton and 3% Spandex
Low-waisted and resting at the hip, the waistband is flexible and comfortable
Sizes range from XS-3XL
Colours come in Black, WAMA Green, and Hemp Beige
It can come in a 3 pack, 6 pack or 10 pack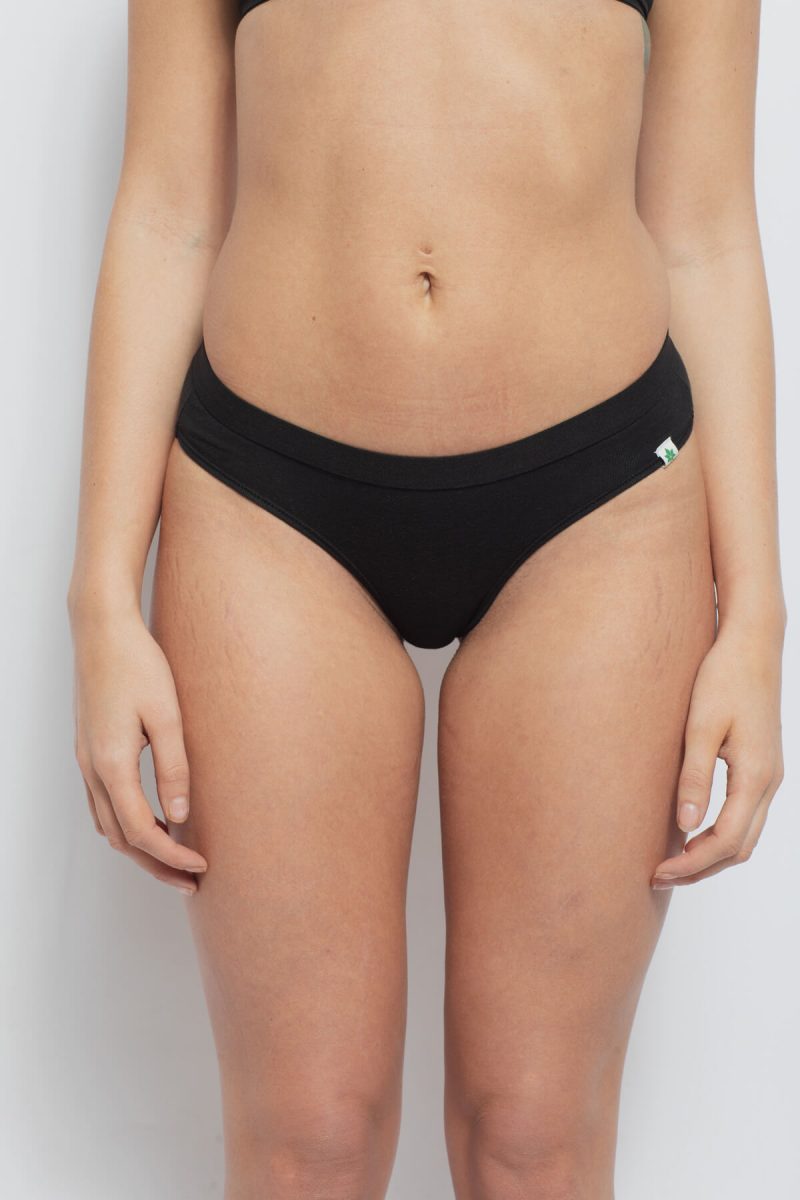 Made of 53% Hemp, 44% Organic Cotton and 3% Spandex
Resting at the hip, the waistband is flexible and comfortable
Sizes range from XS-3XL
Colours come in Black or WAMA Green
It can come in a 3 pack, 6 pack or 10 pack
Made of 53% Hemp, 44% Organic Cotton and 3% Spandex
The waistband is flexible, soft, and comfortable
Supportive and secure
Sizes range from XS-3XL
Colours come in Black or WAMA Green
It can come in a 3 pack, 6 pack or 10 pack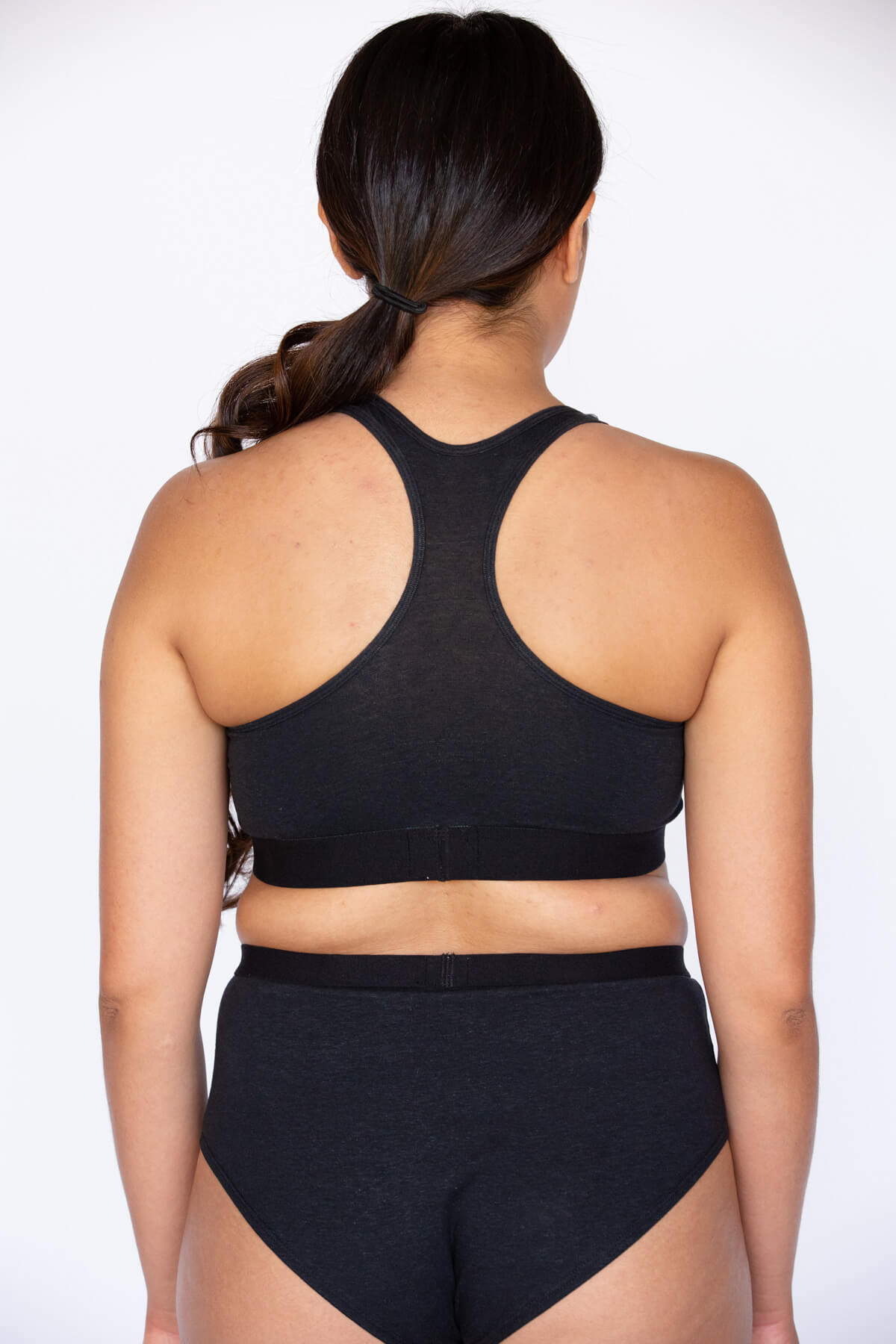 Made of 53% Hemp, 44% Organic Cotton and 3% Spandex
The band is flexible, soft, and comfortable
Fabric is double layered for durability
Sizes range from XS-3XL
The colour comes only in black
It can come in a 3 pack or 6 pack
What I thought about WAMA Underwear
After wearing my WAMA Underwear, I must confess I'm pleasantly surprised to find that the panties are very soft, very comfortable, have great stretch, fit well, are breathable, and not bulky. Most importantly no wedgies!
I wore the Racerback Bralette a few days in a row and found that the fabric's spandex kept the bra's original shape and support. The bra fits as if it was worn on day one and not day four.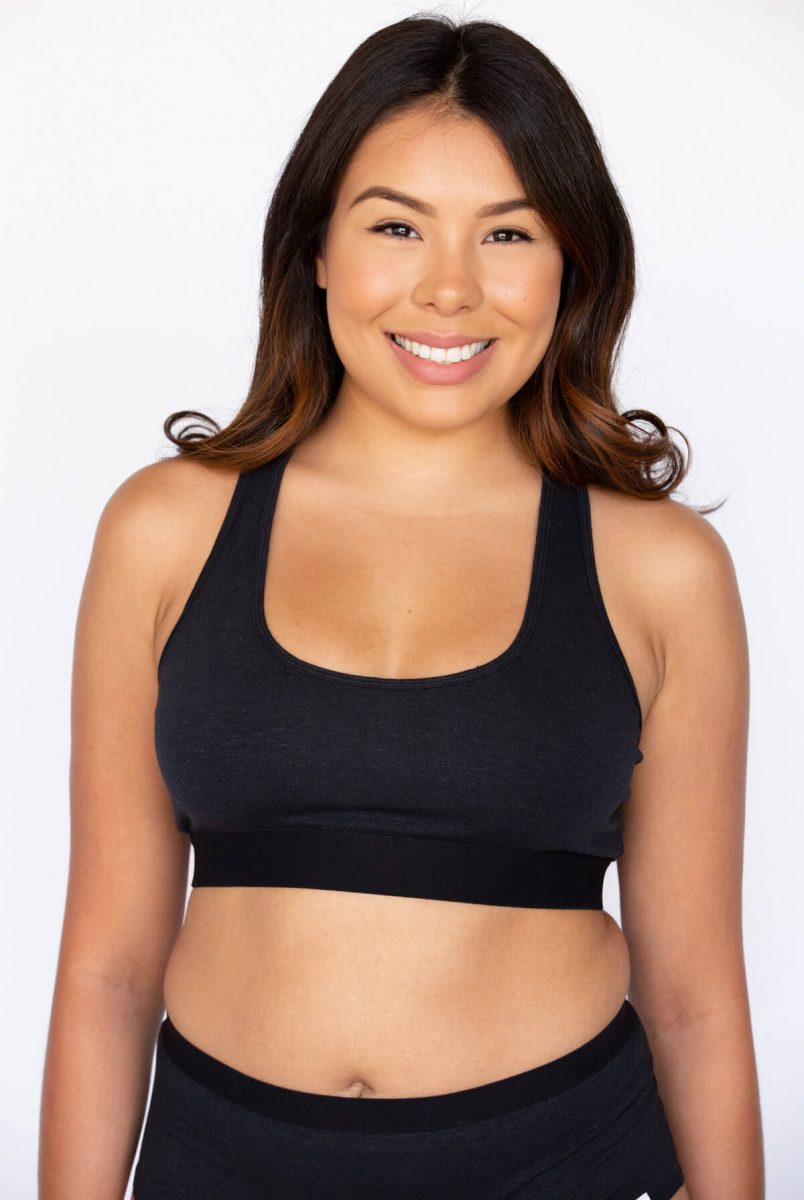 Hand washing the hemp underwear in my bathroom sink was easy, and although it took a little longer to hang dry versus underwear made of synthetic fabrics, which dries in a couple of hours, all my WAMA underwear was dry by the morning.
The fabric was a bit "stiff" after line drying, but it wasn't scratchy or stiff like a piece of cardboard. Once I put the underwear on, though, it instantly softened, and the fabric felt just like it was when I originally opened the package. According to the WAMA website, the cloth will get softer with every wash.
Most styles of WAMA Underwear is available in only two colours – black and their signature WAMA green. With only a few limited styles in neutral "hemp" colour, which is a beige. Hopefully, WAMA adds more colours to the collection soon to allow you to wear it under a variety of clothing items.
NOTE: I chose the black colour for all the products for this review. There were no apparent signs of colour fading after three washings; however, I can't comment on colour fastness over a more extended period. I will update this article in future to include this information should the colour begin to fade.
Are the products true to size?
The Bikini Underwear is true to size, and it seems for the High Waisted Panties, it would be best to size down. However, it's best to size up for the Hipster Panties and the Racerback Bralette if you typically fall between sizes.
Other organic underwear manufactured by WAMA Underwear
More Hemp Underwear: Women's
Thongs
Boy Shorts
Triangle Bralette
More Hemp Underwear: Men's
Boxer Briefs
Briefs
Boxers
Trunks
How to care for your hemp underwear?
To care for your organic hemp underwear, all you have to do is machine wash in cold water and hang dry. To help prolong durability, it's suggested that you hand wash in cold water and dry laying flat.
Shipping policy
WAMA ships worldwide and offers free shipping inside the US. Shipping to Canada is a $15 flat fee.
Orders are packaged and shipped in 1-2 business days. US orders usually take 2-7 business days to arrive, and international orders take 6-21 business days to arrive. (*Due to the pandemic, international orders may take longer.)
Their packaging is eco-friendly as well, using recycled poly mailers that can be reused or recycled.
The ordering system sent multiple email notifications about my order and didn't leave me guessing about my shipment status.
Return policy
If you don't like your first pair of hemp underwear, WAMA provides a first-time guarantee, sending you a different size, colour or refund depending on your needs (no need to return!). After your first pair, WAMA accepts all returns in original condition that haven't been worn or washed within 90 days since receiving the product. Also, to maintain sustainability, you can send the product back in the same poly mailer it came in.
Payment
You can buy directly on the website, as WAMA accepts credit cards: MasterCard, Visa, American Express and Discover. WAMA also accepts PayPal and AfterPay (where you can make payments in four instalments biweekly with no interest).
As mentioned earlier, you can purchase items in multipacks of 3, 6 or 10, for some sweet savings. They also offer gift cards for sale on their website.
---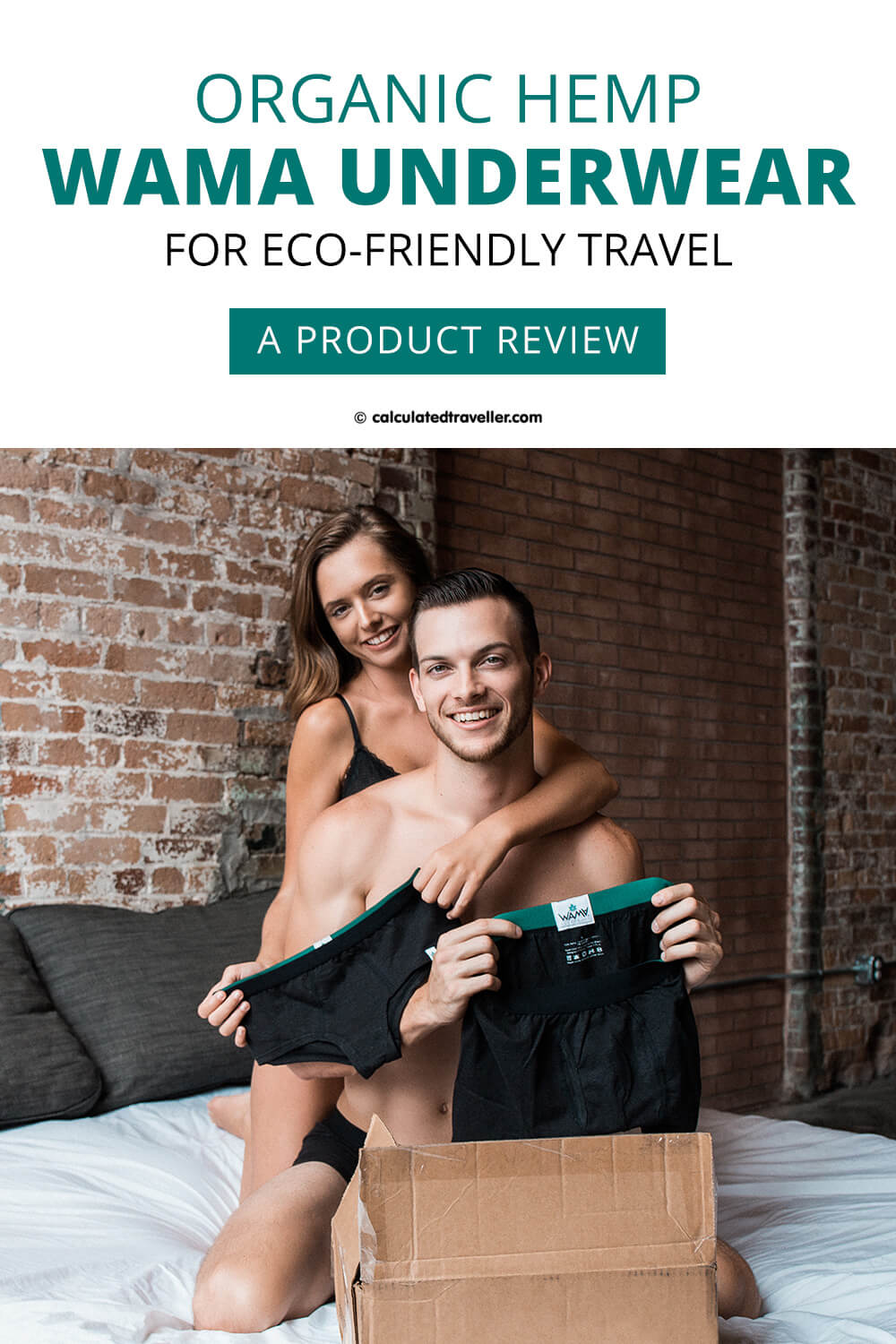 I stand corrected, FIVE things matter to me the most when choosing travel underwear:
Choose travel underwear that fits comfortably, is easy-care, durable, but most importantly, ensure that the underwear brands and materials are ethically made, certified organic, and fair trade.
Have you tried organic hemp underwear before? What did you think about it? Do you travel with organic underwear?
All photos and product samples for testing and review are courtesy of Wama Underwear. All opinions are entirely my own.