In the brisk cold winter air, there is silence except for the jangle of the collars and the panting of the Purebred Siberian Huskies. No one speaks for fear of ruining the moment as the bright sun shines overhead and the dog sled makes its way down the trail. I can still remember how it felt dogsledding with Winterdance Dogsled Tours in Haliburton, Ontario. It's one of those once in a lifetime memories that I'll never forget.
I'm not a dog person. I don't dislike dogs necessarily, but I haven't spent enough time with one to get to know them, but after spending an afternoon with the dogs of Winterdance, I might just change my mind.
These dogs were the most lovable and huggable dogs that I've ever met…and I'm not joking when I say that the thought did cross my mind to bring one of them home with me that very night if only I had packed a larger purse!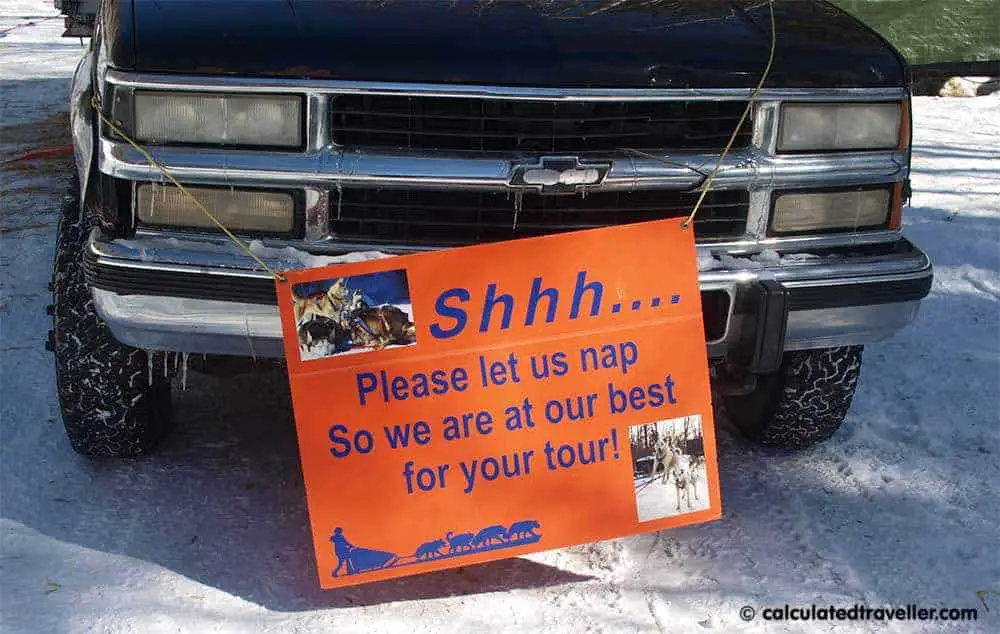 When we first approached the meeting area for our run, there were large signs telling us to be quiet. The dogs were sleeping and getting their rest and were not to be disturbed. Try as we might, but as the other participants arrived in their cars and everyone started to get their snow pants and gear ready the dogs quickly woke. You know what it's like with children right? The same holds true with dogs. Once one is awake and starts to whimper and cry the next thing you know everyone is awake!
If these huskies could talk…
The whimpering and howling started…they were anxious to get going. These dogs know exact!y what they want to do…. RUN.
Once the Winterdance crew arrived, the dogs were strapped into their harnesses, and we were assigned our sled and team.
"Go love up your dogs…the more love you give them, the more they'll want to work for you."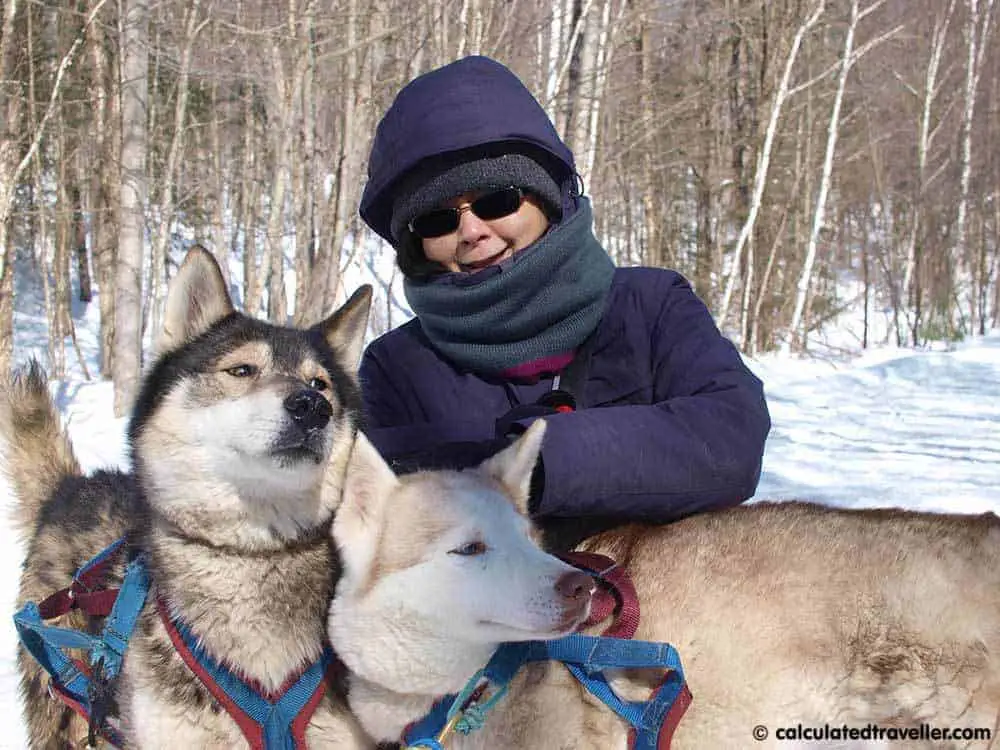 With trepidation, I did what I was told. OMG, these dogs are gorgeous, the fur, the love and excitement in their eyes….they are just so happy to see you and to be out of their kennels!
They were rolling in the snow and jumping around. You have to hold on tight to them, or they'll run ahead without you!
My partner in sledding Sharon of Dream Travel Magazine and I took turns alternating between driving and riding in the sled. Each sled was pulled by a team of 5 dogs.
Driving is not the ideal word. Nor is leading. All you are doing is controlling the speed of the dogs by braking (stepping on a bar which has spikes that dig into the ground/snow there by adding resistance to the reins). The dogs know where they are going; you just have to trust them.
There were a couple of times when the dogs were running too fast, and I had to stand on the brake to slow them down. Boy did I get dirty looks from the dogs! They would look back as they were running as if to say "what the…?"
Don't think that this is the time to be lazy and just sit on the sled the entire time. First, it's not as much fun. Second, it gets really, really cold sitting there immobile even with all your snow gear on and blankets too.
The Huskies of Winterdance Dogsled Tours are playful and mischievous
At the middle part of our journey through the trail, we stopped for a break. Treats for all the dogs and hot chocolate and pastries were passed around.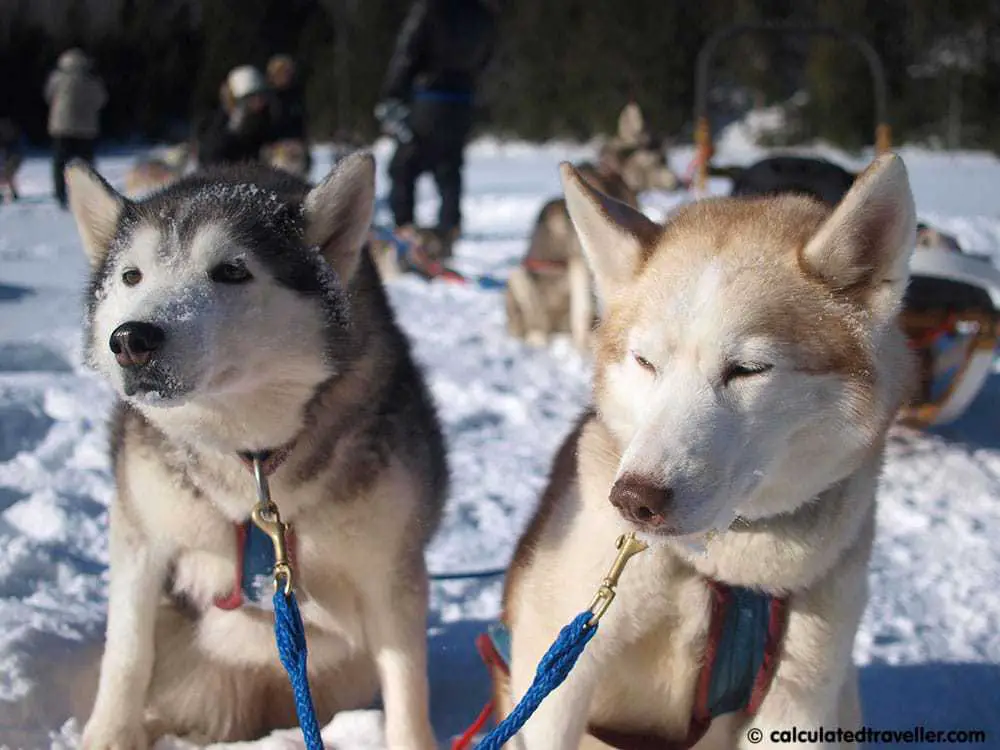 As we enjoyed our refreshments, I discovered just how playful and mischievous a dog could be. Our dog kept trying to bite my boot and then at one point I dropped my glove and quick as can be, my glove was in her mouth! I couldn't go on without a glove….so a game of tug of war happened next. I won out in the end, but my trophy was a wet slobbery mess of a glove!
Before you know it, the dogs began to whimper and howl again because they wanted to get back to the business at hand and RUN!
PRO TRAVEL TIPS:
Dress warmly. I had snow pants on and I was still cold!
Wear sunscreen and sunglasses
Arrive early to complete the required paperwork.
There is only an outhouse at the start of the run.
Try to stay hands-free. There is nowhere on the sled for your belongings so you'll have to hold everything.
Hold on tight to your gloves!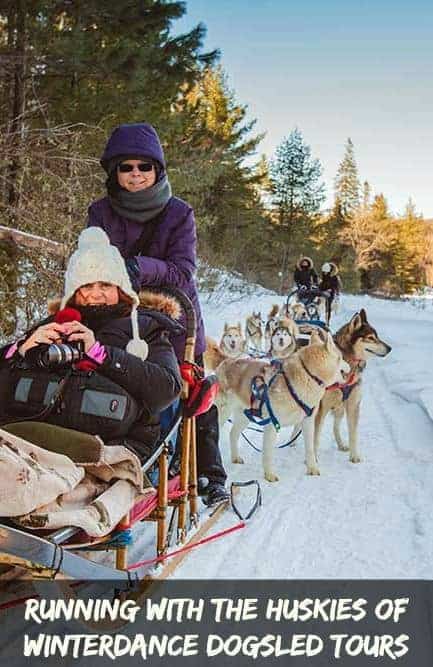 Winterdance Dogsled Tours offers 2-hour, half-day, full-day, multi-day and moonlit runs.
Travel assistance was provided by Ontario Highlands Tourism. As always, all opinions are my own.
Here are a few other Ontario activities:
– 4 Girls Go Ice Fishing for the First Time: The Confession
– An Autumn Afternoon Treetop Trekking in Brampton Ontario
– Gone to Pot by Yours Outdoors in Ontario's Highlands