With history all around us, we go to sleep each night at the comfortable St. George Inn in St. Augustine Florida reliving the past.
St. Augustine Florida is known to be the oldest continuously occupied city in the entire United States. So you can well imagine how much history is present in the city! Located on the corner of Orange Street and St. George Street right next to the Old City Gate, the window of our corner suite looked onto the Oldest Wood Schoolhouse in America.
You can easily walk along historic St. George Street and anything you can't walk to on the fringes of the historic district, you can conveniently get to by taking one of the hop-on-hop-off tours that stop on the corner.
Our suite at the St George Inn — Santa Maria Room at the Old City Gate
Our suite the "Santa Maria" is on the second floor of the courtyard and offers the following features:
King Bed
Shared balcony with view of St. George Street
Rusk Amenities Collection toiletries
Hair Dryer
Iron and Ironing Board (upon request)
Alarm Clock Radio
Complementary toll and local calls
In-room Starbucks Coffee and Tazo Tea
Complimentary WIFI
Antique Brass Ceiling Fans
Fine Linens and bedding
Refrigerator
32" HD TV
Featuring traditional decor and furnishings, our suite at the St George Inn was large, comfortable, relaxing and felt like home.
Standard Amenities at The St. George Inn
Free High Speed Internet (WiFi)
Bar/Lounge
Breakfast included
Computer Station
Business Center
Concierge
Tour/Ticket Assistance
Garden Courtyard
Cafe/Coffee Shop
Complimentary Coffee in the Lobby
Discounted Parking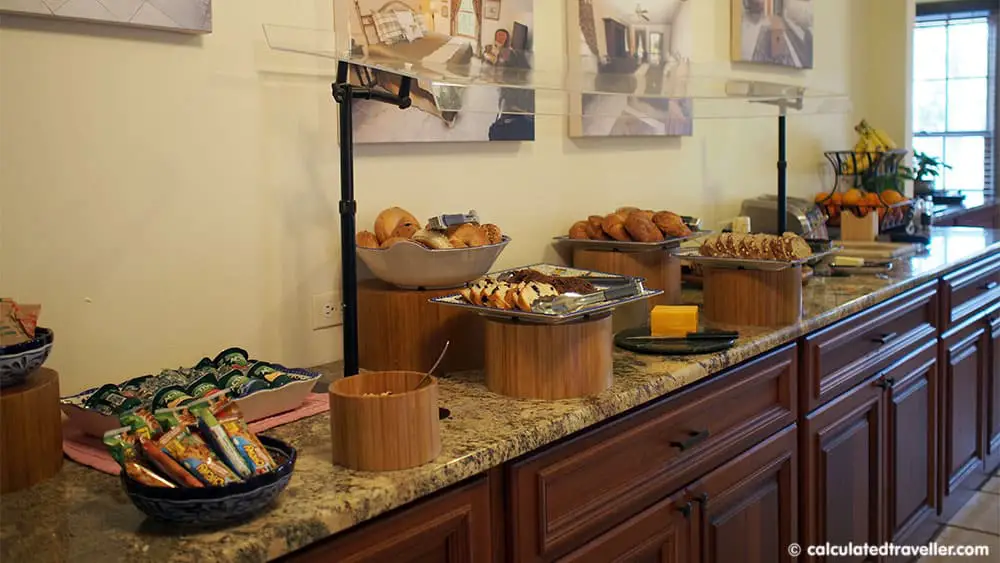 Breakfast (served in the main office next to the front desk) is lovely and filling featuring deli meats, cheese board, various types of bread and pastries, fresh fruit and an assortment of jams and spreads. It's a good breakfast to start a busy day.
A nice touch is the wooden trays so that you can take your breakfast outside to the courtyard to enjoy the morning sun. You are welcome to also take your meal up to your room and eat on the shared balcony outside your suite. I also like that you can enjoy your hot coffee or tea in a real mug or take it in a to-go cup without having to ask for it.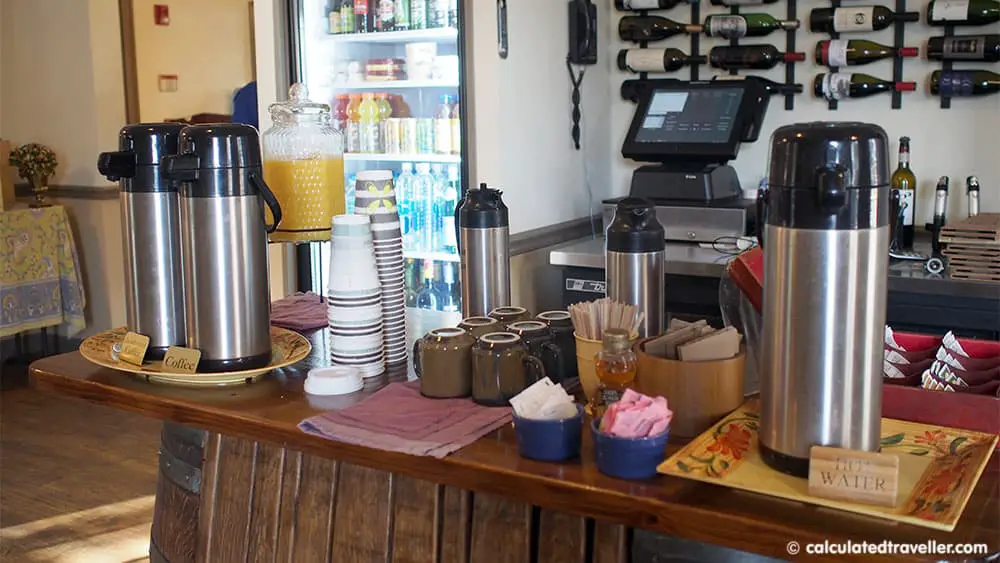 At night, the breakfast area turns into Bin 39 Wine Bar with an excellent selection of red, white, beer, and cheese. Again, you are welcome to enjoy your glass of wine back in your room or relax in the courtyard to the sound of the fountain.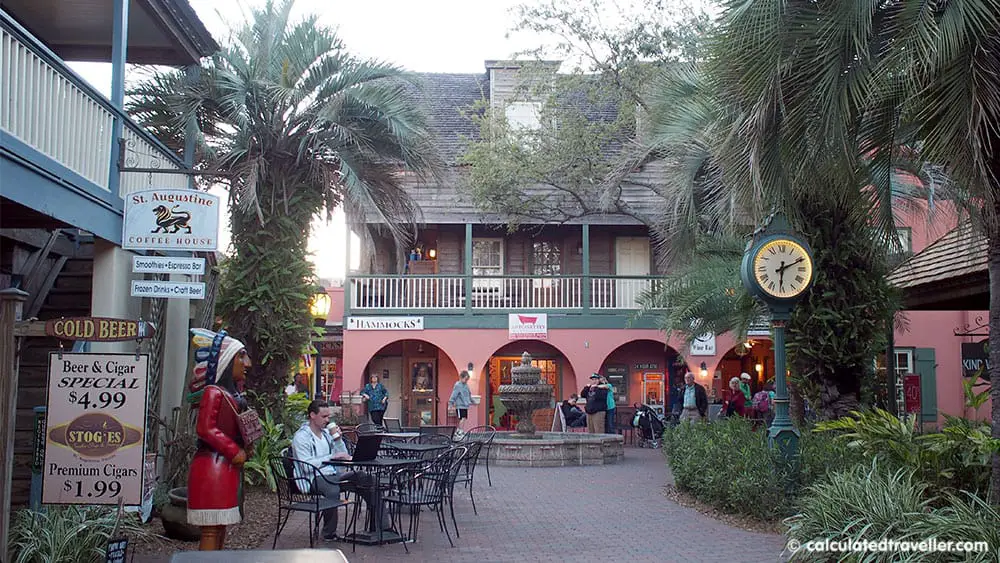 A few things to be aware of:
Stairs: The St. George Inn is newly built but designed to look historic and blend into the surrounding environment. As a result, there are no elevators, only wooden stairs.
Exterior access: The stairs are open access and do not have any security gates so technically anyone can go up the stairs to where the rooms are. There are signs, and I never did witness anyone doing this, but the possibility is there.
No in-room safe: I found this a bit problematic as I prefer to lock up our passports, car keys, and laptop when not in the room.
Key locks: No electronic key locks or key cards – just regular metal keys and a glass french door.
Off-site parking: St. George Street is a pedestrian-only zone. When it comes to your luggage, there Is a loading area next to the old city gate that you can use at check-in and check-out, but you'll have to park your car at the main public garage a short walking distance away.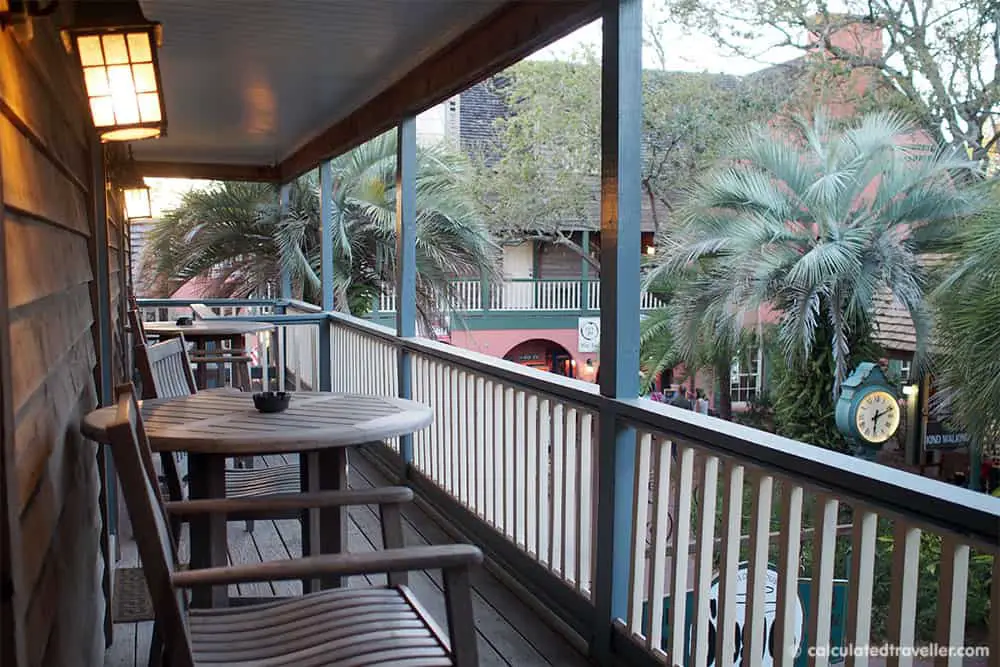 New at St.George Inn — The Castillo Suites
The newest addition to the St George Inn are the Castillo Suites. The Castillo Rooms fit in perfectly with the opulent feel of the St. George Inn. These spacious suites located on the east side of St. George Street feature incredible views, luxury upgrades like fine linens and high-end fixtures.
Unlike the other rooms in the hotel, the ten Castillo rooms feature a full living space with separate formal bedroom, making this feel more like home than a hotel and immerses guests into the historic district of Saint Augustine. They also have private balconies with a view of the Castillo de San Marcos, Matanzas Inlet, or the Castillo Plaza.
If travelling with another couple and booking two suites, there are some units with front door lock-outs — meaning that you can keep both your suite doors unlocked but lock the main front door.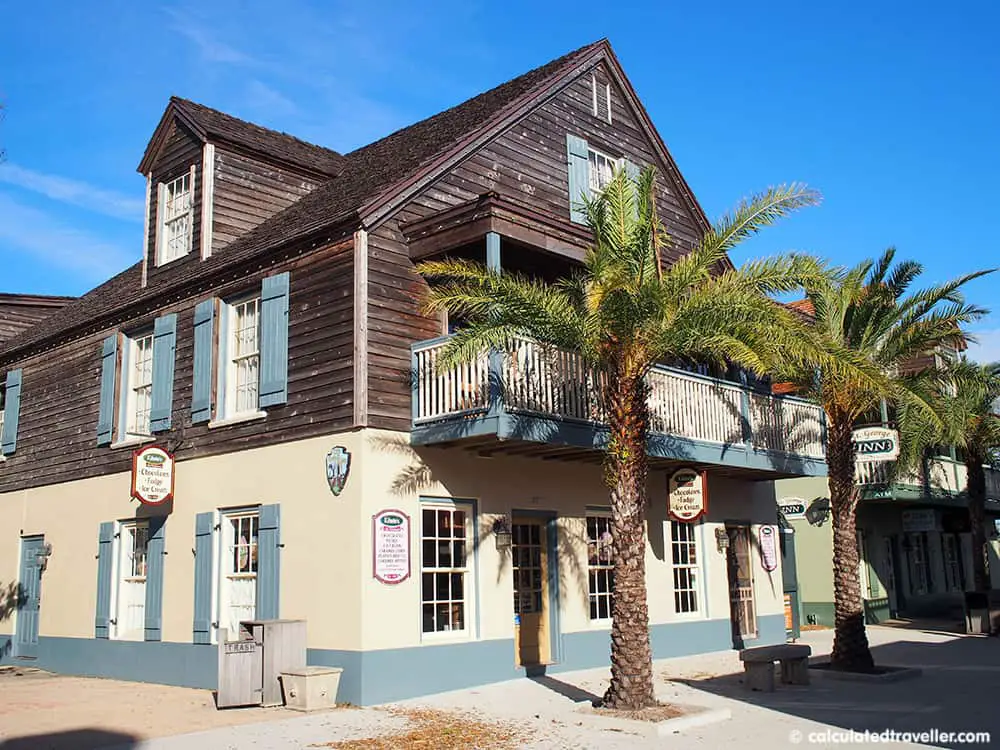 What St. Augustine attractions are nearby the St. George Inn
Flagler College
Old Saint Augustine Village
Ponce De Leon's Fountain of Youth Archaeological Park
Historic Bayfront
Castillo de San Marcos
San Sebastian Winery
Ripley's Believe it or Not
Whetstone Chocolate Tasting and Tour
Alligator Farm
Villa Soryada
St. Augustine Amphitheatre
Old Jail
World Golf Hall of Fame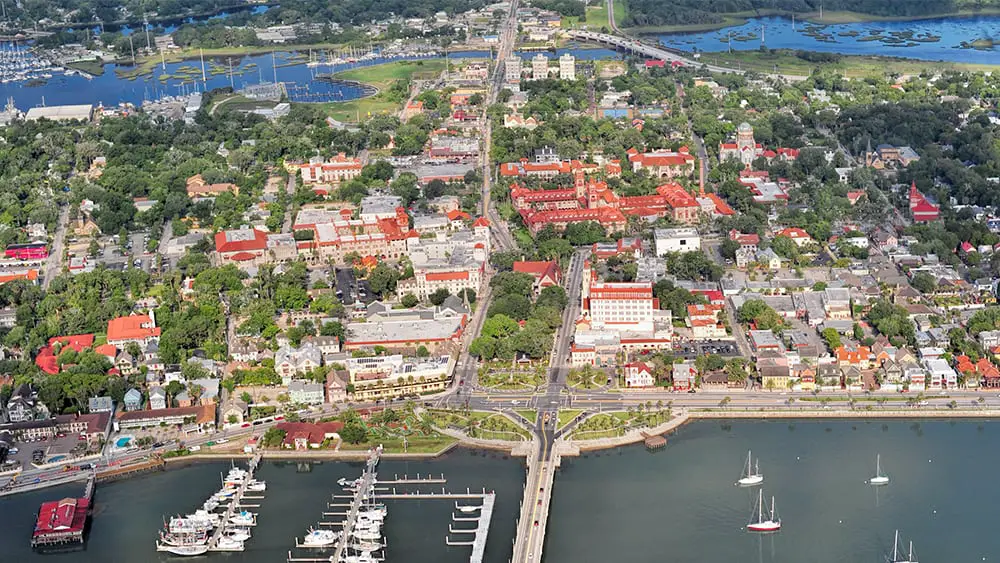 Wondering if the St. George Inn St. Augustine is haunted?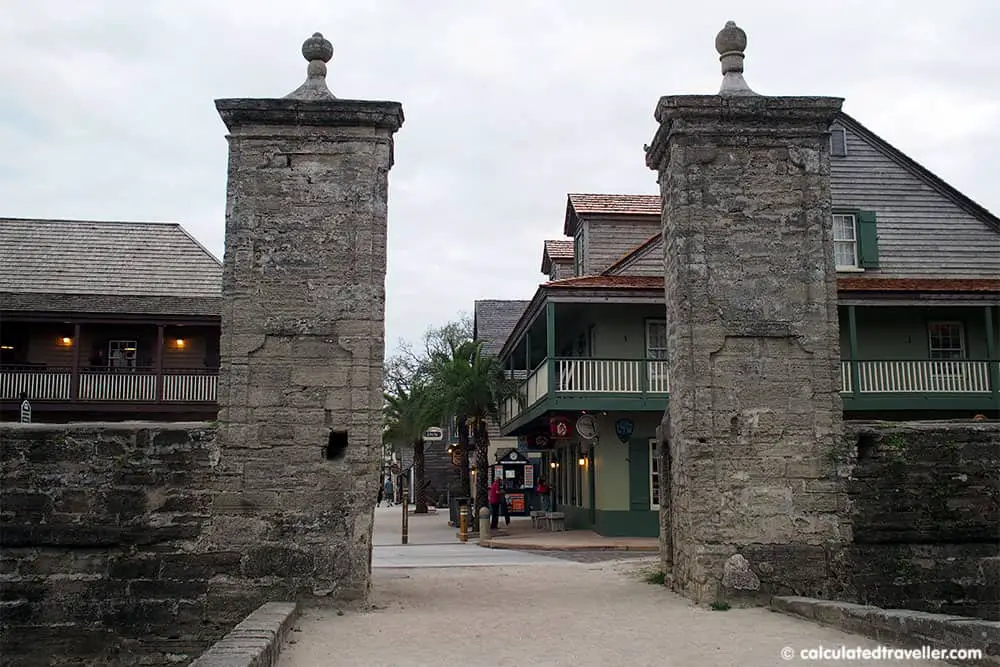 Well, we didn't experience anything spooky, but according to the 2 Ghost Tours we took within the city, the courtyard of the Inn sits on top of the oldest burial ground in the city. Also, the old city gates and the cemetery which are a stone throws away are said to both be haunted. It is said that a young girl named Elizabeth, the daughter of the gatekeeper stands by the gates at night — she died at the age of 9 from Typhoid Fever in the 1800's.
I'll let you decide for yourself… sweet dreams.
St. George Inn
4 St. George Street #101, St. Augustine, FL 32084
For more St George Inn St. Augustine Reviews check out TripAdvisor.
Travel assistance was provided by the St George Inn and Florida's Historic Coast, all opinions are entirely our own.
For more articles featuring St. Augustine:
– History, Sun and Tours in St. Augustine Florida
– A Taste of St. Augustine Florida in Search of Spirits and Chocolate