One of my favourite adventures, whenever I travel, is going on tasting tours. Wandering around a new city in search of good food and drink on your own involves a lot of trial, error, and misses; but when the time is tight, I find it's much faster to join a tour with a trusted guide.
On a trip to St. Augustine, Florida; the oldest continually occupied city in the United States, I opted to skip a traditionally organised food tasting tour and decided instead to embark on an individual distillery and factory tour in search of bourbon, whiskey, rum, gin, vodka, and chocolate.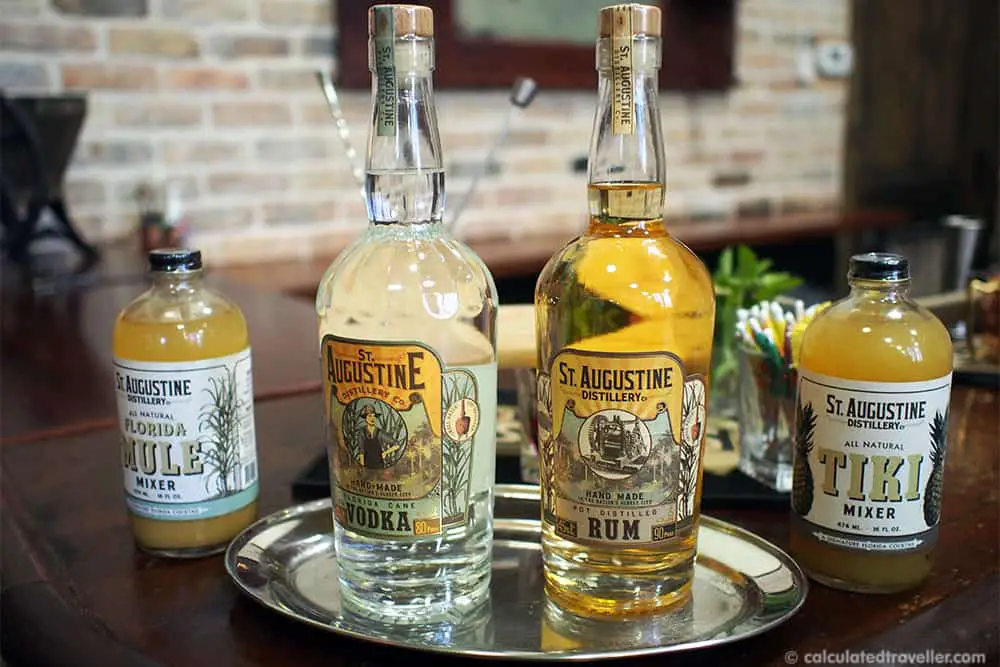 A Dram or Two at St. Augustine Distillery Company
112 Riberia Street, St. Augustine, Florida 32084
Located in a historic commercial ice plant building from the early 1900's, St. Augustine Distillery Co. is known for their handcrafted small-batch whiskey, rum, gin and vodka. They've been able to produce these award-winning spirits while adapting to Florida, and specifically St. Augustine's hot and humid maritime climate.
Local citrus is an obvious choice for their gin and with the addition of whole, fresh herbs – hand ground just before use in a vintage burr grinder – making for a unique and vibrant spirit. After enlisting a few local bartenders to sample the gin, they knew they had something special.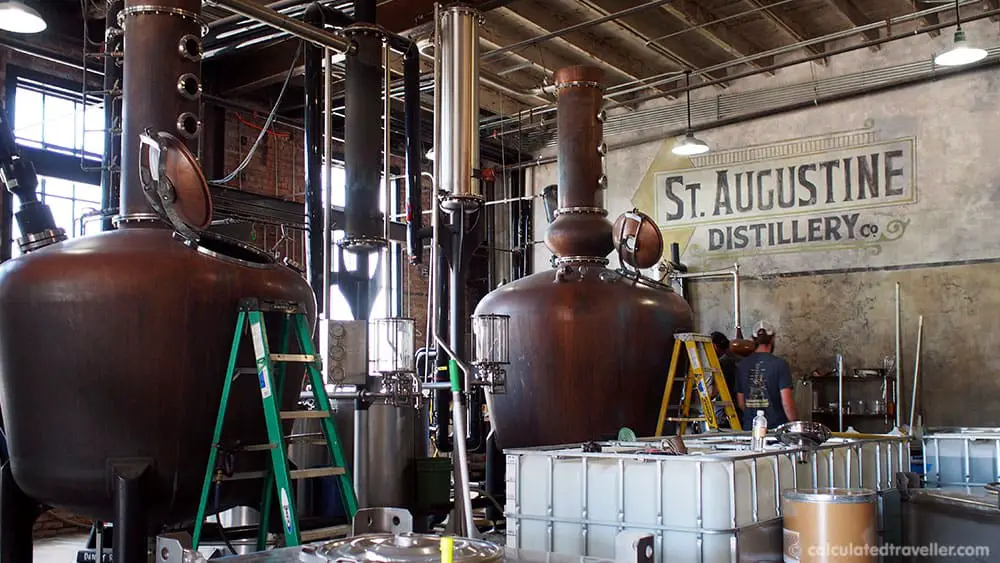 Although young, their whiskey does have pedigree with a former Master Distiller at Maker's Mark and former Founding Distiller for Stranahan's Colorado Whiskey being an integral part of its creation.
Whiskey ages in charred oak barrels with the spirit soaking into the wood during the hot summer months and being "squeezed out" during the colder months giving it its deep colour and rich flavouring. To keep their whiskey from over-extraction in Florida's consistently balmy southern temperatures, St. Augustine Distillery chose to finish the ageing process for a portion of the spirit in larger barrels. Brilliant!
It is also one of only 5% of bourbons created outside of Kentucky and the first to be produced in Florida.
Their pot-stilled rum aged onsite and Florida farmed cane sugar for their vodka round out their distilled tasting menu.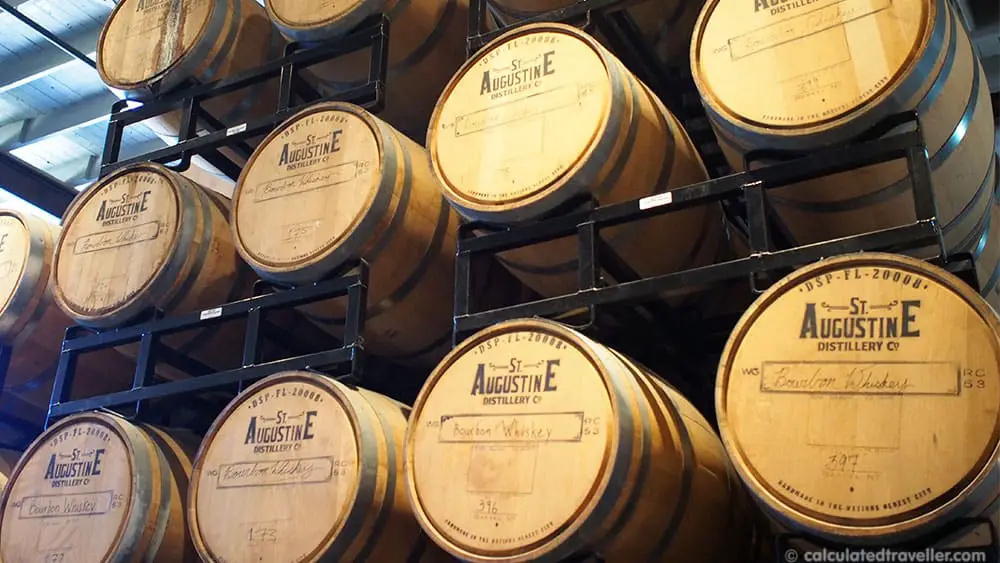 Tours of the distillery, are free and take place seven days a week. ID is required.
Read other reviews of St. Augustine Distillery Co.
With such a wide verity of spirits to choose from, along with a restaurant and bar to do your research, it's hard to leave St. Augustine's distillery without a bottle (or two) in hand.
Conveniently a quick walk down the street and around the corner from St. Augustine Distillery Co. is another tasting tour — this time, sugary sweet and perfect for the whole family.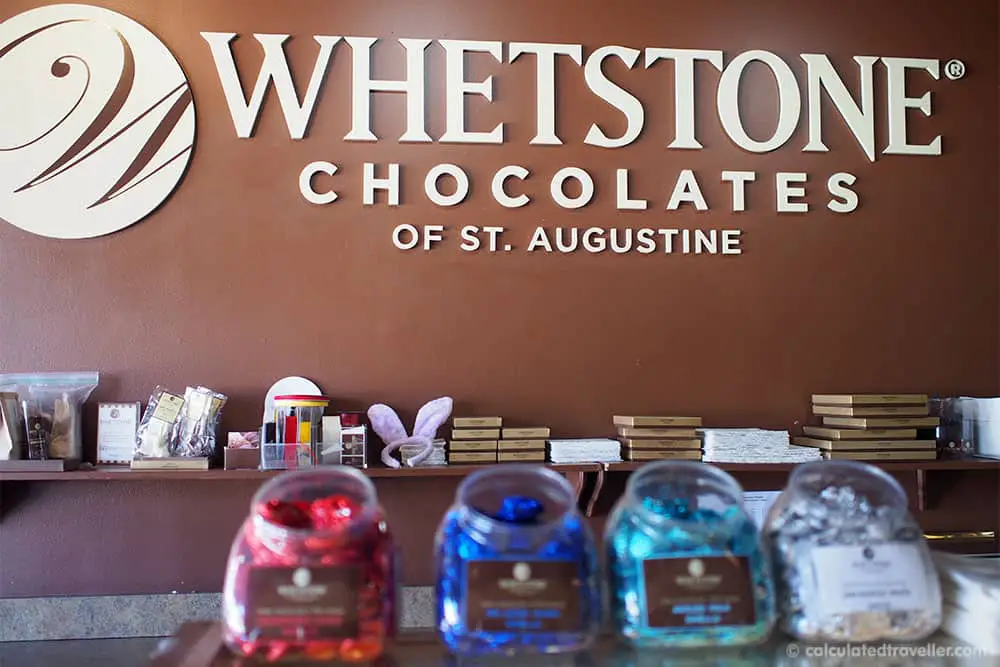 Chocolate Tasting Tour at Whetstone Chocolates of St. Augustine
139 King Street, St. Augustine, FL 32084
There are three Whetstone Chocolates of St. Augustine retail locations within the city of St. Augustine, but only the King Street location offers a factory tour and store.
On our 1-hour tour of the Whetstone Chocolate factory, our merry group of 25 chocolate tasters learned the complete process of creating fine chocolates. With words like fermenting, roasting, grinding, refining, conching, and tempering — our tour included an introduction to the Henry and Esther Whetstone family history, and a walk through the factory floor where we saw first hand how their chocolates get created.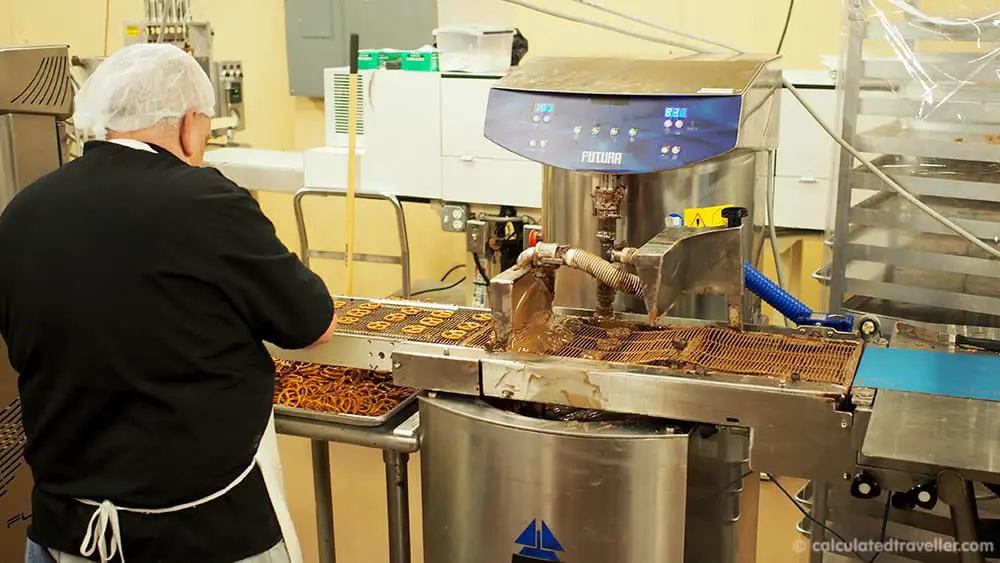 To understand how to taste chocolate, Whetstone Chocolates recommends that you eat it in solid form without anything added to the chocolate such as nuts. As a result, they created a line of solid chocolates known as "Select Blends" for this exact purpose.
"Select Blends" are chocolates created with a combination of cocoa beans from different parts of the world to create specific flavour profiles that remain consistent from year to year.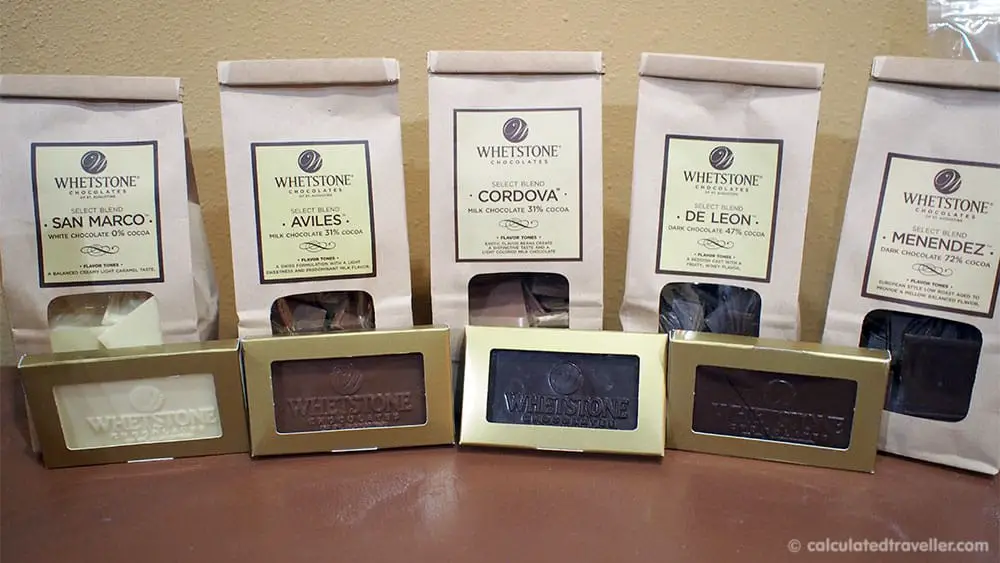 During the tour we tasted the following:
San Marco Blend White Chocolate (0% Cocoa)
– Creamy light with a slight caramel taste
Aviles Blend Milk Chocolate (31% Cocoa)
– Milk chocolate similar to Swiss-made chocolates, lightly sweet and silky smooth.
De Leon Blend Dark Chocolate (47% Cocoa)
– A dark chocolate blend with a fruity, wine flavour.
Menendez Dark Chocolate (72% Cocoa)
– European-style dark chocolate aged to provide a mellow, balanced flavour.
Artisan Chocolate Piece
– A decorative piece of chocolate as opposed to a square bar.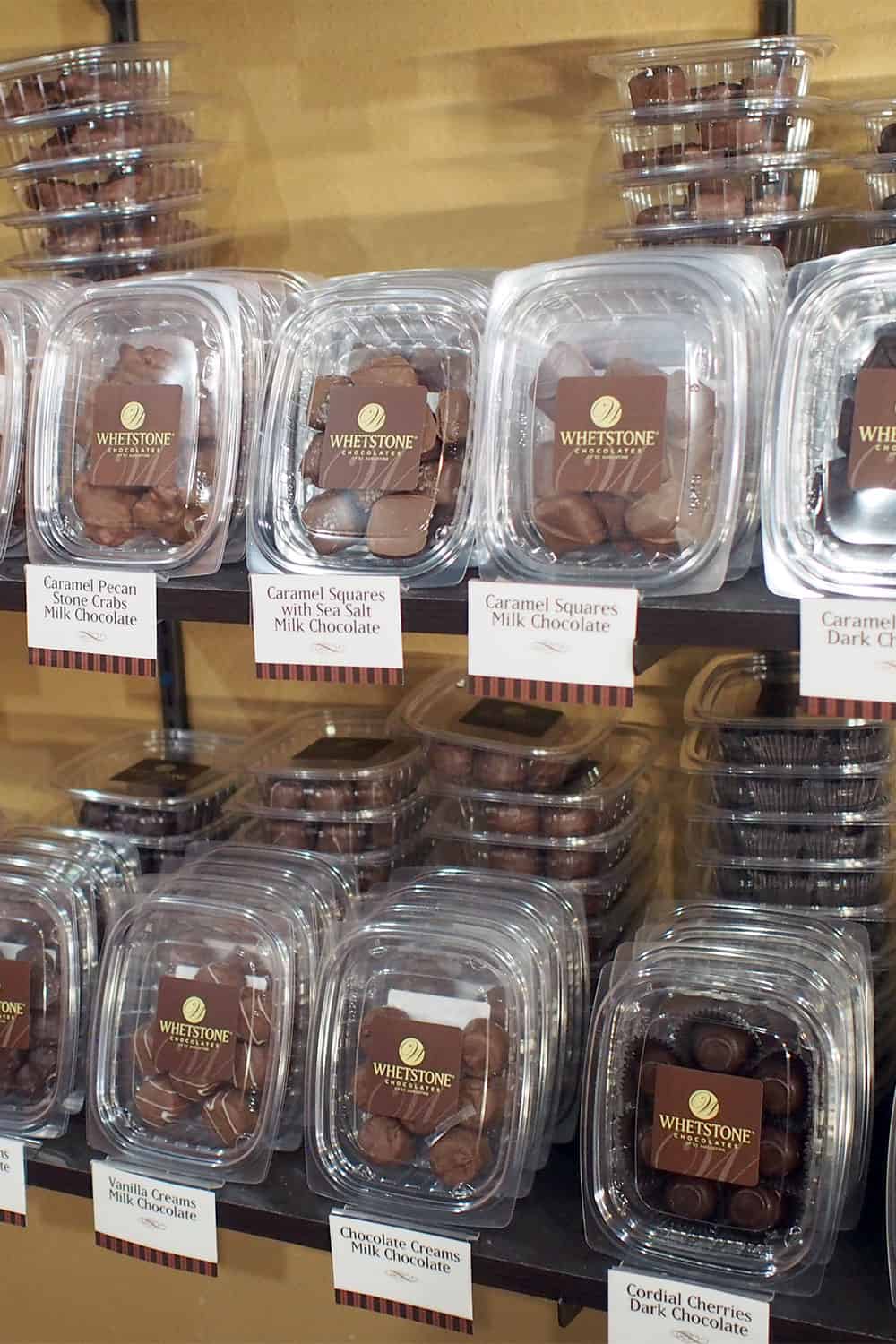 The Whetstone Chocolates Store has a wide assortment of delicious chocolate gift packs perfect for taking back home with you as well as a yummy ice cream bar for a sweet cold treat as you make your way back to your hotel.
Tours take place seven days a week and ensure you make reservations (this is a popular tour).
– Tickets are Adults $8, Children 5-17 years of age $5.50, Children under 5 are free.
– Each adult ticket includes $2 coupon towards purchase over $10.
– As this is a working factory, tour participants are required to wear hairnets and beard guards (provided).
– No outside food or drink is allowed.
Read other reviews of Whetstone Chocholates.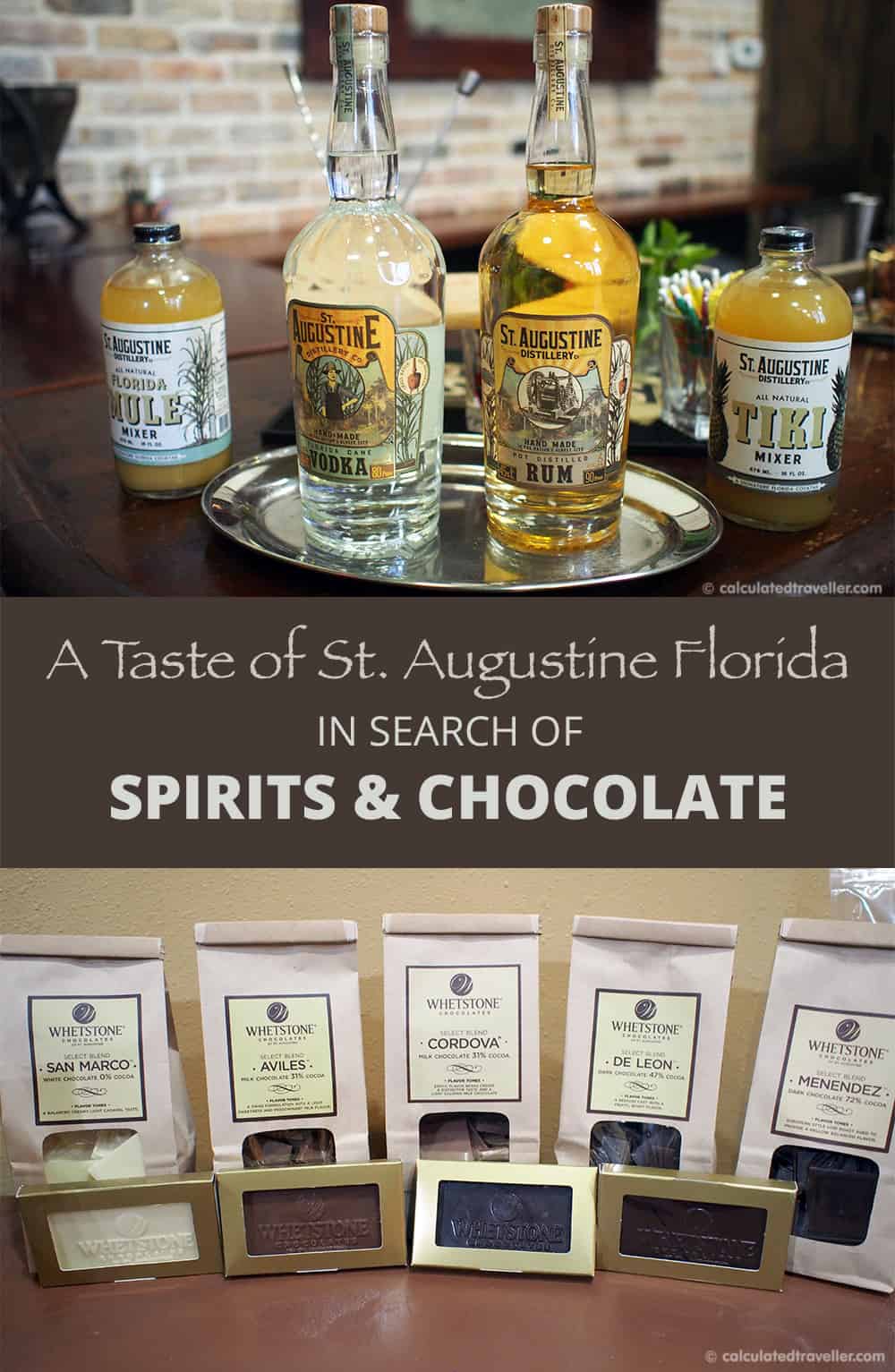 Whether you favour a sumptuous tipple of bourbon or prefer the sweet decadence of silky smooth chocolate, you are bound to find something to suit your fancy in St. Augustine Florida with a tour of St. Augustine Distillery Co. and Whetstone Chocolates of St. Augustine.
Have you experienced a distillery tour or a chocolate factory tour? Let us know in the comments below.
Looking for a place to stay while in St. Augustine?
– We stayed at the lovely St. George Inn perfectly located right on historic St. George Street. A full review to come shortly, but in the meantime – check prices and reviews.
TIP: Conveniently the Red Train Tour stops at the distillery, chocolate factory, and the St. George Inn as well as other key tourist spots throughout St. Augustine should you not wish to walk in the hot sun.
Travel assistance was provided by Florida's Historic Coast. All opinions are entirely my own.
Read more about St. Augustine:
– History, Sun and Tours in St. Augustine Florida
– Pizza Time in St. Augustine, Florida
– Food Fight at the 2015 World Food Championships Kissimmee Florida