In Puerto Vallarta Mexico one can't live on sun, sand, sea and Mojito alone. Eventually, you are going to have to eat something.
For a first time visitor to Mexico who loves great food, finding good Puerto Vallarta eats is easier said than done.
Being Canadian, I don't have a lot of experience with Mexican cuisine. Truly authentic Mexican restaurants are few and far between, and all that we have are Tex-Mex chain restaurants, fast food joints in the mall, and boxed taco kits from aisle 4 of the supermarket.
Given the opportunity to explore the streets of an unfamiliar city, eat local authentic good eats, and do it all with an expert local guide who speaks the language fluently and knows exactly where to go is the best thing ever!
Puerto Vallarta Food Tour? Sign me up!
Taco de Cabezzo o Cachete, de Pescada and al Pastore – A Taco Tour
With comfortable walking shoes on our feet and bottles of water in our hands, our group of hungry travellers set out on our journey through the streets of Puerto Vallarta's Taquérias with our guides Amanda and Manuel from Vallarta Food Tours.
Taco de Pescado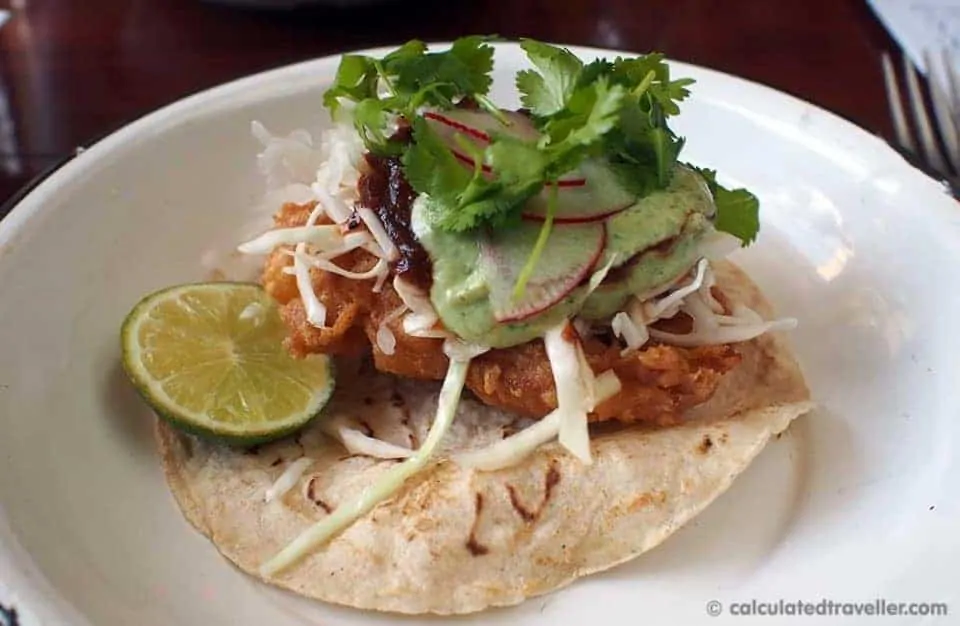 Also known as a "Baja" Taco and made of battered Pacific red snapper, roasted chillies, garlic and lime with a cabbage-cucumber slaw. Served with an avocado cream. I became a total fan of the taco after I took my first bite of this Baja Taco. The delicious fish in a very crispy batter was well seasoned, and the cabbage-cucumber slaw brought the right amount of freshness to every single bite.
Taco Volcan de Asada y Adobada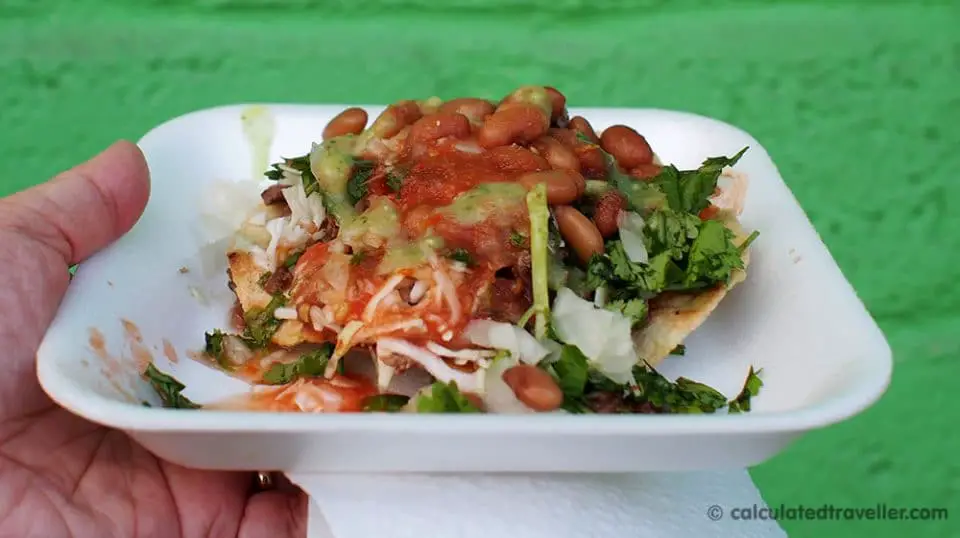 Served with cabbage, tomato, onion, and an avocado cream. There is also an assortment of sauces to add to your taco such as salsa vérde, tomatillo and chilli paste.
Crab Enchilada

The crab is cooked in a béchamel sauce and covered with a seafood bisque. Accompanied with a house-made chilli oil to add some heat and fresh salsa.
Taco Cabezzo o Cachete – a perfect "late-night" taco

Next, on the itinerary, things get a little bit exotic and daring. Taco Cabezzo o Cachete is made from Beef Head — brains, cheek, eye socket, lips, palate and tongue. Our guides told us that this was the "cleanest" of tacos as the meat is kept hot and steaming at all times before serving. If you are feeling adventurous, you can ask for the full experience where they will add all the beef head parts to your taco. Otherwise, do as I did and just get beef cheek. Again, different salsas and sauces are available to put on top.
Mezcal Ali-Pus

Not a taco but a necessary taste test on any trip to Puerto Vallarta is a sip or two of Mezcal. Similar to Tequila, Mezcal comes from the Agave plant, but instead of a lime wedge and salt it's served with a slice of orange or pineapple sprinkled with a spice blend of chillies. This drink is for sipping not shooting (it's 110 proof after all) and best when you bite a slice of the fruit, take a deep breath, drink, swallow, and then exhale to enhance the smoky flavour of this popular drink.
Learn the difference between Mezcal and Tequila here.
Sopé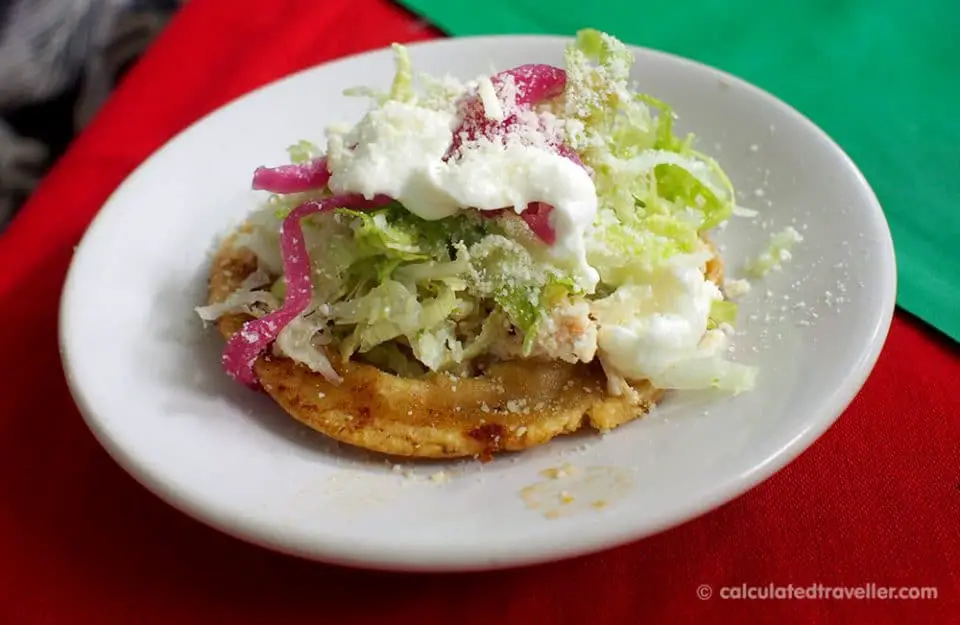 Shredded pork on a deep fried disk of hominy (similar to American Grits). I'm not going to lie but I'm not a fan of grits, and as a result, I'm not surprised that I wasn't a fan of this dish. That's the thing about a food tour though, you don't have to love everything you eat = the key is that you gave it a try.
Tacos al Pastore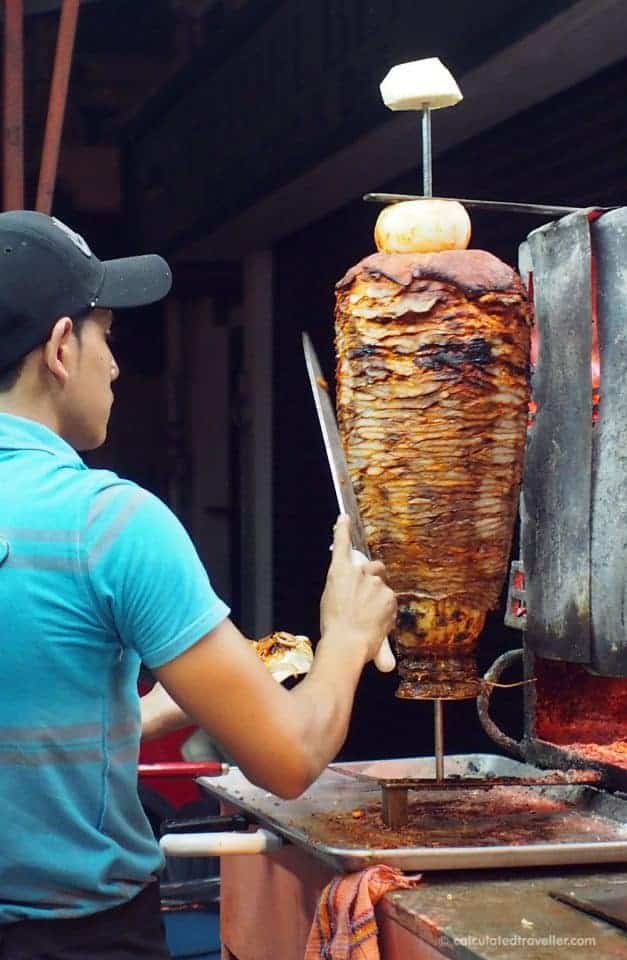 Inspired by Middle Eastern Shwarma, on a vertical spit a blend of chicken and pork roasts and upon ordering the meat is sliced and served with pineapple. The meat had a very nice char from the roasting process and was very flavourful and delicious.
Churros

We stood on the street corner of Uruguay and Peru as Manuel narrated the cooking process; our eyes wide with wonder as the circular spiral batter turned from pale beige to a rich caramel brown in the hot oil. My mouth was watering as I patiently waited for the spirals to be cut into pieces, tossed with sugar and placed in individual bags. For the perfect sweet ending, there is nothing like fresh churros made right in front of your eyes but, make sure you wait for them to cool down or you will burn your tongue!
We ended our evening as we stumbled back to our hotel under the light of the stars, our feet sore from all the walking our tongues spoiled from all the tacos, and our minds full of sweet churro memories.
Tips for Vallarta Food Tours:
Bring hand sanitizer
Wear comfortable shoes as some of the streets are cobblestone
Bring an appetite
Let your guides know if you have any food intolerances like gluten, lactose, etc. or if you are vegetarian. The gang at Vallarta Food Tours is very accommodating in ensuring that alternatives are available.
I highly recommend that you take this tour at the beginning of your stay in Puerto Vallarta so that you have enough time to make return visits to the various vendors and restaurants again and again before you have to go home!
Check out TripAdvisor to read other reviews of Vallarta Food Tours.
Wondering where I stayed?
Total Bliss at the Villa Premiere Boutique Hotel & Romantic Getaway Puerto Vallarta
An All Inclusive Gourmet Experience at Villa Premier Boutique Hotel
Travel assistance provided by Visit Puerto Vallarta. All opinions are entirely my own.