Carry-on bags come in a multiple of sizes, styles and shapes. No one bag is perfect for everybody. It does take a bit of trial/error to find that one bag that you love and that works for your personal travel style.
Some people use their carry-on purely for the convenience of having a few things at the ready during their flight — a couple of toiletries, some reading material, electronics, medications etc.— keeping the majority of their belongings in their main checked luggage for use at their final destination.
I, on the other hand, prefer to fly carry-on only with no checked luggage, no matter the length of the journey or the adventure.
Read: Carry-On Luggage – My journey to en-LIGHT-enment
If you are a regular reader, you know that I'm petite at 5 foot nothing and when travelling alone you can imagine that I have a tough time lifting my carry on bag over my head to place inside overhead compartments on the plane.
Usually, I plan ahead if I know I'm going to be in this situation and plot my position in the queue when boarding the plane. I strategically stand in line next to a fit young man, put on my girly voice while I bat my eyelashes and ask him for assistance.

For this reason, when TravelPro sent me their brand new MaxLite 5 under seat bag to review I was happy to have my independence once again!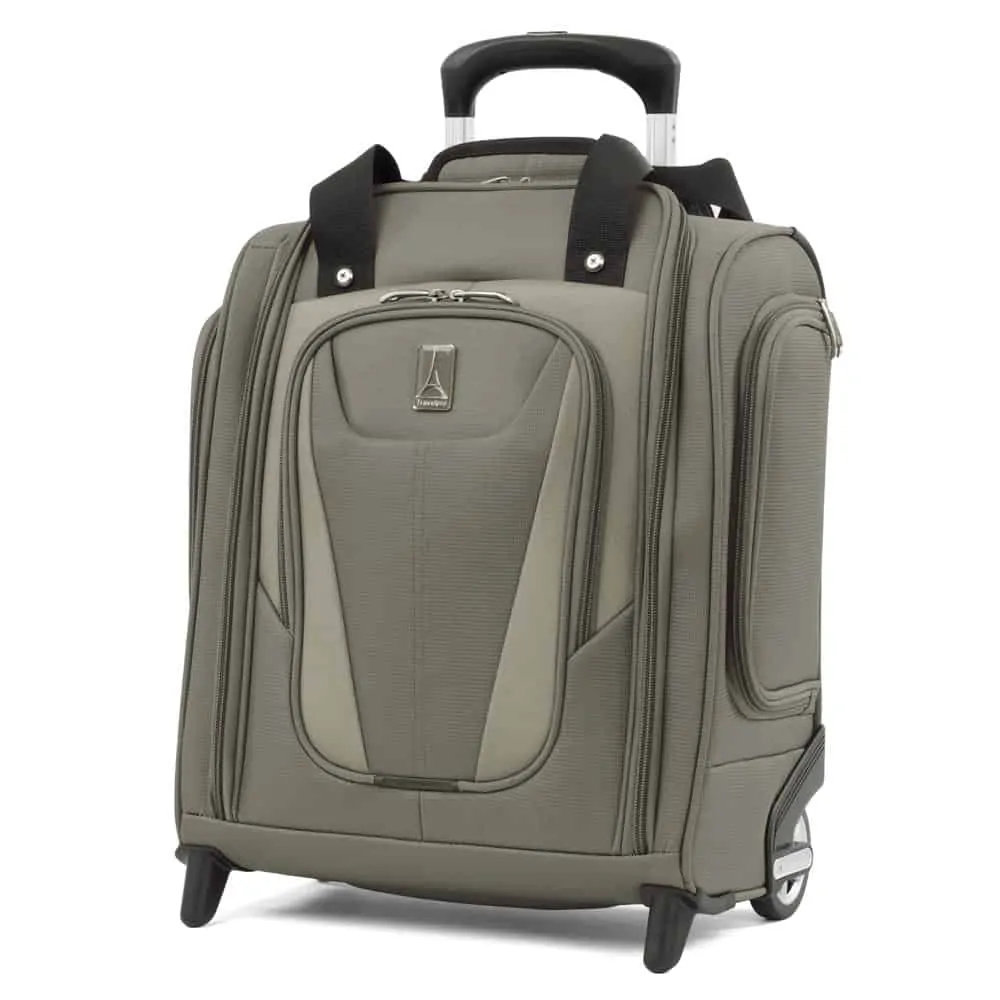 What's an under seat carry on?
An under seat carry on is sized to fit underneath most airplane seats without the need to hoist the bag over your head to store it in the overhead compartment above your seat.
An under seat carry on gives you the ability to access your devices and other items like cosmetics or toiletries for freshening up easily while in flight, instead of having to access them in a crowded overhead compartment. Having your bag under the seat keeps your items within arms reach, safe, and secure.
About the TravelPro Brand
Pilot Bob Plath created the TravelPro brand. No one is more qualified to know what you need in a carry on and other luggage than him. As a 747 pilot, Bob circled the globe and logged thousands of hours of flying, all while taking his suitcases with him. He experienced first hand the toll that lugging carry on bags takes on a frequent traveller (and the bag itself). He wanted to produce something better, and he did.
Bob is the creator of something all us frequent travellers cherish, the upright, wheeled carry-on suitcase. All of our backs thank him! From his original idea for Rollaboard Luggage, TravelPro have been consistently creating new products with every traveller in mind. Their rigorous testing and quality assurance and dedication to producing the highest quality luggage on the market are what sets them apart from the rest.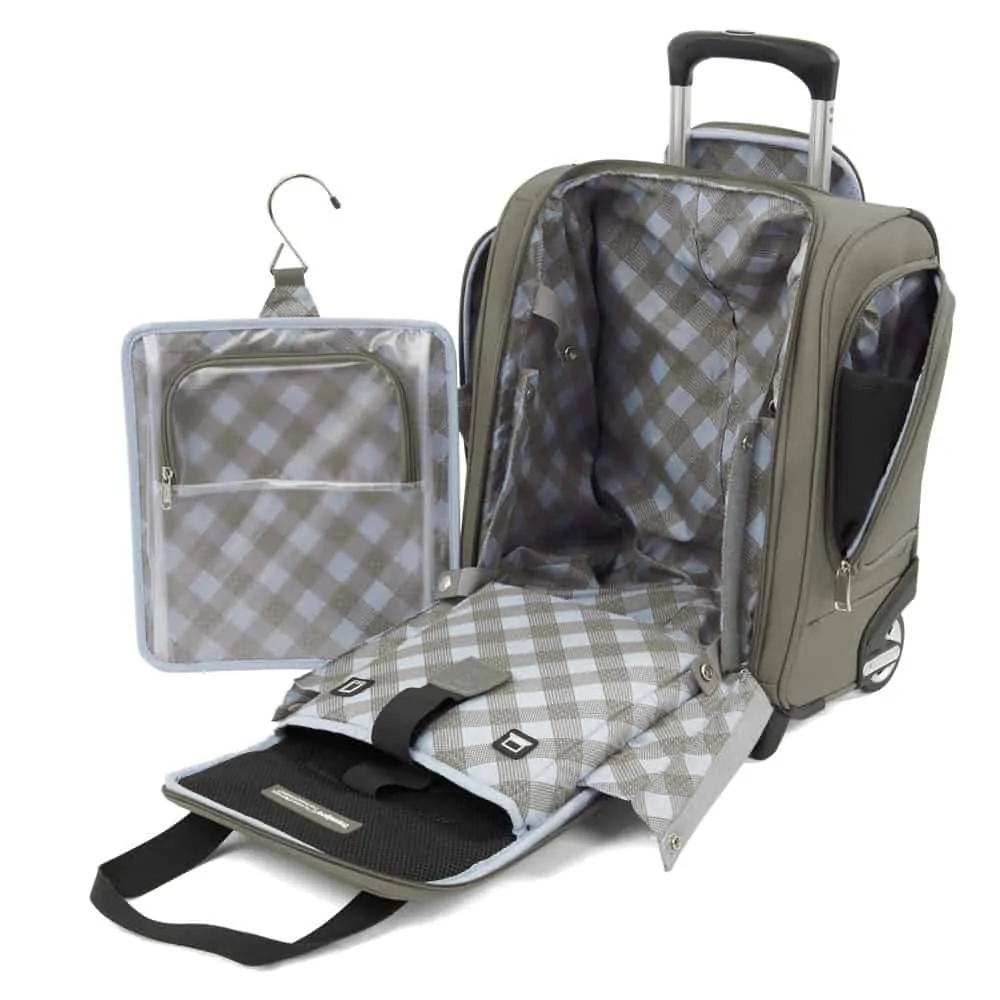 TravelPro MaxLite 5 Rolling Under Seat Carry On Specs
Colours available: Dusty Rose, Slate Green, Black, Midnight Blue, Azure Blue
(Women listen up – the dusty rose is super pretty and not overly pink. The slate green is really more like a beige)
Dimensions: 15" x 13" x 8"
Weight: 5.5 lbs
Volume: 26L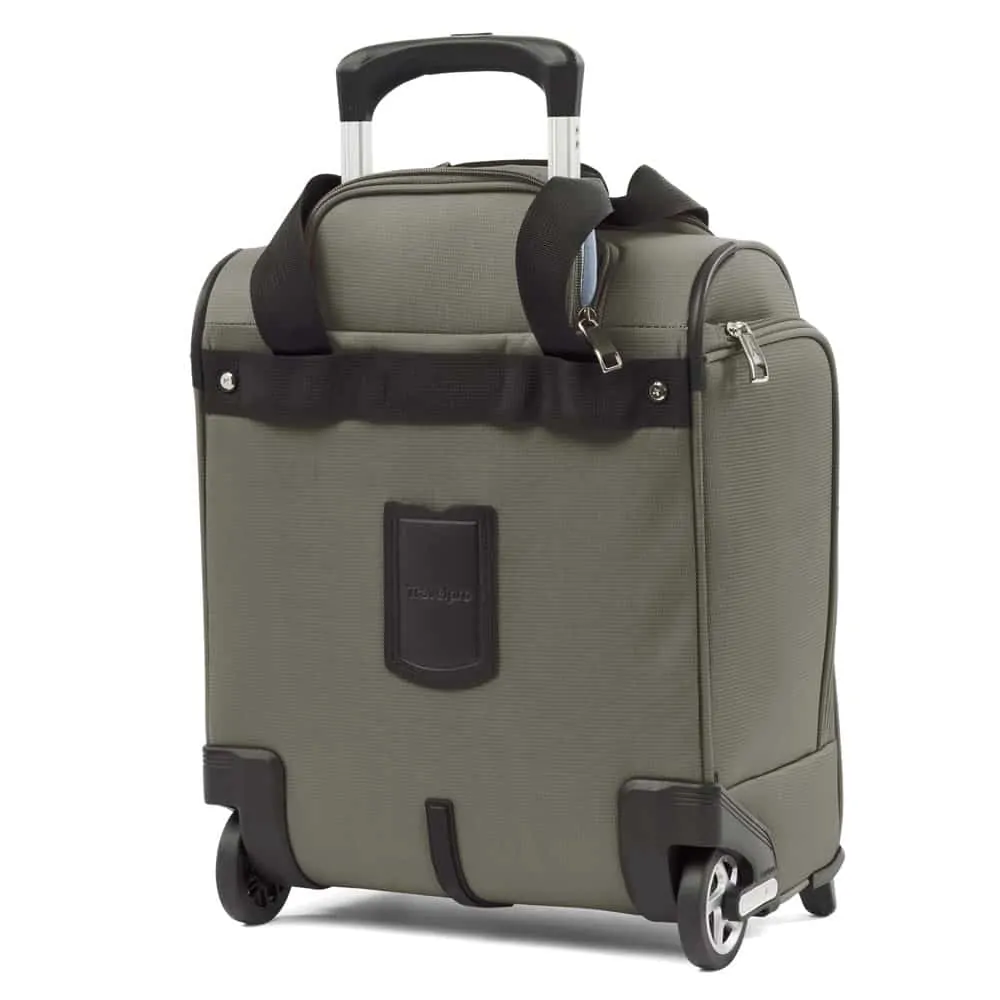 TravelPro MaxLite 5 Features
The polyester exterior with DuraGuard® coating resists water and stains to keep luggage looking great.
Rubberised touchpoints protect the edges of the bag from abrasion.
PowerScope Lite handle reduces wobble and is strong enough to support another tote or case.
High-performance inline skate wheels ensure a smooth roll and prevent tipping.
A rear strap that stays shut with velcro fits around the extension handle of most spinner suitcases so that you can stack your bags
Ergonomic, high-tensile-strength zipper pulls are sturdy yet easy on the hands.
Interior padded laptop/tablet sleeve offers protection for electronic essentials and easy access when going through airport security.
Removable, hanging wet pocket is perfect for cosmetics or toiletries.
H20 Guard protects the interior lining from moisture.
Limited Lifetime Warranty.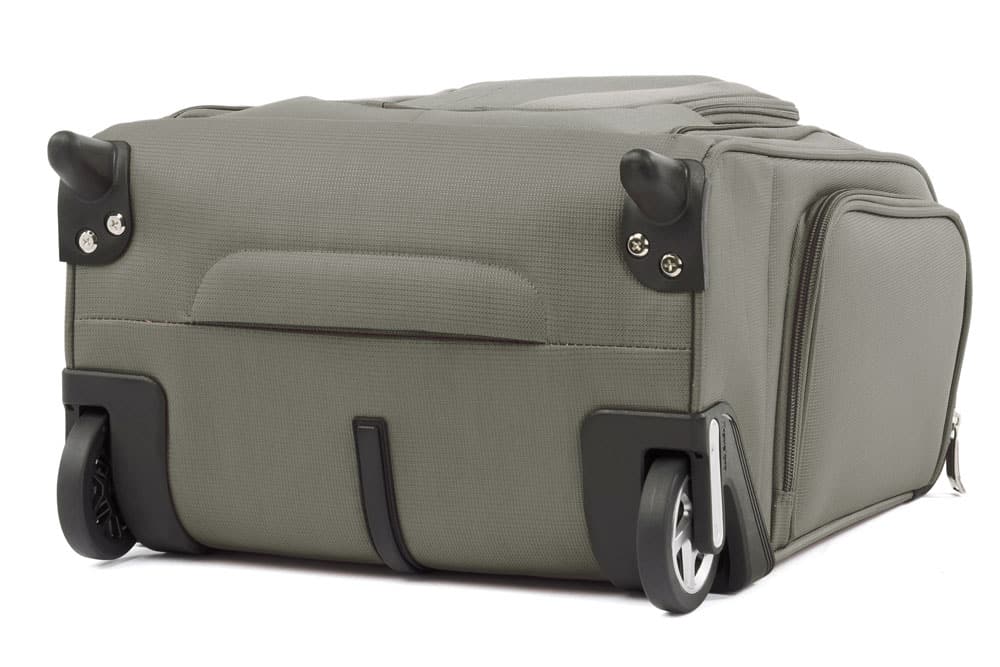 Perfect for short trips, weekend getaways, or overnight stays; at 26 litres of space, it has more than enough room for a few nights clothing.
For the business traveller, the styling looks professional and has a padded area for your electronics, so it saves you from needing laptop bags.
TIP: If you are short like I am, you can use it as a footrest on the plane too.
Other TravelPro Luggage MaxLite 5 collection items include:
TravelPro MaxLite 5 expandable spinner suitcase
TravelPro MaxLite 5 21″
TravelPro MaxLite 5 25″
How Does MaxLite 5 Compare to Other Bags?
Max Lite 5 is different than others because it is explicitly made to fit under the seat of the airplane. There are padded pockets to protect your tech devices and other essential (and fragile) items. The distinctive outer lining (H20 Guard) keeps the interior dry like a hard case suitcase.
Special convenient touches such as two exterior zippered side pockets for a small umbrella or water bottle as well as a small zippered pocket on the front for cell phone, battery pack, pens, and keys.
This bag is not what I would call lightweight but everything about this bag screams travel-friendly, and it even has a limited lifetime warranty! Quality construction and attention to detail are what makes this bag different from the rest.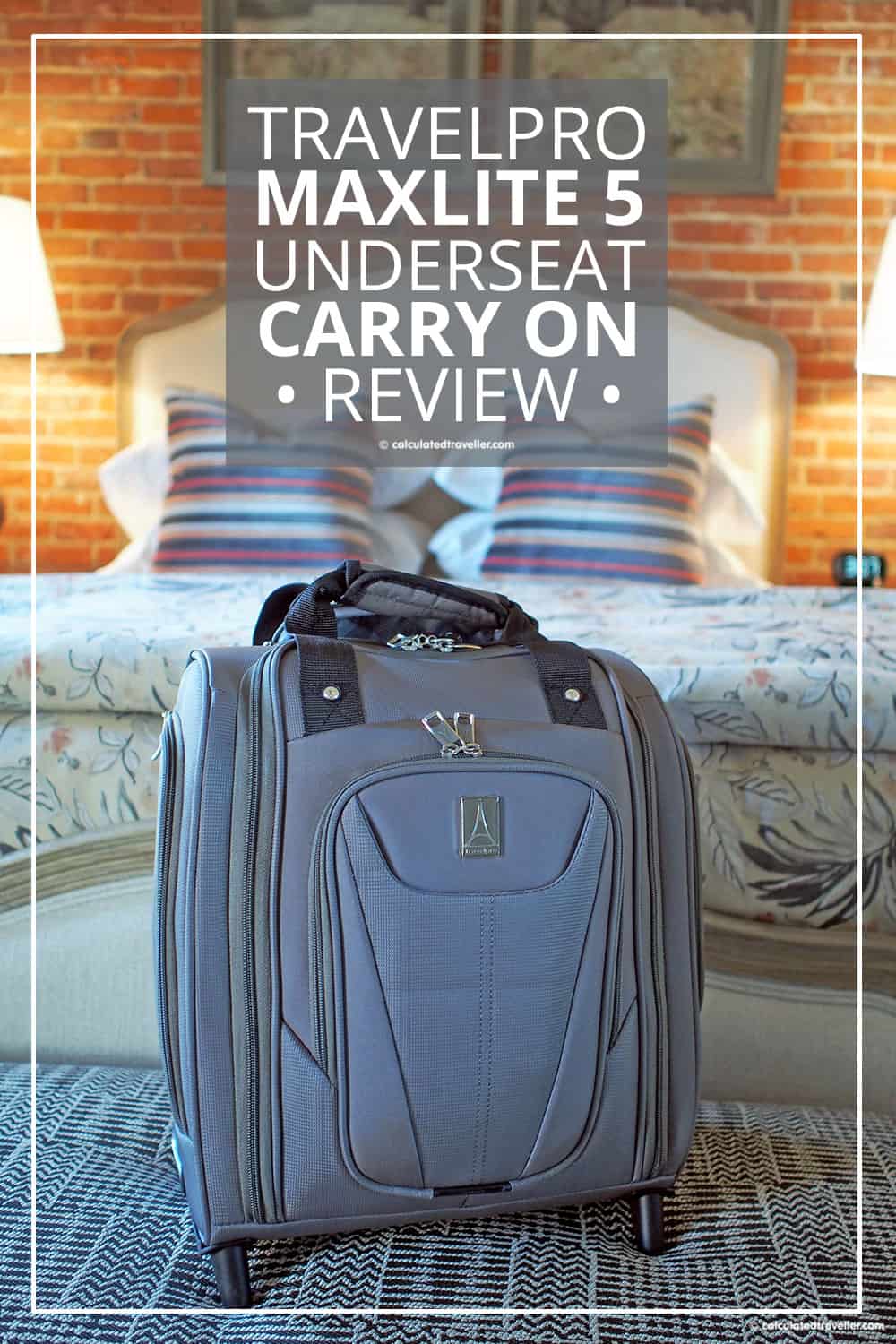 I've used this bag on three trips with stellar results:
In all transparency, I was planning on taking the bag on a 5-day press trip to Lafayette Louisiana. When packing, I found that although it fit all my belongings plus an extra pair of shoes perfectly, there was no extra room for shopping/souvenirs. So, I travelled with my regular carry-on even though it was only half-full. In the end, I had to gate check my bag on all 4 flights (doh!) so I really wish I had gone with my original plan.
If travelling for longer, you may have to supplement with an additional backpack but depending on how skilled you are at planning your wardrobe you could get by solely with this one bag.
Product was provided for review purposes only. All opinions are entirely my own
Looking for more packing and luggage articles?