You get off the plane, arrive at your hotel, unpack your bag and realise that the travel size bottle of shampoo you bought from the bin at the drugstore just exploded and it's everywhere.
Yuck!
Sound familiar?
I think that everyone has experienced this at one time or another in his or her own travelling life — I know I have.
The creators of Squeeze Pod must have experienced this too, or they wouldn't have developed these innovatively designed, individually packaged squeezable toiletry pods of everything you might need on a vacation.
"Squeeze Pod — Victory over leaky travel-size toiletries"
I was sent a sample of their travel size products to test out to see for myself.
Squeeze Pod product line includes
Natural body wash
Natural Shampoo
Natural Conditioner
Natural Hair gel
Natural Facial cleanser
Natural Moisturizing lotion
Natural Shave cream
Natural Hand purifier
Natural Toilet odour eliminator
Squeeze Pod in Use
You open each Squeeze pod by folding the tip of the teardrop-shaped plastic pod backwards until it "snaps". The contents are then easily squeezed out for use.
Here's a great video of the products in action from Squeeze Pod.
I wish I had watched the video more carefully because it wasn't until I used my third Squeeze Pod that I realised that it's easier to squeeze out the contents when I pressed my thumb on the flat side versus pushing on the domed side. DOH!
The pods are colour coded for each product, which is perfect for someone like me who wears glasses. I can't tell you how many times that I've used the wrong product in the shower because I couldn't see what I was grabbing. No worries here about mixing up the Squeeze Pod Shampoo with the Squeeze Pod Conditioner as long as you remember which colour is which.
I didn't fly with the Squeeze Pods, but I do think that they would be leak proof as advertised due to the pod's multi-layered design.
The liquid inside the hard shell pod is actually inside a plastic baggie. So even if the inner bag bursts, the contents would still be contained inside the hard shell (smart). I only discovered this accidentally because one of my shampoo pods after "snapping" open was still sealed shut. I squeezed and squeezed, and I couldn't get it to open – I had to cut the plastic bag with a pair of scissors.
Not only are the pods tough but they are heat, cold, water, and altitude resistant. They also float and have a two-year shelf life.
There was quite a bit of product within each capsule. For example, I got two uses out of the facial cleanser, shampoo and conditioner.
Made of natural ingredients in the USA, the products are sulphate free and vegan — formulated without any harmful chemicals or preservatives.
Nettle, white tea, sunflower, vanilla, lavender, Shea butter, rosemary, coconut, grapefruit, and bergamot…. These are just some of the ingredients used in the products.
I have sensitive skin at times, and I break out in a rash especially when I switch from my normal routine. I had no issues with any of these products on my skin.
I did find that the scents were a bit strong. Especially given that I was testing everything simultaneously — It was a bit of a scent overload. When used individually I found the scents pleasant and didn't bother me.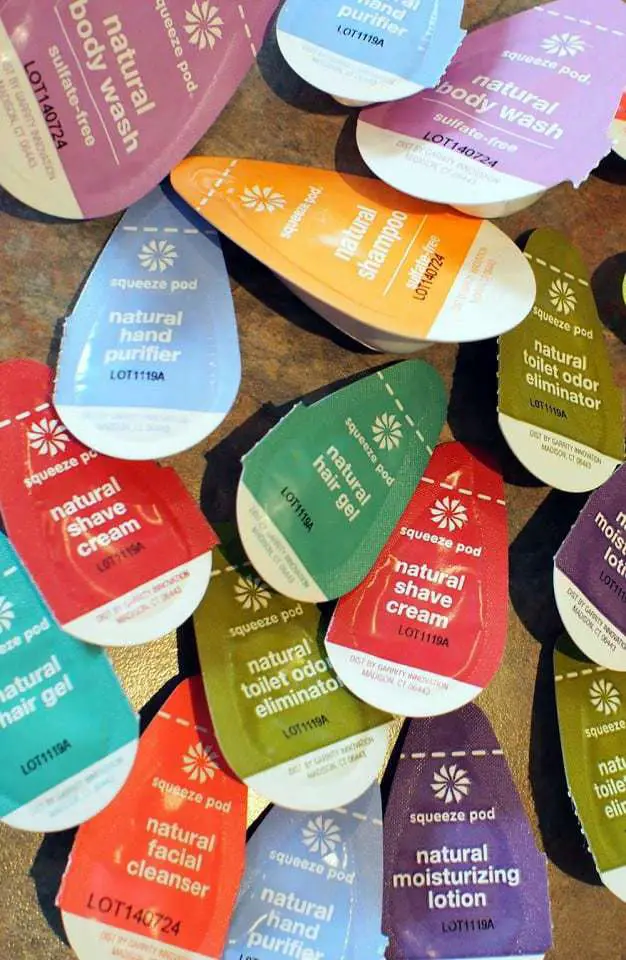 Squeeze Pod Travel Toiletries
All natural ingredients
Sulfate, paraben and phthalate free
Gluten free
No artificial fragrances and dyes
Made in the USA
Cruelty free, PETA approved and vegan
TSA approved
Leak Proof
Convenient
Colour coded for each product
There is a lot of product within each pod. I was able to get more than 1 use out of each pod
Affordably priced
Squeeze Pods sells pre-selected travel packs of assorted products, or you can purchase single product packages. They also offer a nifty Squeeze Pod Toiletry Organizer and regular Squeeze Pod Toiletry Bags.
Squeeze Pod – A few things to be aware of
Squeeze Pods are single use toilietries. They are convenient but not very environmental since it's a disposable product
Scents of some of the products are a little strong for my taste especially when you are using multiple products at the same time.
I don't think that these would be suitable for a trip longer than 14 days because of the number of pods you would have to pack. Not because of the cost but due to the quantity of the Squeeze Pods required and the resulting environmental waste. I would prefer buying a small bottle of what I needed when I arrived at my destination.
That being said, for a quick weekend getaway where you really want to travel light or perhaps camping or cottage adventures the Squeeze Pod would be a fabulous idea.
Two products that I think are fabulous is the Squeeze Pod hand purifier and Squeeze Pod Sunscreen.
OK call me a germaphobe but do you ever clean the outside of the bottle of hand purifier?
Think about it — You open the bottle with your dirty hands, clean your hands, then close and put the contaminated bottle back in your bag/pocket. (I made you go hmmm and think about it didn't I?)
The sunscreen pods are convenient to keep on hand in your purse or office when you suddenly realise that you need a bit more sun protection. Last minute lunch on the patio for example.
Squeeze Pod to the rescue!
I received the sample products from Squeeze Pod for review purposes. This had no bearing on my review of this item. As always, all my opinions are my own.
What Squeeze Pod feature are you most interested in? Let us know in the comments below