With warmer weather and blue skies right around the corner, it's time to hit the road or take a flight to a fabulous destination for your summer vacation; it would make packing so much smoother if you had some fabulous travel-size beauty products to take along. If you only pack travel size toiletries you would then have room for more treats and souvenirs in your luggage!

Here are 10 favourite travel-size toiletries to pack in your bag!
 
TIP: Remember to follow the 3-1-1 rules when packing liquids
---
Water Facial Spray
A facial spray is super for hydrating your skin before departing the plane and is convenient to take in your carry on bag. I used mine throughout my long flight to Japan and found it to be soothing and comforting when my skins started to feel dry. There are many brands to look out for such as Evian, Mario Badescu, or Clinique
---
Aveda Travel Set
I'm a huge fan of Aveda's botanically-based products! This convenient travel kit of minis includes 2 Shampoos and 2 Conditioners along with 2 Lotions, 2 Hand & Body Washes and 2 of their beautiful soaps. The scents are wonderful, and they are oh so luxurious!
---
NIVEA Soft Moisturizing Creme
This classic cream keeps your skin soft and smooth. It's a perfect travel size. I love this product because it is an excellent moisturiser for all parts of the body and it was my mom's favourite.
---
Banana Boat Sport Performance Lotion
The sunscreen comes in an SPF 50 and it's travel size so everyone can use it on your trip.
---
Revlon 1875W Compact Travel Hair Dryer
Most hotels provide you with a hairdryer in your room, but there are still times when you need to pack a compact dryer in your bag. This one packs a lot of heat and is easy to fold and store.
---
4 Leak-Proof Travel Bottles
These are perfect for creating your personal travel size toiletries kit from your regular size bottles you have at home. The bonus is that they are TSA approved.
---
Make Up Bag
You can't go wrong with this compact makeup bag that comes with a variety of brushes, a mirror, and individual compartments to keep you organized.
---
Neutrogena Cleansing Makeup Remover Facial Wipes
Grab this refill pack and take them along in your carry on bag. With no water required, they are perfect for freshening up before you reach your destination.
---
Flat Iron Cover Heat Resistant Thermal Pouch
If you are a hair appliance fanatic and can't travel without them, you'll love this heat-resistant thermal pouch because it's so easy to use to store your hair straightener or curling iron.
TIP: if you are travelling via cruise ship – make sure you read the fine print because most flat irons aren't allowed on cruise ships.
---
Premium Hanging Toiletry Bag Travel Kit
This hanging bag is a must have to store all of your travel size toiletries right in the bathroom for easy access. With separate compartments for makeup, deodorant, etc. it will keep you organized and neat and tidy, especially when space is limited such as on a cruise ship or if you are freshening up inside a teeny tiny airplane restroom. I love how compact it is and folds up nicely to fit inside any suitcase.
---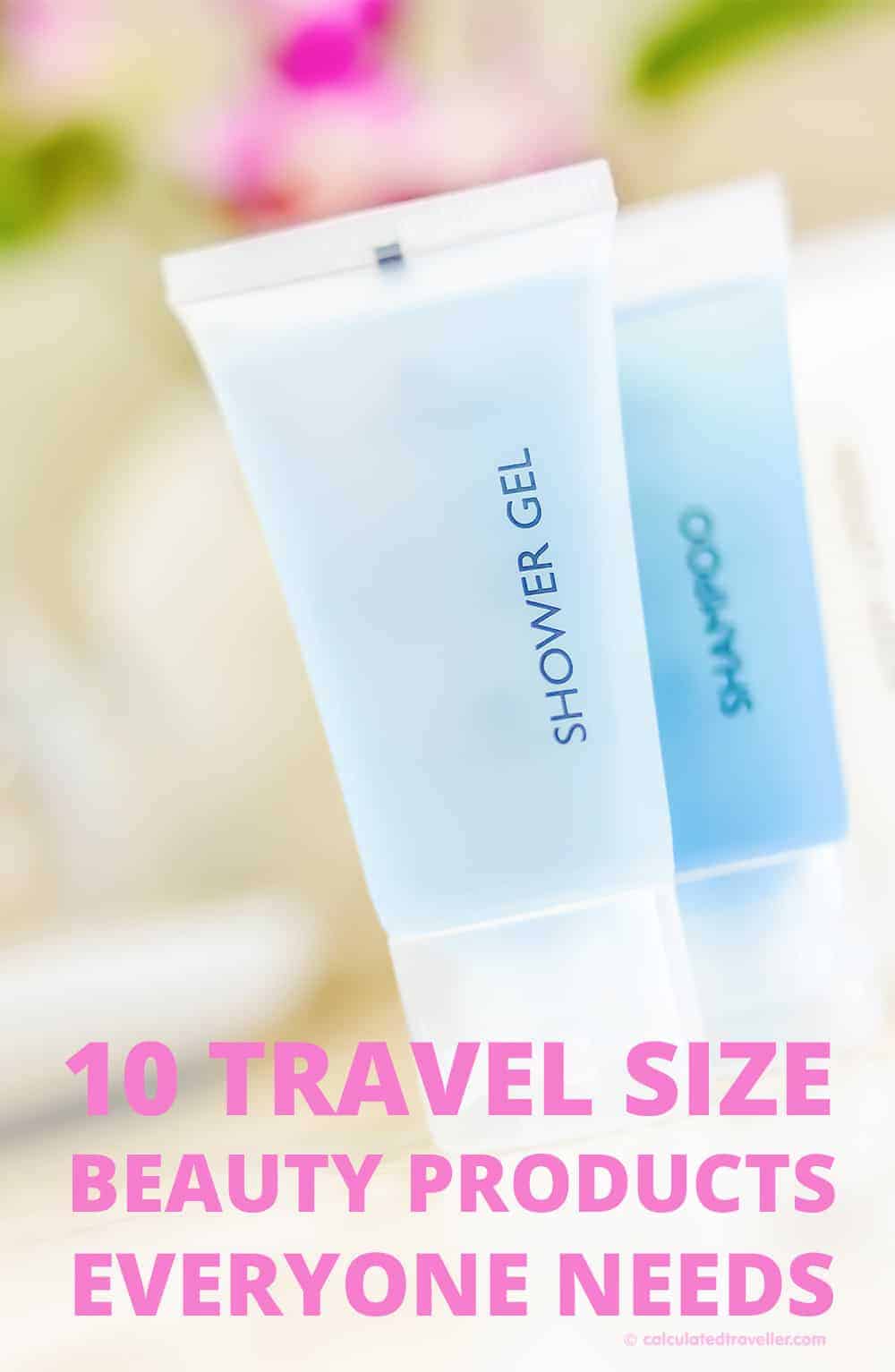 Do you have any favourites travel size products?
Don't forget these other travel favourites:
– Squeeze Pod Leak-Proof Travel-Friendly Toiletries Review
– Travelling with Essential Oils
– Seven Favourite Items I Pack in my Suitcase