The rain is gently falling outside the window at Hockley Valley Resort, and I don't care one bit because I'm sitting warm and cosy next to the fire in the "Whisper Lounge" of the Spa waiting for a bit of a mid-week me-time spa escape.
Even the name "Whisper Lounge" makes me sigh and relax…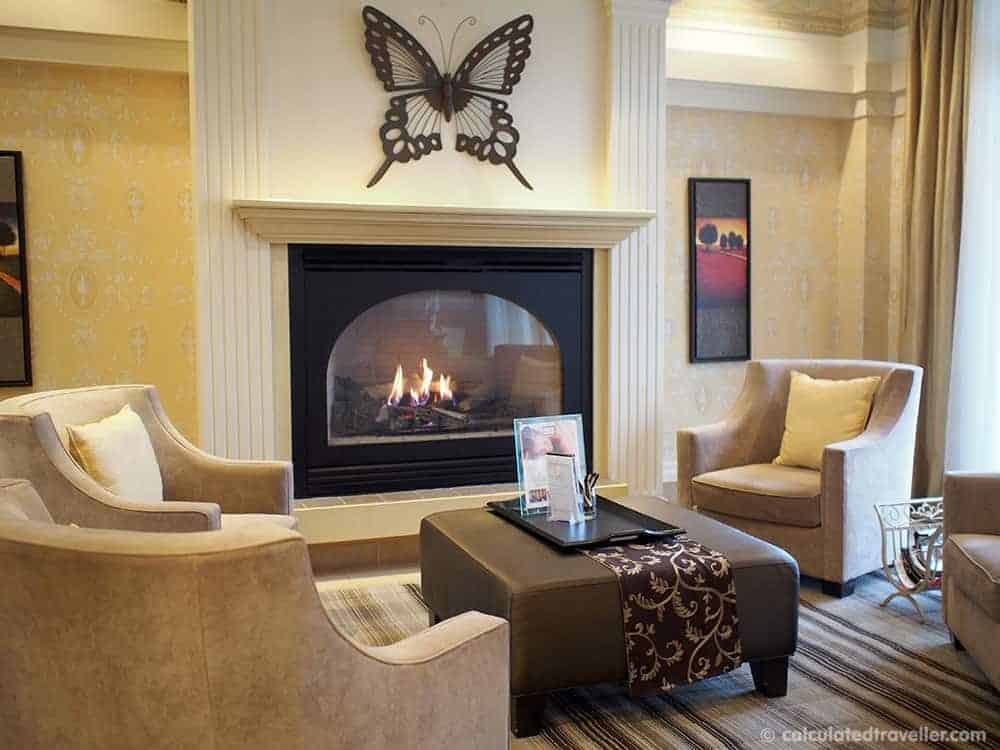 Located less than 1 hours drive north of Toronto, Hockley Valley Resort is a spa, golf, ski, and conference centre with 104 rooms/suites, 14 meeting rooms on over 300 acres of land but I'm here for the spa!
With an assortment of different packages including six types of facial treatments and six types of massages; many of the products used are local from within the region.
Aromatherapy healing body treatment
For 70 glorious minutes, I was pampered from head to toe.
Starting with an essential oil sugar scrub, my entire body was scrubbed and exfoliated. After a quick shower to wash off all the sugar, I returned to the treatment table for a hot stone back massage. My esthetician Monica took great care, and with strong, capable hands she rubbed the aromatherapy oils and creams into my skin, but when my mini-hydration facial started her once, strong hands became gentle. The entire treatment ended with a relaxing scalp massage.
I left the treatment room for the locker room feeling relaxed, and my skin felt soft and smooth. My face was radiant and glowing and felt like silk.
PRO TRAVEL TIP: Drink lots of water after a massage or spa treatment to aid in the detoxification process.
Part of a weekday special the Aromatherapy Healing Body Treatment package includes one lunch entrée in the adjoining Oasis Café.
Oasis Cafe
Oasis Café is an intimate spot to have lunch in the comfort of your robe. Featuring seasonal farm-to-table fare, you can enjoy a bite before or after your treatment. When the weather cooperates, you can dine outside on the balcony with views of the natural surroundings.
Spa guests are also welcome to enjoy the fitness facilities, pool, sauna and of course the Whisper Lounge complete with tea, water and a quiet place to decompress, unwind and unplug before they leave for the day.
But I'm not leaving! No, this is a ME-time escape remember?
Overnight stay at Hockley Valley Resort
My room 458 at Hockley Valley Resort is an elegant two-floor suite with views outside from the window and balcony of the pond and geese. With comfortable bedding and feeling entirely relaxed from the spa I slept like (and had the skin of) a baby that night.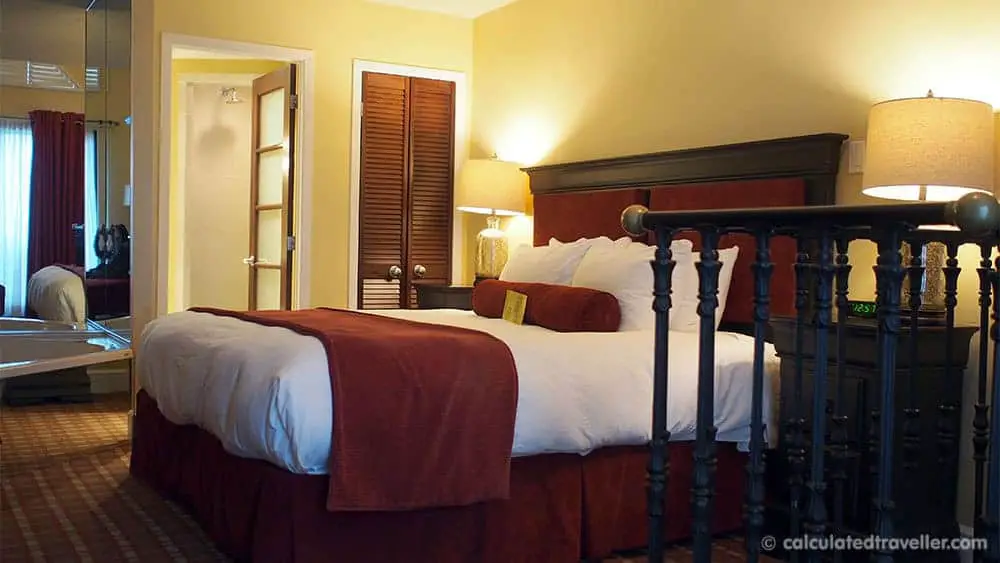 – Two full baths – A Jacuzzi soaker tub in the upstairs bedroom and a regular bathroom on the main floor.
– Living room with wood-burning fireplace
– Desk area with pull out sofa bed in the living room
– Keurig coffee maker
– safe
– Mini-bar fridge
– Walk-out balcony with seating on each floor
– A sitting area in the upstairs bedroom
– TV on each floor
A few issues I encountered:
– I found the entire suite to be cold, especially in the upstairs bedroom. There was an extra ceramic heater in the bedroom so apparently other people felt the same as I did.
– The living room TV is hung too high above the fireplace making it uncomfortable to watch. It's so high that I found I had to hold the remote up in the air to change the channel.
– I ended up pulling out an extra blanket out of the closet and used it while laying on the sofa in the living room.
Dining at cabin
For dinner, I dined at Hockley Valley Resorts award-winning restaurant cabin. Helmed by Executive Chef Iniyan Vijay. With an open kitchen so you can see all the action behind the scenes and a dining room with a chic, upscale cottage decor with dark wood, candlelight and a relaxed atmosphere. My meal was delicious, and the service courtesy of my server Janek was excellent. Each course was well-timed, and I never felt rushed.
Honestly, if I lived a bit closer, I would consider coming here for dinner even if I weren't staying the night. I do wish that I wasn't dining alone because I would have loved to order a charcuterie platter. With a cured meat room and a cheese cave on the premises as well as a meat carving machine sitting proudly in the middle of the dining room I'm sure it would have been outstanding had I the opportunity to try it.
Cocktail – Cranberry Sparkle
Disaronno, berry syrup, cranberry juice, fresh lime
– I had the non-alcoholic version of this cocktail.
It's a bit unusual I know to write about a bread basket, but the bread was warm and came with an orange ginger spread.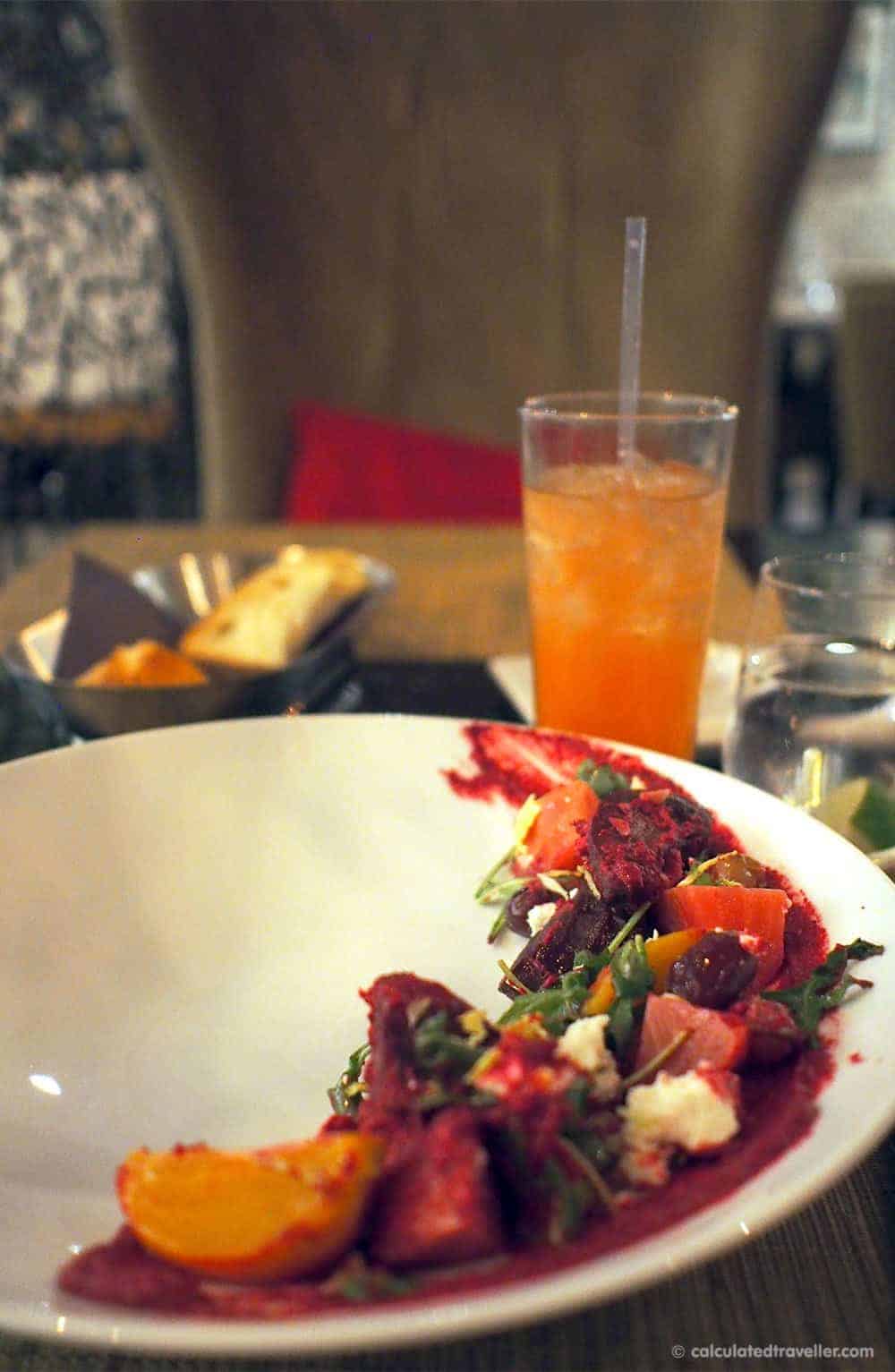 Beet Salad
Beet salad, smoked goat cheese, shaved Brussel sprouts, beet crema, roasted grapes, Adamo Estate maple syrup & mustard vinaigrette, organic arugula, pecans.
– The sweet grapes balanced out the earthiness of the beets and the creamy goat cheese and beet crema contrasted with the crisp bite of the beet. This salad was delicious, healthy and beautifully presented.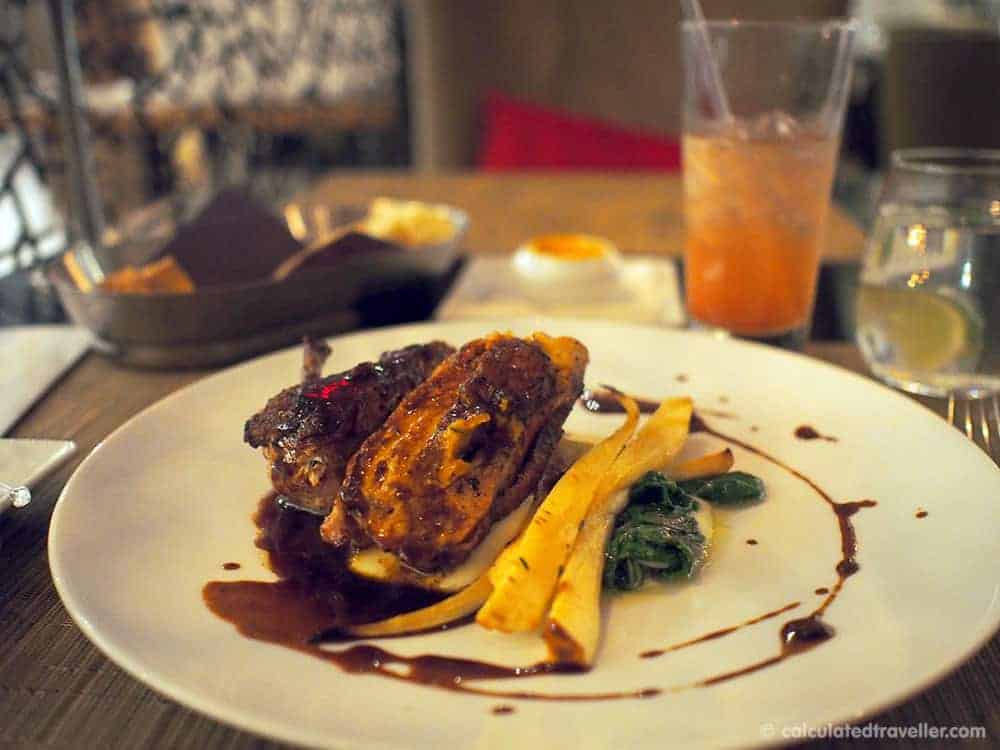 Roast Chicken
Pan-roasted chicken, kabocha squash & bacon stuffing, mascarpone potatoes, roasted parsnips, sautéed greens, bacon jus
– The chicken was well seasoned, and comforting with the stuffing. It was also a great portion size allowing me to enjoy dessert and not feel overly stuffed. My only criticism is that I wish there were more stuffing in the chicken — it was so good.
Pear Upside Down
Poached pears, vanilla cake, caramel sauce, port wine gelato
– All desserts are made in-house, and I found this one to be very comforting and warm and sweet with the maple syrup drizzle.
The Hockley Valley Blend tea is locally sourced, all-natural and was a lovely mix of green tea, rose and mint.
Breakfast Buffet at Restaurant 85
In the morning I paid a visit to Restaurant 85 for my breakfast buffet with a view.
Complete with fresh fruit, scrambled eggs, potatoes, bacon frittata, French toast, oatmeal, assorted cereals, pastries, meats and cheeses.
With my belly full, my skin renewed, and my mind refreshed, I left the resort for home.
Hockley Valley Resort and Spa
793522 3rd Line EHS
Mono, Ontario L9W 5X7
– Read more reviews on TripAdvisor
Have you escaped for a little ME-time to a day spa retreat before?
I was a guest of Hockley Valley Resort and Spa, all opinions as always are entirely mine.
For more adventures in Ontario:
– Temperance and Temptations Tour: The Headwaters Story of Prohibition in Ontario
– An Autumn Afternoon Treetop Trekking in Brampton Ontario
– Guide To Awesome Small-Town Ontario Festivals
– Mariposa Market – An Orillia Ontario Tradition