Essential Oils are very popular at the moment as alternative treatments for various conditions. If you are a fan of aromatherapy with essential oils, you'll be happy to hear that travelling with them is easier than you think! There's no reason to adjust your daily routine, just because you're on an adventure. Keep reading, to learn more about the best oils to take with you on your trip and how to safely travel with them. Also, I've included a few product suggestions to make the whole process easier.
Flying with Essential Oils – Airline Rules for Liquids
The days of boarding an airplane with large bottles of liquid toiletries are a thing of the past. Current US-based airline regulations allow each passenger to bring one clear (zippered) bag on board in their carry-on. This 3-1-1 compliant liquid bag cannot be larger than one quart in size and each container placed inside the bag must be 3.4 ounces/100 millilitres or less.
Bags such as makeup bags with magnetic clasps and regular Ziploc bags are not allowed for this purpose. The good news is that airline-compliant zippered bags are readily available online and quite affordable too.
Since a majority of popular essential oil manufacturers bottle their product in either 5 or 15-milliliter containers, there's no reason to panic. As you can see, both of these sizes are below the individual bottle requirement.
If you find it necessary to transfer the oils into different bottles, in cases where you are mixing custom blends, it's important to label each one accurately. This helps to reduce the possibility of being questioned by airport personnel, as your luggage makes its way through the security checkpoint.
If you are questioned by airport personnel. Simply explain that you use your oils for health-related purposes. That's usually all of the explanation necessary.

If you are planning on carrying oil in checked baggage, rest assured that you can pack as many essentials oils as you like. Just ensure that you've packed everything carefully in leak-proof bags with bubble wrap for protection.
Here's an interesting looking case that might suit your needs.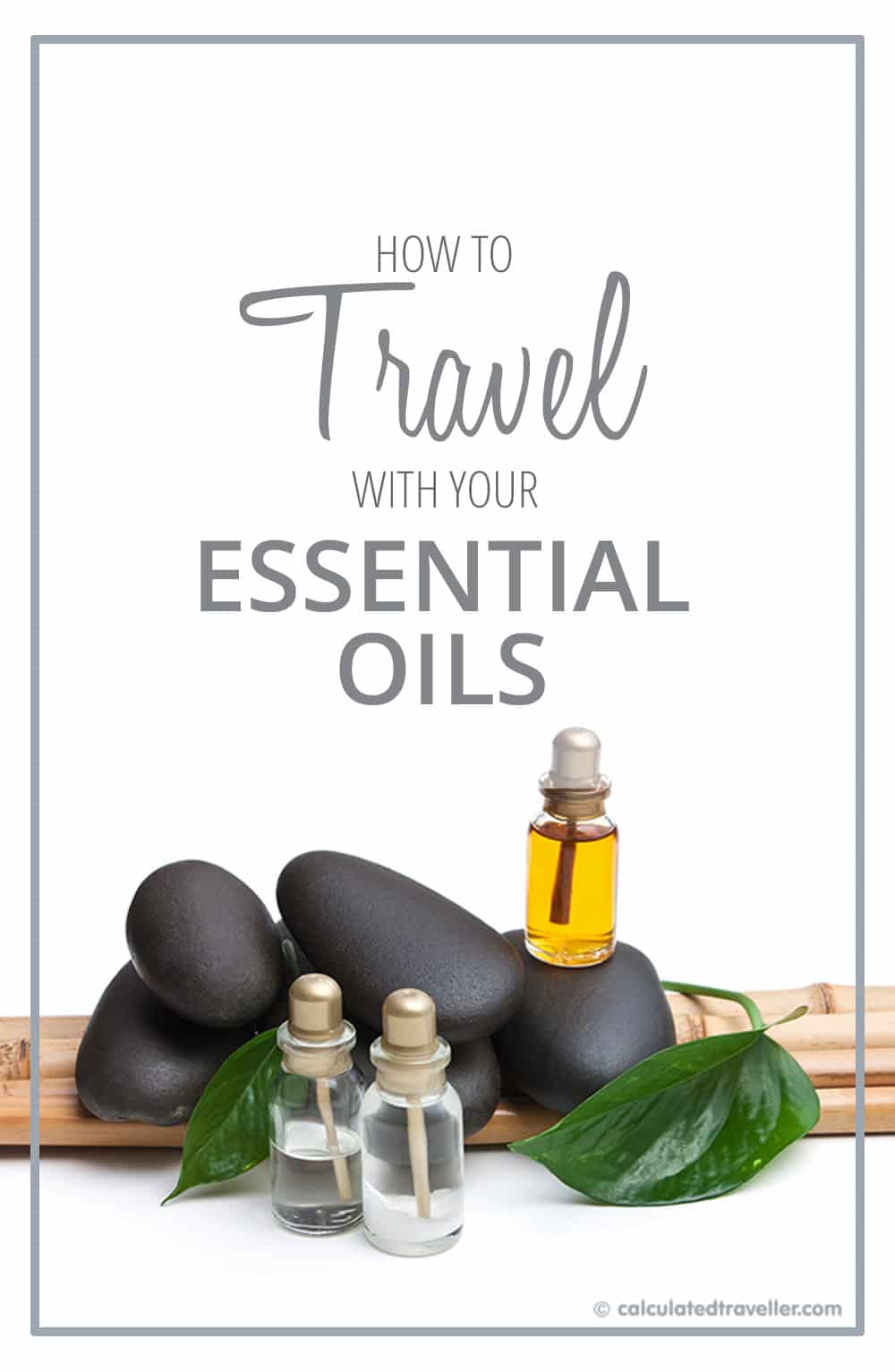 Create your own essential oils travel kit
Which essential oils should you pack for your trip? There are so many to choose from and recipes galore with combinations for everything from jet lag to the dreaded ear popping when flying. If you've been using oils for a while, you already know which ones work best for you.
In the event using essential oils is new to you, or you're just having a hard time deciding which ones to take with you, here are a few to consider.
Lavender Oil
Lavender is probably one of the most versatile essential oils you'll find on the market today. Seriously! Not only does it smell heavenly, which helps your body relax and get rid of stress, it's also fantastic for keeping insects at bay and aiding digestion.
TIP: Lavender is a great essential oil for travel anxiety.
Tea Tree Oil
Tea tree oil is another excellent choice to take with you on your travels. It's inexpensive and is beneficial in so many ways. One of the most notable benefits of this particular oil is the fact that it kills germs and fights infections.
To quickly treat and disinfect an unexpected cut or scrape, try this. Add one drop of tea tree oil to one teaspoon of coconut oil. Apply sparingly to the injured area and cover with a Band-Aid. Repeat once a day, until the wound is completely healed.
TIP: It's important to remember not to ingest tea tree oil under any circumstances. It can be toxic if swallowed.
Peppermint Oil
Do you have a problem with motion sickness when you travel? If so, don't leave home without peppermint oil. Blend a drop or two in a bit of coconut oil. Lightly massage it into your stomach. It typically doesn't take long to notice a difference and even helps with occasional gas-related issues.
Combat bad breath with a glass of peppermint oil-infused water. A couple of drops of food-grade oil is all it takes. Swish the peppermint oil-infused water around in your mouth, spit and rinse. Easy-peasy!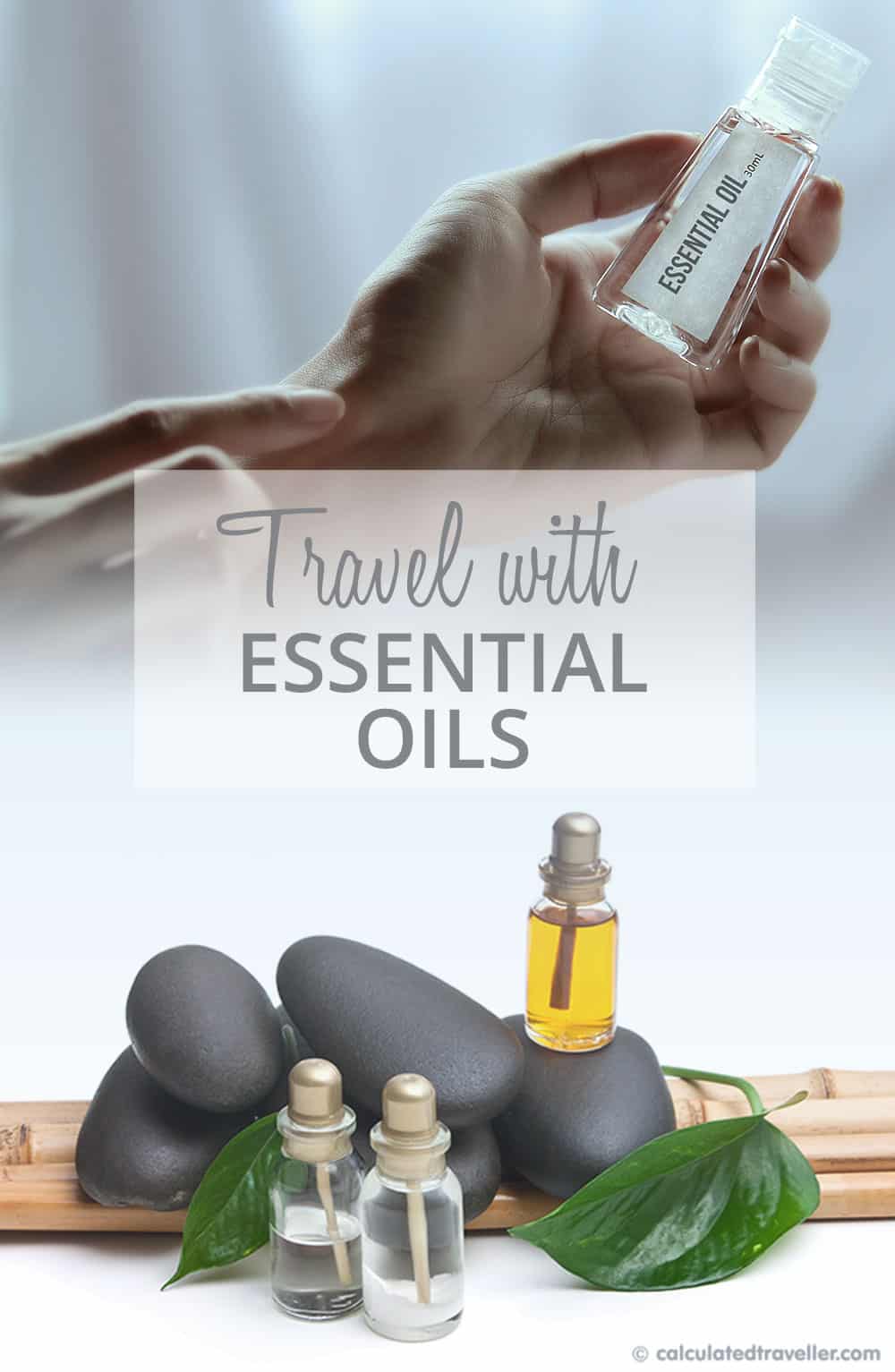 Essential Oil Accessories for Travel
If you have room to pack the following essential oil accessories, I wholeheartedly recommend it! They'll help you get the most out of using your oils, while you travel.
Essential Oils Gift Set
Want to buy your essential oils in bulk? This set contains all three oils mentioned above plus eucalyptus oil, orange oil and lemongrass oil. Each ten millilitre-size bottle is airline compliant.
USB Essential Oil Diffuser
This mini USB (or battery-operated) diffuser is perfect for aromatherapy-on-the-go. Heat and water are not required for you to enjoy the benefits of your favourite oils. Perfect for using essential oils in your hotel room and quiet enough for you to use on an airplane without disturbing the passenger seated next to you. Purchase refill scent pads in packages of 10.
Packing your favourite oils helps to keep you feeling great wherever your journey may take you. And, remember, if you're not currently reaping all of the benefits of essential oils, there's no better time like now to get started!
Products from Amazon.com
‹
›
Do you travel with Essential Oils? What's your favourite blend?

Check out these additional articles:
– Pack this! 4 Natural Remedies for Travel Ailments
– 16 Awesome Airport and Airplane Travel Tips
– Squeeze Pod Leak-Proof Travel Friendly Toiletries Review
– 10 Travel Size Beauty Products Everyone Needs