When it comes to things to pack for a vacation, I'm an avid believer of packing early versus waiting until the last minute to avoid the risk forgetting something and of course I have a few favourite items I pack for each and every trip I take.
The list does vary depending on how I'm getting to my destination and the climate.
If I'm flying, I pack lighter and slim down on the "nice to have" items focusing on the "must have" since we always fly carry-on only.
If I'm driving, I still travel with a small suitcase, but not carry-on size, and I pack more clothes, extra shoes, accessories etc.
Read the article: Road Trip to Florida: Driving is the Affordable Way
For our usual Christmas Cruise, we drove from Toronto to Florida. Since I didn't have to worry about weight limits in my luggage I packed a few extras.

Here are a few new (and old) favourite items I pack in my suitcase
Contigo Thermalock Stainless Steel Bottle
I've written about Contigo before in the article Pack This! Eating and Drinking on the Road and think their products are great. They have an excellent guarantee policy, and when one of my bottles started to leak, the sent me a replacement part with very little fuss.
This water bottle is new to me, I've only owned it for about a month, and I love it. The wide mouth fits square ice cubes; the mouth also comes off for easy cleaning. It's made of stainless steel and is a bit heavy, but I love it because my ice water stayed cold for 24-hours even when the bottle was sitting in the hot sun on the beach. When I filled it with boiling water for tea during our long drive, it stayed hot for 10-hours. The only issue is that you need to ensure that the mouth is on tight so that it doesn't come off when you unscrew the top.
TIP: Pack some dish detergent with you.
Read the article: Travel Tip – Reusable Water Bottle – Would you like some germs with your water?
I bought my bottle as a 2-pack from Costco, but it's also available on Amazon.
Birkenstock EVA Sandals
My go-to sandals are Birkenstock because I need the arch support for my feet. The problem is that you can't get the original Birkenstock sandals wet or you ruin the cork base. Trust me, I got stuck in a rainstorm wearing my favourite Gizeh ones and not only did the cork crack afterwards, but the cork didn't fully dry, and they ended up giving me a foot fungus and I had to toss them. (Too much information?)
TIP: According to the salesperson at the shoe store, you should reseal the cork of your original Birkenstock sandals once the cork starts to look dull.
I just found these Birkenstock EVA sandals this past summer, and I love them. You can wear them at the beach and get them wet because they are plastic, offer arch support (although the plastic doesn't form to your feet the way the cork ones do), and they are lightweight and easy to pack.
Travelon Mini-Bag
I'm a big fan of Travelon products, and I've reviewed many different models.
Travelon sent me this bag this past summer, and it's quickly becoming a favourite especially for a cruise holiday. It easily holds my essentials when I'm on the ship such as lip gloss, room key, cell phone, pills, sunscreen. When ashore in port or for travelling to/from the ship, the security features such as RFID blocking technology, slash proof straps and body and lobster claw latch secure the zipper from opening easily. The purse easily fits the items above – cellphone, lip gloss, and pills – but also holds my passport, a pen, keys, small wallet.
Available at the Travelon website, Amazon and retail stores.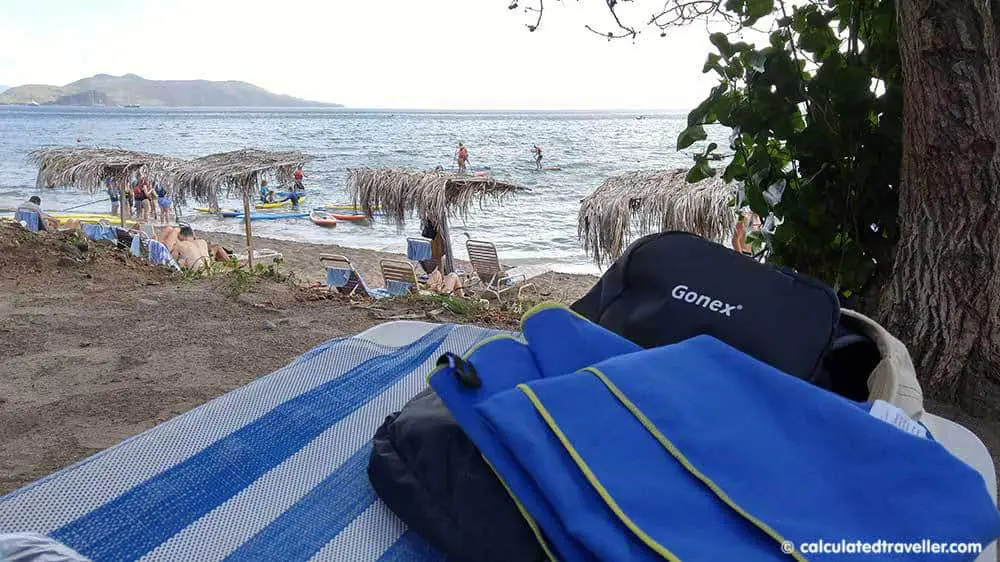 GO2 Towel
I wrote a full review of the GO2 Towel in the article Review: Go2 Travel Towel – A Travel-Friendly Towel but I'm going to tell you that I still love this towel and take it with me whenever I go to the beach. The full-size towel is absorbent; it dries fast, is lightweight and compact. I never take the ships towel to the beach; they are just too heavy especially when they are wet.
Gonex Backpack
Another item that I still love is my Gonex Backpack. It folds up small into the interior pocket, but I just use it unfolded and keep my laptop, electronics and toiletries in it for the car ride south.
Read the full review at Review: Gonex Ultra Lightweight Packable Hiking Daypack
It's perfect for onboard the ship for days at sea for my laptop (Yes, I work while I'm on a cruise ship), magazine, notepad, mp3 player, sunscreen, and water bottle.
When off the ship and in the cruise port or at the beach I don't carry the cruise line bag with the logos all over it that we always get for free in our cabin because I prefer to stay incognito and the cruise line bags don't zip closed. The Gonex bag holds my GO2 Towel, water bottle, sunscreen, mp3 player, magazine, pad of paper, pen, snacks, and a change of clothing.
In all my travels since first purchasing the backpack, the only real signs of wear are that the water-resistant coating is starting to rub off a little bit on the inside of the bag.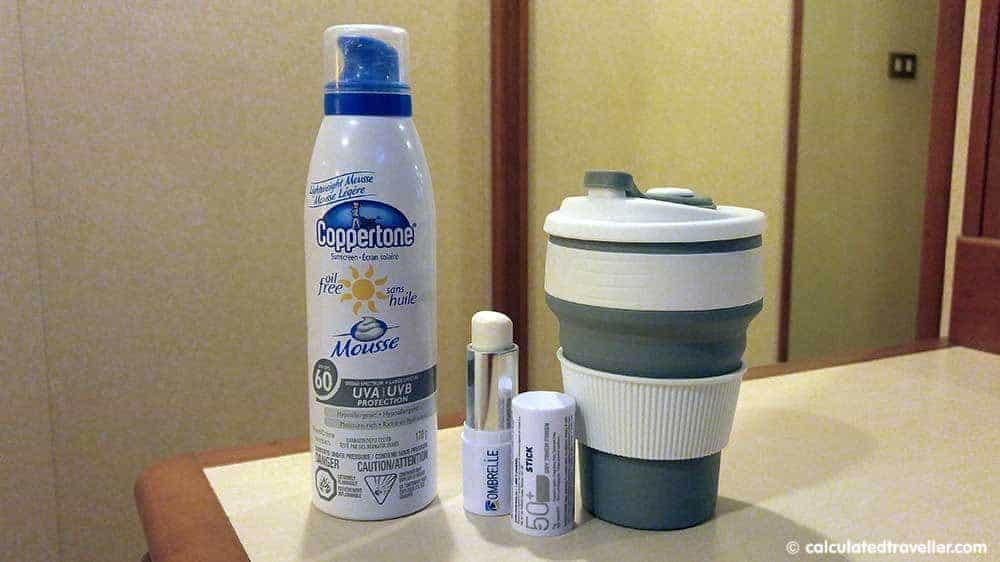 Collapsible Silicon Cup
Not exactly a "travelling light" or "carry-on only packing list" item but since we drove to Florida and didn't fly, I packed this collapsible silicon cup along for the ride.
The cup is perfect for days at sea so that you can take your coffee or in my case, tea, with you from the buffet to the pool deck or balcony. It holds more than the standard mug the ship provides, so you don't have to leave that comfortable lounge chair to get a refill. The lid prevents spills and keeps your drink hot for a more extended period than an open mug with no cover.
The body of the cup collapses into itself so that it can pack down to about 2 inches in height.
Ombrelle 50+ Face Stick and Coppertone Stay Dry Foam Sunscreen
Sunscreen is an absolute must if you are cruising to the Caribbean to protect you from the damaging sun.
I was first introduced to the Ombrelle 50+ Face Stick when travelling to Japan. Our friends were using it, and I gave it a try and instantly loved it.
The face stick has a dry touch finish, so it doesn't feel greasy on your face, and because it's a stick, you rub it on exactly where you need it. This brand does go on with a slight white sheen so that you can see if you missed a spot but the colour disappears once you rub it into your skin.
The stick is a great size too and fits into small pockets for easy access. It also lasts a long time and provided great protection. I'm hooked!
I normally use a cream sunscreen and find them to look shiny, and feel greasy and sticky on my skin. For this trip, I decided to try out the Coppertone Stay Dry Foam Sunscreen. I found the foam lasted longer on my skin and didn't rub off as quickly as the cream sunscreens.
As it was my first time using a sunscreen foam, I did use a lot more than I think I needed at first until I got the hang of the applicator, so watch how much you put on so that you don't waste it.
The finish on my skin was much more agreeable to the touch, and it still provided the same amount of protection, or dare I say more protection than my usual cream brand.
Of course, since we were driving and not flying, I didn't have to be concerned about the size of the container to adhere to TSA 3-1-1 rules for liquids and pressurised containers.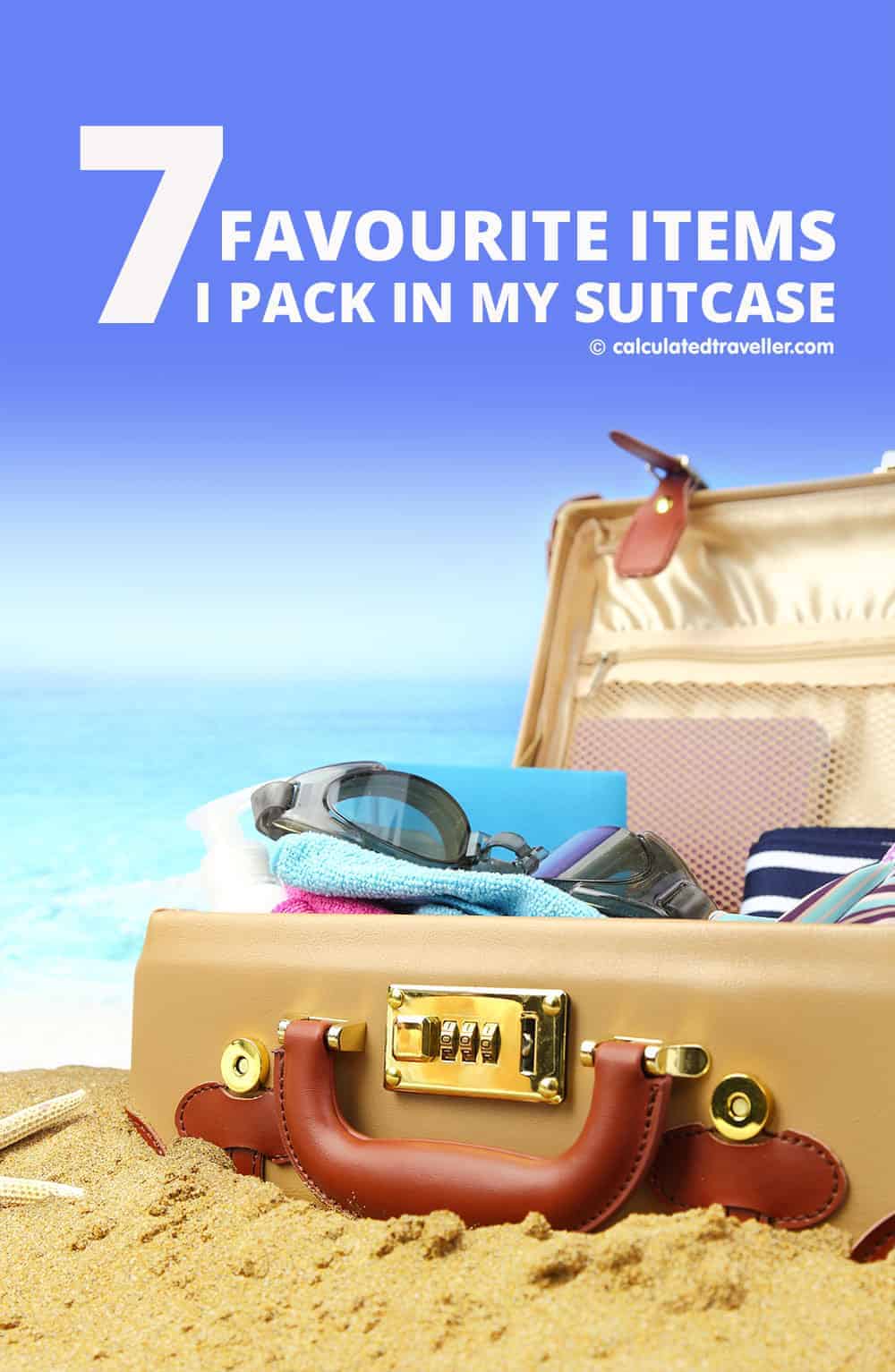 So, there you have it — a few of my favourite items I pack in my suitcase on a cruise holiday.
Do you have a list of essential things to pack for travelling?
Stay tuned for future travel essential checklists and articles on essential things to pack for travelling.
I'd love to hear from you! Please send me an email or comment below with other topics you'd like me to cover. Happy cruising!
Check out:
– Top 7 Considerations when Packing for a Day Trip
– Pack This! Eating and Drinking on the Road
– Pact Organic Cotton Clothing Review – Organic Sustainable Cotton Fashion for Travel