Alligators, Birds, Snakes…and more!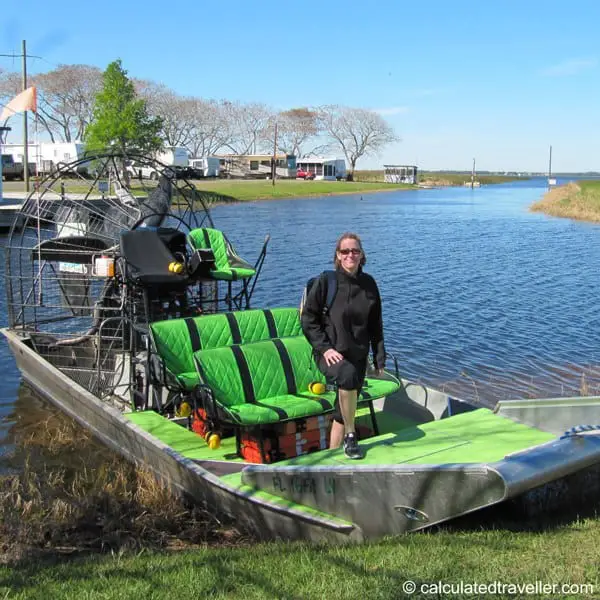 If you're looking for more than a commercialized airboat ride in Florida, then an airboat tour with Wild Willy's Airboat Tours, in St. Cloud, Florida is for you. Located less than an hour from Orlando, Wild Willy's is more than just a ride; it's an educational adventure too.
"Look on the side of this gator," pointed Captain Wild Willy. You can see it has a tumor but will probably still live a normal life." One alligator, he explained, was actually harpooned by a hunter but lived with the harpoon inside of him the rest of his life. These powerful, yet often misunderstood creatures have a lot to teach us. "They have an immune system that is three times stronger than humans. That's why they use them for cancer research."
"They are really affected by wind."
On our adventure to find alligators, Wild Willy showed us where the alligators like to hide, deep in the vegetation because "they are really affected by the wind". Despite the wind, Wild Willy was determined to find some gators for us to see. "There is Momma now", said Wild Willy. You can tell we are all amateurs compared to him because it took us awhile to see what he so quickly saw. Pointing to a spot directly ahead of us, he slowly pulled over the airboat and patiently waited for each of us to see the female alligator, with only her head poking out of the water, and her babies on her back. (look closely in the photo above, the babies are on the left side)
More than just alligators
Although, what I really wanted to see more than anything, were alligators, the airboat tour shows you so much more. On beautiful Lake Tohopekaliga, a lake that covers 19,000 acres and spans 42 miles in diameter, there are 25 varieties of snakes, different types of birds including bald eagles and ospreys, and marsh rabbits that actually swim. We were surprised to see cows, seemingly out-of-place, walking on the outskirts of the river, with one baby suckling from its mother.
We learned endless interesting facts from Wild Willy:
Blue heron are the biggest enemy of baby alligators.
Bald eagles ride columns of rising air called thermals, catch the thermal updrafts, then mate as they are descending down.
The tip of an alligator's nose to the top of its eyes, in inches, matches its length in feet.
Bass boats are alligator's worst enemies.
The temperature of an egg determines the sex of an alligator.
Full-grown alligators can travel at speeds up to 35 miles per hour yet their babies only have a 15% survival rate.
The education isn't limited to only the wildlife.
"Cypress trees only grow one to two inches per year," so the ones we saw, according to Willy, were thousands of years old. The tannic acid found in the cypress needles seep into the river to not only give the river a dark colour, but also discolors the alligators and fish that swim in it. "That's why the gators are black", explained Wild Willy.

Wild Willy's: Rated #1 Airboat Operator on TripAdvisor
Wild Willy, What sets you apart?
"We are rated #1 for a couple of reasons."
Safety is important. "We are licenced by the Coast Guard and under Homeland Security because we are at the headwaters to the Everglades, but we are also unique because of our prices, and that the tours are educational," explains Willy. Unlike other operators that often seat up to 15 people, Wild Willy's Airboat Tours has smaller boats, that seat up to 6 people, which allows for a more personalized experience. "And, we don't have any money grabs."
I have to agree. Although they do have a gift shop and snack bar, at no point did they pressure us to buy anything. The personalized experience: "Some operators don't allow you to take pictures off of the side of the boats but we do," explains Wild Willy.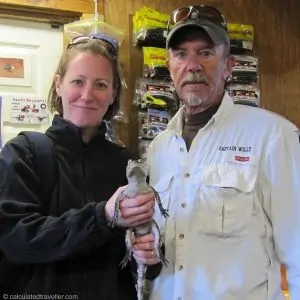 What I think sets Wild Willy's apart even more, is their sincere, down-home approach and style. Whether it was Wild Willy's wife on the phone, saying that she is affectionately called "Mrs. Wild Willy" or that Wild Willy himself pulled our airboat over, not even 2 minutes into the tour, to pick up a Styrofoam cup floating in the lake, this airboat operator has a unique, genuine, non-commercialized charm.
And what better way to end a tour, then to feel the smooth, leathery skin of an alligator, while holding one of the resident baby alligators, Cricket or Sergio.
What to wear
Remember, you are traveling on an airboat, on the water, so dress warm and according to the weather. On the day that we went, it was windy and I regrettably wore capri pants. Luckily, we had the sense to pack jackets, as the air was chilly.
Contact Information
4715 Kissimmee Park Road
Saint Cloud, Florida 34772
(407) 891-7955
Note: This was a complimentary tour in exchange for this review. The opinions expressed, positive and/or negative, are entirely that of the author and are not a reflection of the compensation received.