My husband introduced the mom and pop restaurant to me back when we were dating and at that time we used to go to the original restaurant on Claremont Street in the Little Italy area of Toronto.
Started in 1967, this family-owned restaurant chain started as a corner grocery store on a little residential street where they would make hot sandwiches. They soon realized that they had more customers coming for the sandwiches than for the groceries and quickly switched gears to capitalize on the growing demand. There are now 11 California Sandwiches locations across the Greater Toronto Area.
I remember that every time we would go to the original shop, the streets would be lined with police cars and taxi cabs on their lunch/dinner breaks. This is a strong indicator of good eats to come because if the Police and the cab drivers eat there – it must be good!
Take out was the thing to do because there was no way that you'd be able to get a table! So, with our sandwiches in hand, we would go to the park for a picnic.
The sandwiches haven't changed much in those 30 years; they are still made to order using only fresh ingredients and home-made tomato sauce. The only change is the price – On their website, they show a copy of their original menu. Sandwiches were only 50 cents back in 1967!
They serve the usual: Steak, meatball, veal, chicken cutlet, sausage
Here's my typical order
Veal sandwich with sautéed mushrooms/onions and extra sauce – a steal at $7.99 Cdn.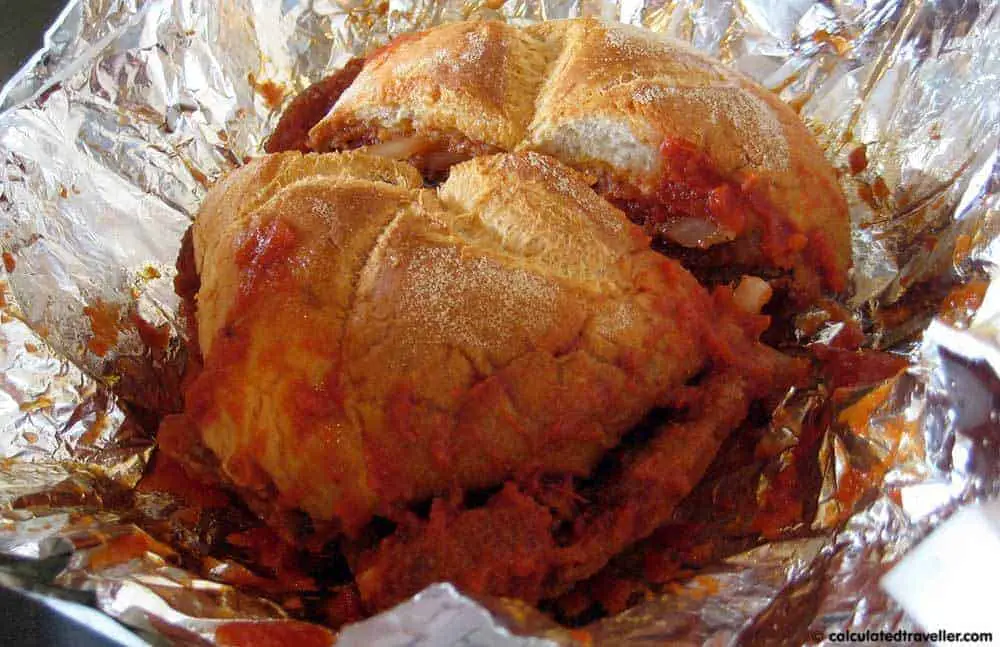 I should have taken a photo of my hands holding the sandwich so that you could see the massive size of the sandwich. There is no way that I could ever eat the entire thing in one sitting but that just means that I have awesome leftovers tomorrow. (wink)
As you can see, the portions are huge! It's super saucy, messy and filling. You have to eat quickly since the extra sauce starts to soak into the bread.
 
Be warned – this is not first date food!
Don't forget to grab a stack of napkins – trust me you'll need them.
For more Toronto articles, check out:
– Exploring the Village of Yorkville Toronto
– Caplansky's Deli Toronto