Located just outside of Toronto's Kensington Market, Caplansky's Delicatessen is hardly something hidden and tucked away in the city – the bright blue and white front is not something you can easily miss.
If the building wasn't enough to get your attention, the always-busy restaurant has become a favourite spot among Torontonians for breakfast, lunch, and dinner. If a restaurant has been featured on the Food Channel's Diners, Drive-Ins and Dives, Eat St., AND You Gotta Eat Here. PLUS you have Guy Fieri calling the place "a shrine to smoked meat" – well you know they're doing something right! (I watch way too much food television…)
"Zane Caplansky has built a shrine to smoked meat…" – Guy Fieri
I've been meaning to go to Caplansky's ever since I saw the bright blue food truck roaming around Toronto and Caplansky's does live up to their reputation. Right when you walk in through the front door, the smell of smoked meat and deli hits you in the face like nothing else. If you're into Jewish food, this is the place to be. Chopped liver, Knish, Matzoh Ball Soup; you name it, owner Zane Caplansky's got you covered.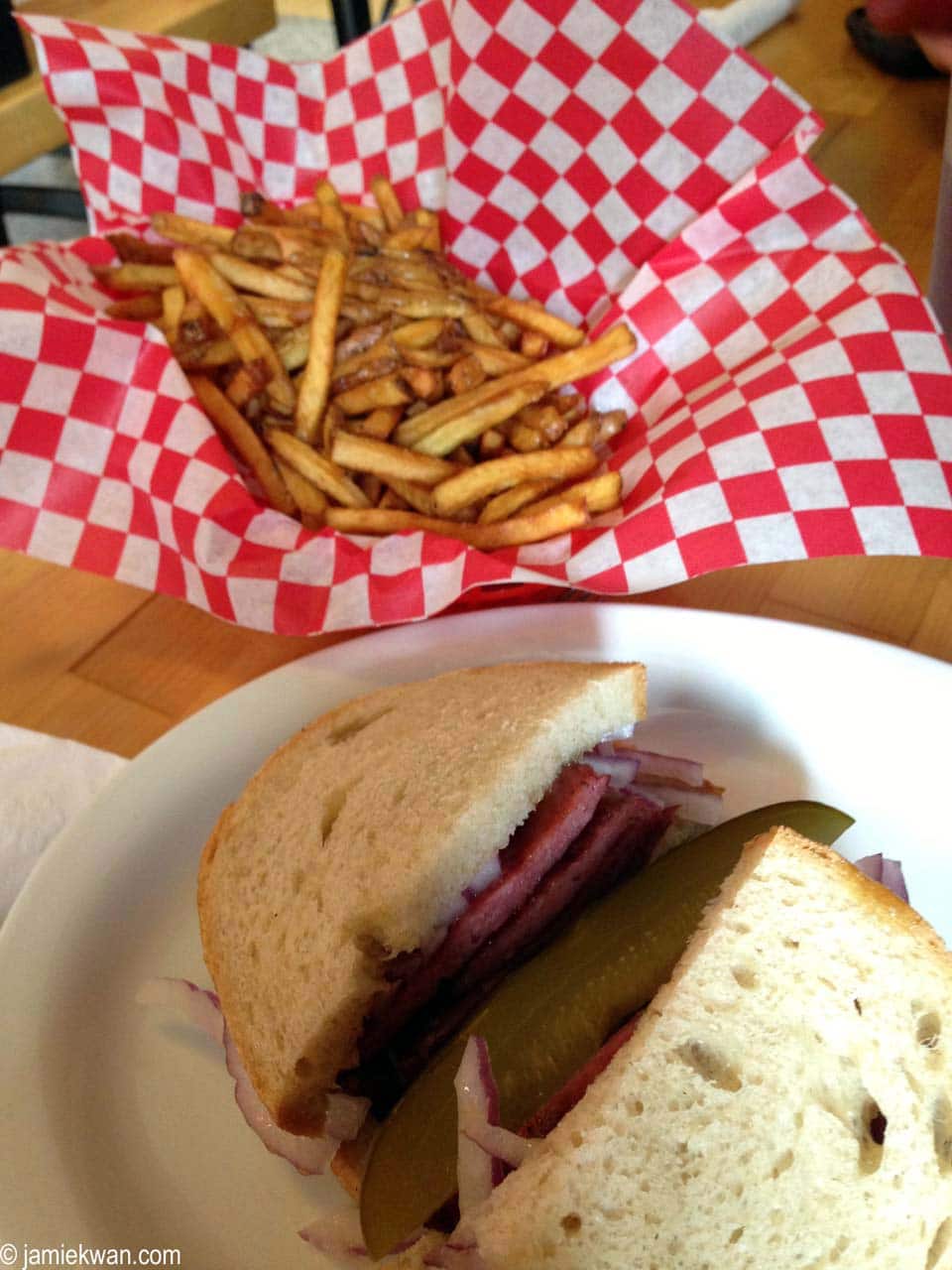 I wanted to try "What Zane Eats" – Grilled salami and chopped liver with red onions and honey mustard on rye. Unfortunately, when I went (just after the lunch rush), they were out of chopped liver. So, I ended up with only a simple grilled salami sandwich (the same thing minus the liver). As disappointed as I was not to try out the chopped liver (never thought I'd say that…), I thoroughly enjoyed the grilled salami! By the end, I completely forgot about the chopped liver. The sharpness of the red onion perfectly balanced with the sweet honey mustard sauce; it all worked perfectly with the thick, made-in-house salami, sliced to perfection. It was hard to slow down once I started eating. I also had a quick taste of the famed smoked meat sandwich from my brother: best-smoked meat I've had in a long time. The rub had a sort of rustic feel to it, with just enough of spice to kick back.
You can get just the sandwich for $8, or make it a combo for $13 (which comes with a pickle, slaw, and fries/soup/salad).
So the verdict?
If it wasn't obvious already, I had a terrific experience at Caplansky's! Amazing food and a huge anticipation to come back and try the Maple Bacon Donuts or Knish.
If you're ever craving some good old smoked meat sandwiches, and Montreal is out of reach, then I recommend dropping by if you're ever in Toronto. Also, be sure to keep an eye out for their food truck driving through the city!!
Follow Caplansky's Delicatessen on Twitter @CaplanskyTruck for the most up-to-date info on the Thunderin' Thelma.
Read more reviews of Caplansky's Delicatessen on Trip Advisor.
Caplansky's Delicatessen
356 College St, Toronto, ON M5T 1S6
Cravings for meat? Know of any amazing smoked meat joints in your city? I'd love to hear about them!
For more casual Toronto eats, check out:
– What's for Dinner? California Sandwiches – Toronto