Strolling along the water's edge and viewing Niagara Falls from a lookout is one thing but seeing the falls from the vantage point of the water itself via a boat tour on the Maid of the Mist is something entirely different.
Every visitor to Niagara Falls should board a ship and sail right into the mist at least once in their life — at least that's what I think NOW!
I say NOW because up until a few weeks ago I had no idea what I was missing.
All I can say is tsk tsk and shame on me for waiting so long.
Missed opportunities you say? Pray tell…
To explain, I've lived less than 2 hours away from Niagara Falls my entire life. Every time out-of-town relatives would come for a visit we would make the drive, walk along the top of the Falls, take photographs from the lookout point, grab a bite or perhaps picnic and then we would drive home.
"It gives a totally different perspective of the falls. It felt like a little adventure…an amazing experience. It is high on my list of the things to do when I have guests coming from different parts of the world." — Quote by Olivera V.
I'm not sure why I waited 40+ years but my moment finally arrived and I took the plunge (pun intended)


After getting our tickets and taking the elevator down to the base of the Maid of the Mist Observation Tower the boat finally arrived and we were onboard. After a short safety announcement the horn sounded and we were off.
I was giddy as a schoolgirl as the boat slowly made its way on the Niagara River and steered first towards the American Falls and then towards Horseshoe Falls. All the while, the ship taking it's time so that everyone on board can get the full effect of the deafening roar of 600,000+ gallons per second of falling water (and screams of glee) as well as the drenching spray of the mist.
I felt so small compared to the force of the water but at the same time I felt exhilarated and like a super woman for being able to stand so close to so much power.
Adventure indeed I came away laughing and full of energy as if I had just come off a roller coaster!
"If you want to experience the incredible power and be engulfed in the magnificence that is Niagara Falls then you must take the Maid of The Mist." — Quote by James A.
If you have NO desire to get on a boat and sail right up close with the Falls might I ask why?
Is it perhaps because you feel you are a world traveller and not a tourist?
"It's the kind of touristy thing that I would usually avoid, but in this case heartily recommend. Nothing gives you the sense of the power of all that water like being below it on the river, and feeling the boat engines struggling to battle upstream against that force. And you have a whole new respect for the daredevils who threw themselves over the falls and into that mêlée wearing only an oak barrel – or worse!" — Quote by Jane Canapini of Grownup Travels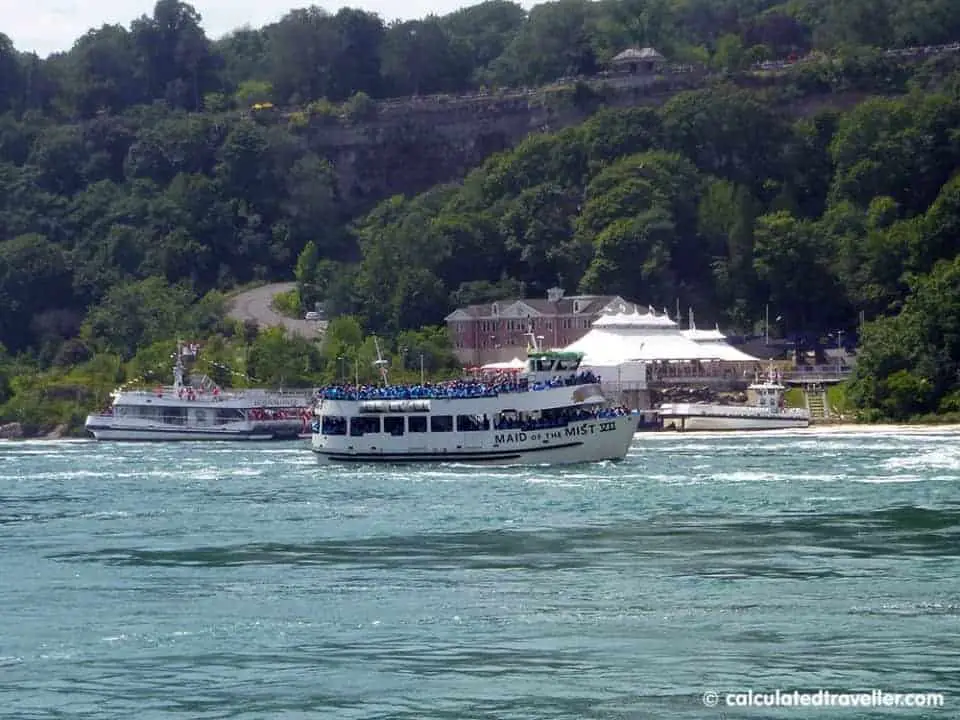 Is it perhaps all the crowds?
Celebrities, royalty and millions of people from all over the word have sailed on the Maid of the Mist since it started taking passengers in 1846 to view Niagara Falls. You just never know who might be standing next to you – Angelina, Brad and the kids perhaps?
We saw people of all ages from seniors to babies and heard so many languages being spoken by all the various nationalities during our wait in line. Also, Maid of the Mist is wheelchair accessible.
"Maid of the Mist was a great way to experience the Falls, particularly for kids. They were really able to grasp the power as it blasted them in the face with wind and water." — Quote by Jessica of Suitcases and Sippy Cups

Is it perhaps the blue rain ponchos?
They are included in the ticket price and aren't just for show because you will get wet — even with the rain ponchos on my shoes were totally soaked and I couldn't see a thing through my glasses they were so fogged up and covered with water! In fact, I could start to feel the mist on my face even as we were waiting in line for our tickets.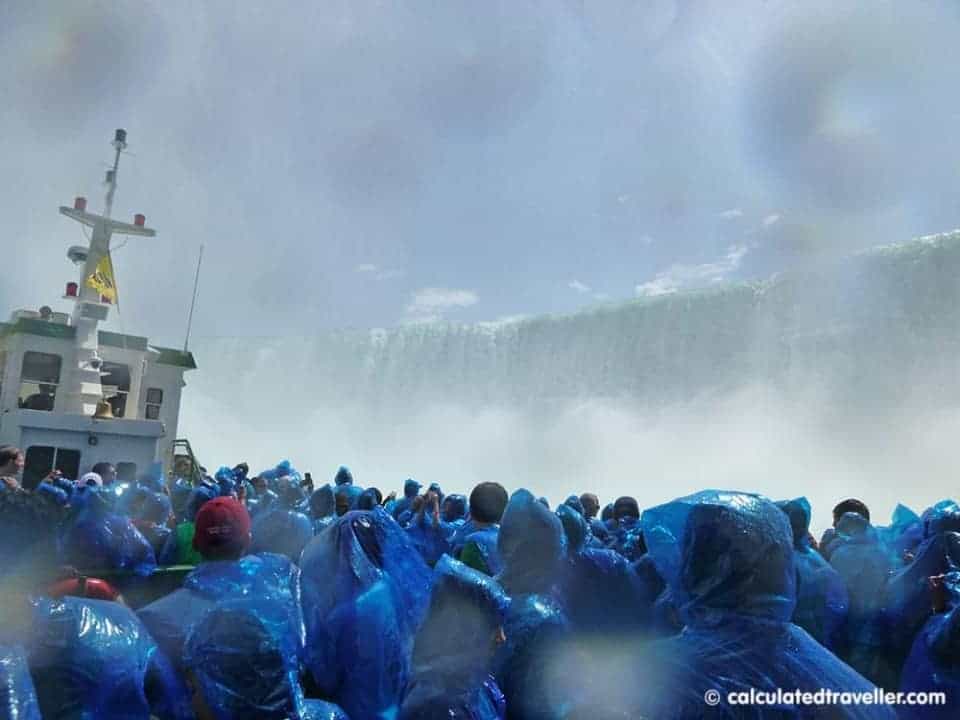 "OMG! It's so LOUD and I'm absolutely soaked!" — Quote by Calculated Traveller Martin
Is it perhaps that you don't like to see beautiful, majestic wonders of the world with your own eyes?
Avert your eyes when playing this video if you don't wish to see scenes of the beauty and power of Niagara Falls.
"Being up-close to the falls is as riveting as it is majestic. The thundering unleashed power of water in front of your eyes just can't be experienced anywhere else." — Quote by Will of Going Awesome Places
Is it perhaps that you already have the perfect goofy photo for the Family Christmas Calendar?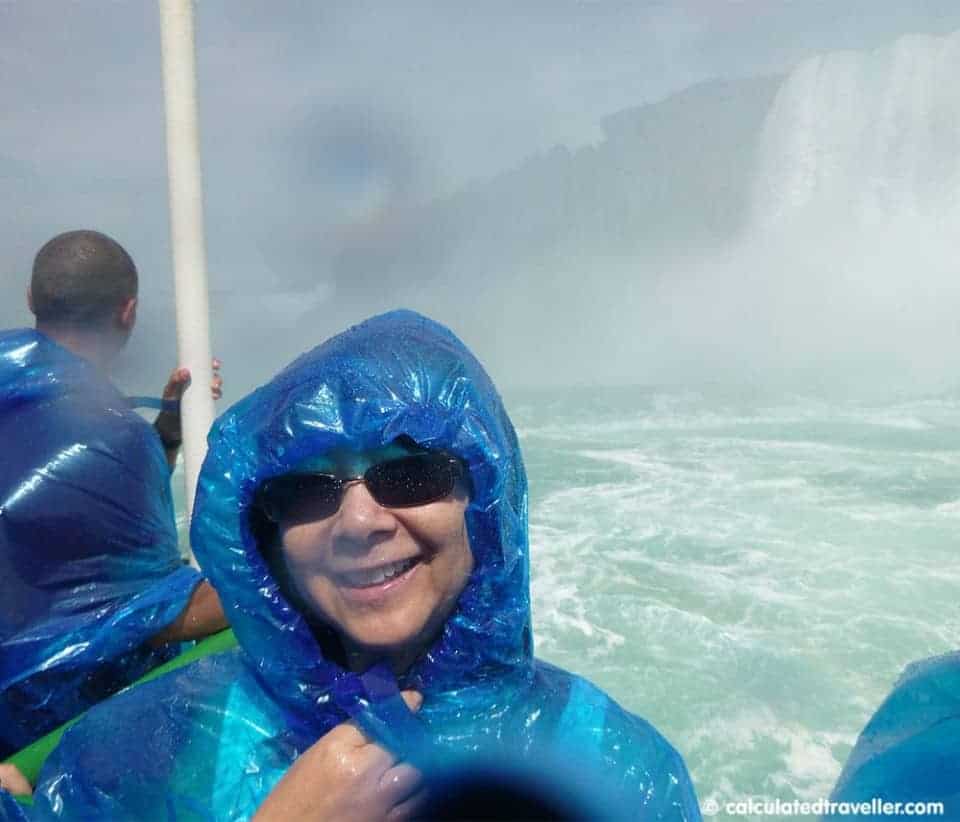 "I grew up just a one and half hour drive from Niagara Falls and I remember visiting many times as a kid. Both the American and Canadian sides are worth a visit for different perspectives. My favorite memory from my visits, though, is always donning those ugly plastic rain ponchos and getting a thrill on the Maid of the Mist. I haven't been since I was a teenager and I'm looking forward to re-visiting as an adult." — Quote by Jennifer, Luxe Adventure Traveler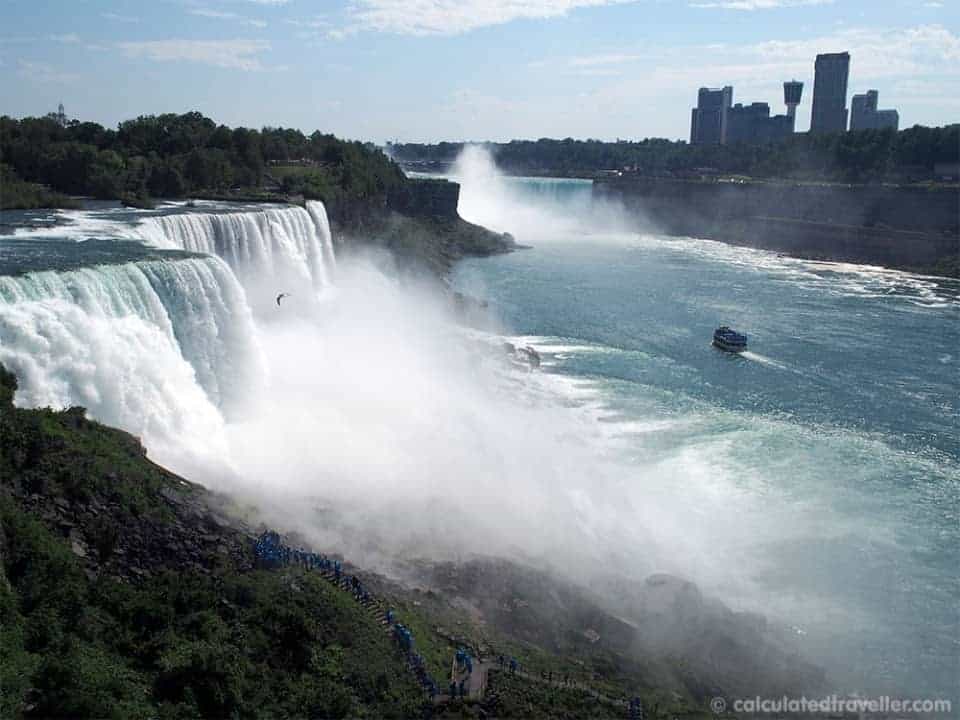 If after all of this convincing you still have zero interest in sailing on the iconic Maid of the Mist, that's okay — less crowds for me because I plan on going again!!
Tips for the Maid of the Mist
Boats run every 15 minutes starting at 9 am daily between May to October.
Don't wear designer shoes unless they are totally waterproof.
Bring a waterproof camera.
Don't put your rain poncho on until you get on the boat unless you want to sweat in the hot sun.
Be ready to wait in long lines – It does move pretty quickly when you consider the number of people waiting.
After the boat ride you can either take the elevator back up the Observation Tower or you can take the stairs – careful, they are slippery.
Maid of the Mist Niagara Falls NY
Adults: $17.00 US
Children 6 to 12 years: $9.90
Observation Tower only: $1.00
Children 5 and under: Free
To see what other travellers thought check out these Maid of the Mist reviews on Trip Advisor
Special Thanks to my friends for providing quotes of their experience sailing with Maid of the Mist!
Travel assistance provided by Niagara Tourism.As always, all my opinions are entirely my own.

Have you sailed on the Maid of the Mist? Share your experience in the comments below.
For more Niagara Falls adventures, read:
Heart Pounding White Water Ride with Niagara Jet Adventures
Lux Art Deco Dreams at the Giacomo Hotel, Niagara Falls NY
Beer and Wine in Buffalo Niagara USA