Often we travel and neglect the single most crucial piece of our travel gear. No, I'm not talking about your passport — I'm referring to your travel underwear! When you think about it, it is the one item of clothing that is on you 99% of the time.
When it comes to travel clothing, it can be a hassle to find travel underwear that breathes in the right area, works well in a myriad of climates and is easily washable. To that end, whether you prefer bikini briefs, boxer briefs, or low-rise bikini briefs, here are a few tips to help you choose those unmentionables the next time you start trip planning for a trot around the globe.
What Fabric is best for Travel Underwear
My personal preference is to look for synthetic fabrics with spandex since it is fast drying, moisture wicking, and has stretch for ease of movement. I also like merino wool for the fabric's reputation of being antibacterial, odour resistant, breathable, and comfortable. 100 % Cotton, on the other hand, takes longer to dry and personally, if you are hand washing and air drying I find that they dry "stiff" so, if you are a fan of cotton — choose a blend with some spandex in it.
Check out: WAMA Underwear Review: Organic Hemp Underwear for Eco-Friendly Travel
In terms of budget travel, and shopping – look for quality fabrics, comfort, durability, and compare that to price to ensure the longevity of the product.

Men's Travel Underwear
Consider the ExOfficio Men's Give-N-Go Boxer for men's quick dry underwear. It is odour resistant and has moisture wicking fabric that is 94% nylon and 6% Lycra. It is very breathable and will air dry extremely fast. These features make it perfect for travel. The elastic waistband makes it versatile, and the Aegis Microbe Shield helps control those uncomfortable odours that come from nasty bacteria. An excellent choice for active men who are looking for something durable and easy to wash!
Hubby reluctantly lets me buy him one pair of the ExOfficio travel underwear to "try" because he was not convinced until he did his own "test". That evening he washed them in the sink, and they were dry in about 4 hours (it was the waistband that took the longest to dry) and then he wore them for the entire next day. That evening – we went out and bought five more pairs of quick dry travel underwear! Hubby Approved!
Perhaps you're looking for quick dry underwear for travel that provides another use as well though.
Pickpocketing is quite common in foreign tourist destinations, so you want to make sure that you keep your passport and wallet safe. These thieves are so good that they can quickly snatch those precious documents and your money right out of your pocket without you being any the wiser. To combat this, consider purchasing underwear that has a secret pocket like the pair featured here by Clever Travel Companion Men's Underwear with Secret Pocket. They have a pocket on each leg that is comfortable enough to hold credit cards, cash, passports, and even your cell phone should you need space for that. All of your personal belongings will be kept safe, and more importantly, invisible to a would-be thief. They're made of 95% cotton and 5% spandex and feature an elastic waistband for comfort.
Women's Travel Underwear
Clever Travel Companion also has secret pocket underwear designed for women.
They are the same blend of 95% cotton 5% spandex. The women's version is a shorter sports-type look that is still large enough to hold your cash, credit cards, cell phones, and passport. Each pocket is completely zippered and separately lined, making it invisible to thieves as well. It is considered to be pickpocket-proof and is very easy to wash. Both the men's and women's travel underwear by Clever Travel Companion is designed for those with active lifestyles. So if you're looking to go sightseeing or hiking for a day, these will be perfect for you.
If you are looking for something to make you feel a little more feminine, then ExOfficio underwear has a women's bikini that is perfect for you. Their 94% nylon and 6% Lycra spandex mix makes them ideal for travel since they are easy to wash and quick drying. They are treated with an antimicrobial to help cut odour-causing bacteria. Available in three colours with a low-profile elastic waistband, they are the perfect durable travel underwear that will make you feel decidedly feminine. I own these and love them. They come in several styles including bikini brief, sport mesh bikini brief, and hi-cut brief. 
Travel Underwear 411 – Getting it All Organized with Some Packing Tips
Now that you have several excellent travel underwear options, let's talk a bit about travel underwear basics.
What you need is a travel system that makes organizing your underwear efficient. Underwear is not something you want to think about during your trip. A sound system will let you focus on your holiday correctly.
Consider buying and packing three sets of travel underwear, that way; you will have one set that you are wearing, one that you are washing, and one that is clean and ready for use! That is the easiest way to manage your underwear issue. It continuously leaves you with a fresh pair on hand for you to wear. Plus, it is a simple system to use.
Fast-drying. The last thing you want to do is get held up for a dinner date because you are waiting for your underwear to dry. You will not be a happy camper.
Breathable, comfortable and lightweight. The right fabric will keep sweating to a minimum and help cool you off in the process. 
Durable, high quality, long-lasting. Underwear specifically made for travelling can be expensive. Make sure you buy a high-quality product so that you know it will last and last and last.
Buy three pairs. One to wear, one to wash, and one spare.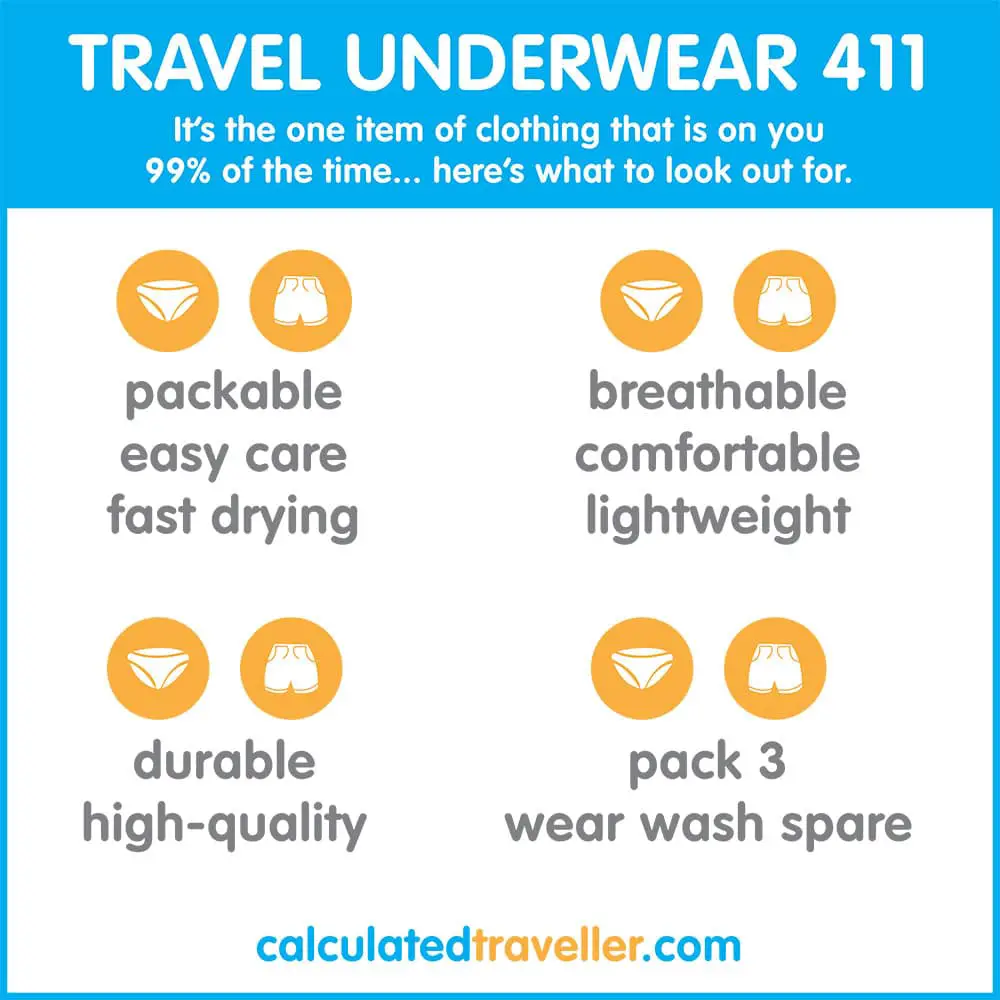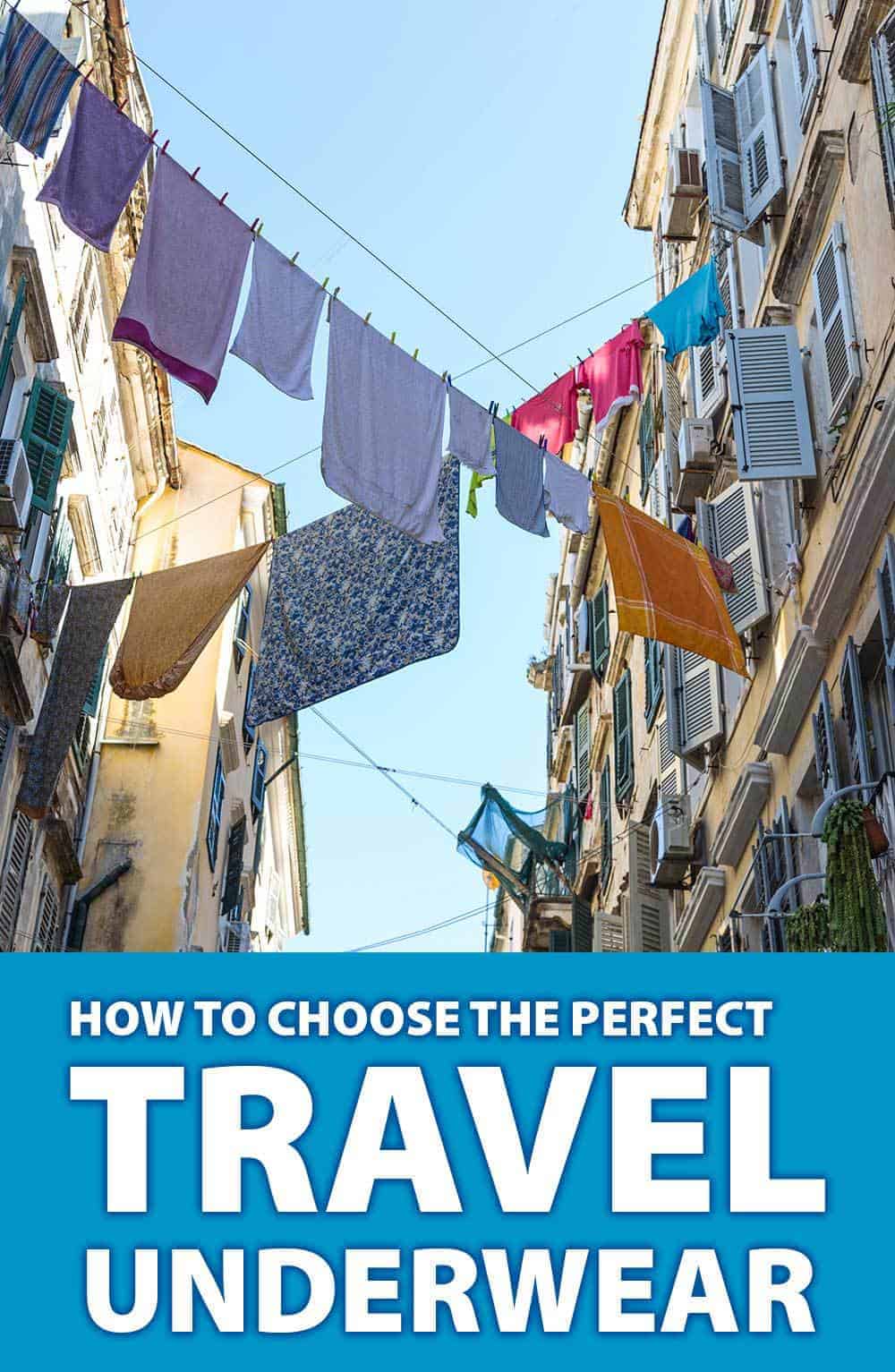 The bottom line is this – Whether you are hiking through the rainforests of Bali, or camping overnight in a hut on the island of Fiji, you will appreciate having the right underwear with you. It will make shopping in the crowded open markets of Vietnam safer, and dancing to the rhythmic hot nights of the Carnival in Rio de Janeiro that much cooler. Travel underwear is essential, make sure you choose wisely.
Check out these related articles:
– Clever Travel Companion Pickpocket Proof Tank Top
– Travel Security and Flexibility with Lewis N. Clark
– Pact Organic Cotton Clothing Review – Organic Sustainable Cotton Fashion for Travel
Do you have a favourite travel underwear brand?