I'm new to wearing organic cotton clothing and honestly; I don't usually go in search of all-natural organic products when shopping even though I know that I should. I believe that it's essential for the health of the planet and that I should be living sustainably for the future of our environment. The reason I don't is that I find organic products to be more expensive and not affordable – a bad excuse.
While on a trip to Denver Colorado I was introduced to the Pact Organic Clothing Company and was encouraged to try their product out, what I found was that shopping organically wasn't as expensive as I initially thought it was!
Continue reading this Pact Clothing review and find out why.
About Pact Organic Clothing
Pact Organic Clothing's mission is to provide high-quality, fair trade organic cotton clothing that is farmed responsibly with low impact to the environment and the farmers, unlike traditionally grown cotton. Their cotton is certified by GOTS (Global Organic Textile Standard) which holds them to strict standards to ensure the highest quality organic cotton is in use in the manufacturing of their product.
Pact Apparel aims to put people first and drive the movement of how apparel is made by producing sweatshop-free, ethically crafted, with a low impact. Its name is a promise to the industry to change how clothing is manufactured.
Pact Organic Clothing is led by Brendan Synnot, CEO, the founder of the famous brand, Bear Naked Granola and he is bringing the same awareness to the clothing industry as he brought to the food industry.

Pact Organic Clothing Review
Women's Charcoal Heather Stripe Slouchy Fit Sweatshirt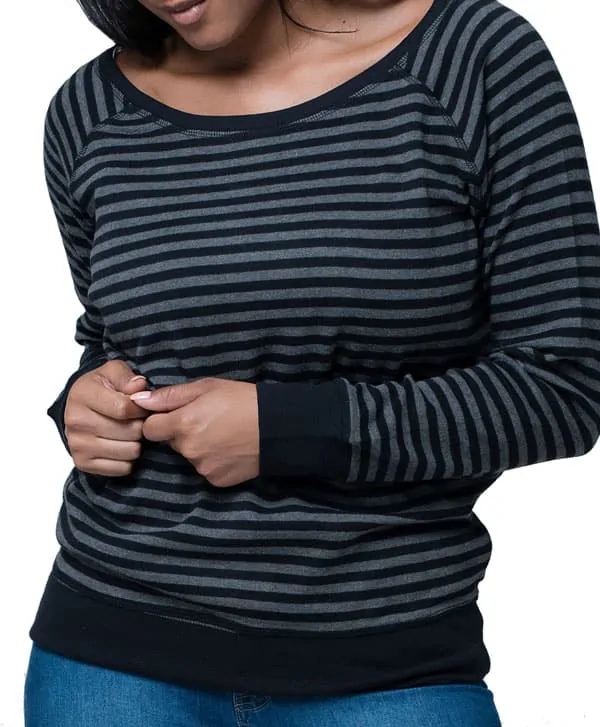 – 100% Organic Cotton
– Made in India
– Machine Wash Cold, Tumble Dry Low
I wanted something specifically casual and comfortable but with style and this charcoal and heather stripe design indeed is better than your ordinary sweatshirt.
Be warned that the style really is slouchy, so if that is not your style preference then you may wish to avoid this item. That being said, I did purposely put the sweatshirt in a hot dryer to shrink it slightly, and I prefer the way it fits now that it's a bit smaller and more suited to my petite height.
I'm not exaggerating when I tell you that when I showed it to my husband Ray after it came out of the wash and dryer that when he touched it, he asked if it was cashmere. Yes, it is that super soft!
I've been wearing my new Slouchy Fit Sweatshirt in the house and around town, but I intend to wear this for long-distance flying or road trips when I want something warm, loose and comfortable with a bit of style.e.
Women's Clear Blue Heather V-Neck Tee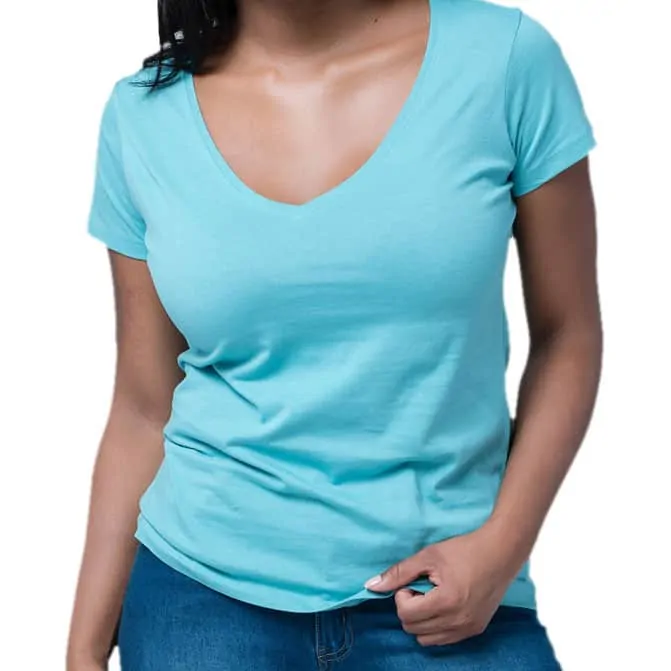 – on Amazon
– 92% Organic Cotton 8% Elastane
– 100% Organic Cotton
– Made in India
– Machine Wash Cold, Tumble Dry Low
The feature that drew me to this V-Neck Tee was the blue colour. Not too bright a shade of blue, but not a dull shade of blue either, it's pretty, and I think this pretty shade would be suitable for all skin tones.
I had thought that the neckline of the t-shirt was a bit low cut when I first tried it on but the more I wear it, the less I'm aware of the deep V of the neckline.
What I especially love about this little t-shirt is the softness of the fabric against my skin and the quality of the construction. It's super comfortable and easy to wear. I also love that it isn't too short – it has a nice length to it to cover your behind and there is no need to worry about it riding up exposing your back when you bend over.
Women's Black Lightweight Wrap Cardigan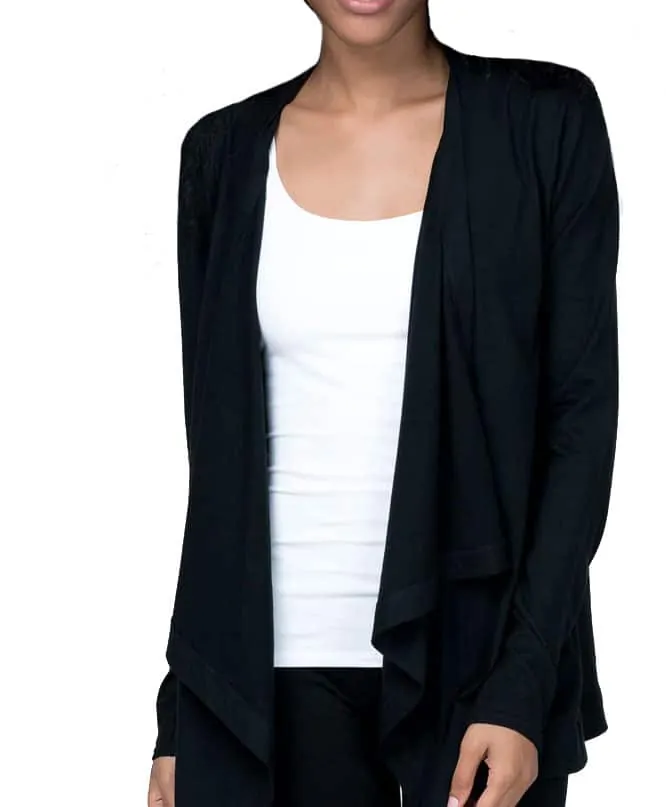 – 65% Organic Cotton, 35% Modal
– Made in India
– Machine Wash Cold, Tumble Dry Low
I think this is my new favourite wear-anywhere cardigan.
It's super soft like the other Pact Clothing items, but the Modal in the fabric gives the cardigan some stretch and a bit of a "finish" for lack of a better word making it suitable for when you are playing dress-up. Modal fabric is also said to be resistant to shrinkage and to hold dye more efficiently, which is an excellent thing when you are dealing with any piece of cotton clothing that is the colour black.
The sleeves are meant to fit snug and sleek, and the back of the cardigan hangs down long enough to provide coverage.
I wore this go-anywhere cardigan on my French Barge Cruise and in and around Paris – trés chic!
Women's Black Cropped Leggings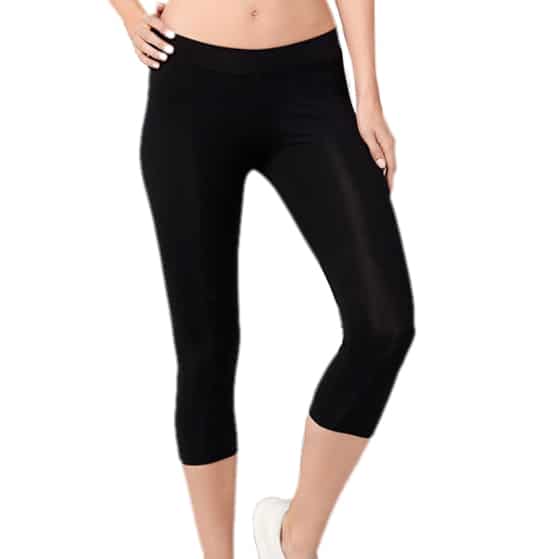 – 92% Organic Cotton 8% Elastane
– Made in India
– Machine Wash Cold, Tumble Dry Low
Opening the package, I thought, "hmm, these leggings look extremely small". But in reality, the fit is perfect. These leggings are very comfortable, cosy and great for travel because they are light, pack small, and are wearable in multiple situations.
TIP: Make sure you consult the Pact Organic Size Chart before purchase.
One thing I do like is that the waistband on the leggings is quite thick (about 2 inches) and great for holding your belly in after you eat too many doughnuts (wink). Let's be honest here – I'm one of those girls that wear yoga clothes for comfort versus ACTUALLY going to the yoga studio.
The fabric of the leggings does have a lot of stretch to it, and a slight sheen to the finish makes the leggings very wearable for more than just the gym. You could wear the leggings under a long top, or under a short fashion-forward dress for a dressier occasion.
My favourite new outfit right now is to pair the cropped leggings with the lightweight wrap cardigan and the v-neck t-shirt – they make the perfect combination when worn together.
What I love about my new Pact Clothing pieces
No toxic dyes
No toxic pesticides
No sweatshops
No child labour
Certified organic
Ethically produced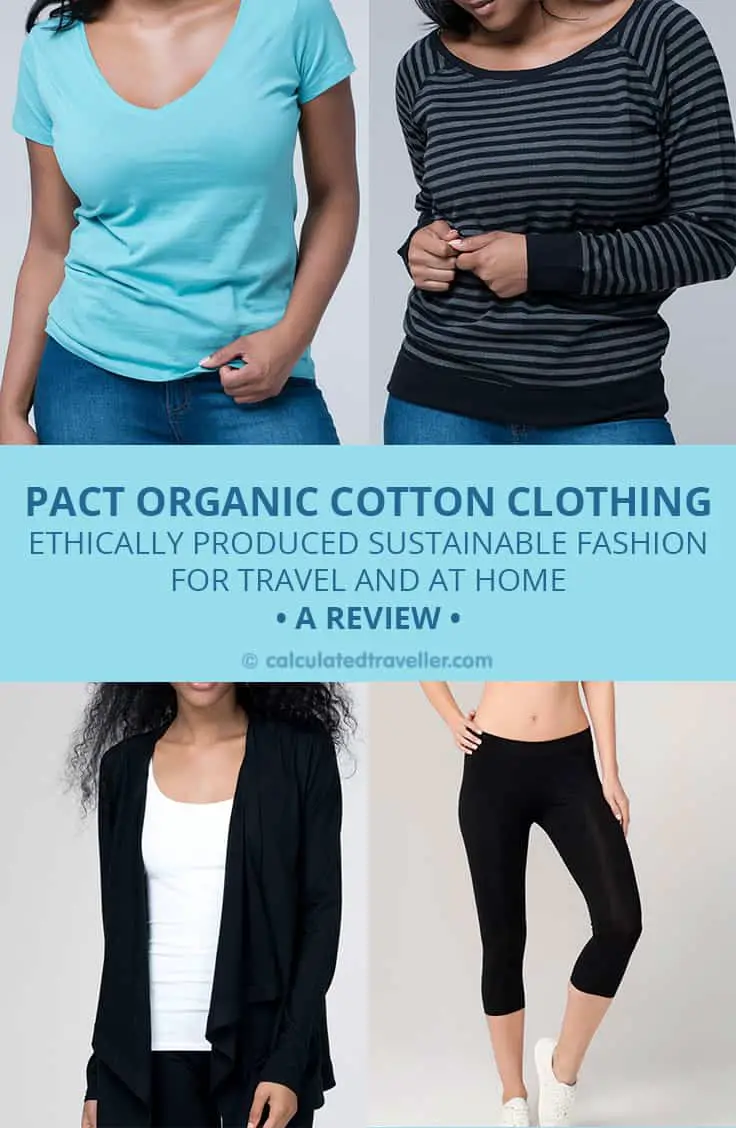 Where to buy Pact Organic Cotton Clothing
Pact apparel is available online on their website, but you can also find a limited selection at Amazon.com and select Target and Whole Foods stores. Be sure to check if your local store carries the Pact Fairtrade clothing line.

Pact comfy clothing products include socks, boxers, briefs, pyjamas, robes, dresses, bras and leggings for the entire family, but the Pact Underwear and the Pact Socks seem to be the big sellers of all the Wear Pact products.
Shipping from Pact Clothing
Regarding shipping, everything except for the leggings came in a plastic cello sealed bag, and the leggings were in a cardboard box.
Returns are easy according to the wearpact.com website. Free exchange or refund within 60 days of purchase if you select the wrong size on the first pair of underwear, bras, leggings, or tights. Other clothing is returnable within 60 days as long as it's in original condition.
Pact Organic Cotton Clothing is very wearable, comfortable, fashionable, and affordable while at the same time is produced ethically in an environmentally sustainable manner.
I was provided product for testing and review. All opinions are entirely my own.
For more travel clothing reviews check out:
– Stylish Sun Protection with the Sunday Afternoons Havana Hat Review
– Packable Down versus Omni-Heat Columbia Jacket
– WAMA Underwear Review: Organic Hemp Underwear for Eco-Friendly Travel