At Medieval Times Dinner & Tournament the crowd roars, cheers and waves their pennants in the air as the two knights fight for the princess' honour.
It's all good fun as everyone wears their paper crowns and pretends that they've travelled back in time to the Middle Ages.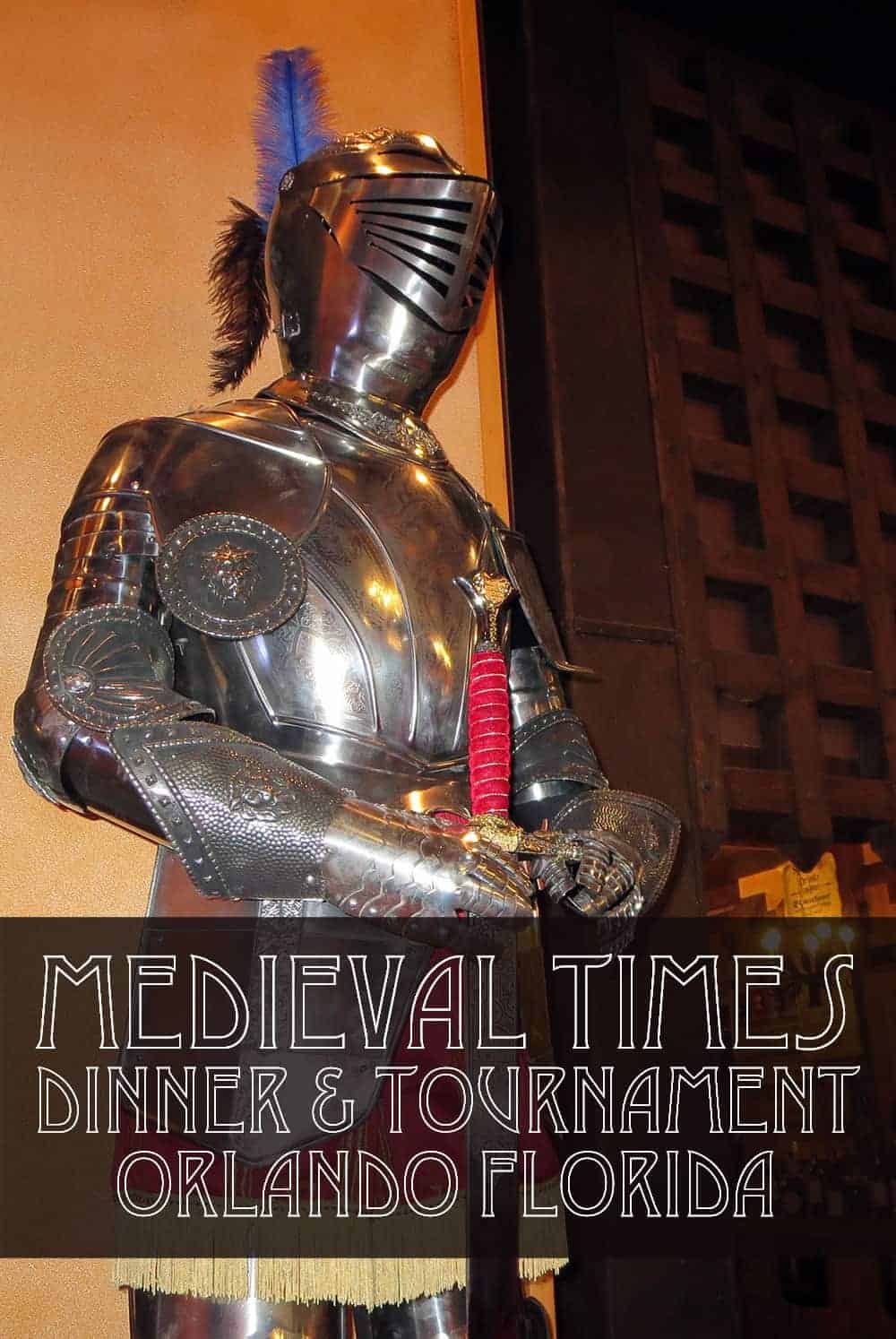 I must confess that I've always, ALWAYS wanted to go there. After all, we have a Medieval Times location back home in Toronto and pretty much every kid I know has been there except for this big kid!
Yes, I've always wanted wear my own paper crown too but it just seemed odd to me as grown adult to attend something like this in our own home town without any children in tow so kitschy, so touristy.
I must confess that another reason is that I'm a bit of germaphobe and wondered if you can smell the horses while you are eating (you can't), if my allergies would go haywire (they didn't) or if I would be grossed out that we were eating with our hands in the company of animals (wet wipes are provided before and after your meal and they will give you cutlery if you really do want some).
So here we are in Orlando Florida playing tourist, and the first thing I do is say to myself "Let's go on a quest to Medieval Times!" And boy, am I glad we did.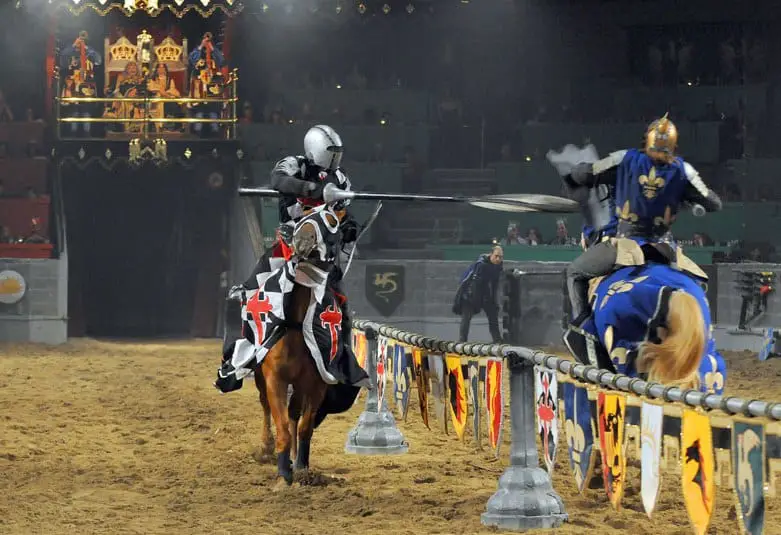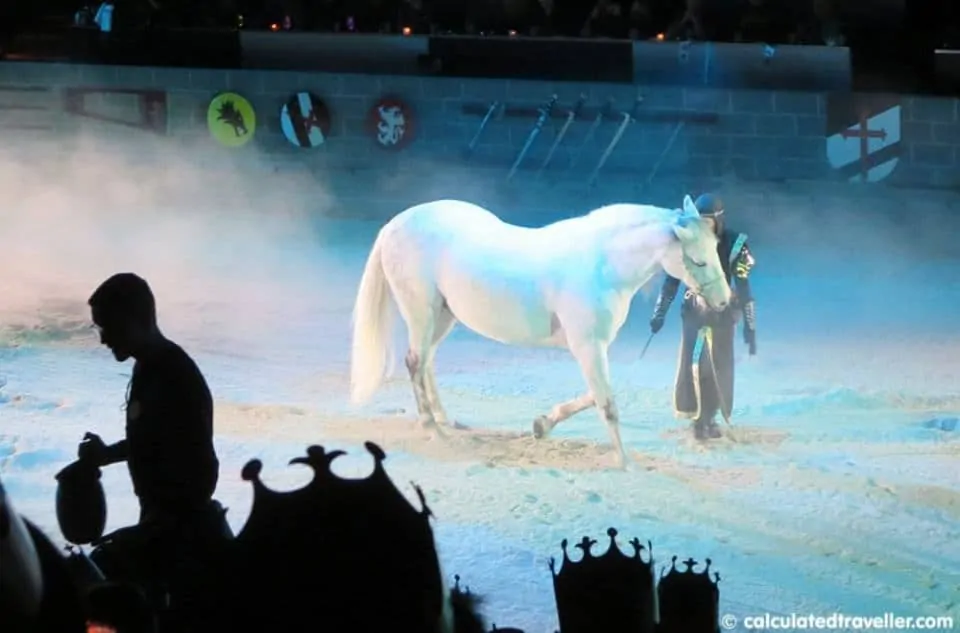 My quest — Medieval Times Dinner & Tournament!
We had the best time cheering for our knight and booing at the other competitors throughout the tournament, marveling at the beauty of the horses, the falconry, the swordsmanship and jousting prowess of all the knights, the pomp and pageantry of the entire experience and you know what?…. there were a lot more couples without children then I would have imagined — not to mention a huge bar with cocktails-a-flowing!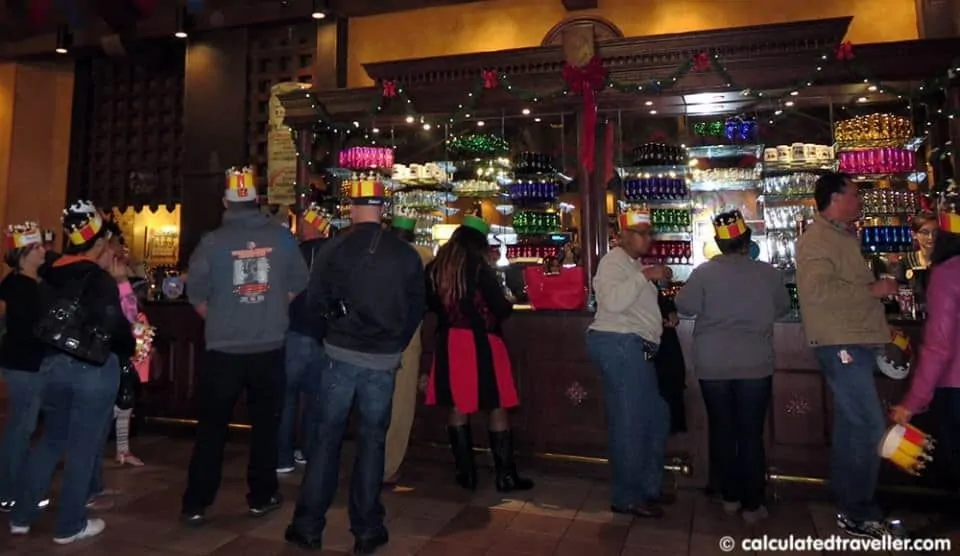 I did find the service of our particular waitress to be less than stellar. At first I thought it was part of the show her acting the part of a serving wench (and still wonder about it even now) but our food was basically thrown down onto our platter in front of us in the fastest most abrupt possible way. No matter – the food still tasted great.
Even our beverage service was a bit abrupt when we were offered a choice of either water or Pepsi. I had asked if they had other soft drinks and the waitress said that she could get me a Diet Pepsi but there weren't any other choices but the 2.
We left the castle with our bellies full, voices hoarse from all the screaming and cheering and huge smiles on our faces (I might add I totally blew through an entire memory card on my camera).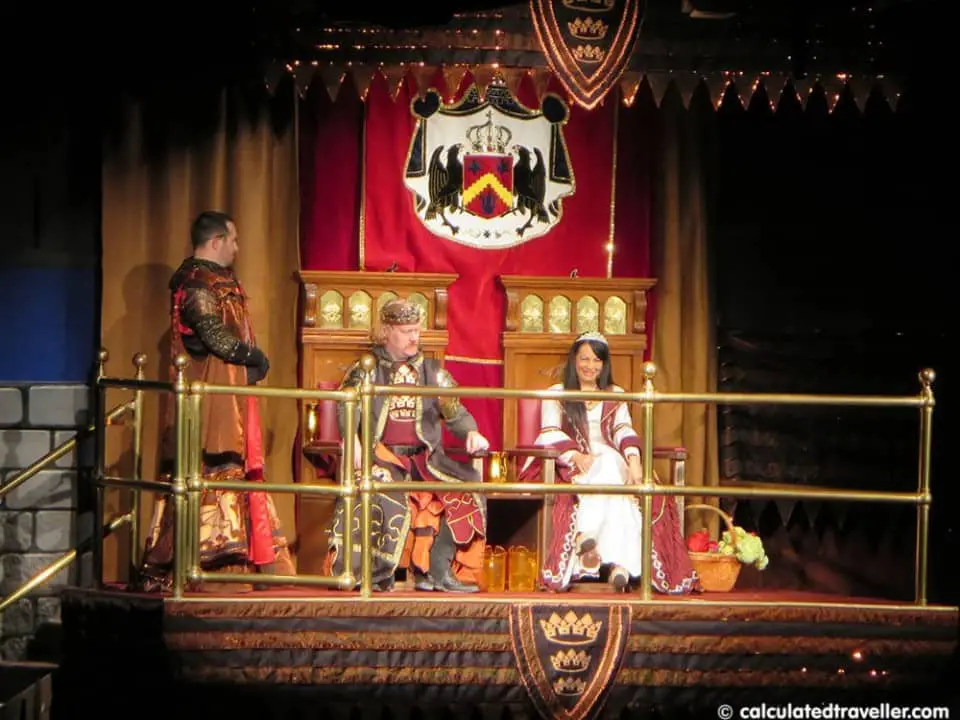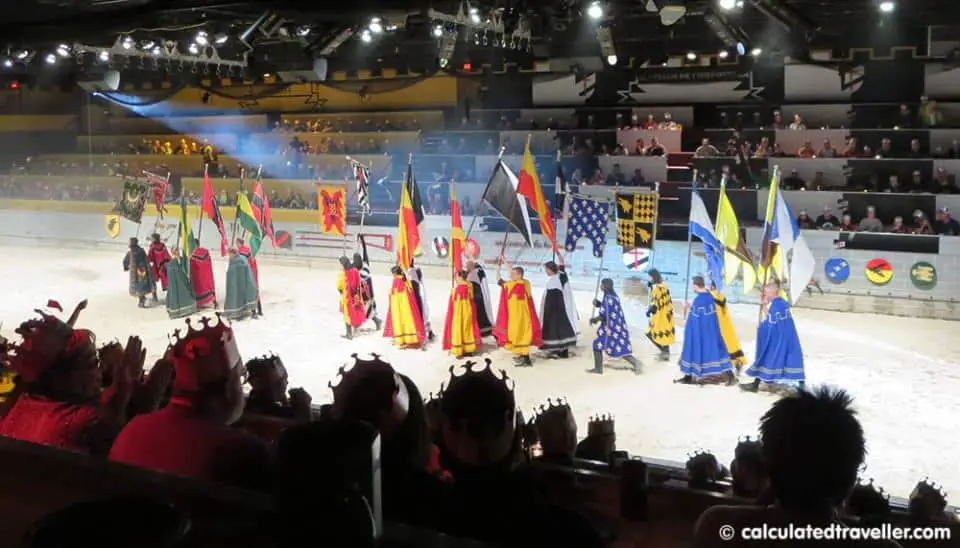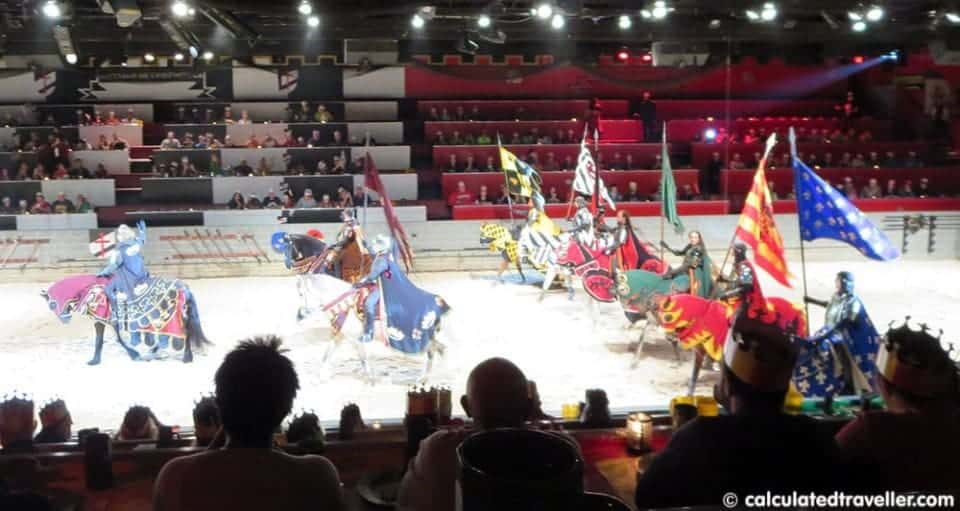 Our knight did lose the tournament I'm afraid but perhaps the next time (wink) he'll win because I'm sure there will be another time for us at Medieval Times Dinner and Tournament.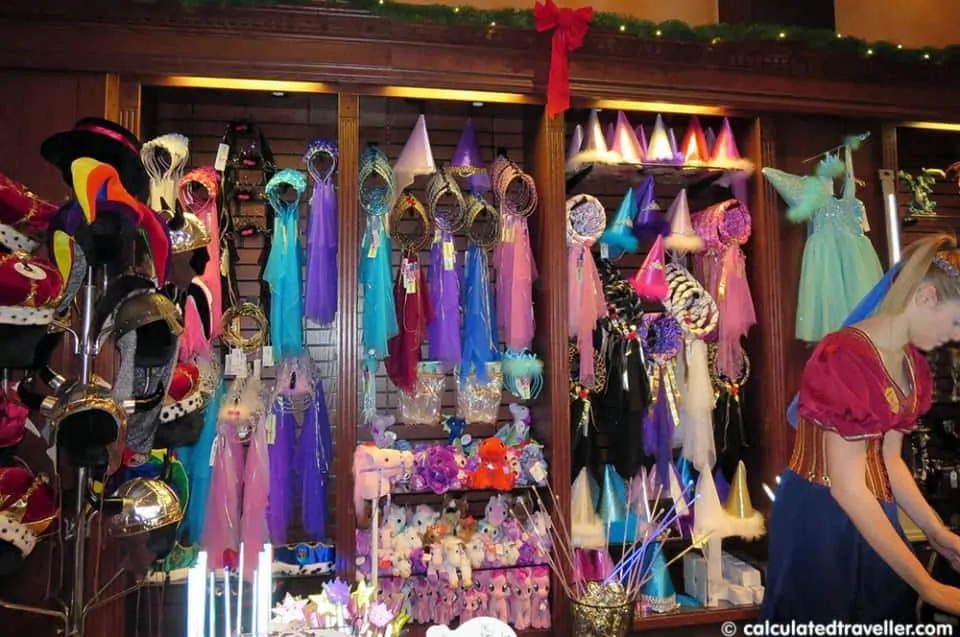 Tips
Bring hand sanitizer if you are a germaphobe like I am.
Use the restroom before the dinner and tournament. it's a bit awkward to leave the arena area once the show begins.
If you are too embarrassed to ask for cutlery – just bring your own plastic spork.
Dinner served is tomato soup, garlic toast, half a roasted chicken, 1 pork rib, half a roasted potato and an apple turnover for dessert with tea or coffee.
Drinks included were water and Pepsi.
Arrive early for the actual show so that you can spend time exploring the "Medieval Village" next to the castle and browse the various items available for sale inside the castle.
Cast members are available for photographs after the performance so stick around.
Make sure you have enough memory in your camera.
Here's an excerpt of some of the action:

Medieval Times Dinner & Tournament
4510 West Vine Street, Kissimmee, FL 34746, United States
Have you ever done something so touristy yet oh so fun while on holiday?

Travel assistance was provided by Visit Orlando and Visit Florida. All opinions are entirely my own.
For more Kissimmee and Orlando fun, read:
– Kayaking Shingle Creek Kissimmee Florida
– Soaring at iFly Indoor Skydiving Orlando
– 10 Awesome Fun Things to do in Kissimmee Florida