Pepperoni, shredded and strewn. Mushrooms, straight from the can. Crust, covered in cornmeal. It looks like a crime scene and tastes like sin. This is Windsor Pizza, and you have just been introduced to your newest vice.
Yes, when I opened my first take-out box, my metaphors were all law-enforcement. This pizza was perpetrated. I proceeded to sample, test, forensically analyze. After the third slice, I realized I may have crossed a line. After my second pizza, I knew I was a pizza deviant. Now, rookie, I am here to tell you, this is the stuff.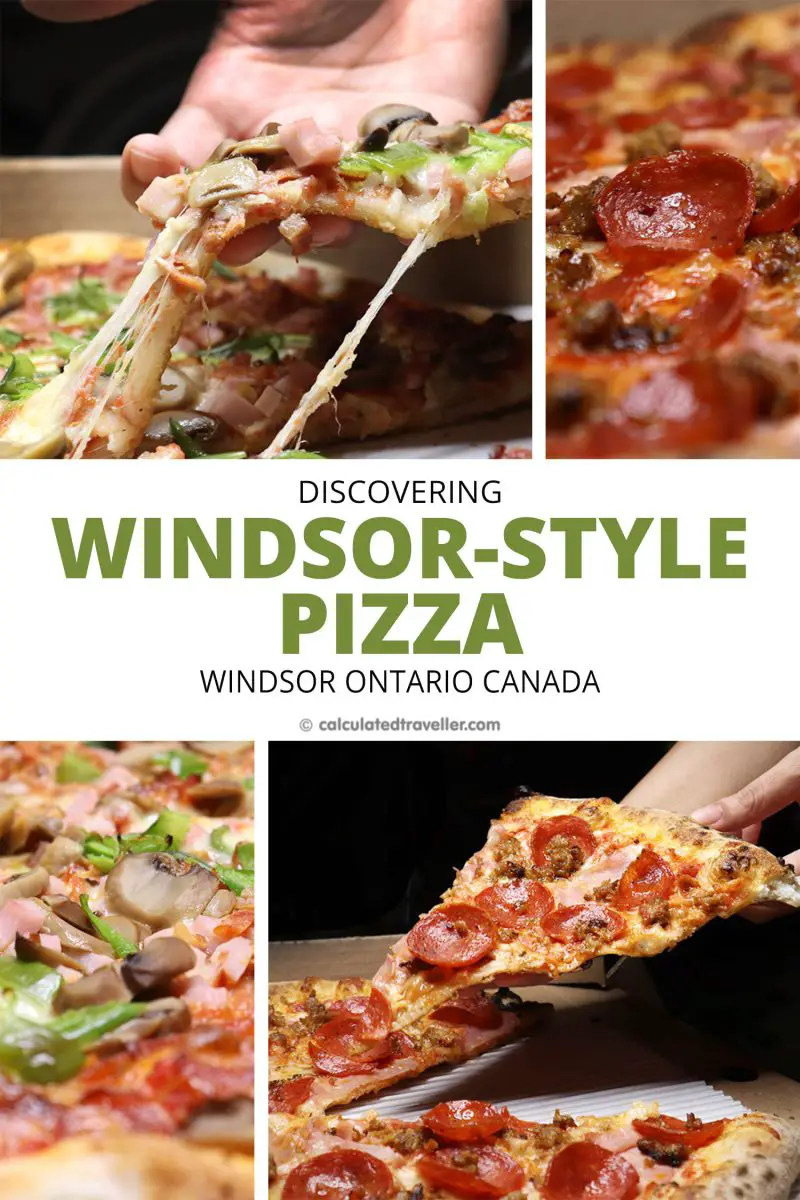 It is not accurate to call Windsor Ontario pizza the world's best pizza. The pie has evolved past its days as a novelty or a commodity and past the stage where things are good, better or best. We now live in the era of regional variants, multiplying schools of pizza, where the next thing is just as good as the other thing. The world already knows about Chicago's deep dish and New York floppy crust. But the world awaits news from Windsor, a small town in Southern Ontario, Canada.
Check out these related articles:
Hot, from the Earth's core
When Frank Gualtieri and Eugene Manza started Volcano Pizzeria in 1957, they wanted to serve Windsorites the hottest thing from Naples. Mount Vesuvius, the volcano located in the birth city of pizza, was a ready inspiration for their restaurant's name. Originally meant to be an Italian diner, Volcano became a pizzeria at some point in the '60s. It wasn't a story of breakthroughs or jackpots. It was decades of grind and word of mouth. But they did grow into a 400-seat restaurant and had enough business to keep 20 delivery cars busy. At some point, in one of Volcano's ovens, the Windsor Pizza recipe was born.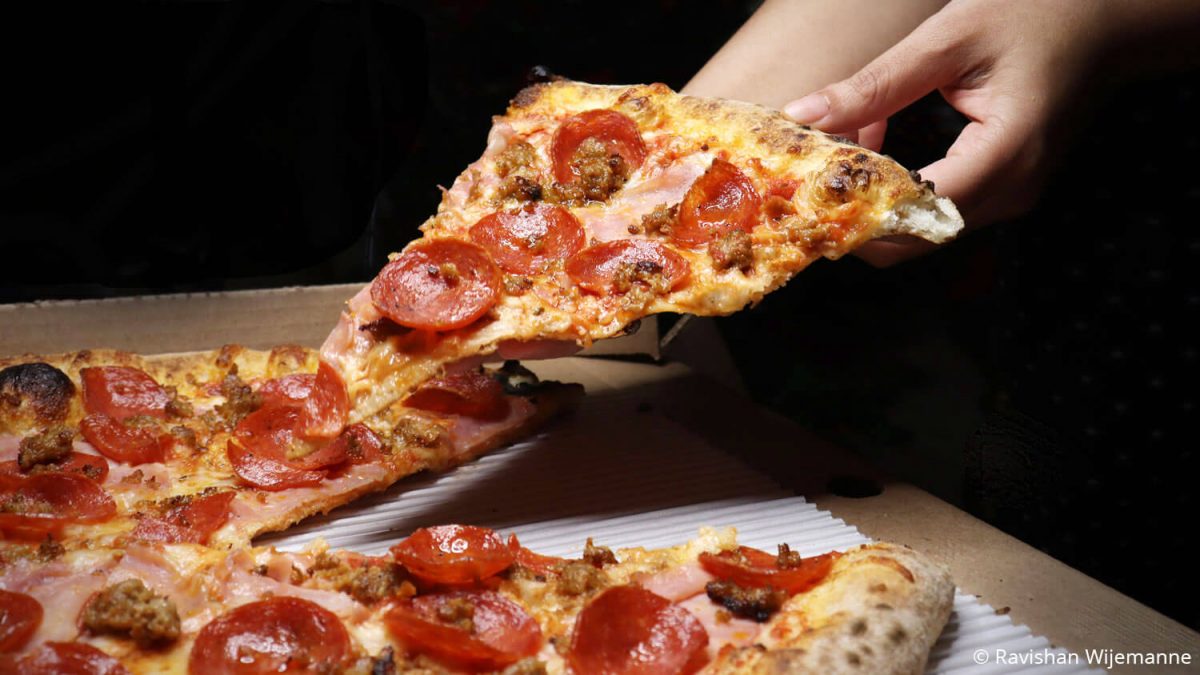 The recipe for Pizza in Windsor, Ontario
The differences start with the dough. Fairly bulbous at the lip, the crust thins out, but not enough to be called thin. Cornmeal performs more flavour than function, so there's more of it than is necessary to separate the dough from the pan. This is not the kind of crust you leave in the box – not even the kind you hypnotically chew while Netflix loads the next episode. This crust is an experience on its own. The crunch is brief and buttery. Then you get the stretchy, chewy, spongy bread. With meat, cheese and herbs having soaked through the crumb, every bite is a recap of that symphony of umami.
The sauce is slightly tangy but on the edge of sweetness. Then there's the mushroom, at which point Windsor does a sidestep or backflip from culinary tradition. It is canned. Half a century ago, this compensated for the mushroom farms that Windsor didn't have. Today, Windsor's pizzerias can get fresh mushrooms from Leamington's farms within an hour. But the canned mushrooms have earned their stay for their unique flavour and texture.
The cheese is an especially fatty and stringy mozzarella from Galati Cheese Company, a local creamery. The cheese remains a thick milky, glutinous layer underneath its caramelized skin. The pepperoni goes on top, shredded like hickory sticks, and spread around uniformly.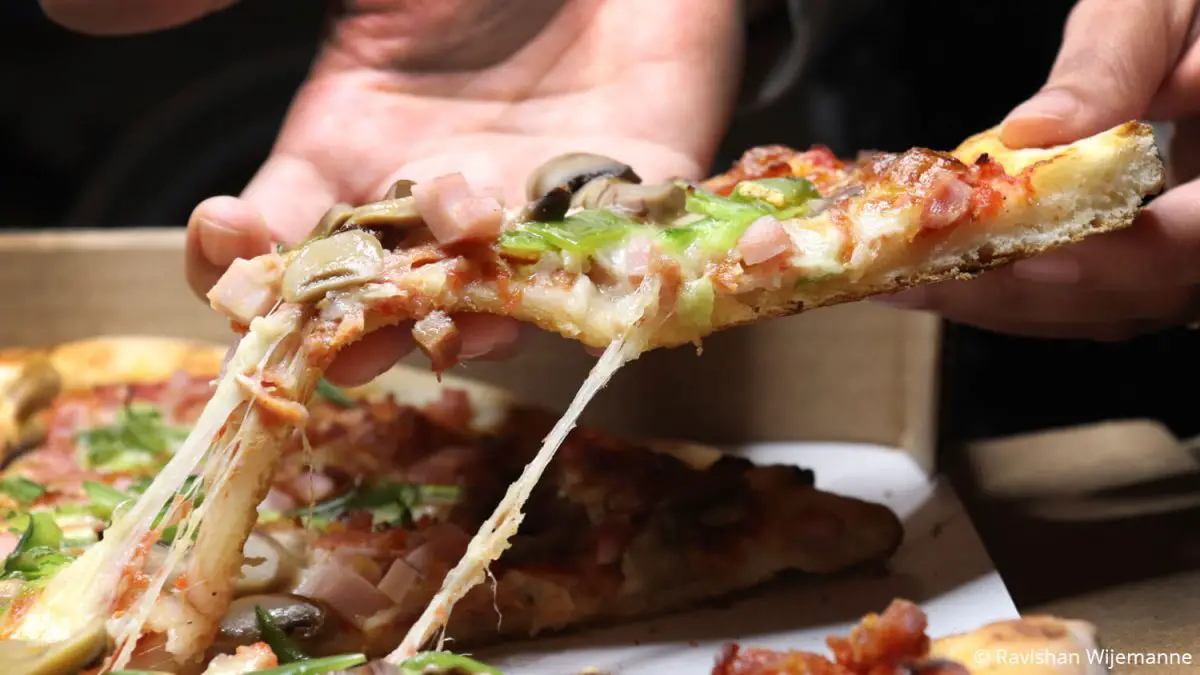 Windsor Ontario Pizza ambassadors
Volcano's closed in 1986, and its property was sold to the Downtown Mission. Pizzerias, of course, have mushroomed around Windsor since. There are many fusion restaurants and spinoff joints where you can order a "Windsor style pizza." The old guard, however, is still going strong. Tourism Windsor Essex and Pelee Island has specifically created the Windsor Pizza Club to celebrate the original product. There are eight inductees:
Excluding Oven 360, the other seven have histories as long as Volcano's. In fact, Sam's Pizzeria and Cantina has a rival claim to be the originators of Windsor pizza.
In Toronto, there is also Ambassador Pizza, the new restaurant at 946 Bloor Street West. Opened by former Windsorites, the restaurant is named in honour of the Ambassador Bridge, the iconic suspension bridge between Windsor and Detroit, and tethers Canada to the USA. Short of importing a pie, Ambassador Pizza remains the sole ambassador of Windsor's unique culture to the world outside.
Sam's and Oven 360 – tradition and evolution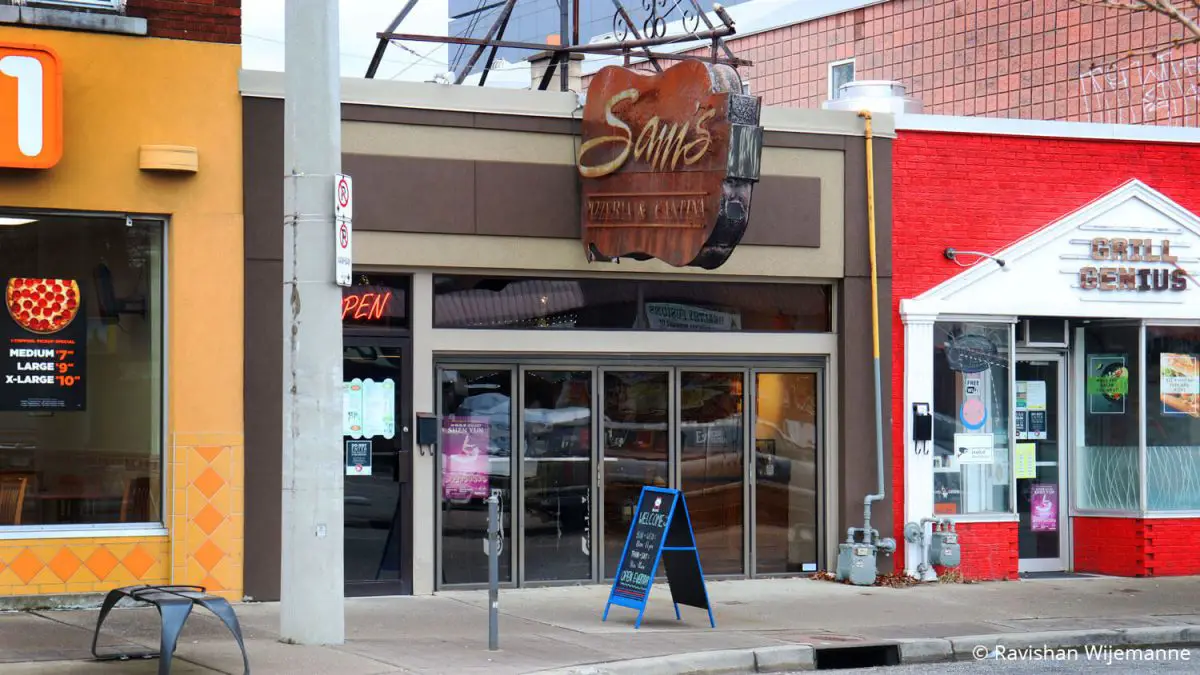 The signature dishes I ordered from Sam's and Oven 360 are not going to battle each other but rather demonstrate the range that Windsor has to offer. These two dishes play by different sets of rules. The Sam's Special is the closest to the traditional toppings offered by Volcano's. On the other hand, Oven 360's Mr. Harper is an homage to a more traditional Neapolitan pizza.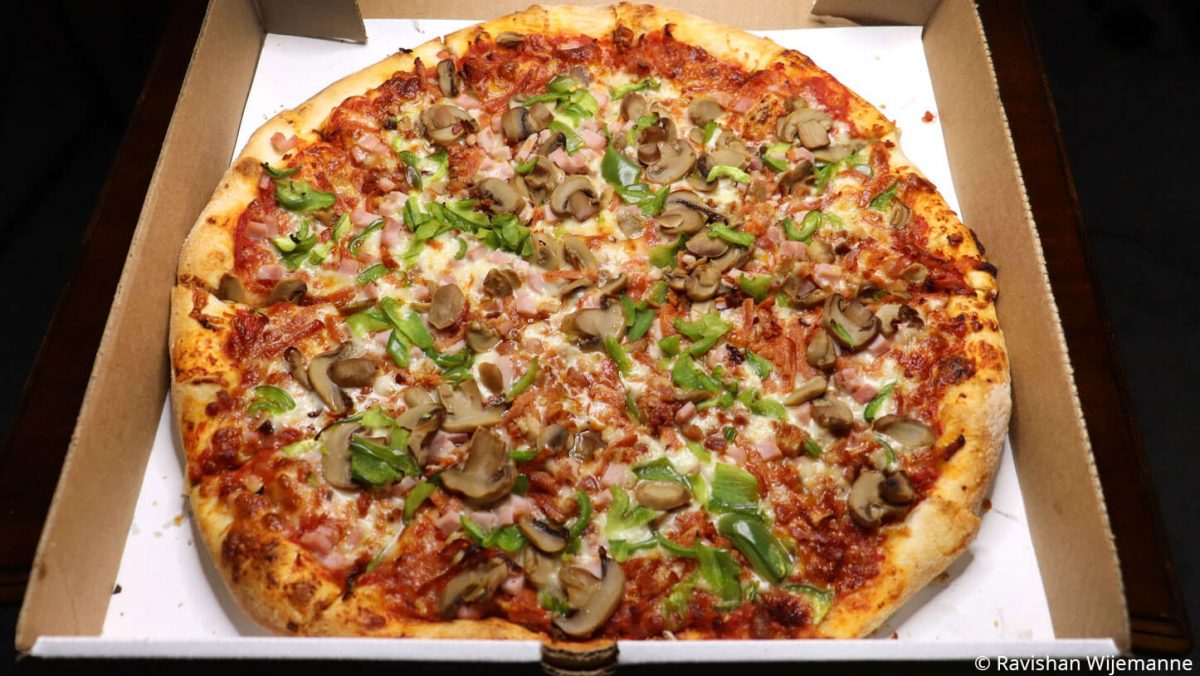 Sam's Signature looks exactly the part. The top is thorny with shredded pepperoni, and the mushrooms have their canned glaze. I can see why the sausage gets this treatment. With all that additional surface area to absorb the flames of the oven, this is a smoke-and-spice forward pepperoni. Instead of the earthiness of their fresh counterparts, the canned mushroom remains meaty and chewy, balancing out all that extra smoke. The pie also has slivers of ham, bacon, and chopped green peppers. This is Windsor pizza alright. The crust has a caramelized crunch and, underneath, the iconic stretchy chewiness—the pepperoni and mushrooms blend and contrast with their soft and crispy textures. The Galati cheese doesn't blanket the toppings but rather sits underneath, making it creamier compared to the New York slice. The idea here is to deliver a perfection of ratios. Overall, it reminds one a lot of quiche.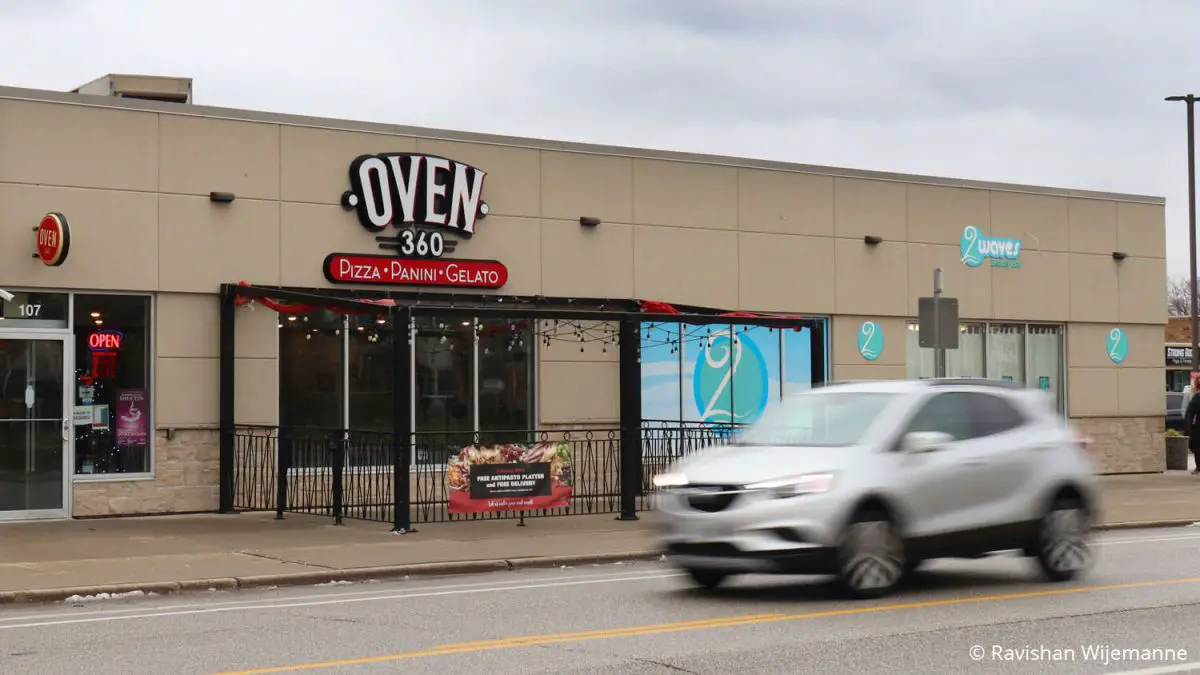 Mr. Harper by Oven 360 sits on the border of Windsor and – in my imagination – the rustic Naples. Where the Sam has maintained Windsor traditions, Mr. Harper has evolved to meet urbane tastes for minimalism. Its lip is unevenly blistered, and the crust thins out into the realms of foldability. The pepperoni is just the usual sausage cross-sections, and they have been baked to the perfect cup-shape. There is also a lot of ham, and deconstructed Italian sausage sprinkled around. They have all seeped their flavours into the comparatively thinner crust. What you get is a complex experience where each bite is different.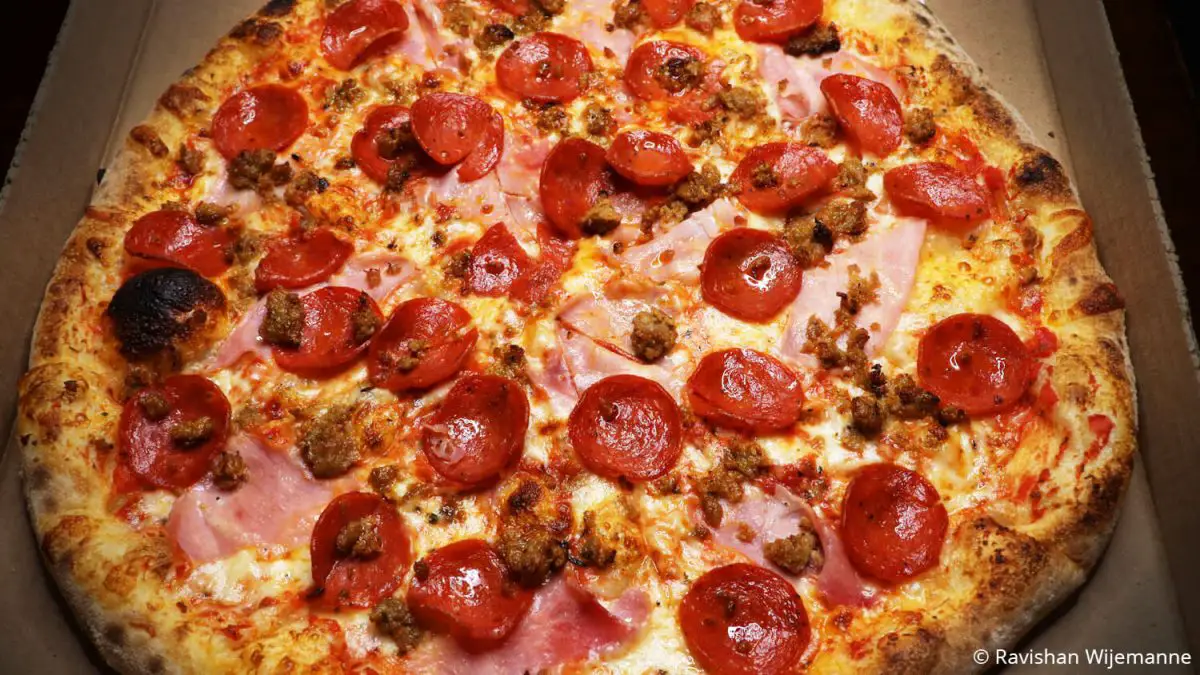 As expected, it is a tie between them. If the Sam's Special was designed to compact all the ingredients into one bite, Mr. Harper was designed to let each individual element sing on its own and in consonance. If you are coming from New York, Mr. Harper is an excellent gateway to the uniqueness of Windsor pizza. Conversely, if you are coming from the deep pan pizzas of Detroit, the Sam's Special is a point of inflection towards Naples.
Windsor style pizza – A supporting star, no more
For long-neglected, Windsor Ontario pizza is finally beginning to hear odes in its name. The pizza city you never heard of, a documentary film directed by Tristan Laughton and produced by one of Windsor's own, George Kalivas, premiered on Dec. 11, 2021. The Canadian Pizza Magazine named Armando's Chef Dean Litster as their Chef of the Year in 2018. Sixty years ago, Gualtieri and Manza were like they were like everyone who ever made history – unaware they were making it. What they knew they were making was good honest pizza. They promised local ingredients, and fresh dough passed through heat. When it comes down to the bite, that's what all great regional food is – ordinary ingredients telling the story of extraordinary people.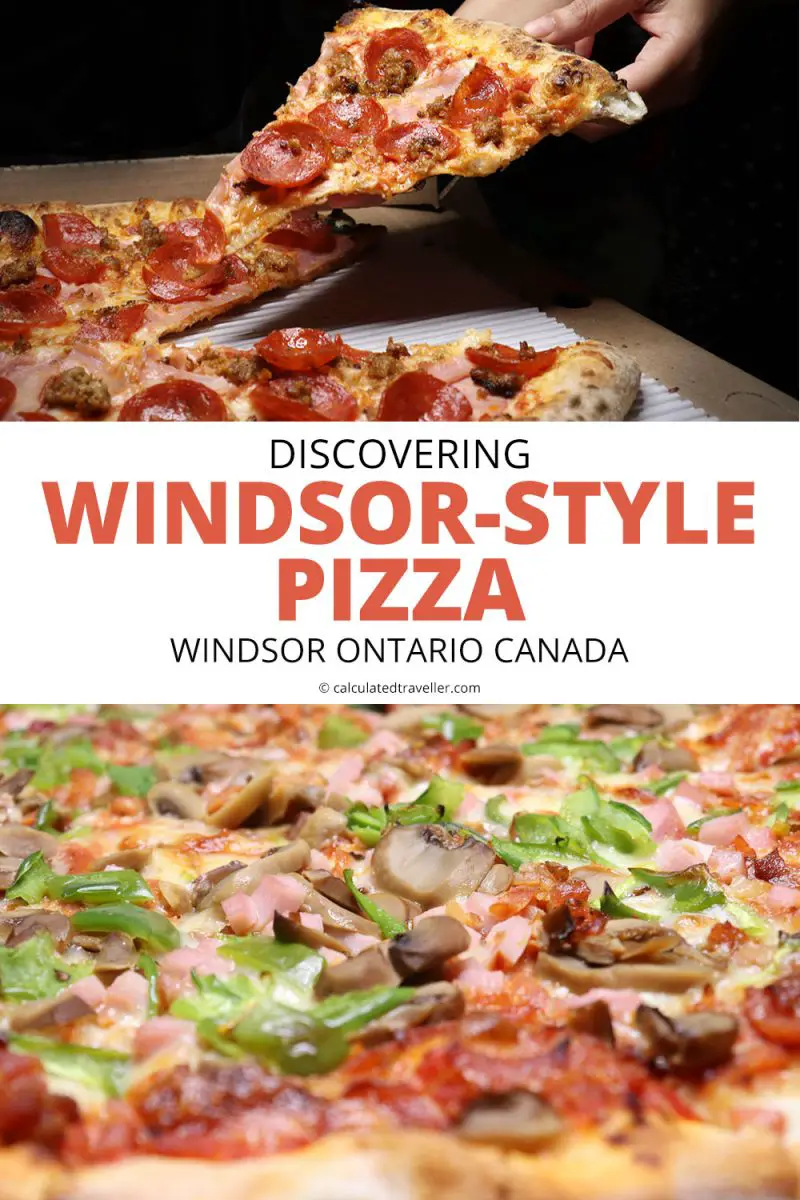 So go on, open that take-out box, and take that skeptical step back, if you must. Forget all the pizza rules, rookie, everything they told you at the academy. This ain't New York. This is Windsor. And this here is the stuff.