Built in 1929, The Giacomo Hotel in Niagara Falls NY is a luxury boutique hotel full of history, romance and luxury just a few steps away from the Falls.
The Giacomo Hotel is a beautiful example of art deco architecture. Initially the location of The United Office Building, it is now a multi-use building with 24 upscale residential apartments and 41 hotel suites.
It's no surprise that the building is on the National Register of Historic Places because it is stunning! So, if you are a lover of art deco architecture specifically, the Mayan Revival period, then this is the place to stay when visiting Niagara Falls, New York.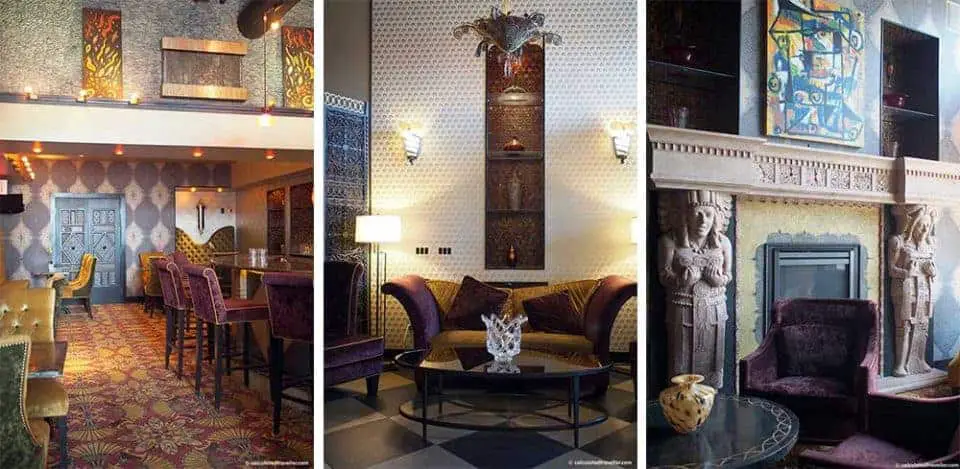 With its inviting bar, original fireplace in the lounge, antique elevators and marble staircases – where Marilyn Munroe is said to have once walked, the architectural details are everywhere you look.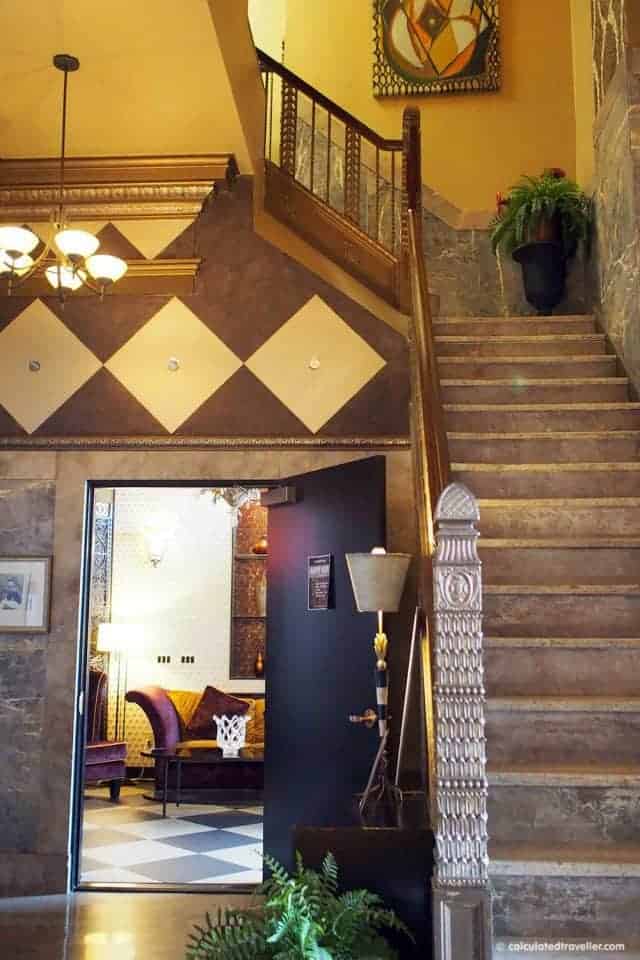 The rooms are very comfortable and cosy with plush pillows, vibrant colours, and original artwork throughout the suite. Our room had a leather armchair and ottoman for sitting, a Keurig coffee maker as well as complimentary bottled water.
One thing that was lacking was that we only had one bedside table in our room – a minor inconvenience but one that should be noted if you like to have a glass of water next to the bed or somewhere to put your book and glasses.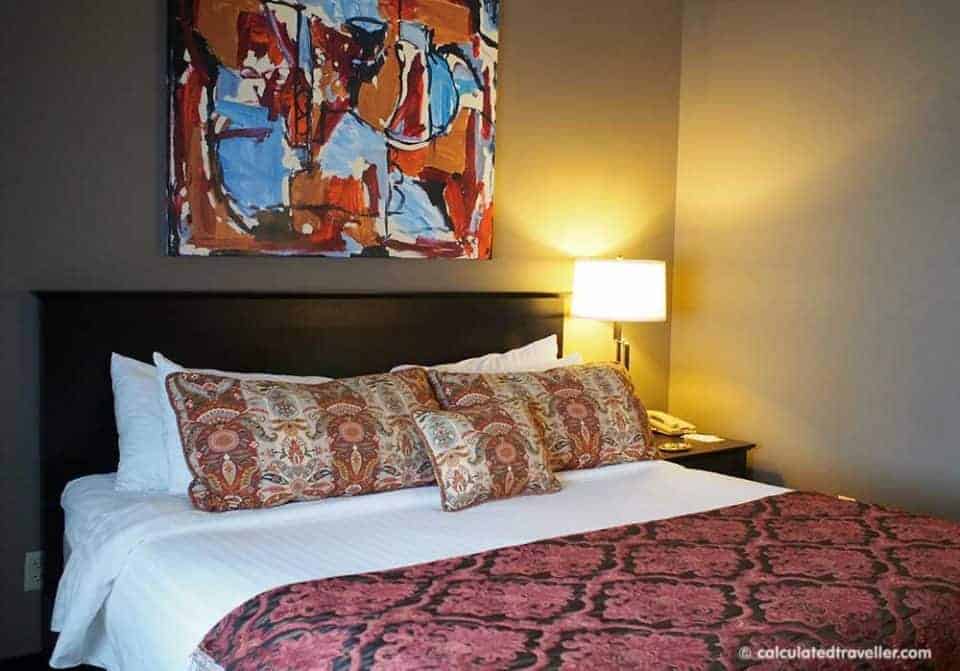 A fabulous feature is that full European-Style Continental Breakfast, Concierge service, and Valet Parking is complimentary with your stay.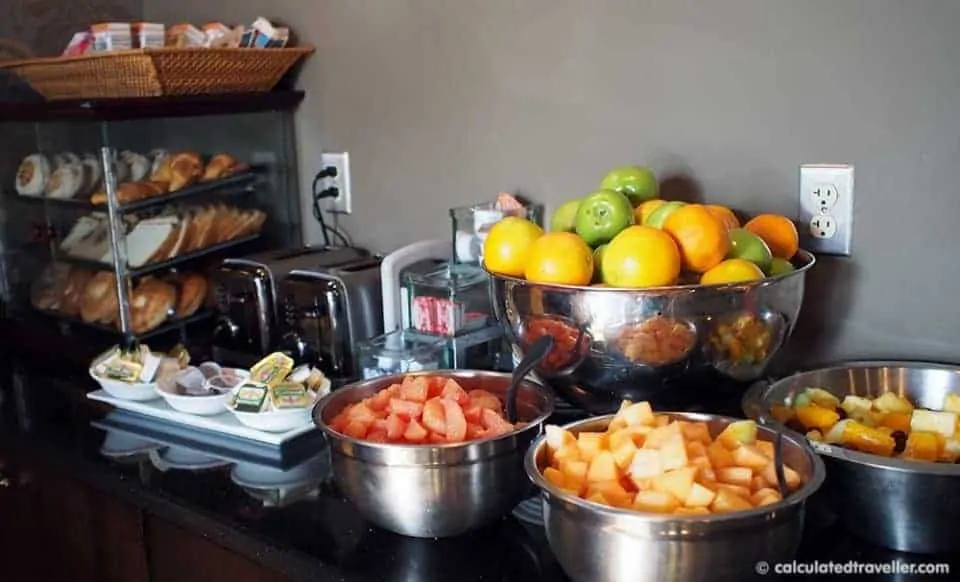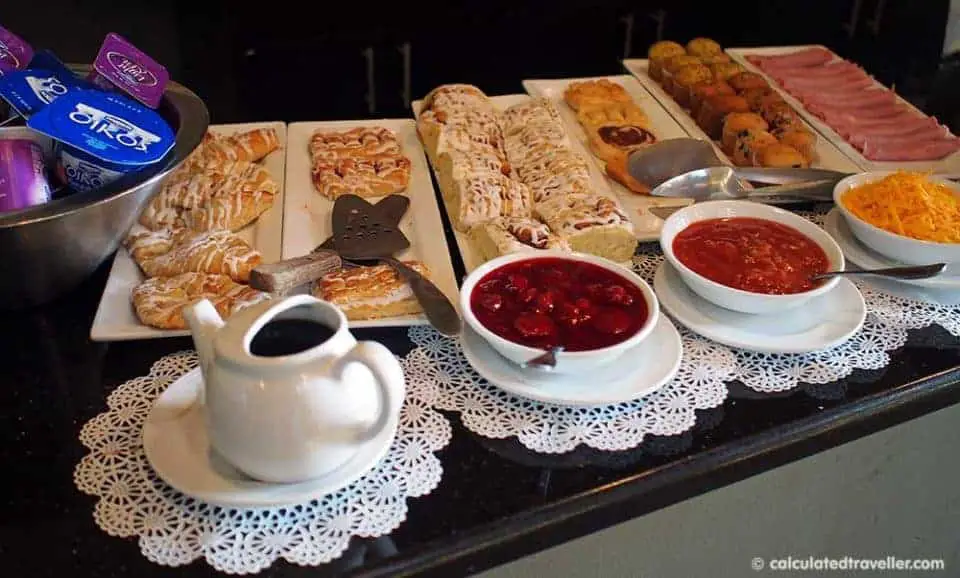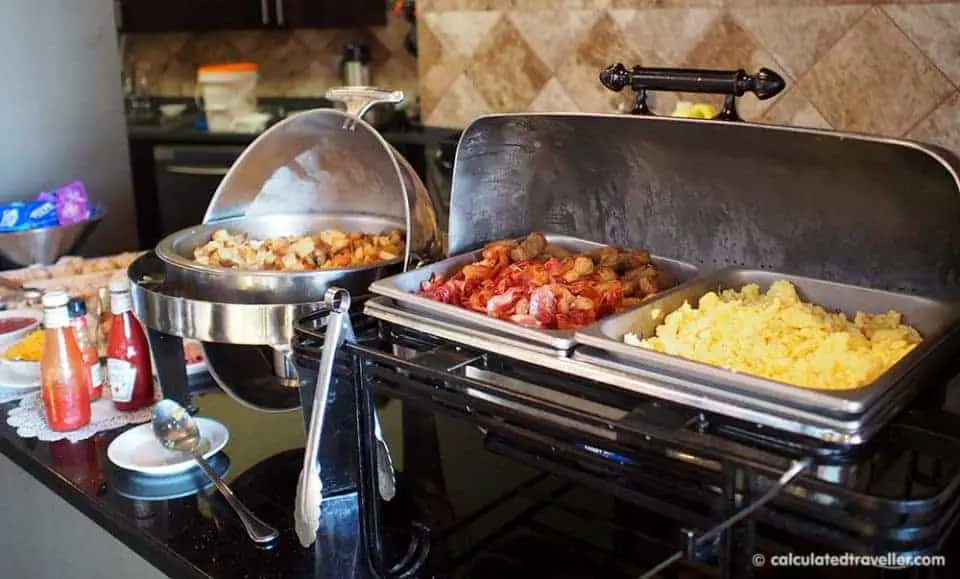 The breakfast area itself is decorated much like the rest of the hotel with bold colours, original artwork, and plush seating.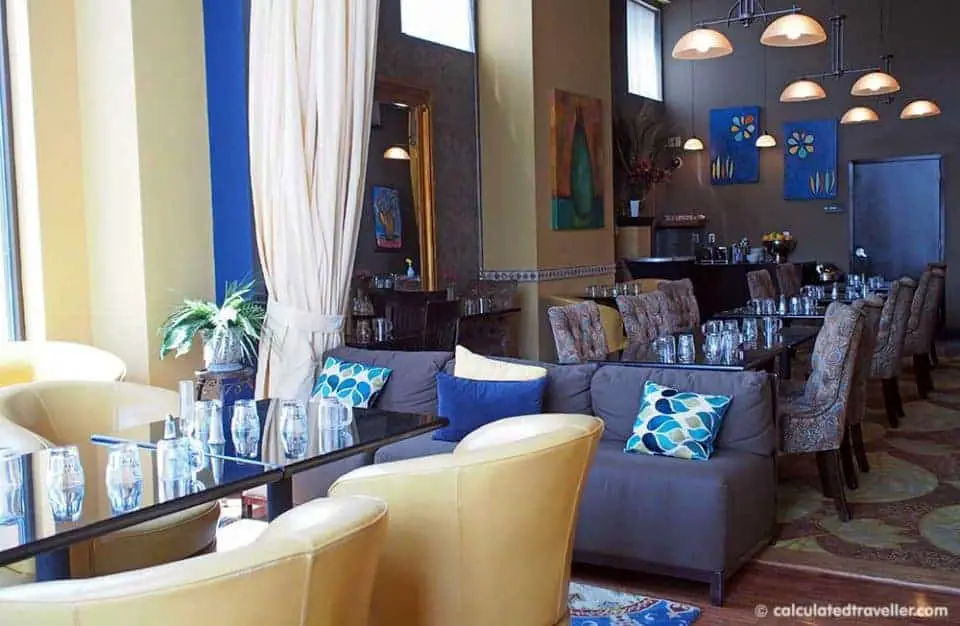 Look North from within Niagara Falls State Park on the US side of Niagara Falls New York and you can't help but notice The Giacomo Hotels distinctive rooftop. The building was once the tallest building in Niagara Falls until Casino Niagara arrived in 2004.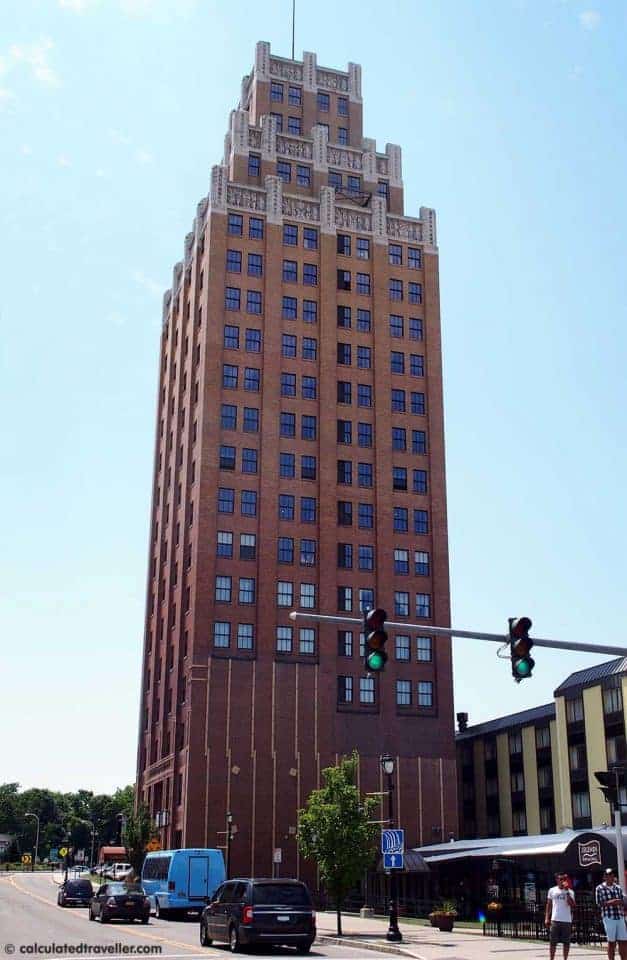 The best thing about The Giacomo Hotel — the view from the top
Guests are invited to the Skyview Lounge on the 19th floor each evening at dusk for complimentary refreshments and to see the illumination of the Falls.
Other features of the hotel:
Custom chocolates in room
Fresh cookies at evening turndown
Italian Linens
Free Wi-Fi
Fitness center
Oversized Bathrooms
Business centre
Platform beds
Expansive windows, high ceilings
Mini fridge
Lighted mirrors
Fireplaces and jacuzzi (available in select rooms)
Luxurious baths and vanities
The Giacomo Hotel, a luxurious boutique hotel, in the heart of Niagara Falls and the perfect location for that romantic getaway. We had a lovely stay at this historic hotel and found the extras like the valet parking and breakfast to be a fabulous bonus.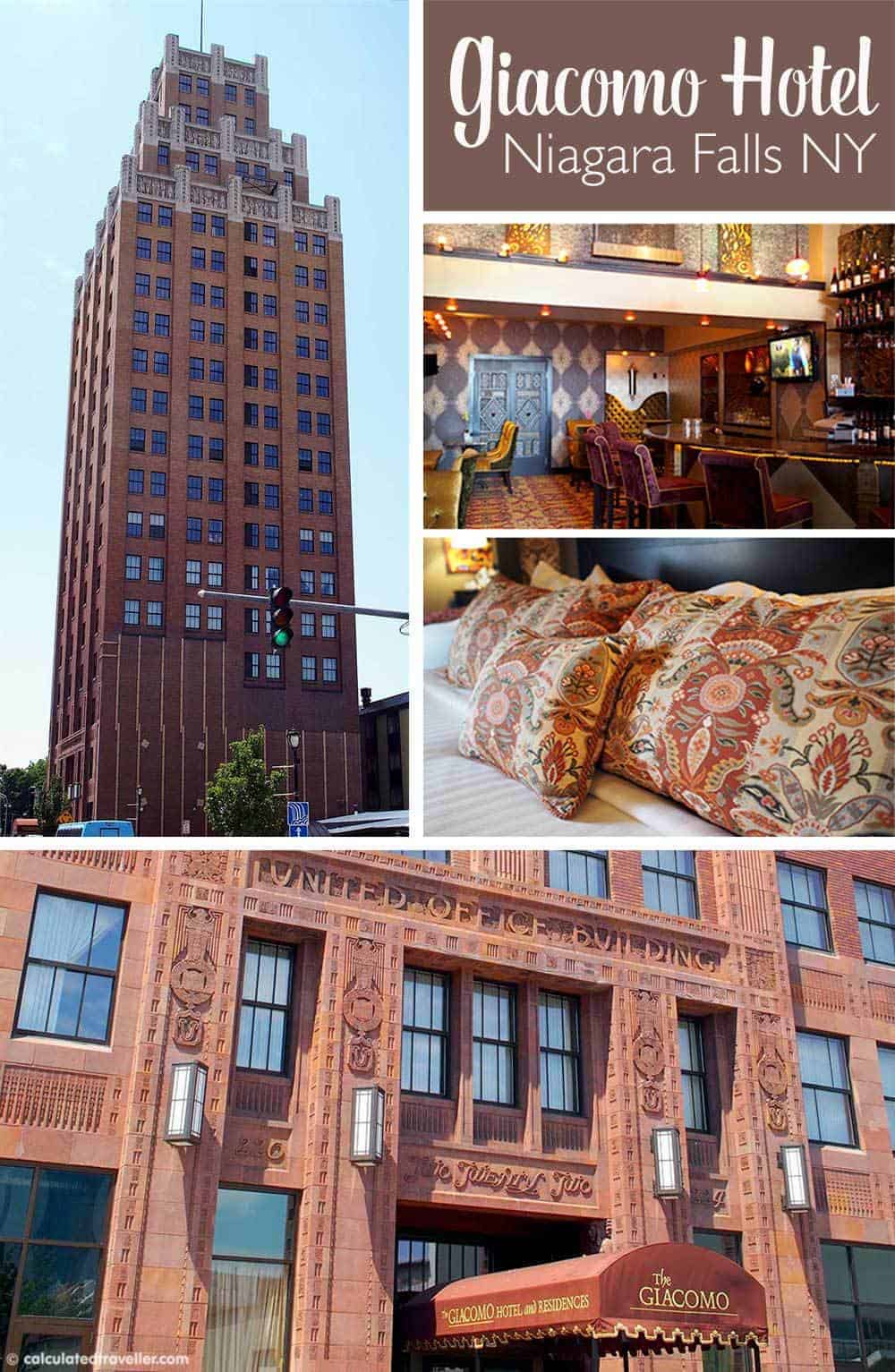 The Giacomo Hotel
222 1st Street, Niagara Falls, NY 14303
Read more reviews of the hotel here.
Travel Assistance provided by Visit Buffalo Niagara. All opinions are entirely our own.
Read more about our Niagara adventure:
– Of Wind and Water on the Maid of the Mist Niagara Falls
– Heart Pounding White Water Ride with Niagara Jet Adventures
– Savor Restaurant at Niagara Falls Culinary Institute – Review
– Five Tips for Eating at the Hotel Breakfast Buffet
– Get Out of Bed – There's Lots to See in Niagara Falls, Canada