On every journey I make to some far off place in the world, I find I return home with the memory of one meal, one particular dish that remains with me forever. This unforgettable memory is the best souvenir because it involves all five traditional senses — sight, sound, touch, smell, and taste.
I reached out to a few of my fellow International Food Wine and Travel Writer Association food writer friends and asked them to share one dish in one city that has been particularly memorable for them. I hope you enjoy our tasty memories.
Chinese Egg Tarts in Mong Kok, Hong Kong
Food Writer Mary Calculated Traveller
Twitter: @CalculateTravel
With a flaky buttery puff pastry crust and an egg custard filling, Chinese egg tarts are a typically served at the end of a dim sum meal. But why should you wait for dim sum when you can indulge yourself any time of the day (or night) as I do with this sweet, comforting custard tart.
What makes egg tarts in Hong Kong especially delightful is that they are incredibly fresh, warm from the oven and can be found on practically every street corner in Mong Kok. You don't even need to enter inside the bakery to purchase them; there is a clerk out in front of the shop and a glass door built into the window for fast service.
When I visit Hong Kong, my morning begins with me convincing myself that I should watch my diet and limit myself to one tart for breakfast. As the day progresses and I pass corner bakery after corner bakery, that sweet aroma of freshly baked egg tarts calls to me. Before you least expect it, I've eaten about half-dozen egg tarts.
A trip to Hong Kong is not about the scenic harbour, or the shopping, or the big Buddha on Lantau Island. Hong Kong, for me, is all about the food and the egg tarts.
A Comfort Food Classic in Oceanside, California
Food Writer Jolee Pink
Twitter: @wabisabigreen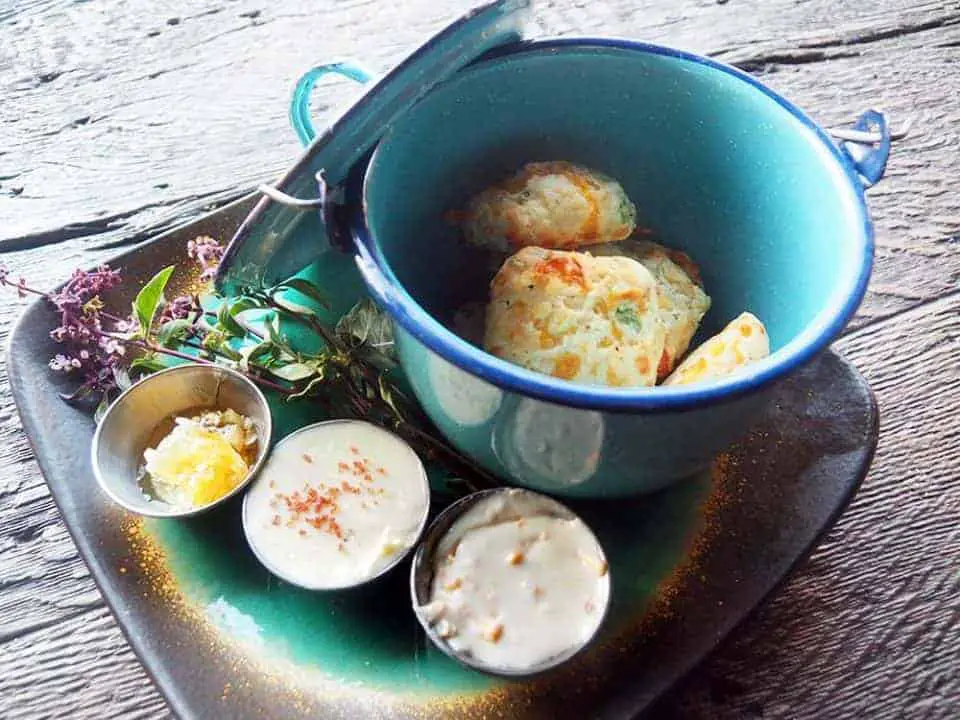 Golden hued, cheesy, flaky, buttery biscuit love. The new House Made Warm Cheddar Scallion Biscuits are a heartwarming fall addition to the California-inspired menu at Local Tap House (LTH) in Oceanside, CA. With a perfect outer crumb crust, light fluffy interior and intense cheese flavour, these yummy biscuits are a nostalgic throwback to a Southern home cooking classic. The flecks of chives add a hint of peppery onion tastiness and colour throughout. The dish is served and kept steaming hot in a cute metal pot with three scrumptious sides: chunky honeycomb, salted butter and roasted garlic beer cheese. Although the biscuits stand alone, a generous slather of one or a combo of the condiments makes them even more satisfying. This carb-heavy addictive snack makes an ideal starter to share. Imaginative LTH Chef Daniel Pundik incorporates fresh seasonal products in his ever-evolving menu. The industrial-chic environment, fun casual vibe and friendly service combine with incredible eats maintain LTH's reign as an indisputable Oceanside hotspot.
Read more about the Local Taphouse.
Author Jolee Pink writes for Visit Oceanside, Miles Geek, the Wabisabi Green Eco Blog and more.
Exploring the beach? Check out our Guide to Gorgeous California Beaches!
Cheesecake Heaven in San Angelo, Texas
Food Writer Kathleen Walls
Twitter: @katywalls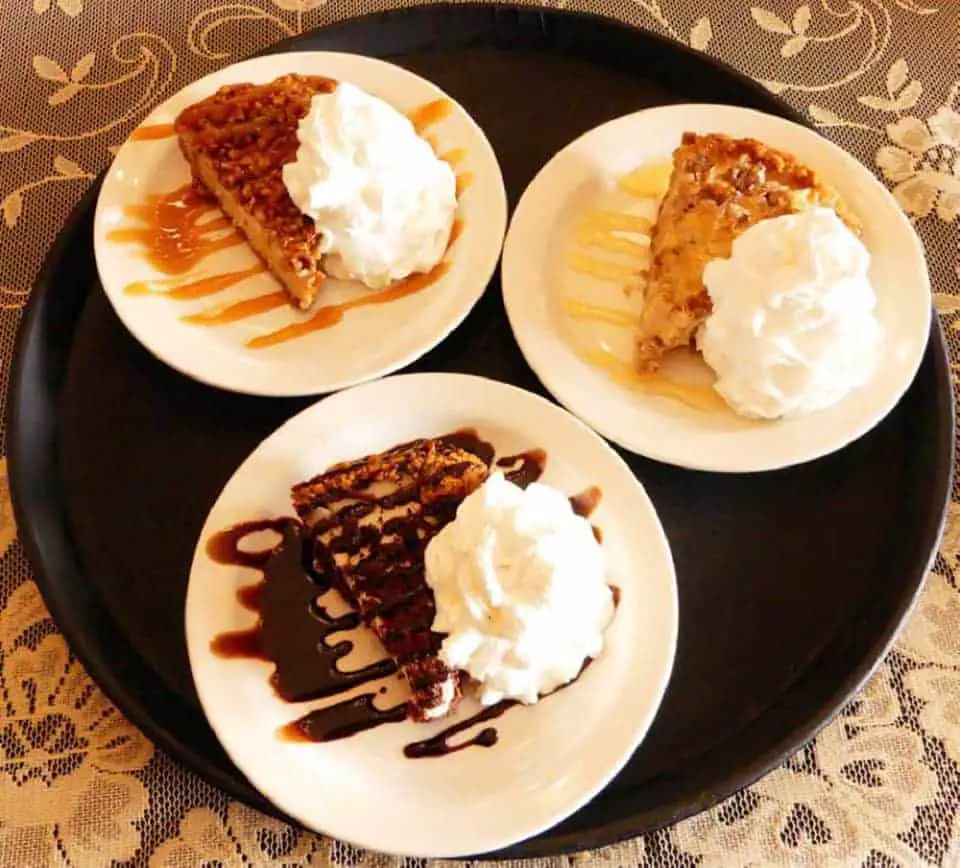 Brenda Gunter, the owner and chef at Miss Hattie's Restaurant and Cathouse Lounge in San Angelo Texas, has not only created a fantastic menu but invented some appropriate names. The "Brothel Burgers," "Hot as you can make it Mary," and "XXX Burger" add a bit of local colour. Her menu is a tasty cross between West Texas and New York influences. The reason the names fit is that her restaurant was connected by a tunnel to San Angelo's most famous brothel. Her dishes that I sampled were delicious, but the icing on the cake was the dessert.
The cheesecakes are heavenly. The Chocolate Kahlua was my favourite. But the Carmel Pecan and Baklava give it a run for its money. The cheesecake portion was smooth and rich. Just heavy enough to give a good taste but nor overwhelming. The chocolate was so rich it felt like a liquefied dark chocolate candy bar. The whipped cream topping was creamy and homemade. To put it simply, yummy!
Read more about Miss Hattie's Restaurant and Cathouse Lounge.
Kathleen Walls is the publisher of American Roads and Global Highways and has written for many publications on the subject of both food and travel.
Masala Dosa and Yoga in Bangalore, India
Food Writer Erin Marie Musich
Twitter: @thewrldwanderer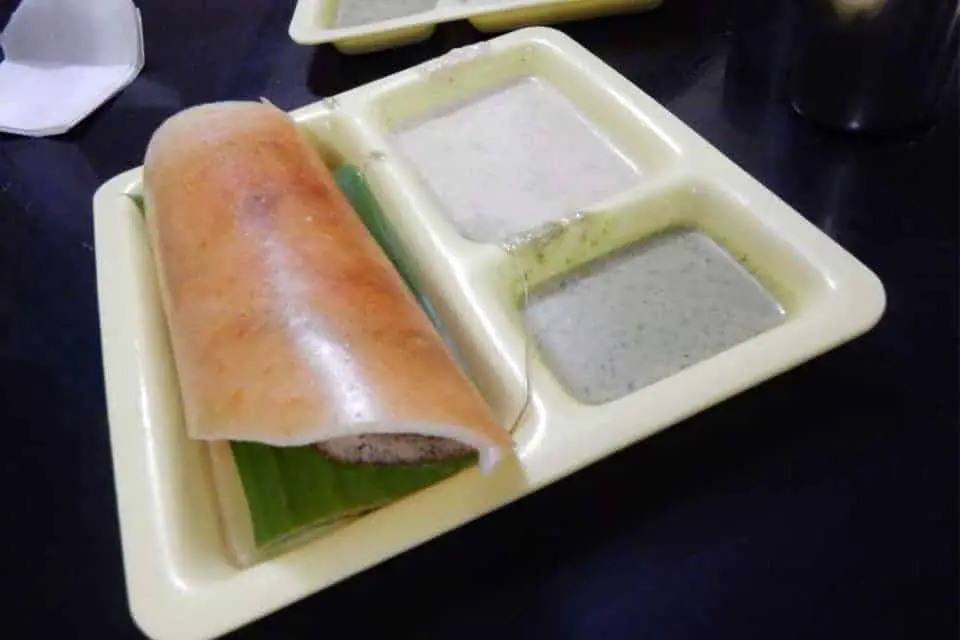 As part of my yoga teacher-training program in India, we were required to become vegetarian. Since it was something I always wanted to try, I decided to stick with it as long as I could. India is an easy place to be vegetarian with seemingly endless options. During those seven weeks in the country, I tried everything and enjoyed almost every dish. We even joked that I was going to gain back all the weight I had lost in the yoga program. But, the one dish I still can't get out of my mind is the masala dosa from Central Tiffin Room in Bangalore. A dosa is a pancake-like wrap made from fermented rice and lentils, which is then filled with a mixture of spices and potatoes. The outside is crispy, and the inside is warm and soft. It's the perfect comfort food and easily eaten with the hands. Often masala dosa is served with a lentil soup called sambhar and chutney. While I had dosas several times while travelling through India, the best by far is from CTR.
Erin Marie Musich is the founder of The World Wanderer, a travel blog for free spirits who want to experience all that this world has to offer.
Rosette in Bologna, Italy
Food Writer Irene S. Levine
Twitter: @moretime2travel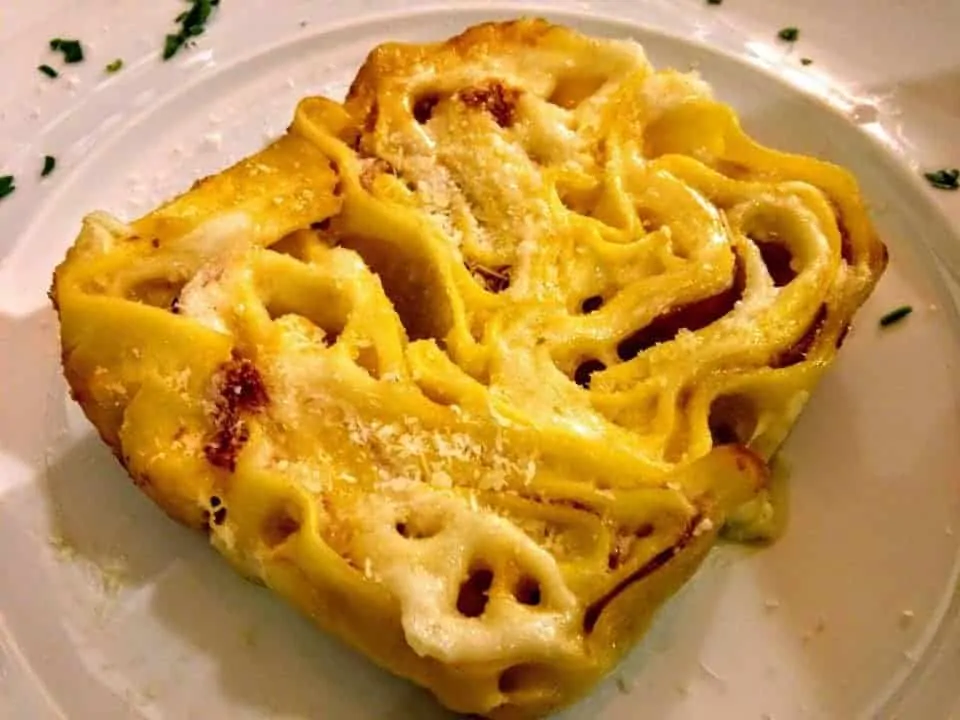 There is no place in the world more celebrated for its pasta than the Emilia-Romagna region of Italy. Each time we visit, we stop at La Baita Vecchia Malga to enjoy one of our favourite pasta dishes. This rustic "restaurant" is located on a second-floor balcony atop a salumeria on Via Pescherie, one of the oldest streets in Bologna's historic centre.
The rosette is made with long ribbons of traditional egg pasta (tagliatelle) shaped in the form of a flower, then baked in the oven with prosciutto and a rich Bechamel sauce. Both taste-wise and visually, the delectable dish pairs perfectly with a glass of deep reddish-purple Lambrusco.
According to local legend, the width of a strand of tagliatelle corresponds to 1/12,270 the height of the Torre Degli Asinelli, the taller of two medieval towers in Bologna, and is modelled after the hair of an Italian noblewoman.
Read more about Piazza Maggiore and Bologna.
Irene S. Levine is a freelance travel journalist and blogs at MoreTimeToTravel.com for the "over-50" luxury traveller.
A Special Vegan Schnitzel in Fredericksburg, Texas
Food Writer Teresa Bergen
Twitter: @TeresaBergen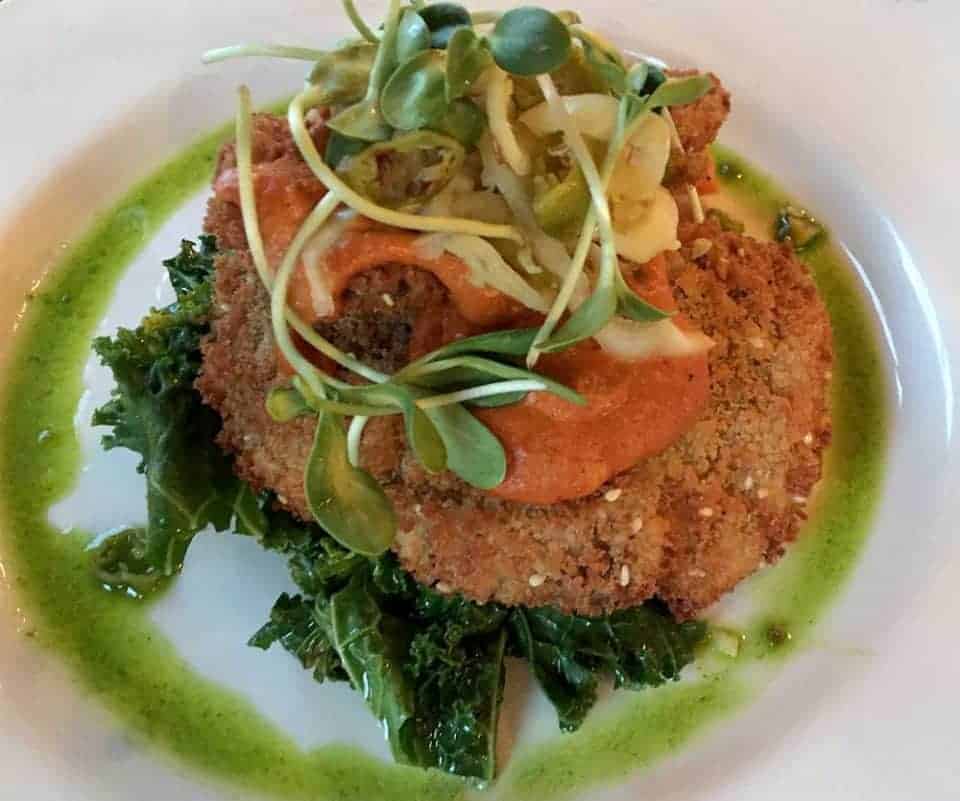 While visiting the historic German town of Fredericksburg, Texas, Chef Adam Yoho of Otto's German Bistro created a special dish for me, a Portobello mushroom schnitzel. It's hard for vegans and vegetarians to get a good meal at a German restaurant, but Yoho went out of his way to make sure I got more than a salad. My schnitzel had a red pepper sauce and sat atop a bed of kale. I like to think the sprout topping and accompanying roasted carrots offset the fried and breaded decadence of this schnitzel. It turned out so well, I'm hoping they'll add it to the menu – and maybe name it after me. Otto's has been serving locals and tourists since 2013. It combines a dedication to local, organic produce with an exploration of German, Austrian, Northern Italian and Texan cuisine. So if you're travelling through Fredericksburg, stop by Otto's and request Teresa's Portobello schnitzel.
Teresa Bergen is a Portland-based travel writer who specialises in fitness, wellness and vegan lifestyle. Visit her site vegtravelandfitness.com
Sri Lankan Curry in Bentota
Food Writer Jacqui Gibson
Twitter: @Livininthestix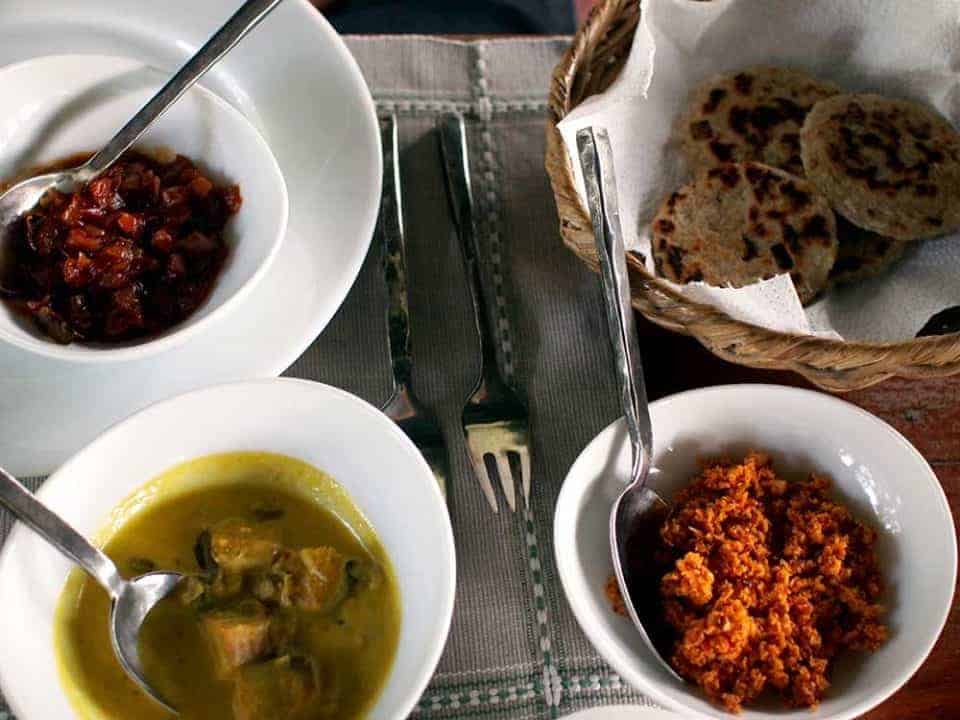 I had this tasty Sri Lankan curry at Nisala Arana, a rustic heritage resort in Bentota, a coastal region about two hours' drive south of Colombo. The wonderful thing about Sri Lankan curries is they're made fresh, on site, from local ingredients, often taking most of the day to prepare and with spices plucked straight from the garden. This assortment of dishes made by Aroy, Nisala's talented chef, was no exception. Clockwise from the top left: a seeni sambol (or onion sambol), a pol or coconut roti, a pol sambol (or coconut sambol) and the kiri malu (or white fish curry). The standout dish, for me, is the kiri malu, made from white rockfish and coconut milk, seasoned with onion, garlic, ginger, green chilli, curry leaves, fenugreek seed, cumin, saffron, salt, pepper and goraka (a fruit commonly used in Sri Lankan cuisine to give dishes a sour flavour). It's definitely a memorable meal in a wonderful place.
For more on Nisala Arana and what you can do and eat there, read the article on FWT magazine.
Jacqui Gibson is a New Zealand-based travel writer based in Wellington – the capital city.
Pizza in Rome, Italy
Food Writer Raquel Pineira
Twitter: @TastyTravelTips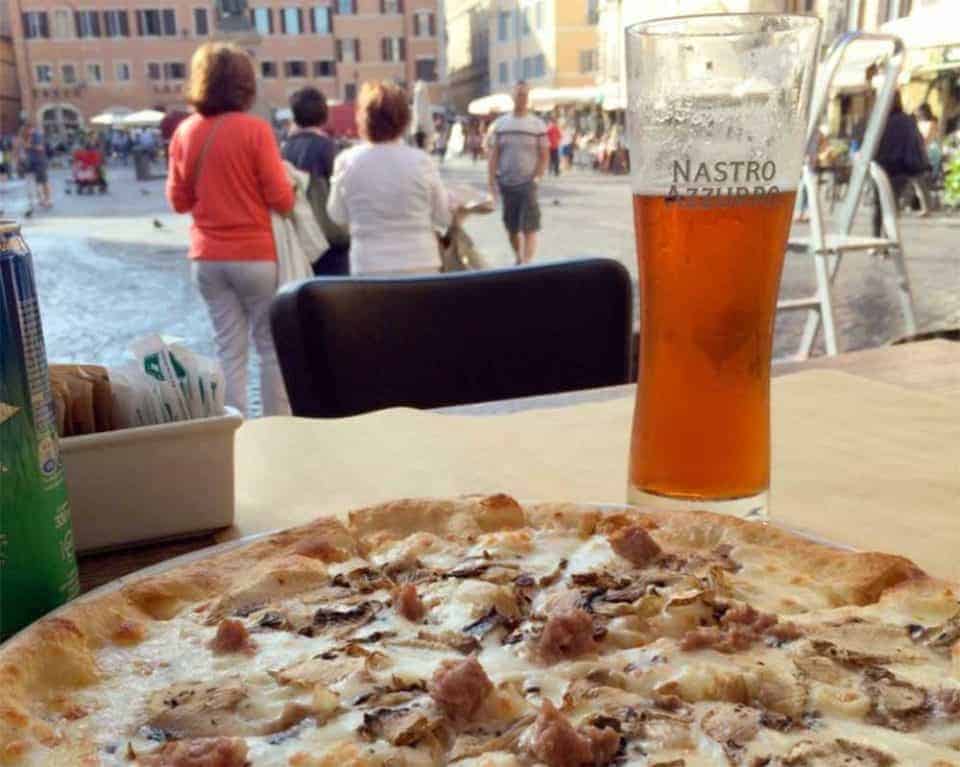 While Italy offers so many wonderful seafood and pasta dishes, one of the most memorable dishes I loved on my travels was the pizza we enjoyed at the Campo di Fiori in Rome. The yyy plaza was located just a block away from our hotel and the central space, like many of its type, had a life of its own.
Starting at about 6:00 am in the morning, vendors would start setting up in the square. I could hear them outside my hotel window. Discussions took place and trucks whirred in and out of the Plaza. By the time we went out for our day, the open-air market was lively and abundant, offering fruit, vegetables, Limoncello and leather goods.
Surrounding the plaza were cafes offering wine, espresso and lots of great food. We finally decided on one and enjoyed a pizza and some beers. I do not know if it was the ambience or truly just the pizza, but it was wonderfully good. Fresh mushrooms, ground sausage and mozzarella on a freshly baked crust, made up one of the best pizzas I had ever tasted.
I recreated the pizza recently, and it took me right back to that moment. The recipe is here.
Raquel Pineira is a travel and food writer from Orange County, California. She often shares recipes inspired by her travels and other great tips on her blog Organized Island.
Costa Rica's Cream of Pejibaye
Food Writer Marc d'Entremont
Twitter: @penandpalate
Costa Ricans adore pejibaye, the fruit of the Peach Palm tree. Favoured recipes include steamed pejibaye as a snack sliced and dipped in mayonnaise and sometimes coated in cornmeal and fried. Chef Diego Seitour at Peace Lodge adds thin slices to his incomparable Ceviche Tucurrique of sea bass. Chef Francis Canal Bardot of San Jose's Hotel Grano de Oro features the fruit in its most popular incarnation as a cream of pejibaye soup.
The dense texture of pejibaye ideally lends itself to soup. Yet as is common with a national dish, there is no one authentic recipe. The simplest are purees of cooked fruit with onions, water, a little milk and perhaps some garlic and cilantro. Other recipes include chicken or vegetable stock, cream and any number of additions such as celery, bell peppers, butter, carrots, rosemary, thyme and bay leaves.
What I've created is in keeping with my culinary belief that a recipe should enhance and not mask the natural flavour of the prime ingredient. I also like the silky mouth feel of adding heavy cream and the depth of flavour from a good chicken stock. Check out the recipe here.
Marc d'Entremont is a chef and travel writer discovering the Earth's cultures and food, Membership Chair/Board of Directors IFWTWA and professional member American Culinary Federation.
Do you have a favourite dish in a beloved city? Share your food find in the comments below.