Are you looking for a cruise soon?
I just booked my Ramon de la Cruise pre-Christmas holiday cruise deal!
I thought I'd share a follow-up to my previous article about cruise bargains for this coming low season in 2016. Like airfare, cruise prices will fluctuate because of seasonal demands and my recent research has revealed there are a lot of last-minute cruise deals if you are able to travel within the next 4-6 weeks.
The recent hurricane activity is now a memory and warm sunshine on the Caribbean islands can be part of your travel plans soon.
Remember that we are now in the "Low Season" for cruise bargains, and there are a few deals that were on my radar. It's important to remember that your shopping list should also include the type of cabin, itinerary, ship amenities and promotional incentives or onboard credits that you are looking for. Do some research with a major online cruise agency and you will find a deal to fit your cruise holiday checklist.
A few drawbacks with last-minute travel are the limited choice of cabins and arranging transportation to the port of embarkation. Also, full payment is usually required since you are so close to the cruise date. If you are lucky to have flexibility in your travel plans, there are a number of attractive cruise bargains available now.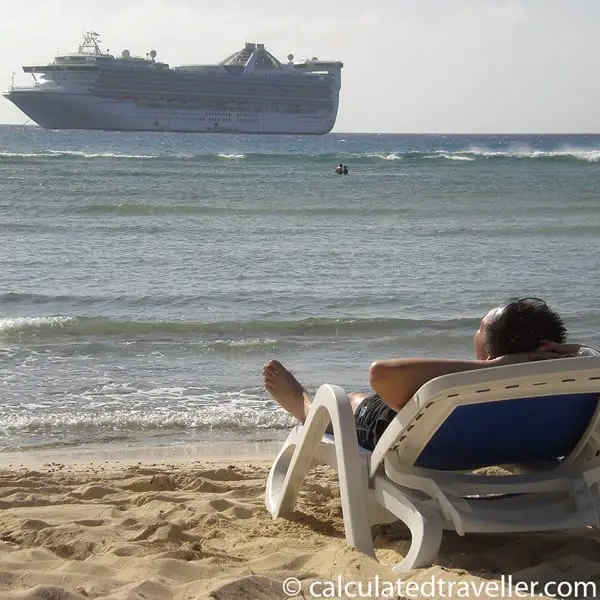 Caribbean cruise deals to bring a sunny smile to your face
Check out these tempting cruise deals for the following ships but don't wait too long to book as prices can change quickly. Cruise prices are in US dollars and do not include fees and port charges so compare carefully.
A few examples of 6 to 7-day cruise bargains in the $300-400 range.
Caribbean Princess
Celebrity Reflection
NCL Escape
RCL Liberty of the Sea
Regal Princess
A few examples of 10 to 12-day cruise bargains in the $550-600 range.
RCL Grandeur of the Sea
Royal Princess
Celebrity Equinox
Celebrity Eclipse
I hope that some of these examples will help you to plan and save money in finding a last minute cruise deal. We are fortunate to be flexible in our travel plans and will be taking advantage of these affordable cruise bargains.
Contact me with comments and questions
Check out our other cruise articles:
Princess Cruises — A Caribbean Princess Review
5 Days 5 Dinners — Caribbean Princess Dining Review
MSC Divina Cruise Ship Dining Review – An Update
10 Reasons Why you Should Try a Cruise