This article may contain affiliate links. This means that clicking on or purchasing products we recommend through a link may help us earn a small commission, which helps keep this site running. For more information read our disclaimer. Thank you for your support!
Close your eyes. Picture the most amazing aquarium that you can imagine. Elegant and exquisite fish of every shape, size, and colour, great white sharks swimming by, and perhaps even a giant sea turtle gracefully gliding through the water as you snap photos of it through the glass. Now imagine where this aquarium is located: Vancouver, Nassau, California, Australia, South Africa; surely all of these places may come to mind, but Toronto certainly does not top that list.
When Ripley's Aquarium of Canada announced its opening in September 2013, I could not be more excited. Toronto isn't known as that kind of city – to boast about an aquarium or even a waterfront. But you've seen the photos. You've heard about it in the news. Toronto's new aquarium has gotten quite the attention, and for good reason. The last time I was excited about new fish coming to town was the opening of the ROM's small saltwater tank holding about 30 small fish and a large coral habitat…or the opening of a snazzy new all-you-can-eat Japanese restaurant, but I digress. In all, my visit to Ripley's Aquarium in February was absolutely breathtaking and truly lived up to the excitement that led to its opening.
Approaching the building at the base of the CN Tower, the aquarium emerges from the ground like a shard opening up the depths below. Now, what's amazing and special about this aquarium is that the entire place seems like one huge tank filled with all the fish and creatures that you can think of that live in the ocean. I mean, the first thing you see walking in is the surface of the water, of a tank containing sharks, stingray, a turtle, octopus, and what appears to be hundreds of other fish. With an abundance of thick glass creating the illusion of this giant interconnected fish tank, pathways inside lead you in a single direction as you're brought deeper into the space, allowing you to view the tanks (or tank?) from literally every angle and every height.
Here are some of the incredible spots in the aquarium that give you the most unique perspectives of the fish, truly highlighting their grace and gentle nature. There's not too much to say, and I'll let the photos do the talking…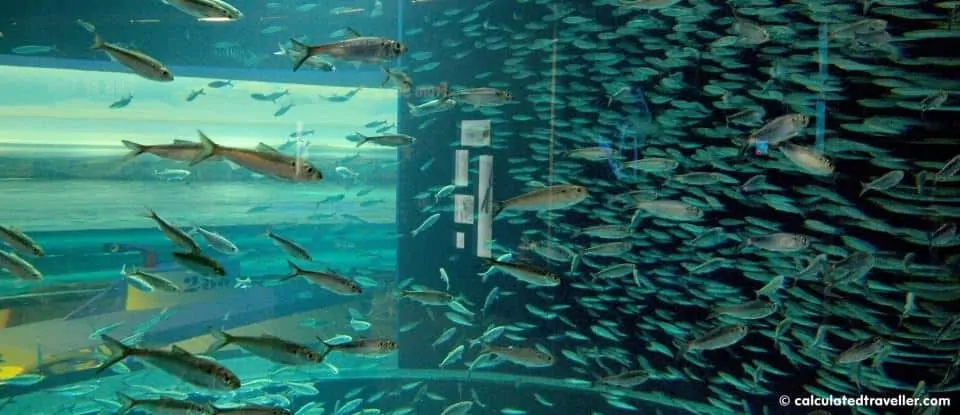 A school of fish welcomes you as you enter the first gallery space of the aquarium.
The 'Dangerous Lagoon' brings you deep underwater as fish, turtles, and stingrays swoop above and around you, with the "sun" shining above to demonstrate the incredible counter-shading colours that most fish use to camouflage from their prey (white on the bottom to blend with the white light from below; dark on top to match the ocean depths from above).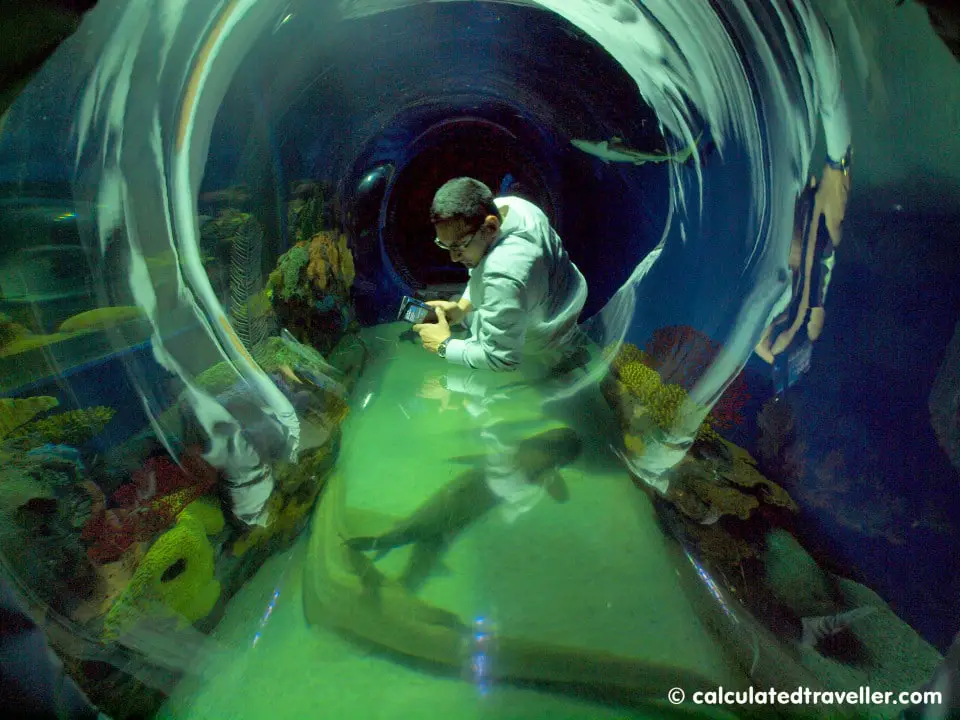 The crawl-through tunnel puts you in the fish's place, as you get a unique and intimate perspective of the aquarium while you can see other visitors peering through the glass on the opposite side of the tank.
The stingray tank is wall-to-wall glass, with coral and great whites swimming in the background and rays showing off their undersides for all to see.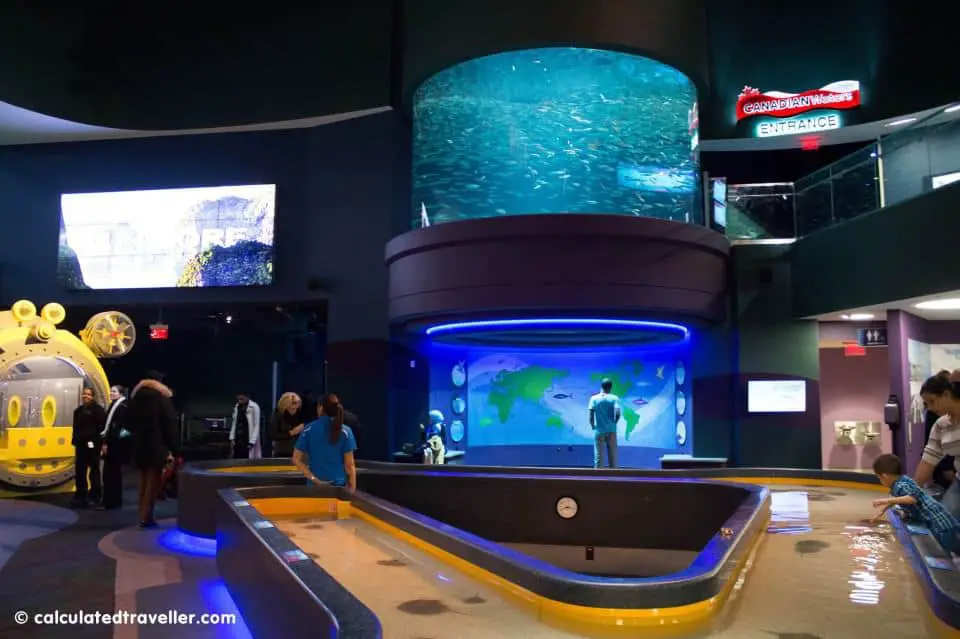 Near the end of the aquarium, you're brought back into the entrance atrium, where there are many kid-friendly areas to explore! One of the popular spots is the central touch-tank, where you can make a few horseshoe crab friends on your visit! Don't worry – they won't bite!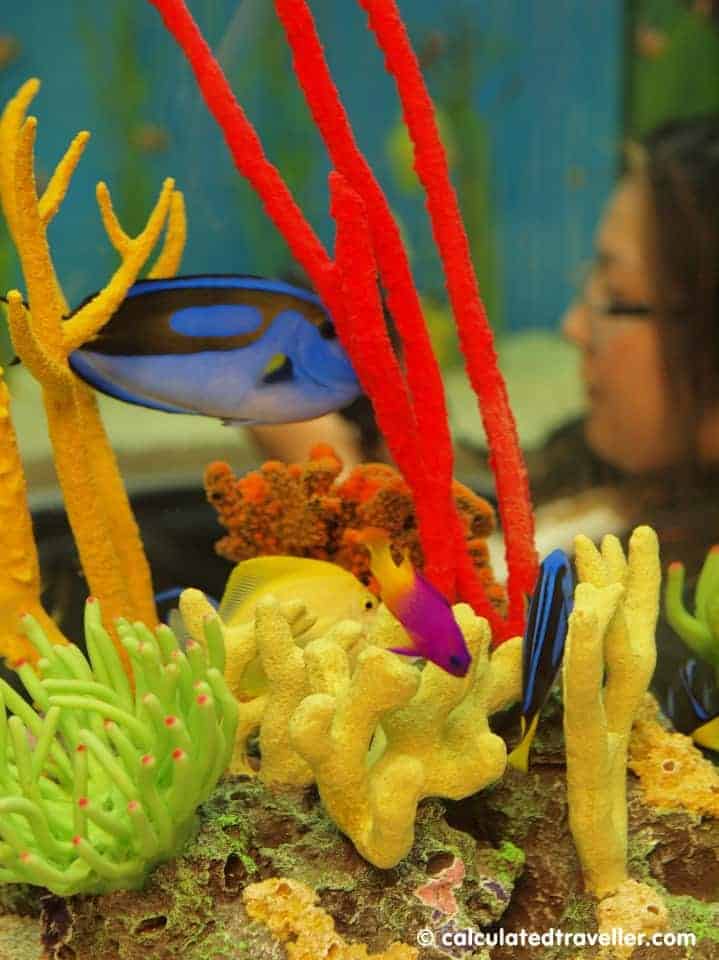 In the kids' zone, be wary of your head (and camera!) as you duck into some tight spaces that bring you up close and personal with some puffer fish and the gang from Finding Nemo! This is a perfect opportunity to catch some excellent close-ups. One spot, designed to look like a submarine, brings you back into the Dangerous Lagoon for an alternate view!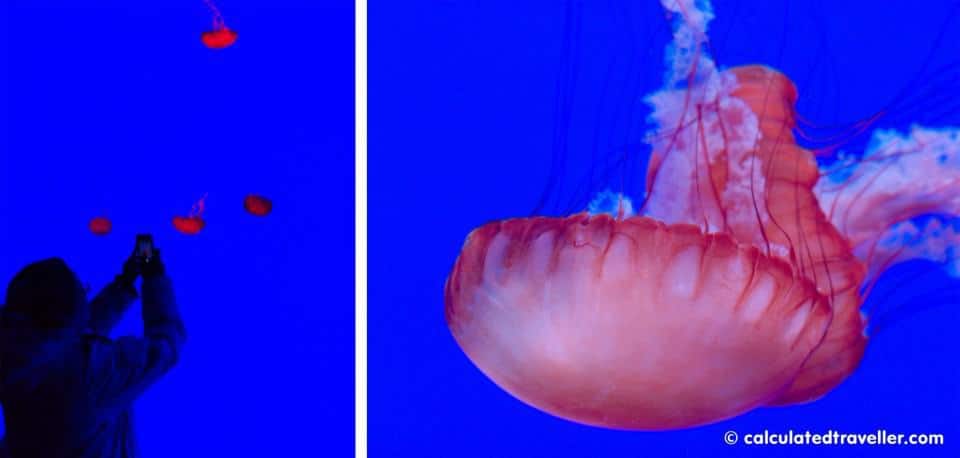 Could not leave out the infamous jellyfish area, with fluorescent lights and mirrors; it's a picture perfect moment. The sheer number and grace of the jellyfish in this tank highlight the quiet beauty of these animals.
Here's a video of our adventure under the sea at Ripley's Aquarium of Canada
Video credit: Lea Kuliczkowski
Photo credit: Lea Kuliczkowski and Jamie Kwan
Ripley's Aquarium of Canada
288 Bremner Boulevard, Toronto, ON
Open 9am-9pm (most days), 365 days a year
Ticket Prices:
Adult (14+): $29.98
Youth (6-13): $19.98
Child (3-5): $9.98
Senior(65+): $19.98
Travel assistance was provided by Ripley's Aquarium of Canada. All opinions are entirely our own.

Have you seen Toronto's newest Aquarium – what did you think? What's the most amazing aquarium that you've been to around the world?
Looking for another Toronto adventure?
How about…
EdgeWalk Toronto: Start At The Top, Work Your Way Down
Segway of Ontario – Touring Toronto Distillery District in Style
An Autumn Afternoon Treetop Trekking in Brampton Ontario