When you are travelling via cruise ship and your ship docks on the picturesque island of Nassau Bahamas you need to maximise your time in port with only one day to see it all.
When looking for things to do at Nassau cruise port, you can just walk around the nearby downtown area shops or spend the day at the beach in Nassau Bahamas but, many first-timers plan a trip to Paradise Island and the very popular Atlantis Resort.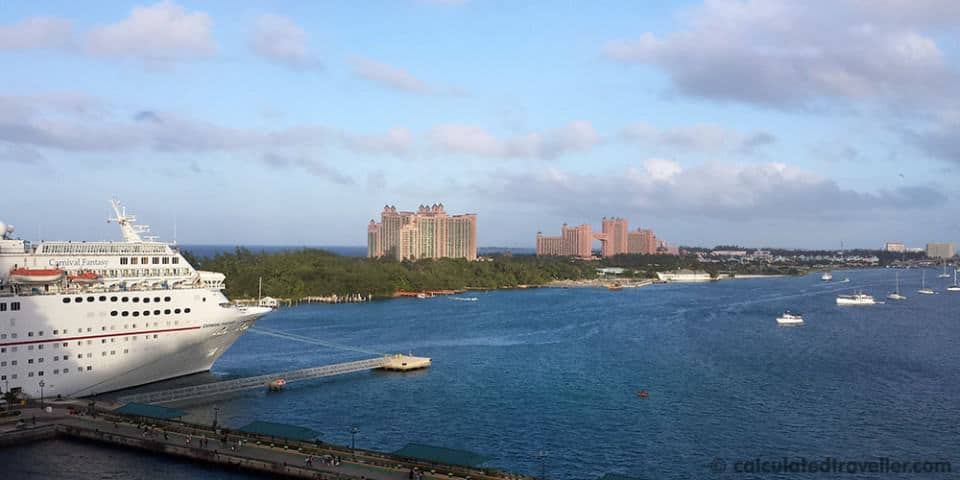 Paradise Island / Atlantis Resort
There are public beach areas on Paradise Island, but the problem I've found with the beachfront is that it can be very windy; the surf is high, and the under toll is strong.
As a result, lounging on the beach is a bit uncomfortable, and you can't swim in the water. So, unless you plan a visit to Atlantis Resort to hang out in the casino or plan on paying the day rate to enjoy the facilities, there isn't anything to do there.
Here are your Paradise Island transit options from Port Nassau.
Ships tour to Atlantis – full access includes shuttle approx $160US
Local Cab for $4 / person / way + bridge toll
Nassau Water taxi for $4 / person / way
There are various day passes available at Atlantis Resort. Costs range from Paradise Island Beach Day Pass (approx. $70US/adult) to Aquaventure Day Pass (approx. $140US/adult), and many are limited based on occupancy.
My preference is to take the "budget option" and skip Paradise Island altogether.
Beaches Near the Nassau Bahamas Cruise Ship Terminal
There are 2 beaches near the cruise port within walking distance to the ship. Refer to this map as a guide:

To get to both beaches, walk towards the Straw Market along Bay Street and keep going past the British Colonial Hilton.
Junkanoo Beach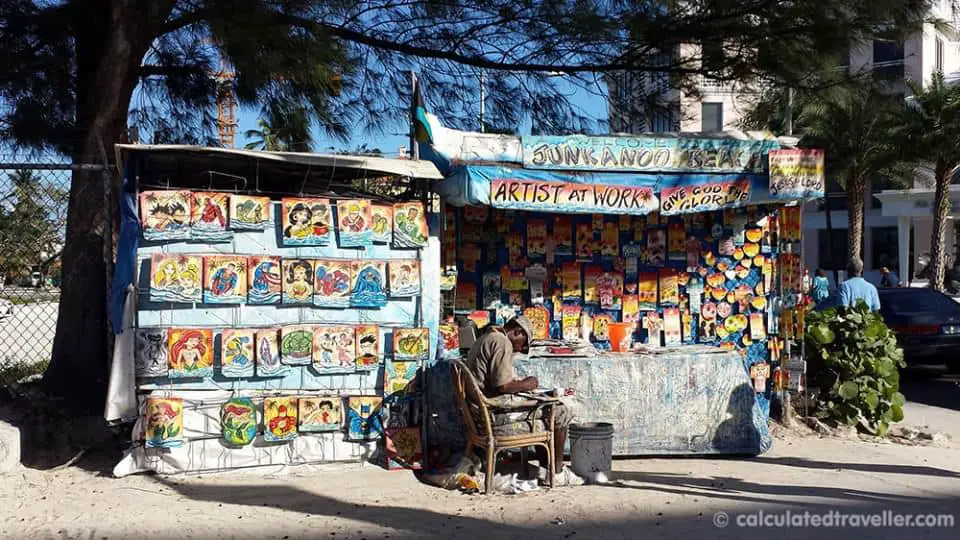 Junkanoo Beach is where Fat Tuesdays bar is located. Fat Tuesdays has a DJ, food, drink, restrooms and free wi-fi.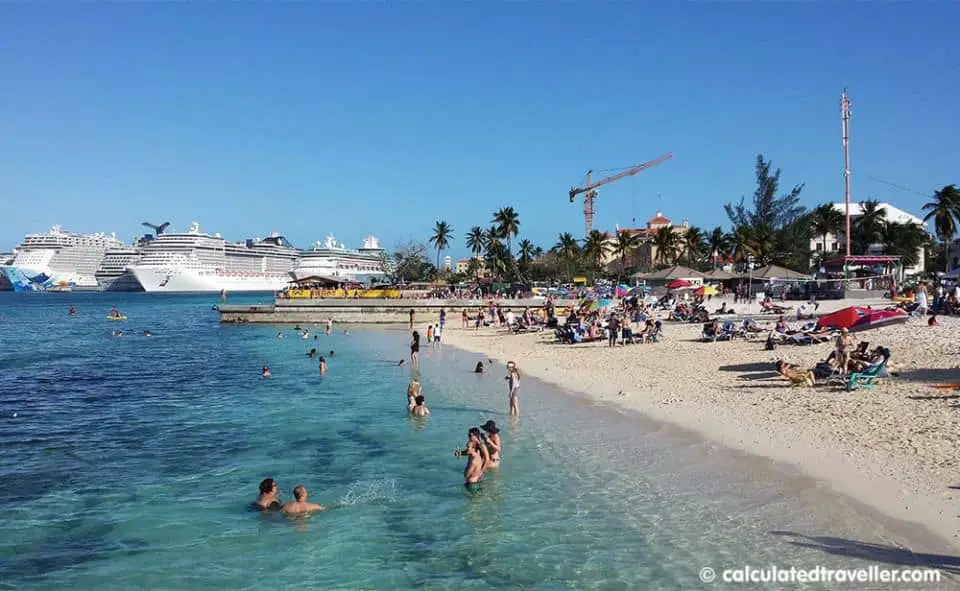 On the beach itself, you'll find restrooms, food, drinks, music, water sport and chair rentals.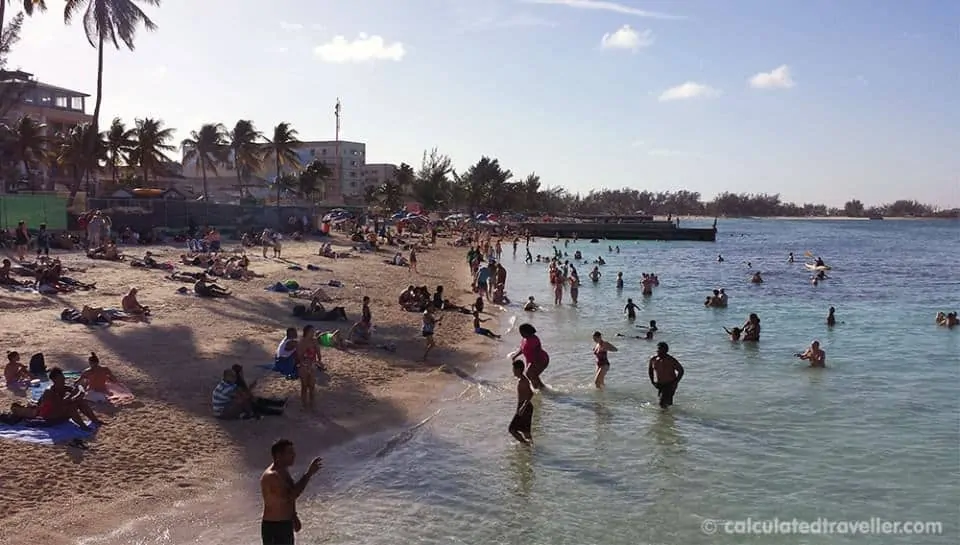 With all these facilities, and the beach's proximity to the cruise port you can well imagine that it can get very crowded especially when there are lots of ships in port.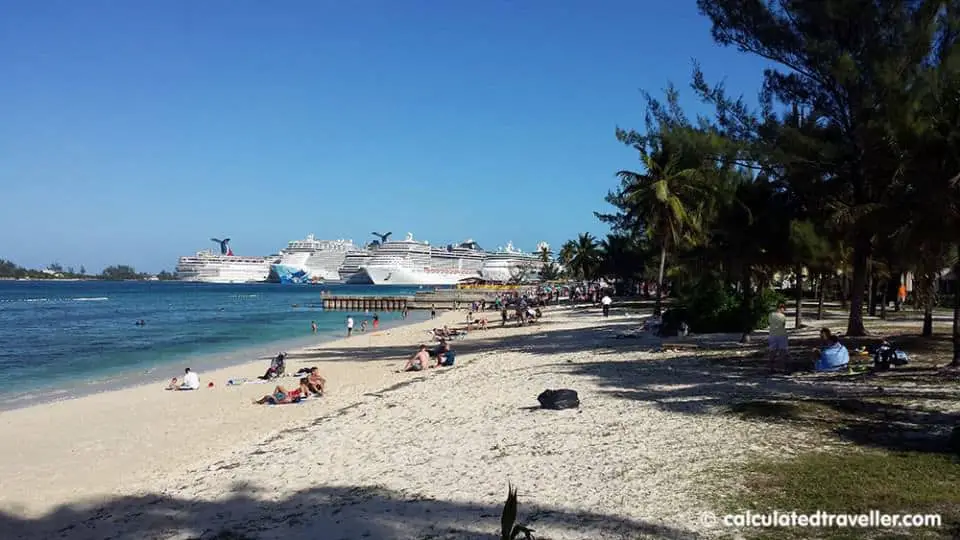 The further you walk along the beach the quieter it gets….
If you keep walking further along the beach and palm tree-lined sidewalk, you'll come to our preferred beach place — Saunders Beach.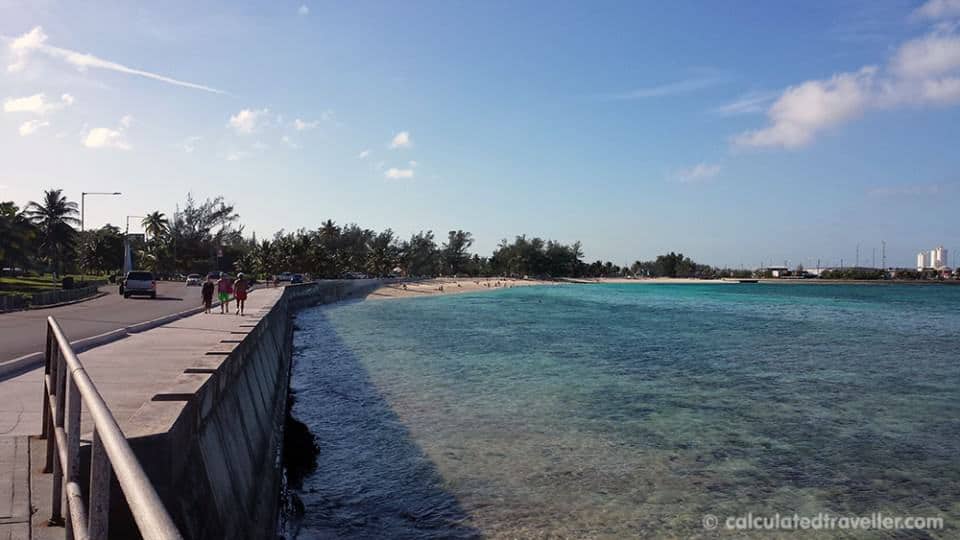 Saunders Beach Nassau Bahamas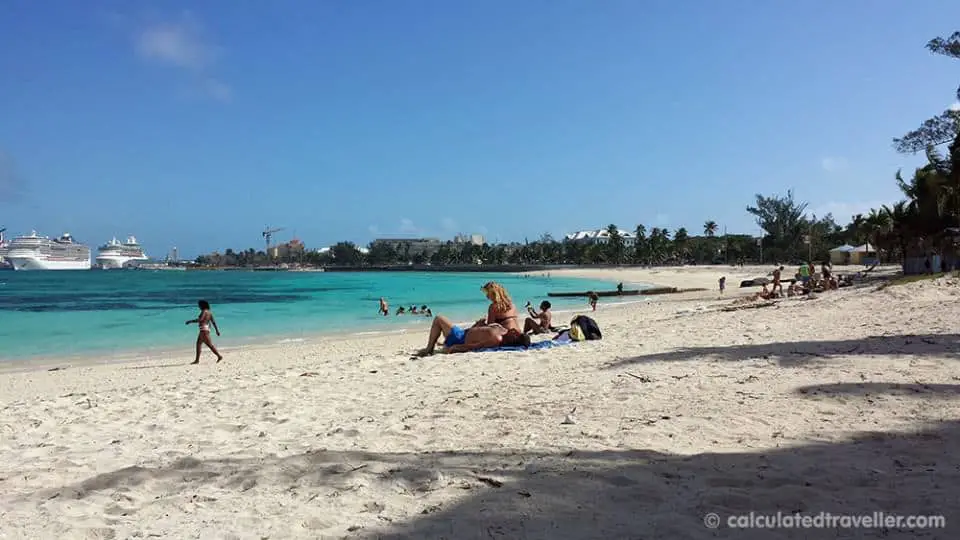 From the cruise terminal, it's about a 20-minute walk. It's pleasant, there are shaded benches along the way should you need to rest or you could take the #10 bus for $1.25 US each.
There are fewer people here due to the distance. Regarding facilities, there is food and drink available but no chair rentals. We didn't look for restrooms but I suspect that there is one available to accommodate the food vendors.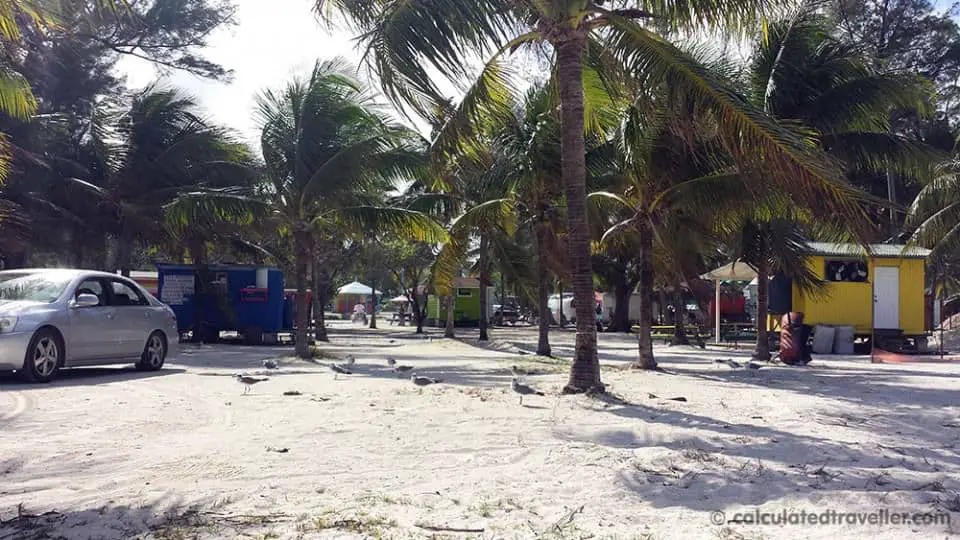 The water is very shallow on Saunders Beach, and as you can see, there are five ships in port yet our beach is pretty quiet… which to me, is Paradise!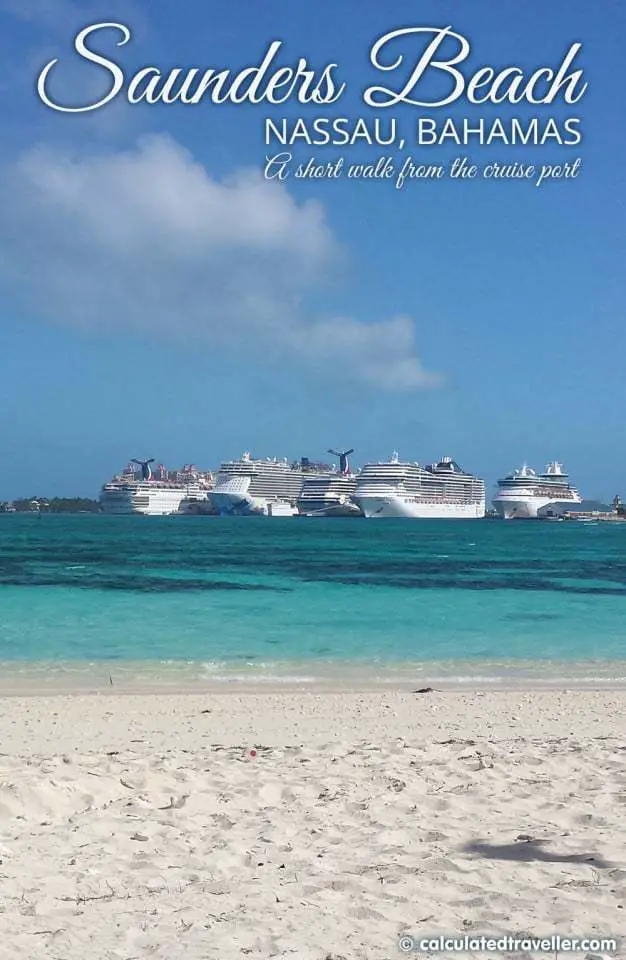 Heading to the Caribbean for a Cruise?
Check out these other articles:
– One Day in San Juan Puerto Rico
– An Itinerary for Curaçao in One Day
– One Day in Philipsburg St Maarten
– Avoid the Cruise Ship Crowds at Sapphire Beach, St Thomas USVI
– Ahhh in The Bahamas #ItsBetterInTheBahamas

Do you have a favourite spot for a day at the beach in Nassau Bahamas? Let us know in the comments below, we'd love to check it out on our next Nassau Cruise