On the Savoir Vivre Barge Cruise, we sail through Southern Burgundy France.
I've not sailed on a barge before, but I must say, after my six days cruising along the Canal de Bourgogne I'm hooked and want to do it again (and again).
What's a Barge Cruise?
Barge cruises are typical in Europe; Holland, Ireland, England, Scotland, Germany and most popularly France. Some barges are remodelled and repurposed from their original use as transportation vessels through the canals but some barges, such as the Savoir Vivre Barge, are newly built for their sole purpose as a hotel barge.
With a small crew, in the case of the Savoir Vivre a team of 3; Captain Richard, Tour Guide Laura and Hostess Sophie — and few passengers; there were eight passengers in total on our sailing. A barge cruise is the ultimate in immersive travel experiences.
Slow moving (we travelled at a speed of 4 km/hour) and covering short distances (our entire journey totalled approximately 40 km), barge cruising is the exact opposite of a vast ocean liner cruise experience and something I recommend every "cruiser" experience at least once in your life.
About the Savoir Vivre
80-foot long barge
Four cabins – each cabin is 110 sq feet with a 6-foot 5 ceiling height
Cabins arranged as one queen bed or 2 twin beds
Ensuite bathroom (with shower)
Two small decks, fore and aft
Daily housekeeping
Complimentary WiFi (although at times speed can be slow)
Complimentary use of bicycles and helmets
Stereo system, TV, DVDs

What's included:
6 nights / 7 days accommodation
Chauffeured transfer to and from the barge to Paris
All meals
All wines with your meal
Open bar on the barge
Our Home away from Home for the Week – Cabin 4
Our cabin is comfortable and charming furnished with two twin beds, a small night table with drawers and an ottoman.
PRO TRAVEL TIP: I was travelling with a friend, but if you are travelling as a couple I suggest you have your beds separated and configured as two twin beds versus having the beds joined into one. Due to space, when the beds are joined and set-up as a queen, they get pushed to one side of the room, and the person on the inside needs to climb over the other person.
Our room is compact at approximately 110 sq feet including closet and bathroom; however, smartly designed with two drawers underneath each bed and lots of shelving and hanging space in the closet.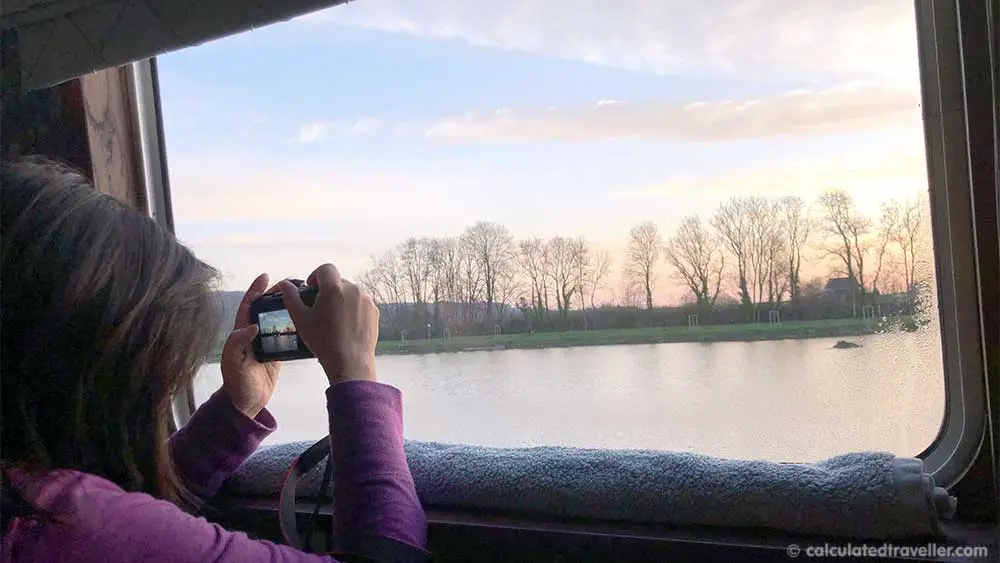 Luxurious cabin features include:
comfy bathrobes
plush slippers
fully adjustable electric bed with remote control
full-length mirrored closet with lots of shelving and hanging space
under bed storage
adjustable heating and air conditioning
fresh air system, since you can't open the windows
comfortable bedding
reading light
luxury toiletries, hairdryer
heated towel rack
umbrellas (should the weather turn bad)
bottled water always available but tap water is drinkable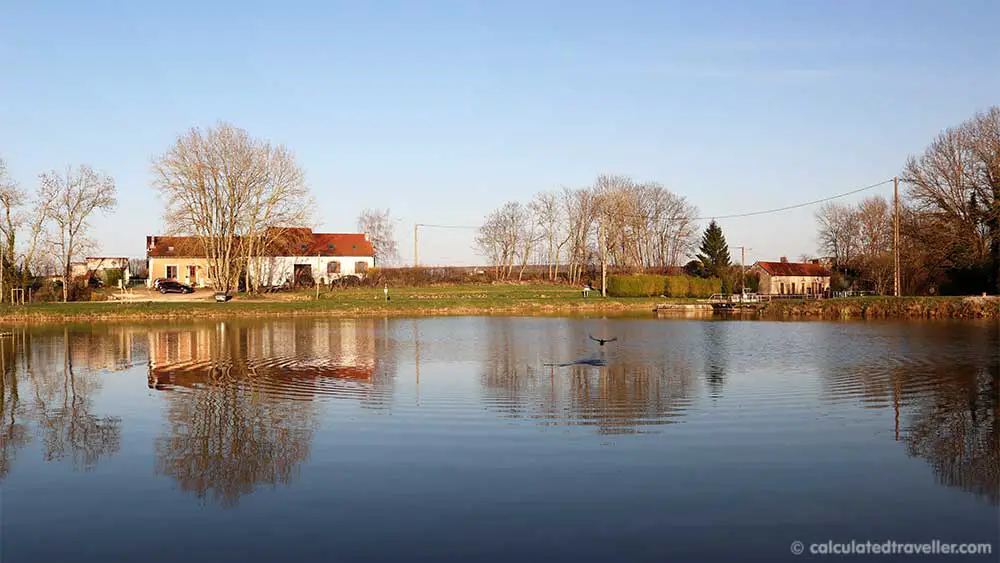 TIP: Once you board the barge, you will unpack your belongings, and the Captain will stow your empty bags in the hold. An easy way to stay organised is if you pack using packing cubes then take them out of your suitcase and pop them in the drawer. We like these here ones here.
Savoir Vivre – Hospitality and Warmth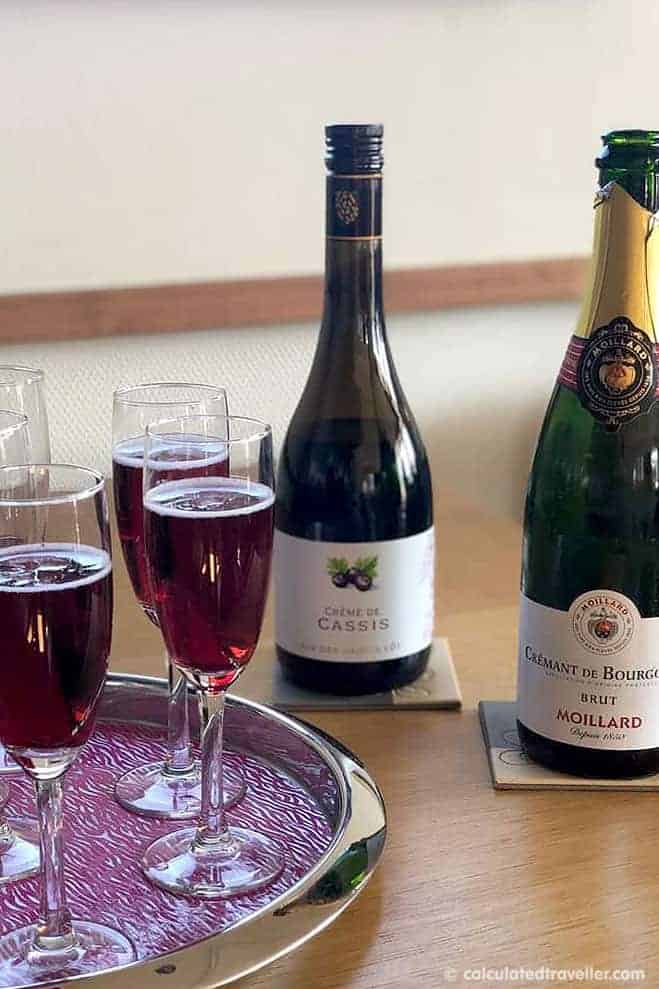 From the minute we stepped on board to the end of the cruise we were pampered and treated like royalty — always with an offer of a drink should your hand be empty.
Savoir Vivre is all-inclusive, so there is no need to worry when it comes to food and drink with premium brands of alcohol and a stocked refrigerator and pantry at your disposal whenever you wish.
Breakfast officially starts at 8:30 am and consists of coffee/tea, assorted cereals, fresh pastries, jams, cheese, cold cuts, yoghurt and fruit. Of course, if you are an early riser you can always help yourself to the pantry.
Lunch is served buffet style and consisted of an assortment of fresh salads, hot selection of either meat or a quiche, cured meats and alternating with either a dessert or a collection of local cheeses. Included of course will be a wine pairing. Served family-style, lunch is masterfully created by Chef Guillaume Royer, of nearby Abbaye de la Bussière and delivered to the barge each day. We also had the pleasure of dining at the Abbaye later in the week.
Dinners are the star of the show, so throw that diet overboard into the Burgundy canal and go for it and indulge!
Typically, with traditional cruises (barges included) — all your meals are served on board the ship. The Savoir Vivre is unique in that only breakfast and lunch are served on the barge. Each night we were chauffeured to a different fine dining restaurant. On the Savoir Vivre, you may find yourself eating in a Chateau one evening, or perhaps a Bistro or maybe an Abby!
The menus each night were unique, and of course, the wine and service were always excellent.
Our gourmet dinners are relaxed affairs, but they are long ones of 3+ hours in length. Pace yourself and go with the flow!
TIP: I was concerned about what to wear when dining and found that basic black pants and a few pretty blouses worked well, but honestly, I could have worn blue jeans with my shirt and still fit in perfectly with the other patrons.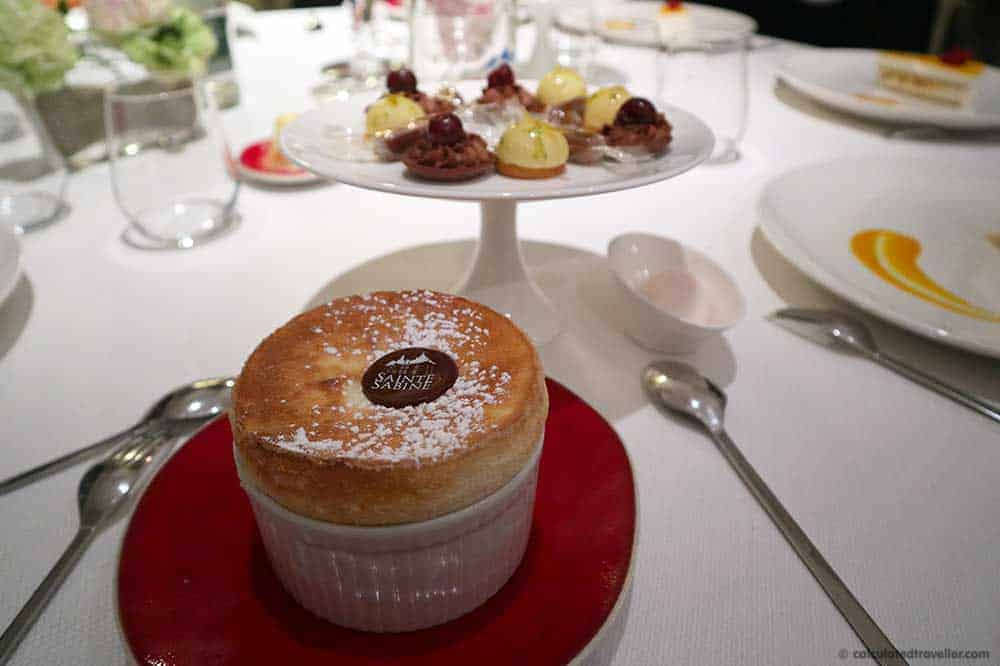 French Barge Cruise – Tranquil, Calm and Relaxed
The water barely moves as we make our way through the canals and locks at a speed of 4 km hour.
It's too much — too relaxing — too distracting, and I give up trying to write on deck because as the barge makes its way down the canal, the scenery catches my eye, and I instantly want to grab my camera and capture the moment.
I use the word "action" loosely because save for the random villager out for a stroll or lock staff motoring by on their moped to meet us at the next lock we see nothing but chickens, cows and a few dogs.
Typically sailing approximately 3 to 4 hours per day, we would wake each morning with the sun, eat breakfast and then we would either go out for a morning tour or set a course through the locks of the canal.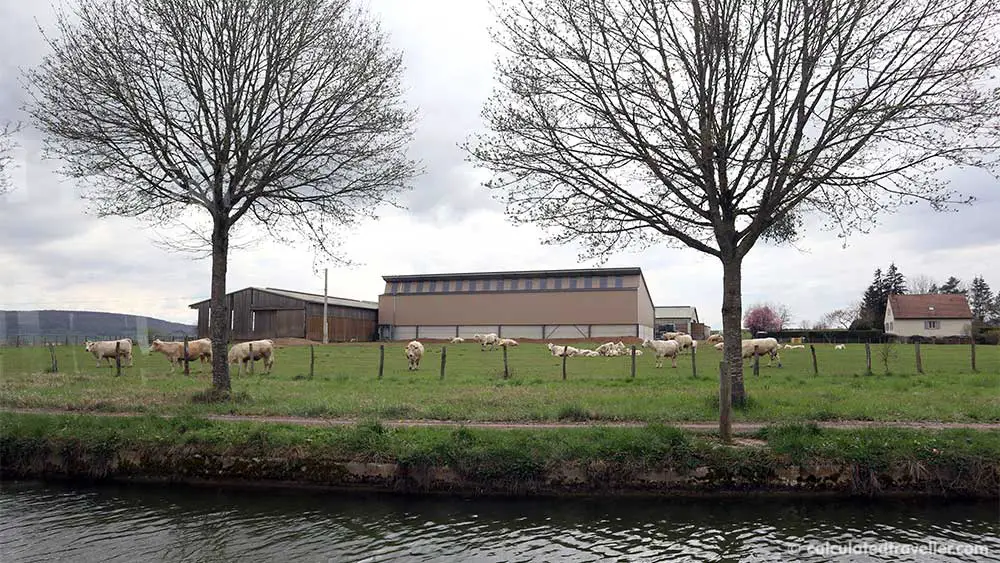 While travelling through the locks, some guests would either walk the towpath along the side of the ship, bicycle along the path, or walk through the neighbouring villages along the way. I opted to stay on board most of the time and watch the world pass by. "C'est une vie merveilleuse!" "It's a wonderful life!"
Our days on the barge would consist of breakfast, tour, lunch, sail OR breakfast, sail, lunch, tour.
Daily Chauffeured Guided Sightseeing Excursions
Each day the 8 of us would climb into our van and head off on an adventure with our private tour guide, Laura — and an encyclopedia of knowledge when it comes to everything wine, food, history in the region.
Tip: The staff of the Savoir Vivre are English speaking but it's always best if you learn a bit of the local language — a few French words will come in handy when dealing with restaurant staff and shopping in the little villages.
Here are some highlights of our Southern Burgundy barge cruise: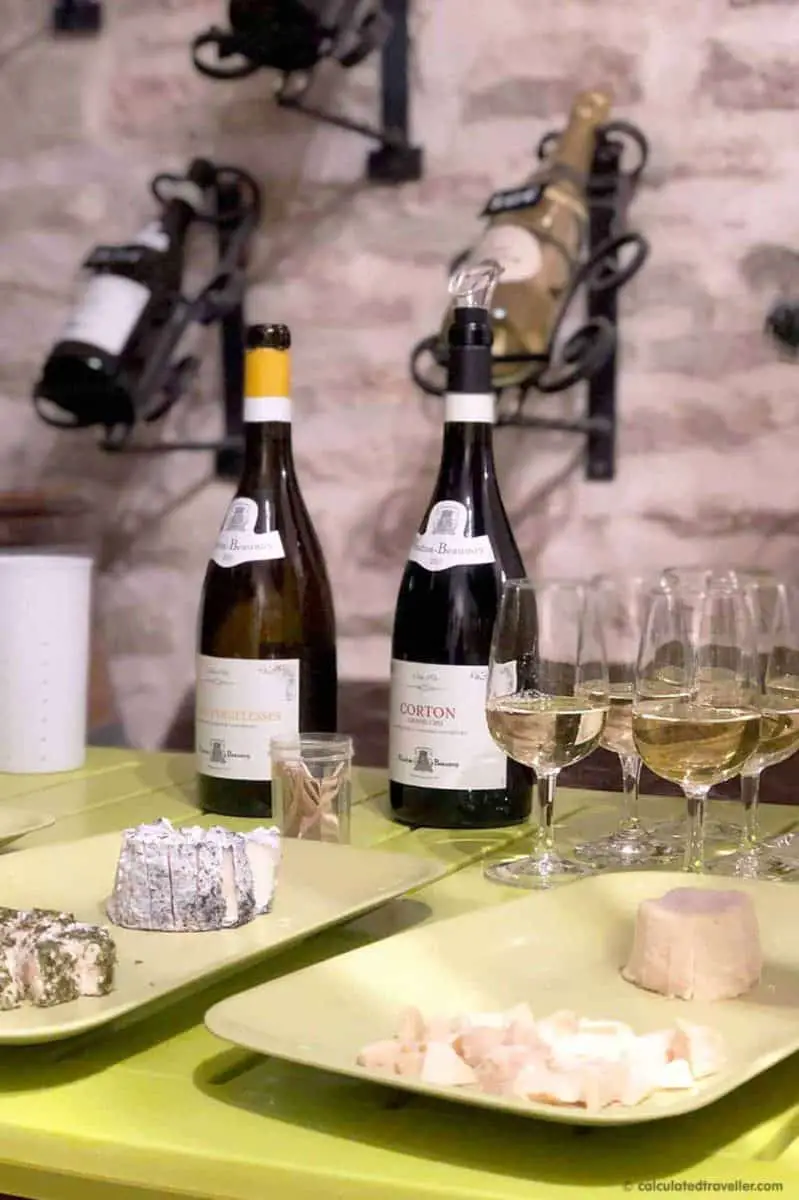 Accommodating and willing to "go off the book" and detour from her usual tour for some silly fun, Laura made a special stop at a mobile Baguette machine that we saw parked along the side of the road.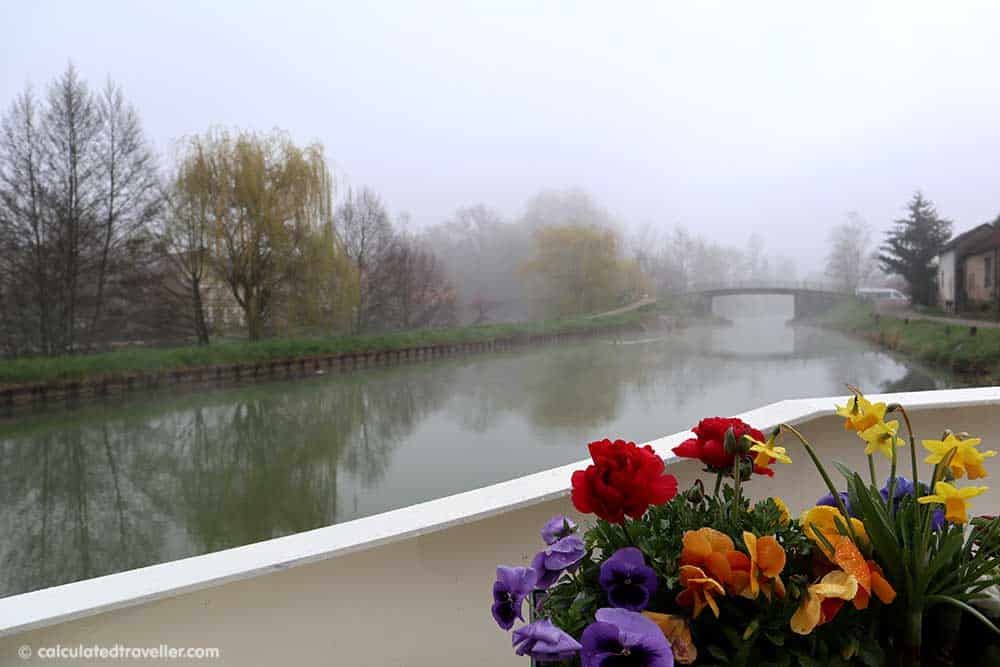 There are honestly too many photos to include in this one article so stay tuned for more content from this amazing cruise experience.
Have you experienced a barge cruise before? What did you think about it and where did you sail?
Travel Assistance was provided by Barge Lady Cruises who did not review or approve this article before publication.
Looking for related content? Check out these articles:
– My Dream of Paris
– The Beauty of River Cruises
– Finding an Unexpected Romance in Europe
– Two Days in Paris France. A Travel Guide