Growing up in the sleepy town of Peterborough in Central Ontario, going to "the city" meant hopping in a car and speeding to Toronto as quickly as possible. Shame on me for being so focused on the destination, not realising that the real adventure would be found along the way.
Temperance and Temptation: The Durham Story is an eye-opening adventure in a region filled with spirits, both historical…and of the liquid kind. The two-day weekend getaway is framed around the late 19th century Scott Act where any municipality or county in the Dominion of Canada could vote and, by a majority, prohibit the sale of alcohol. Think that's ridiculous? The Durham communities maintained this ban until the mid-1970s. Wow.
Fortunately for us, Durham has come a long way and its love of beer, wine and spirits has developed into a premium craft industry just outside the bustle of the Greater Toronto Area. The Temperance and Temptation VIP Experience Tour will only scratch the surface, opening the door to many return trips for sure.
Our introduction to tipsy whisky runners and teetotalers in Durham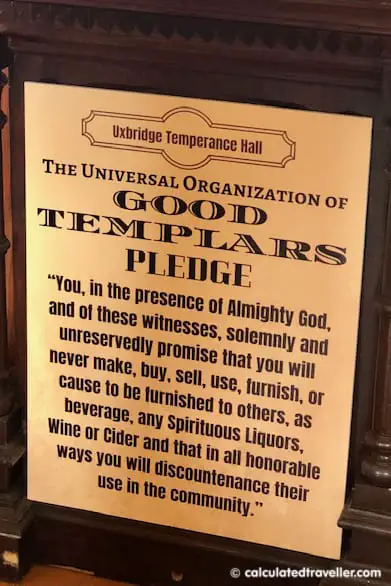 We begin our tour at the Uxbridge Historical Centre on lands initially settled by Quaker pioneers in the early 1800s. With a local Brock St. Brewery craft beer in hand, we are introduced to our in-character historical "guides" – Bootlegger Mickey Byrnes (Michael Miranda), Temperance Lady Eleanor Crumpacker (Mag Ruffman) and Provincial Licensing Inspector Barnabus Bailey (Branden Wright) – who quickly give us historical context to the Scott Act, both for the tipsy whisky runner and teetotalers who give chase!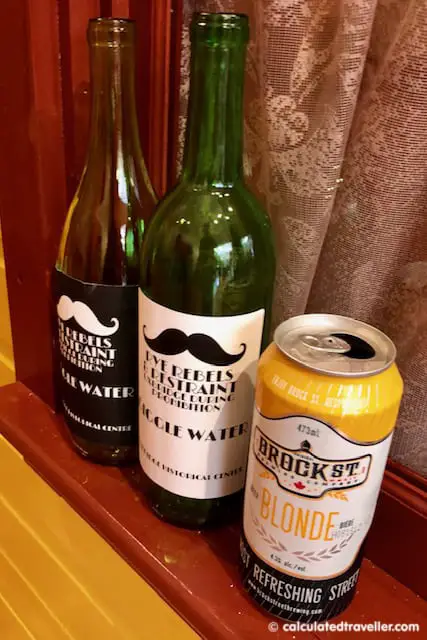 Our first break (and second beverage) finds us at the York Durham Heritage Railway at Uxbridge. After perusing the cosy museum we were able to take in a little snack, enjoyed a lager from The Second Wedge Brewing Co. and are entertained by the Tipsy Temperance Trio band with Chris Wilson on the accordion and baritone saxophone, banjoist Max Kelly and guitar and piano player Jesse Corrigan.
Interesting note:
All their music was written before 1920 and they have NO INTEREST in playing anything else.
Literally around the corner in the heart of Uxbridge, we arrive at The Second Wedge Brewing Co. (est. 2015). We had just wet our whistle moments before, and we're now able to appreciate a flight of their award-winning beers. There was still a distinct buzz in the air, and deservedly so…it was just three days prior that they had been handed two awards at the 2018 edition of the Ontario Brewing Awards (OBA) to celebrate the best of the best in Ontario beer.
Porter: Gold medal for "Rain Maker."
Altbier: Bronze medal for "Monday Night Piper."
Both delicious and well deserved. We finished off with a quick tour and history by founding team member Joanne Richter.
With a great selection of both traditional and experimental beers, they're certainly doing great things down at The Second Wedge Brewery Co. – I'll be paying attention to what they'll be brewing next.
Our final brewery stop for the afternoon was the Old Flame Brewing Co. in beautiful Port Perry. As luck, or talent, would have it, they also brought home three awards from the OBA.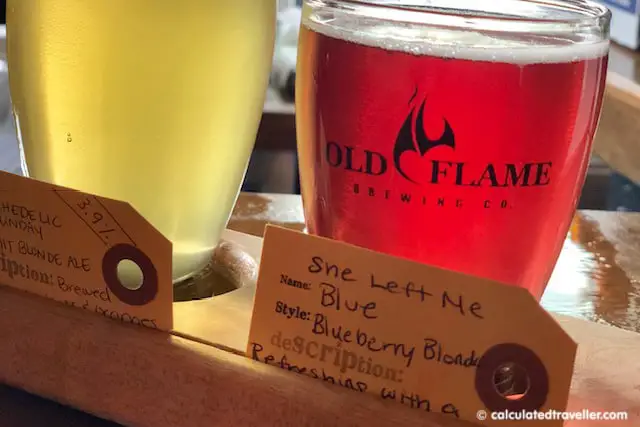 Imperial IPA: Bronze medal for "Scary Mary."
Amber Lager: Bronze medal for "Old Flame Red"
Standard Lager: Bronze for "Old Flame Blonde"
With ample room inside and out, a live band and friendly staff this is the place to be for an evening out. The only drawback I found was having to approach the bar for drinks rather than table service. But, what I quickly realised was that with each trip up to the taps I found myself chatting with other patrons and making friends along the way. Also, the beer was well worth waiting for.
After a long day, we checked-in to the unsung hero of the weekend, the Hilton Garden Inn Ajax. We had just enough time to got to our rooms, drop off our bags, freshen up and get ready for dinner.
We were initially scheduled to visit Brock Street Brewing Co.'s new three stories, 19,000-square-foot location in downtown Whitby but building delays had us tweaking our plans. Fortunately, Harpo's Restaurant was able to accommodate not only our party but our Tipsy Temperance Trio as well. Great food, great music…all in a private room.
After a day of craft beer, I've had my fill.
The spacious and clean Hilton Garden Inn room was very much appreciated, but I was asleep just as my head hit the pillow. Thankfully, I was able to take advantage of the complimentary brunch provided the next morning — nothing like a plate piled high with bacon, sausage, egg and fruit to get me ready for our 10 am pick up. I was looking forward to today…wine and whisky.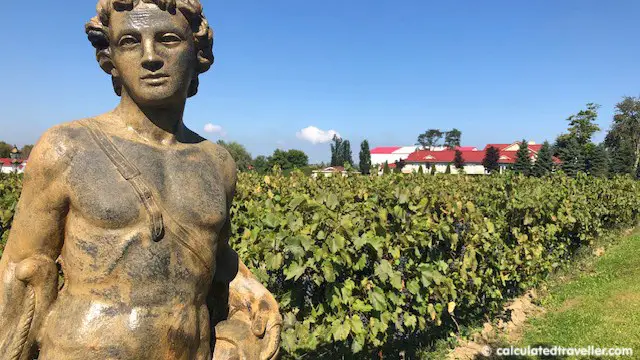 Tuscany comes to Stouffville. Since opening their doors to the public in September 2014, the family-run Gallucci Winery already has two award-winning wines in their stable: the 2014 Baco Noir and 2015 Don Paolo. Both available in their wine store, but better to sample all their offerings at the winery restaurant featuring an outdoor pizza oven. Get there on a warm afternoon, and you'll also be able to enjoy a stroll through the vineyard. Tastings and tours are also available.
Our final stop brings us to Last Straw Distillery in a small strip mall in Vaughan. Since 2011 Ana Simoes, her husband Don DiMonte and son Brandon have been crafting micro-batch rum, vodka, gin and moonshine. They pride themselves on research and experimentation, trial and error. After a few generous samples, this is a modest understatement. I was particularly drawn to their Darker Side Moonshine, double distilled and aged in charred new American oak. As it is aged for less than three years, it cannot be called a whisky, but don't let the name fool you — the moonshine has a spiciness and complexity I have not found in bourbons at twice the price.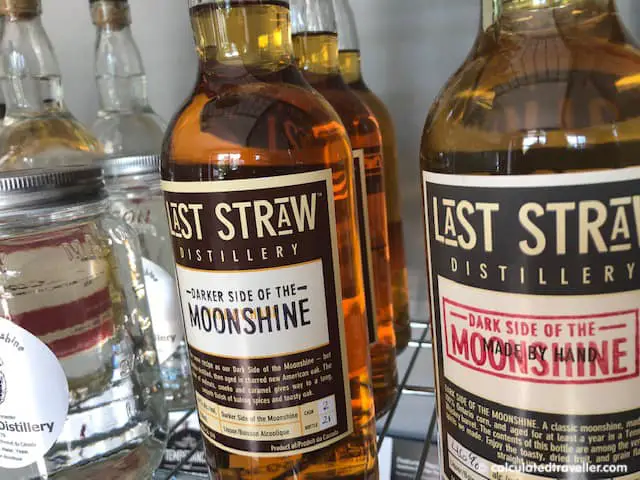 Temperance and Temptation: The Durham Story "two days is not enough"
As we wrapped up our story, one thing I'd learned travelling through Durham Region: two days is not enough. Temperance and Temptation: The Durham Story unlocks the small towns and picturesque crossroads in between at a pace comfortable for the curious of any age.
The history of abstinence is cleverly juxtaposed with today's entertaining and open appreciation of spirited bevvies, each with a personality as unique and progressive as their Crafters. It was a refreshing treat to experience a winery outside the well-trod regions of Niagara-on-the-Lake and Prince Edward County, and a local whisky…err…moonshine that I would gladly open for the best of friends – with a heavier pour for myself!
The next time I make the trip from Peterborough to Toronto, it'll take a few hours longer. There are always new roads (and beverages) to explore in the Region of Durham.
For Temperance and Temptation: The Durham Story VIP experience pricing information and self-guided tour maps visit their website here.
TIP: As always don't drink and drive; make sure you have a designated driver if you are taking the self-guided tour.
I was an invited guest of Ontario's Central Counties Tourism. All opinions are entirely my own.
Read about Calculated Traveller Mary's experience on the Temperance and Temptation Tour: The Headwaters Story of Prohibition in Ontario