I knew I was about to have the experience to last a lifetime when a welcome letter arrived via email from the Butler of the Villa Premiere Boutique Hotel & Romantic Getaway presenting me with a "pillow menu" and a "scent menu" that I could select from before my arrival.
A pillow menu is quite typical in a resort of this calibre, but a scent menu is entirely foreign to me but proved to be a truly exclusive, luxury experience.
With fragrance choices such as White Gardenias, Oriental Breeze, and Sage with Lemon Grass it was a tough decision to make, and it made me sit back to ponder the possibilities as I stared at the query before me. Do I want something energetic, creative, relaxing, rejuvenating, stimulating, or sensual?
The Villa Premiere Boutique Hotel & Romantic Getaway was going to be my home away from home for four nights and akin to choosing the wrong pillow; choosing the wrong scent can make or break a night's sleep and send you from a relaxing slumber to fitful frustration. Like that scene in the movie Indiana Jones and the Last Crusade – choose the wrong chalice of wine and my Puerto Vallarta adventure could quickly turn to dust with the Grail Knight proclaiming, "You chose poorly."
I methodically decided upon Oriental Breeze for it's "Exquisite assembly of relaxation and stress relievers. It's pleasant citrus notes highlight the essence of the legendary refreshing bergamot, followed by delightful chords of jasmine and wild roses." and the "Euro Star" pillow and my imaginary Knight proclaimed with a smile, "You chose wisely."
Don't feel that you have to commit to your choice, however, as you are more than welcome to request something different should it not be to your liking.
Four nights of Oriental Breeze at Villa Premiere
The welcoming email set the tone for this unique journey but my four nights of Puerto Vallarta bliss began at check-in with a complimentary glass of champagne and a stress-relieving chair massage in the lobby. Perfect treats after a long flight to ease aching muscles and erase the memory of a hectic travel day.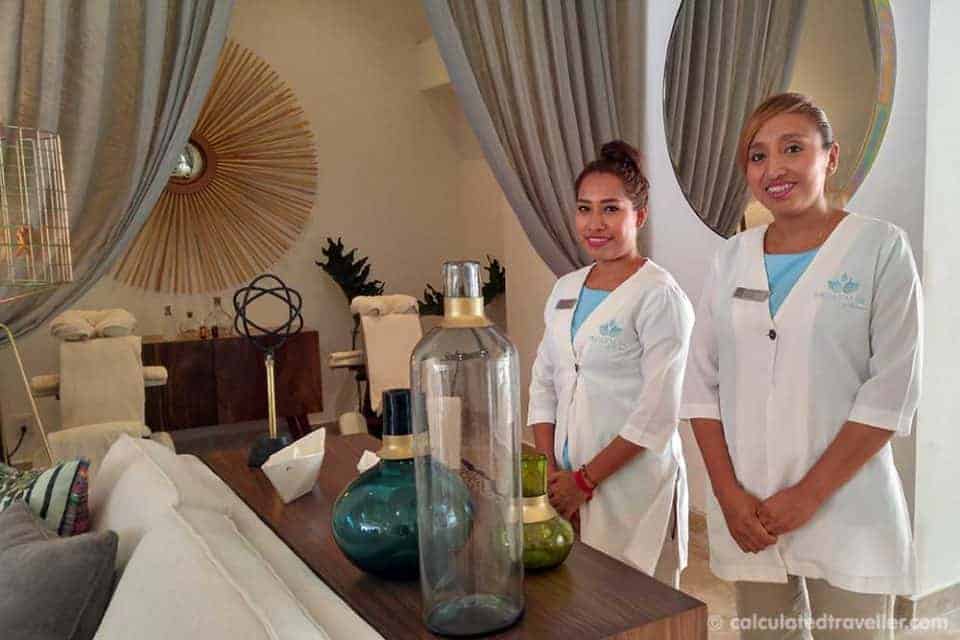 "An adults-only oasis where relaxation is guaranteed"
Villa Premiere recently went through a $3.8 million US full renovation of all guest rooms and hotel facilities, and it is simply gorgeous. When I say recent – I mean the construction finished days before our arrival. There were still some finishing touches ongoing, but that just added to my experience as I enjoyed watching the painters show off their artistry hand painting verses from famous authors on the walls of the corridors.
Total relaxation for all their guests is the hotel's main goal, and that is reflected in the Mexican contemporary décor found in all guest areas. Soothing tones of white, off-white, mint green and beige, throughout the entire hotel is peaceful, soothing, quiet and tranquil.
Suite 2608 – Villa Premiere Boutique Hotel & Romantic Getaway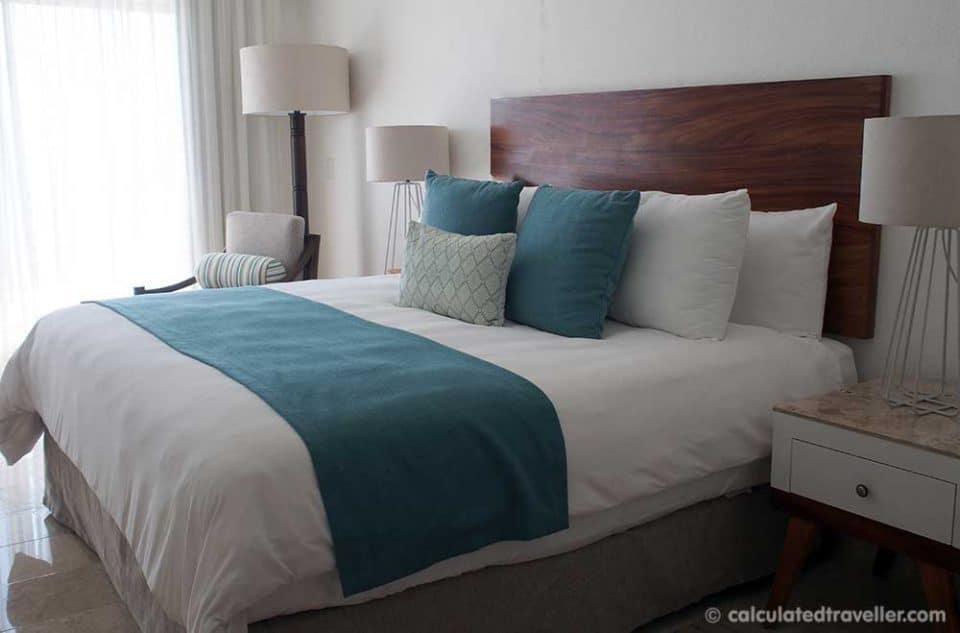 Standard amenities
Mini-refrigerator
Coffee maker
Bar sink
Complimentary WI-FI
Iron
Toiletries by L'Occitane en Provence
Luxury linens
Turn down service
In-room safe
Flat screen SmartTV
Bluetooth speaker system
Hair dryer
Bathrobes and slippers
The view from my room
As this is a review I'm forced to leave a few comments, and trust me I'm being incredibly picky here, but I'm petite at a mere 5 feet, and the lighted makeup mirror was hung well out of any useful reach. Luckily a full-length mirror is available. There is also no clock in the room.
All in the all, the room was spacious, restful, comfortable and exactly what this girl needed.
I review the incredible dining experience in more detail in the article An All-Inclusive Gourmet Experience at Villa Premier Boutique Hotel. For now, I'll leave you with this one photo of my breakfast to whet your appetite and leave you salivating for more.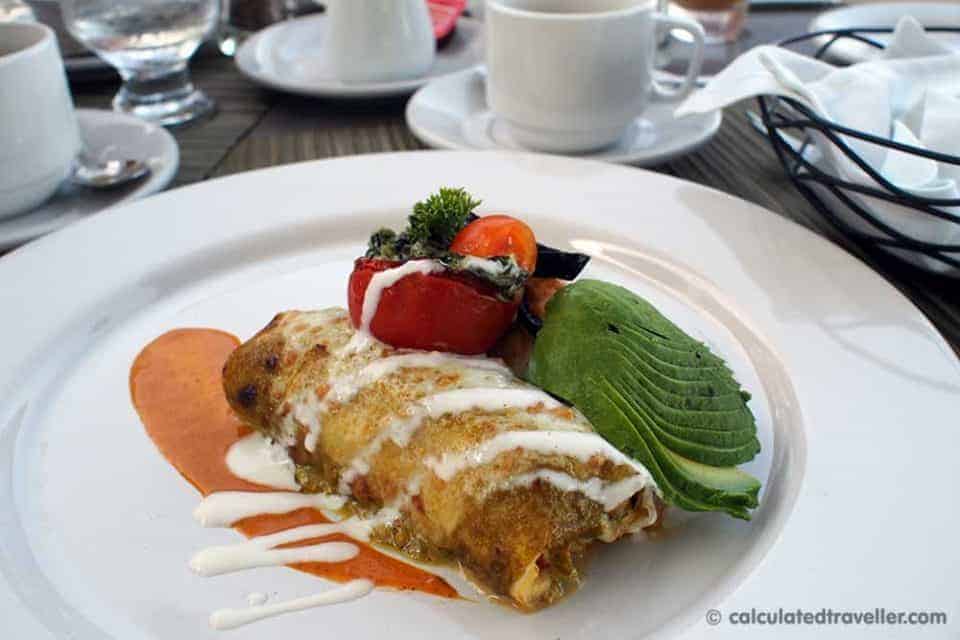 There is also a full gym and yoga classes on the beach if you need to work off all the great food.
There are so many adventures to be had when visiting Puerto Vallarta, from snorkelling Los Arcos via boat, touring Le Jardin Botanical Park, to walking the Malécon promenade, but do spend some time enjoying the facilities at the resort.
I spent a welcome day lounging lazily poolside, sipping on Mojitos and slumbering in the shade to the sound of the surf.
Villa Premiere does think of everything and even provides an assortment of reading material and sunscreen poolside for your use in case you forget it in the room.
All this relaxing is hard work and lounging all day by the pool can cause muscle aches. Thankfully the Mind & Soul Spa is on the second floor where you can choose from a selection of massages and perhaps a spa treatment.
Whether spending a week in the honeymoon suite, celebrating a special occasion or simply escaping from the stresses of home with your honey; the AAA 4-Diamond Award-winning Villa Premiere Boutique Hotel is the perfect location for an all-inclusive, exclusive, intimate, romantic getaway. Ideally located walking distance to the main tourist hub, and historic district but far enough away to feel private and intimate.
Total Bliss.
Villa Premiere Boutique Hotel & Romantic Getaway
San Salvador 117, 5 de Diciembre, 48350 Puerto Vallarta, Jal., Mexico
Read other reviews of the Villa Premiere on TripAdvisor.com.
Looking for a food adventure while in Puerto Vallarta?
Check out the article: Discovering the Taco – Vallarta Food Tours
Travel assistance provided by Visit Puerto Vallarta. All opinions are entirely my own.
Travelling to other parts of Mexico? Check out these articles:
– A Relaxing Lazy Stay at Hotel Barrio Latino Playa del Carmen México
–