We've written before on the topic of road trips, and we regularly make the over 22-hour drive to Florida from Toronto so, I thought I'd do a quick rundown of 13 tips specifically focused on COMFORT for both the driver and the passenger.
13 Tips for comfortable long driving trips

Dress in layers so that you can easily adjust to the changing temperature of the geography of your route without needing to go into your suitcase.
Wear comfortable pants with a loose waistband like yoga pants or sweatpants since you'll be sitting for a long time. There's no need to make a fashion statement here — being comfortable is the point. One point though, stay away from pyjamas, please. embarrassing
Compression socks are the key to keep the blood circulating in your legs while you are inactive for an extended period.
Comfortable shoes, sandals or slip-on shoes for those quick gas station stops for gas or the restroom. As a passenger, I often take my shoes off in the car and the "lazy" in me doesn't want to tie/untie shoelaces.
Thin blanket. Hubby Ray likes to keep the car cool while driving so that he doesn't get drowsy but I like the car comfy and warm. Since our car doesn't have a high-tech climate control system, I use a low-tech blanket instead!
Pillow for your lower back or for naps.
Eyemask for daytime naps at a rest stop.
Pack snacks and water.
Favourite Music or audiobooks. Radio stations may not always have your favourite tunes, so bring your own.
Sunscreen. You can't get a sunburn in your car but you can still damage your skin. Here's an interesting article from Business Insider on the subject
Sunglasses.
Toiletries. I suggest you leave the basics like a hairbrush, toothbrush/toothpaste, mouthwash, and moisturiser inside the car so that you can refresh yourself without having to go into your suitcase in the trunk.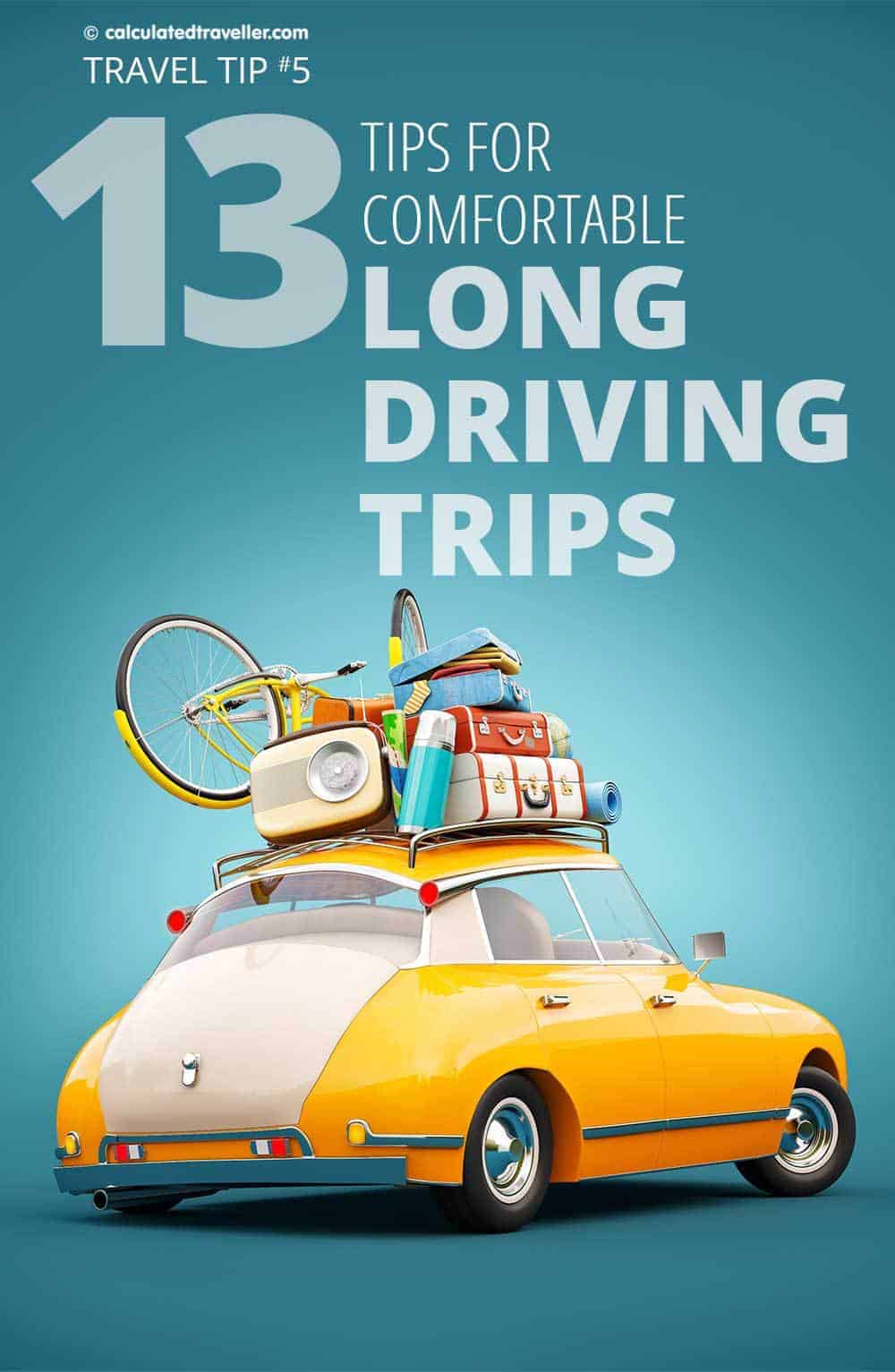 What's kept you comfortable driving long distances?
Check out our other articles:
– Road Trip to Florida: Driving is the Affordable Way
– Driving to Florida – Is it really for you?
– 10 Road Trip – Rules
– What Your GPS Doesn't Know May Hurt You!