There's nothing I love more than tasting the exquisite dishes each city I visit has to offer. It was no different when I finally – finally! – made it to Amsterdam, a destination I've wanted to explore for a while now. On my final day, Eating Amsterdam Tours invited me to join their 4-hour guided walk through Jordaan, a neighbourhood filled with tiny back streets, beautiful courtyards, and excellent food. I was so excited to see it all!
Jelte (pronounced yell-tay) was our enthusiastic, food-loving guide who took a fun group of 10 on the Amsterdam Food Tour to remember. He and food guide-in-training, Estefhan, had one goal in mind: to have all of us roll out of the final stop of our food adventure.
If there's one thing I can take away from my time on the tour, it's that the capital of Holland is abundant with both local and international flavours. We covered almost the entirety of Jordaan, tasting our way through the neighbourhood. Here's a summary of my lovely experience:
Poffertjes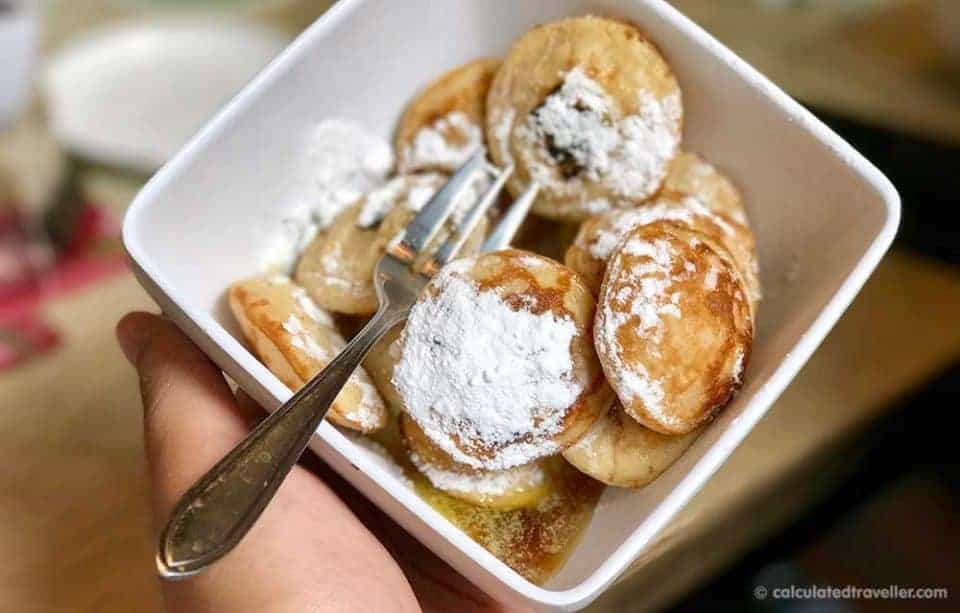 We started the tour off the right way with cute poffertjes (pancakes) at Café de Prins, a 100-year-old institution. The café by day and bar by night served up a bowl of at least 15 pancakes doused in butter, Canadian maple syrup (eh!), sprinkled with a generous amount of icing sugar. Poffertjes have been considered a children's treat before bedtime; I'm not kidding! If only I grew up in Holland…
Stroopwafel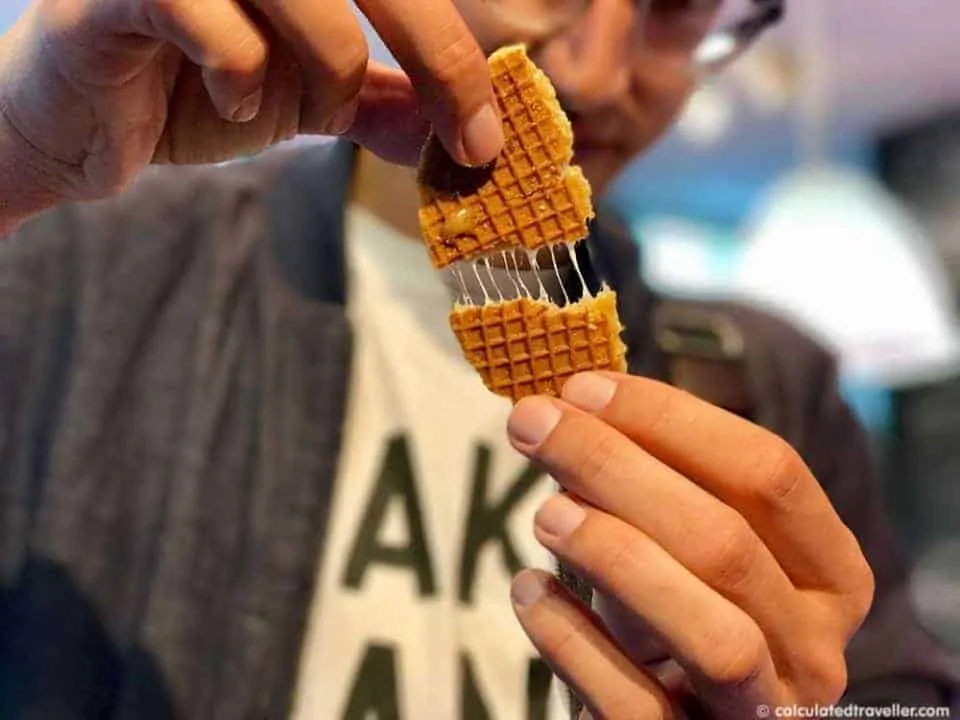 To this day, I'm still unsure how to pronounce this delicate, caramel filled waffle correctly. What I do know is the fresh and pre-packaged stroopwafel at Sprenkels found on a tiny street in Jordaan are quite tasty and worth a try. Locals and travellers alike choose to stop by and have a chat with the lovely owner, too.
Haring, Kibbeling, Tulip Vodka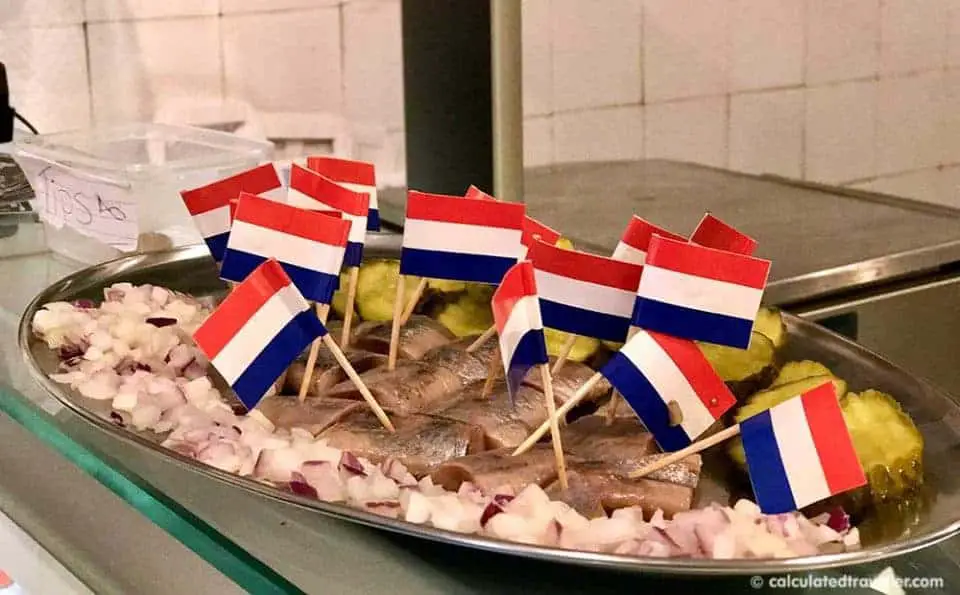 After a couple of sweet treats for breakfast, it was time to experience Amsterdam-style fish at a local favourite, De Urker Viswinkel. On the menu were brined herring, deep-fried cod, and a shot of tulip vodka only produced in Holland. I was partial to the cod fish; however, a lot of the others – including some of the kids – devoured the herring!
Craft Beer, Bitterballen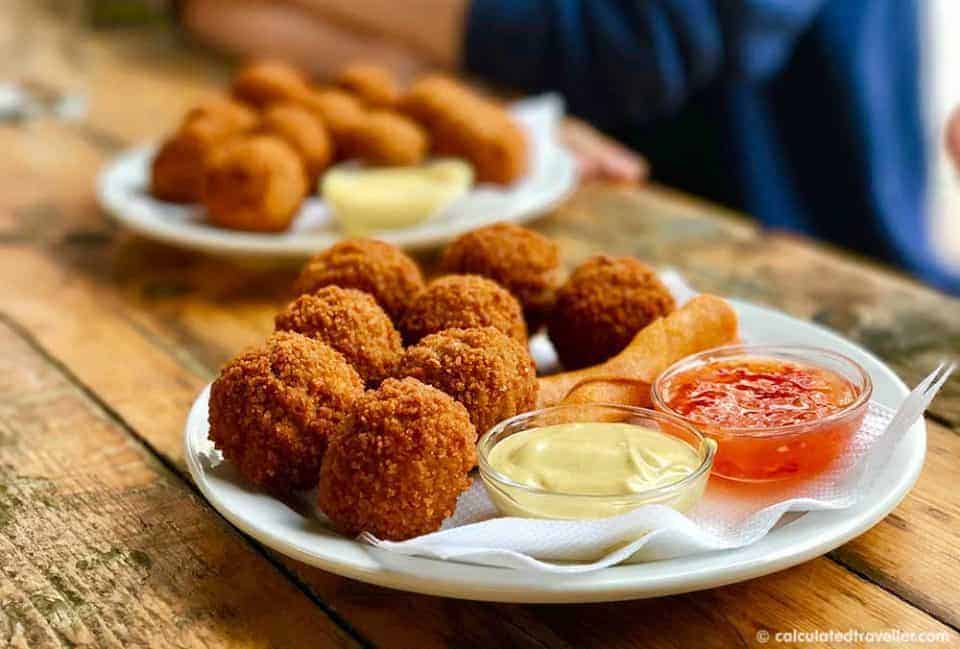 We crossed the street and a minute later found us at the next stop: Café de Blaffende Vis. This time, we were offered a glass of the Best IPA in Netherlands (from Haarlem) with a few bitterballen as a garnish (fried balls of meat and roux mixture). I positively enjoyed the IPA in small doses, and I know many who would be impressed by this hop-py selection.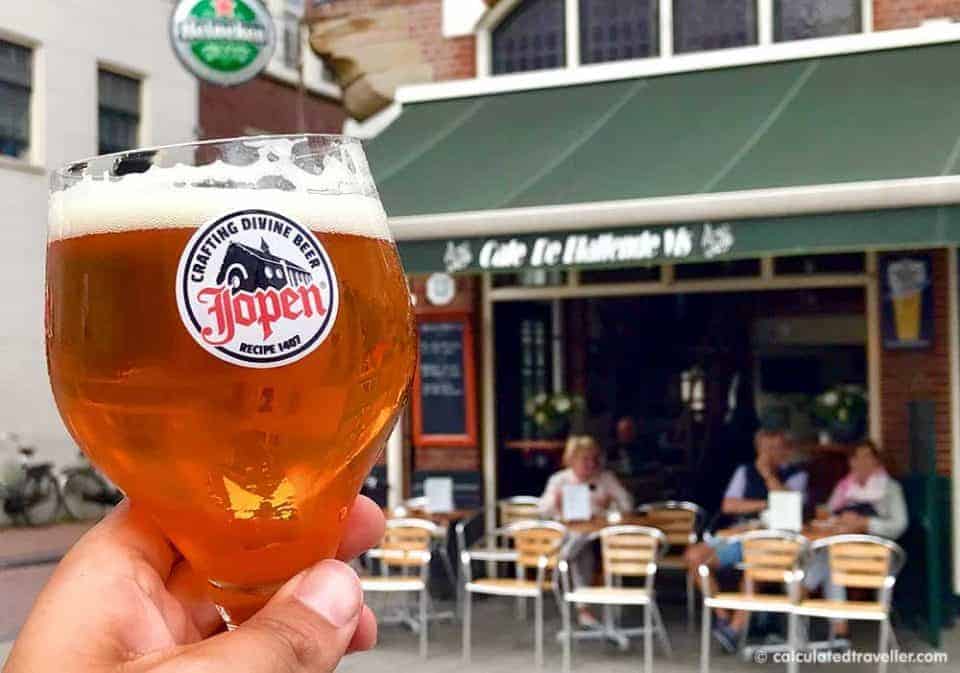 Meats & Cheeses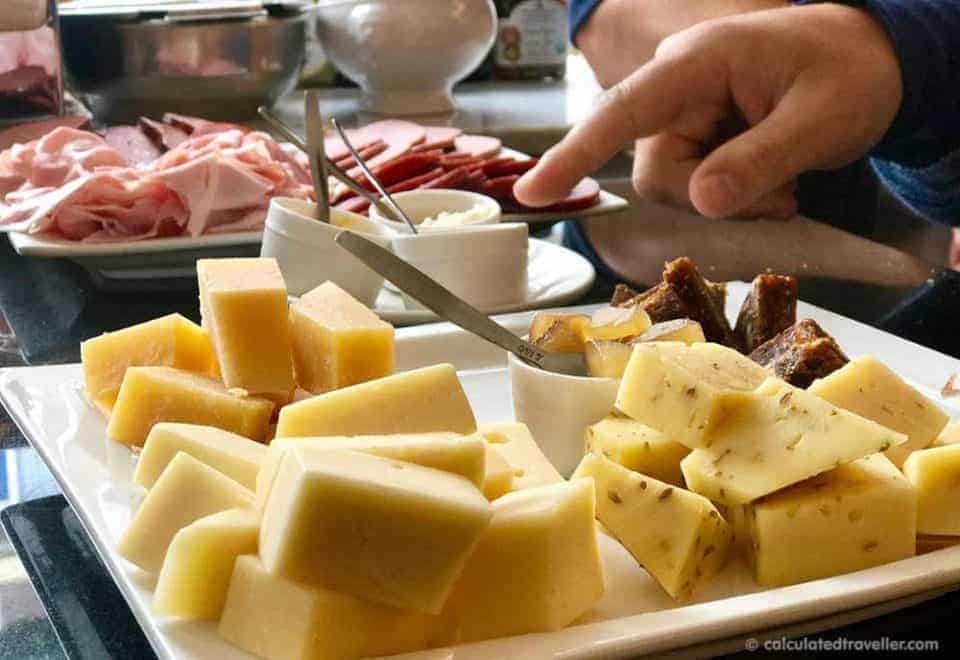 We arrived at a deli with platters of meats (Slagerij Louman), and cheeses (Jwo Lekkernijen) laid out in front of us. I particularly liked the young Gouda, originating from Gouda, Netherlands, as well as the entire plate of meat. It consisted of grilled sausage, smoked pork ham, and cold smoked beef sausage, and all was good in the world.
Saté Ayam, Kroepoek, Ajar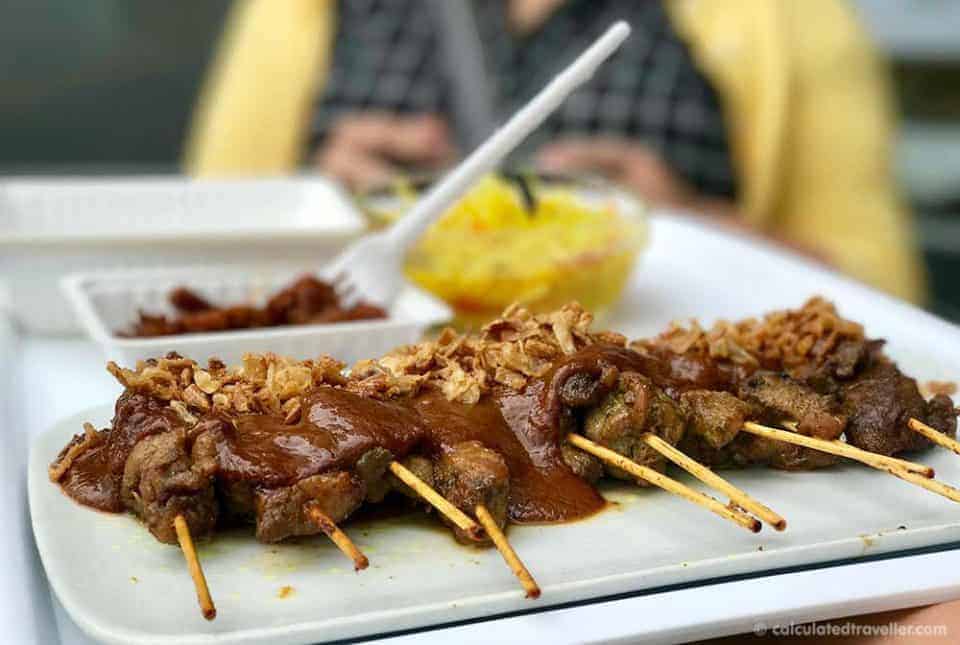 If you haven't tried chicken satay with peanut sauce, stop what you're doing and get to the nearest Indonesian restaurant pronto. Ideally in Amsterdam at Swieti Sranang where Jelte introduced us to chicken on a stick, pickled cabbage, and my childhood fave, shrimp chips! It was so much fun to taste a cuisine so different, yet so prominent in flavours.
Appeltaart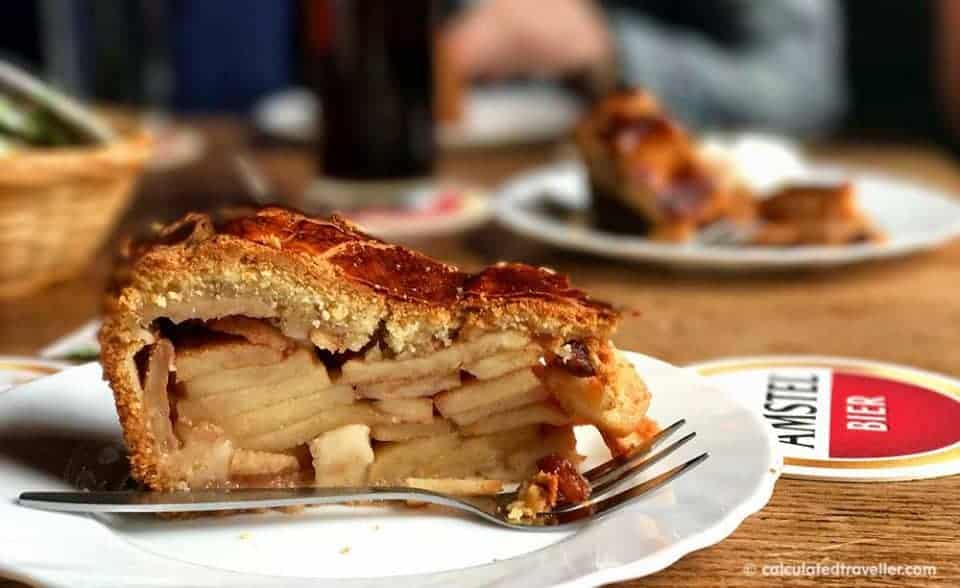 And what's a food tour without a delicious dessert? Our last and final stop was at Café Papeneiland where we stuffed ourselves silly with a heaping portion of Dutch apple pie. What I enjoyed was how much apple filling there was inside the pie, surrounded by a perfectly golden crust. Even Bill Clinton loved it so much on his visit to Amsterdam that he brought an entire pie back to his hotel room!
We finished our plates and crumbs, and Jelte and Estefhan's goal was successful. We all rolled ourselves out of the old historical café and moved onto our next adventures in the city. Unfortunately, mine was getting back to the airport to head home. However, this family-friendly food walk with Eating Amsterdam was the perfect way to close my time in the city.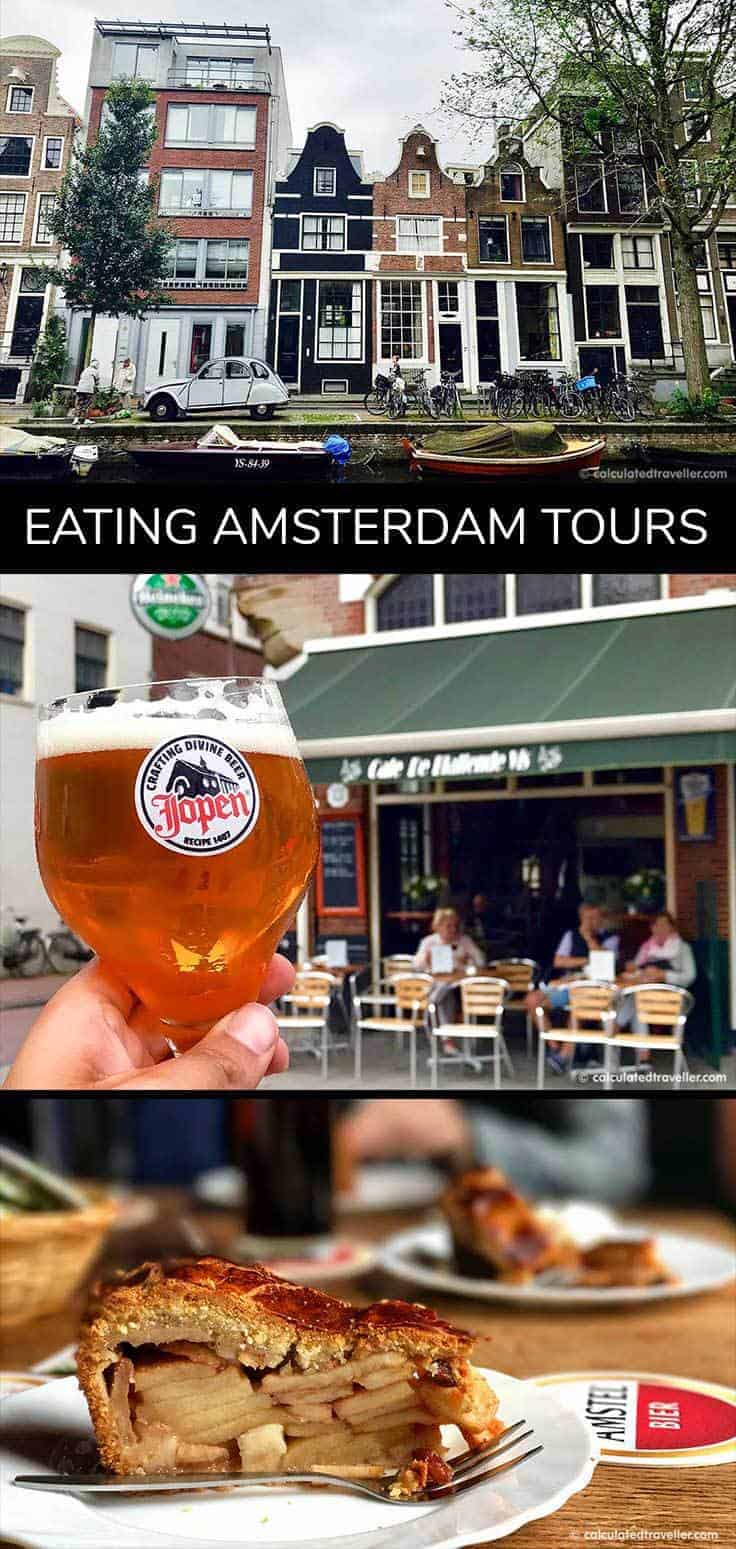 For an excellent way to explore Amsterdam, consider this food tour along with Eating Europe's other food tours in Prague, London, and Italy!
 
Read more from Lea:
A First Time Beginners Guide to Budapest Hungary
My Ultimate Indonesian Bucket List Adventure
Natrel Rink Outdoor Skating at Harbourfront Centre in Toronto
Lea was a guest of Eating Europe, who did not review or approve this article before publication. All opinions, as always are entirely that of the author.