Admit it. All inclusive resort dining packages aren't always the best, are they?
Every single person I know who has taken an island resort getaway has experienced highs and lows when it comes to all inclusive dining packages. You know — limited dining hours, uninspired dishes, limited selections on the menu, and bland, tasteless food. I have friends who admit to bringing different spices when they travel because they have often found the food at some resorts too bland for their palate.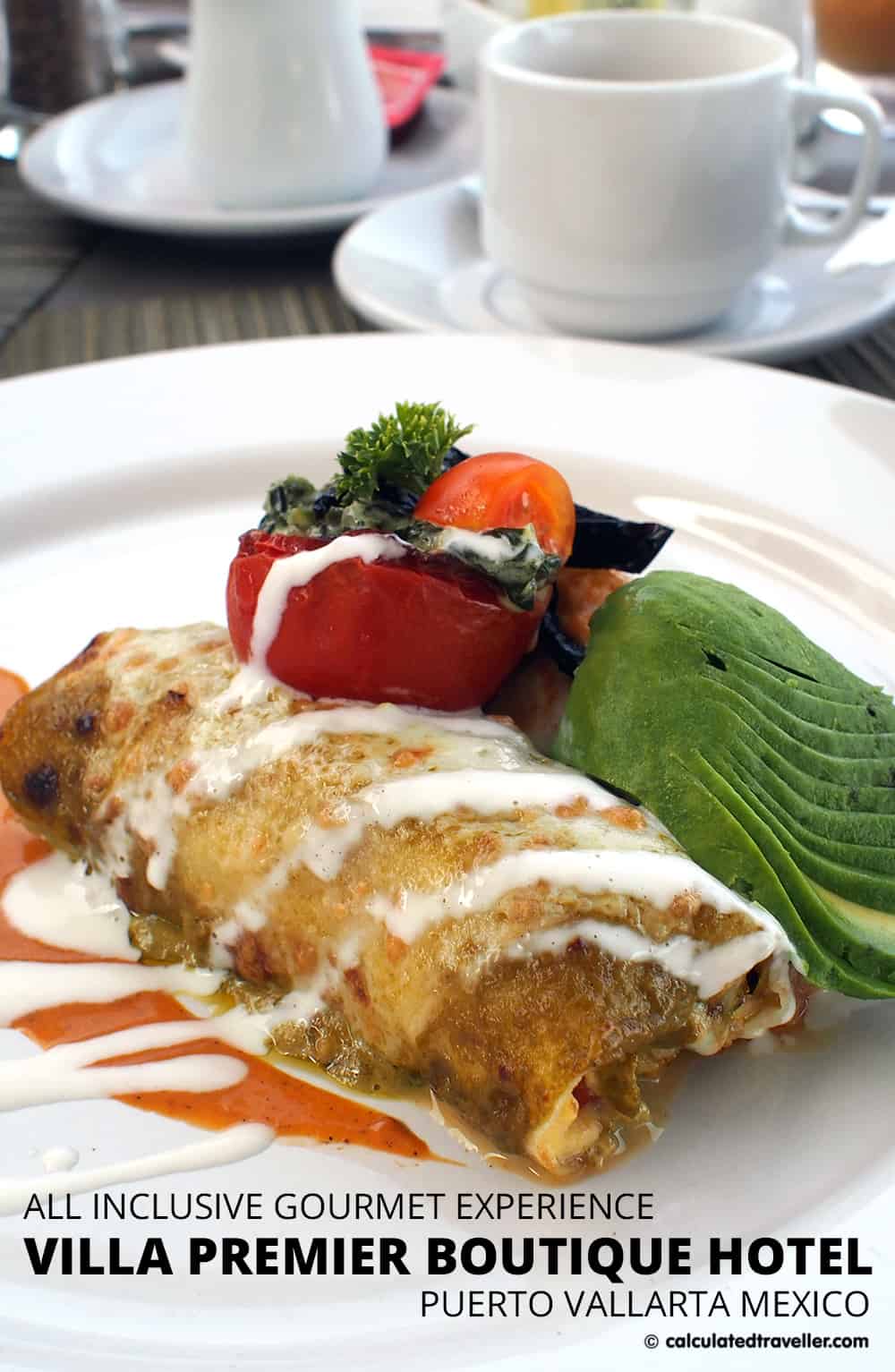 Exquisite All Inclusive Gourmet Dining
I recently stayed at the Villa Premiere Boutique Hotel in Puerto Vallarta Mexico, and I have to say that I was very pleasantly surprised to find the food to be incredible.
Read the full review article:
Total Bliss at the Villa Premiere Boutique Hotel & Romantic Getaway Puerto Vallarta
At Villa Premiere Boutique Hotel, each and every meal was a joy and something I looked forward to eating. The service was impeccable, the flavours were unique, the plates were picture perfect, and the dining experience was entirely gourmet.
Bright and early each morning, I would scurry and skip down the stairs to breakfast at the outdoor restaurant next to the pool and beach — La Ceiba — and after a quick smile and "Buenos días" to the staff, I would sit down and devour the menu.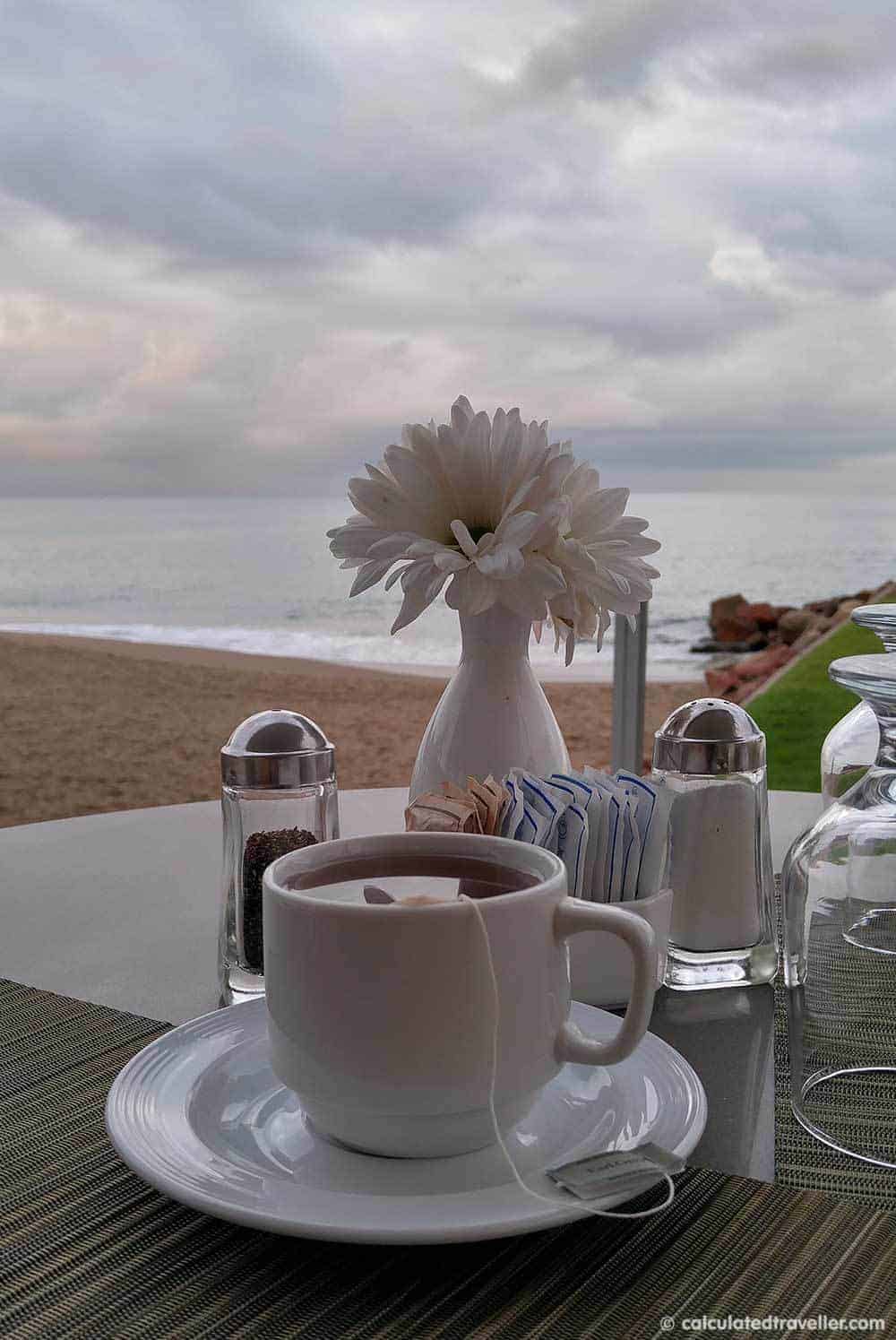 Rise & Shine Beachside at La Ceiba
A fabulous view is found beachside each morning at La Ceiba as you drink your morning cup of tea.
With Mexican and North American selections to choose from on the expansive menu, I would carefully choose my meal, opting for a Mexican dish in order to have the full Vallarta experience. I was worried at first since I don't have much experience with traditional Mexican cuisine but the competent waiters were always available to help me make a tasty decision.
Fruit Plate and Papaya Plate

These fruit plates are an example of how beautifully presented all the dishes are. The simple papaya plate is elevated by perfected knife skills and proves that "we eat with our eyes".
Molletes with Turkey Chorizo

– Toasted wheat bread with refried beans, turkey ham and melted cheese.
Scrambled Egg Whites with Goat Cheese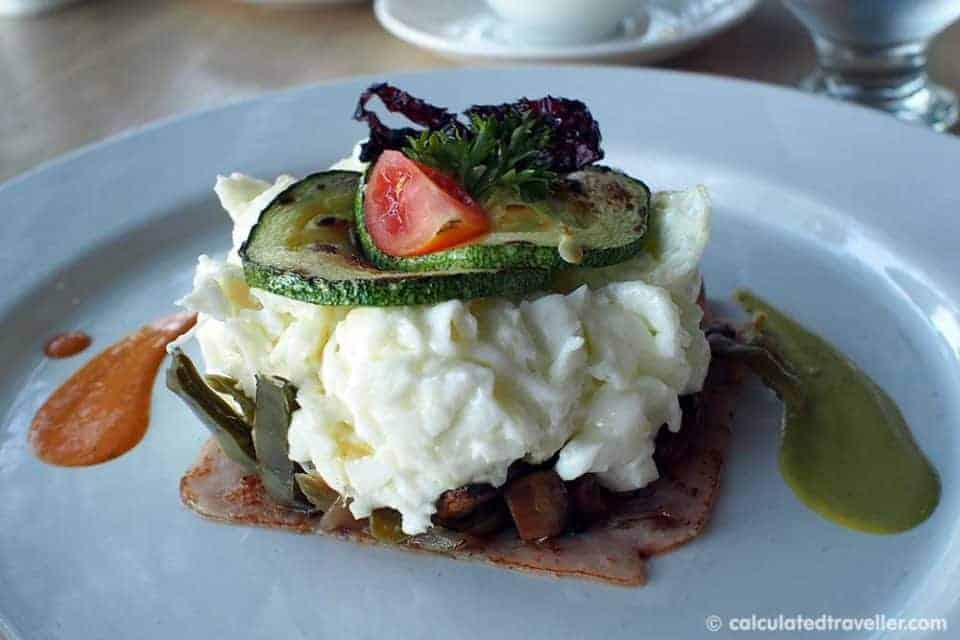 – Served with roasted cactus and turkey ham.
Who would have thought that egg whites could look (and taste) so good!
Eggs and Sausage Mexican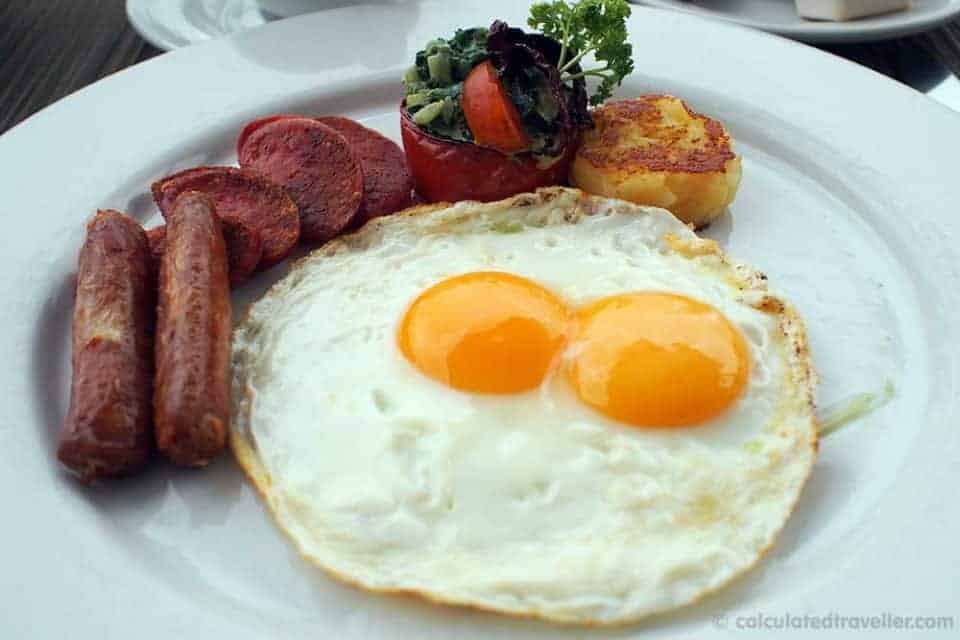 – Fried eggs served with pork sausage and chorizo.
Service and staff are incredibly accommodating, and when I asked whether the sausage was spicy, they suggested I do a half pork and half chorizo just in case. In the end, I preferred the chorizo to the pork sausage – it had a kick to it but not overly so.
Chilaquiles "La Ceiba"

– With chicken, ham and roasted poblano pepper on top of corn chips.
This ended up being my favourite breakfast of the week.
Trio of Quesadillas

– Huitlacoche, Squash blossoms and Mexican sausage served with fried beans and molcajete sauce
"Aztec" Gratinated Crepe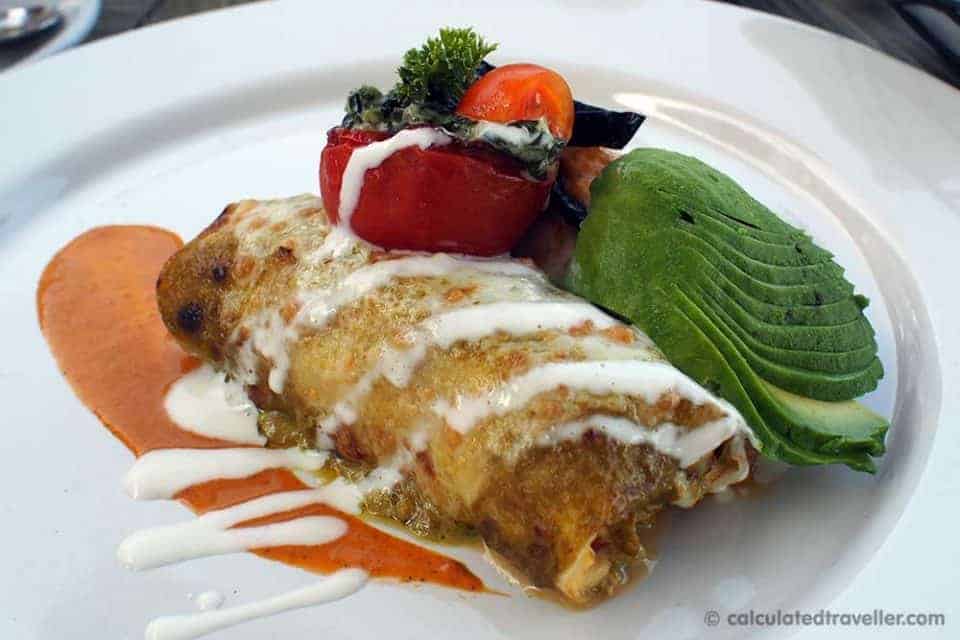 – Scrambled eggs with Mexican sausage and squash blossom in Poblano sauce
If you enjoy juices and smoothies, then you'll love that La Ceiba offers a variety of fresh drinks on their menu. With concoctions such as "Mexican" (beet and carrot), Guacamaya (celery, parsley, grapefruit, pineapple and honey) or the Energetic Smoothie (honey, oatmeal, almond, strawberry, banana and milk). A great way to start your day!
Each dish worthy of a repeat but with so many choices and so little time, I never ate the same thing twice, and I left the resort and Puerto Vallarta wanting to return so that I could eat the rest of the menu.
This review was all about my breakfast experiences at the resort but rest assured lunch and dinner were both equally delectable.
If you are looking for an exquisite all-inclusive gourmet dining experience, I highly recommend a stay at the Villa Premiere Boutique Hotel in Puerto Vallarta Mexico. You never know, you might find me sitting at La Ceiba with a table full of plates!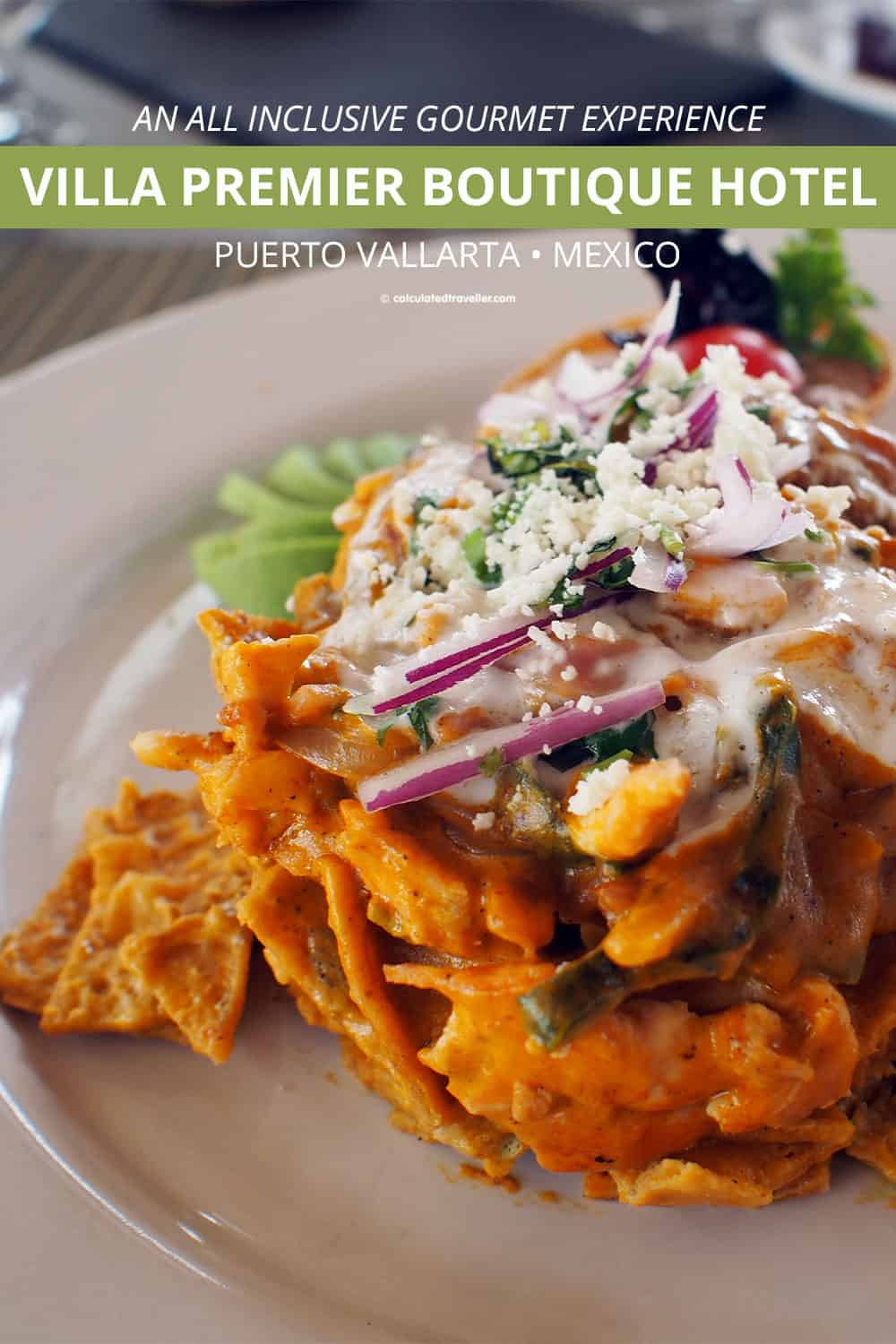 Villa Premiere Boutique Hotel
San Salvador 117, 5 de Diciembre, 48350 Puerto Vallarta, Jal., Mexico
Read other reviews of the Villa Premiere on TripAdvisor.com.
Looking for something different while in Puerto Vallarta?
Discovering the Taco – Vallarta Food Tours
Travel assistance provided by Visit Puerto Vallarta. All opinions are entirely my own.