With generations of family photos lining the walls of the restaurant, dining at Columbia 1905 Restaurant in Clearwater Beach, Florida is like a step into one families history. It's steeped in tradition with recipes of the Gonzmart family handed down from great-grandmother to grandmother, to mother to daughter.
The restaurant isn't Columbian as what might have been expected with a name like Columbia 1905 but serves old world favourites that are actually Cuban Spanish.
At Columbia 1905 Restaurant the Cuisine Tastes like Tradition, Family and Home
Why "Columbia" then?
"Columbia" as Joe the Manager of the Clearwater Beach location on Sand Key explained, "was the name of the ship that the founder Casimiro Hernandez, Sr. sailed upon when he first immigrated in the late 1800's".
Joe explained further that in 1905 the original Ybor City 60-seat corner café first opened to serve Cuban coffee and Cuban sandwiches to feed the Cuban families that immigrated to Tampa to work in the surrounding cigar factories. As time passed, the demand for the "flavours of home" grew, space next to the café became available, and the restaurant expanded further.
Today that same original Ybor City restaurant takes up the entire city block and seats 1,700 people in 15 dining rooms adding up to 52,000 square feet. Columbia 1905 is said to be the oldest restaurant in Florida, the largest Spanish restaurant in the world. To this day it is still family owned and operated.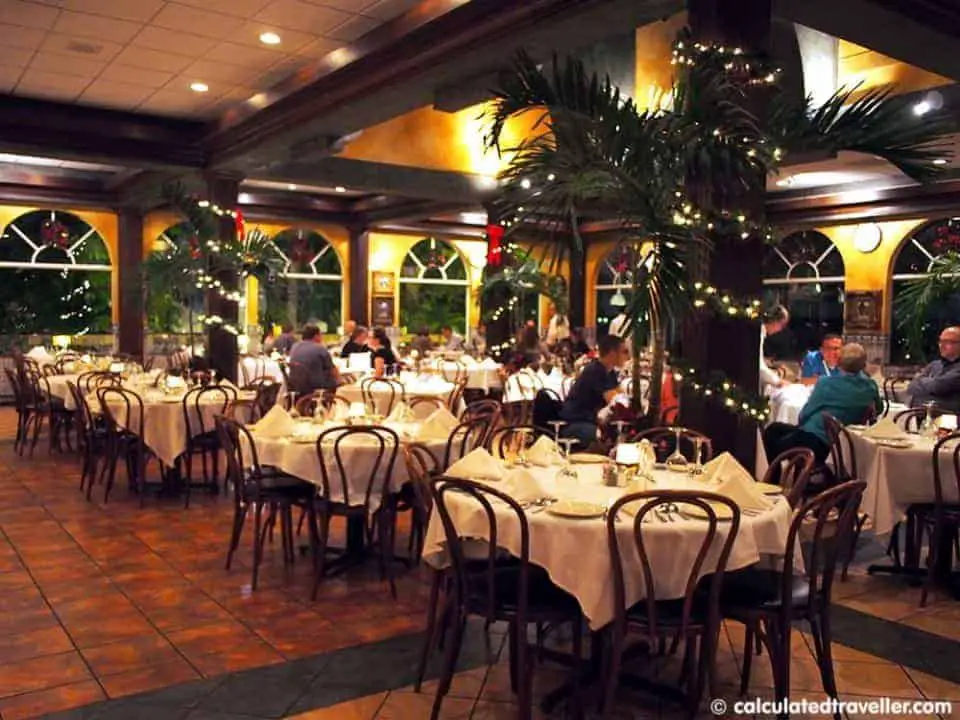 There are 7 locations to be found throughout South Florida – Ybor City, Clearwater Beach (as photographed here), Sarasota, Celebration, Riverwalk Tampa, St. Augustine and Tampa International Airport.
What we ate at Columbia 1905 Restaurant
As our Cuban bread was warming in the oven, we started our evening with Mojitos. Both the bread and the drinks were very yummy. A unique feature is that many of their drinks, i.e., Mojito, Sangria, etc. may be ordered by the pitcher versus the single glass.
Original 1905 Salad
No trip to this famous restaurant is complete without tasting the original 1905 Salad. The signature salad inspired by the many immigrants to Ybor City. Iceberg lettuce with Romano cheese, Swiss cheese, baked ham, tomato and olives tossed tableside with garlic dressing and Worcestershire sauce.
It sort of reminded me of a Caesar salad – it's quite famous and has been profiled on many tv shows. The signature 1905 salad dressing is for sale in their gift shop.
Devil Crab Croquettes
Blue crab, Cuban cracker crumbs with paprika, onions and garlic made using a traditional recipe by great-grandmother Aurora Gonzalez. Another signature Tapas selection this very tasty croquette had a bit of a kick to it.
Scallops "Casimiro"
Fresh scallops baked in a clay casserole with lemon butter and topped with seasoned breadcrumbs and white wine — perfectly cooked and very satisfying. Hubby Ray had a big smile on his face after his first bite of the scallop!
Delmonico "Sarapico"
16 oz. bone-in char-grilled rib-eye steak served with roasted potatoes and vegetables. Columbia 1905 has their own butcher on staff and they definitely know how to cook a steak. It was a perfect medium-rare as was requested.
Costillas de Cordero
Baby Lamb T-bones seasoned and grilled. Served with oven roasted potatoes, sautéed spinach and mint aioli.
Key Lime Pie
Created with a secret graham cracker crust recipe and a filing made with pasteurised egg yolks, condensed milk and lime juice; there are no preservatives, artificial ingredients or gelatin. In my mind that adds up to zero calories! Light, refreshing and not overly sweet or tart.
Check out this recipe: Key West Key Lime Pie
Fresh Strawberries on Almond Cake
Fresh Florida strawberries with sherry zabaione on homemade almond cake topped with whip cream.
Don't forget to have a look at the lovely gift shop near the entrance for cigars, cookbooks, bottled versions of the salad dressing, seasonings, sauces, sangria mix, kitchen accessories and signature pottery.
With indoor seating as well as an outdoor patio in the back overlooking the water, the Clearwater Beach Sand Key location is lovely. The atmosphere, service and cuisine throughout the night were simply wonderful. I look forward to dining here again and especially would like to visit the Ybor City location to see where all the magic first started.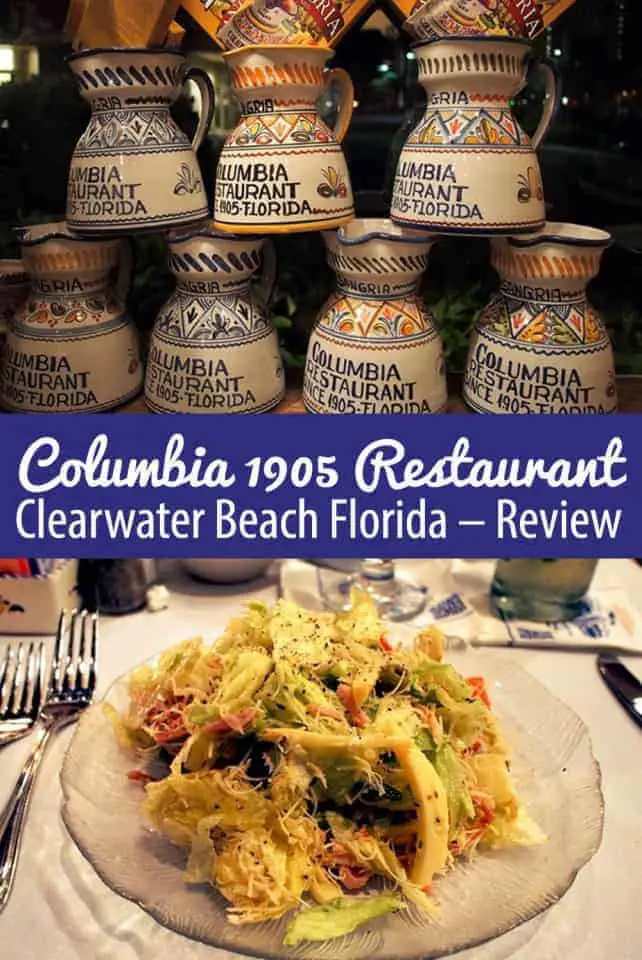 Columbia 1905
1241 Gulf Boulevard
Clearwater, FL 33767
More reviews are available on TripAdvisor.
Have you dined at a Cuban Spanish restaurant before? We'd love to hear what you ate and what you thought of the cuisine
Additional articles about Clearwater:
– Clearwater Beach Marriott Suites on Sand Key – Review
– Dining at Caretta on The Gulf, Clearwater Florida
– Visions and Dreams at The Dali Museum in St. Petersburg Florida
Travel assistance provided by Visit St. Petersburg Clearwater Tourism. As always, the opinions expressed in this post are my own.
Looking for tours in the Clearwater area?