Food sport – yes, it's a thing.
I watch a lot of food competitions on tv but I never thought that I would ever be a participant in an actual cook off!
On December 4, 2015 I was totally psyched to be asked to take part in this fabulous Florida Keys Cook Off and although it was stressful cooking in a professional kitchen under the ever watchful eye of the clock. It was crazy, mad fun!
24 Canadian Foodie Bloggers, 2 Recipes, 1 Winner
The prize? The winner gets a trip to sunny Key West Florida.
But, more importantly? The winner gets bragging rights and the title "Honorary Florida Keys Chef"!
Competition was stiff. Some of the participants were really serious and there was a bit of cut throat action happening when limes started disappearing from our station! All in all, good times and a lot of laughs were had by all competitors!
We were judged by Key West food experts including Chef Bobby Stoky from Sundowners Restaurant in Key Largo Florida.
Look closely in the recap video and you can see me in the burgundy t-shirt wandering around in the background of the kitchen!
How did I do?
I didn't burn down the kitchen, or cut myself with a knife so that's great news but sadly, I didn't win.
I did swoon when Chef Bobby called me a "rock star" and I learned how to cook 2 amazing recipes!
Here are the recipes.
Recipe 1: Florida Keys Onion-Encrusted Yellowtail with Mango Salsa
Yellowtail snapper, hog snapper, mutton snapper, grouper and dolphin or mahi-mahi are just a few of the Keys' scale fish preferred by chefs. At restaurants throughout the island chain, diners can find sautéed yellowtail or snapper with a variety of sauces and accompaniments.
Yellowtail is a Florida favourite. For this recipe's crispy crust, Chef Bobby Stoky fries up homemade onion rings and uses Panko breadcrumbs. These crumbs are from bread without crust and soak up less oil in the cooking process. The result? A far crispier, lighter crust. The Key limes and mango give this dish a tropical feel.
Course: Main dish
Servings: 1
Prep Time: 30 minutes
Cook Time: 10-12 minutes
Key Lime Butter (prepare in advance)
• 1.5 Key Limes (juiced)
• ¼ Stick of Butter
• 15 ml Coconut Milk
Melt butter over medium heat, add coconut milk, and key lime juice.
Remove from heat and let rest at room temperature.
Main Dish
• 1 Filet (6-8 ounces)
• ¼ Large Yellow Onion (sliced thin for onion rings)
• 30 ml Panko Bread Crumbs
• 89 ml Flour
• ¼ tablespoon Blackening Spice
• 1 Egg (beaten)
• Vegetable Oil (for frying)
In a large, deep sauté pan or fryer, preheat enough vegetable oil to cover onions. Heat oil to approximately 350°. In a medium bowl place 1 cup flour and blackening spice. Toss sliced onions in flour mixture and lightly shake off any excess flour. Place dusted onion rings into hot oil, and fry for 4-5 minutes, stirring occasionally, until dark brown. Remove onions from the oil, and place on paper towels.
Allow onion rings to cool to room temperature, then using a kitchen knife or a food processor, chop onion rings until they are about the size of the panko breadcrumbs. Place them into a medium bowl with panko crumbs, and mix well.
Dredge filets through remaining flour, then through the beaten eggs, and then press the filets into the onion/bread crumb mixture.
Preheat oven to 350F. Place a large sauté pan on the stove and add enough oil to just coat the bottom of the pan. Make sure oil is hot! Place battered filet into the sauté pan and sauté over medium high heat for 2-3 minutes per side, or until onion crust is lightly browned. Remove filets from pan and place onto an ovenproof dish. Place dish into preheated oven and cook until the filet is white throughout, approx. 4-5 minutes. Remove filet from oven.
Top with Key Lime Butter and Mango Salsa, and enjoy!
Mango Salsa
• ¼ ripe Mango (diced)
• ¼ Green Pepper (diced)
• 1/8 Red Onion (diced)
• 1 Key Lime (juiced)
• ½ tablespoon Cilantro (chopped)
• Salt and Pepper to taste
Place chopped fruits, vegetables and herbs into a medium sized bowl. Add lime juice, salt and pepper to taste.
---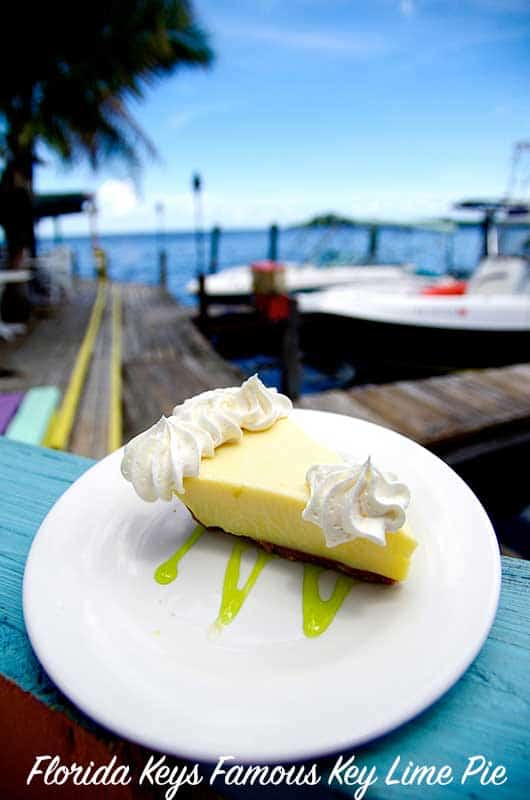 Recipe 2: Florida Keys Famous Key Lime Pie
Ingredients:
• One 9-inch (23 cm) graham cracker pie crust
• 2 300 ml cans sweetened condensed milk
• 5 egg yolks (The egg whites can be saved to make a meringue topping, if desired. See meringue recipe below.)
• 100 ml of Key Lime juice
Blend milk and egg yolks at slow speed until smooth.
Add Key Lime juice and finish blending.
Pour into piecrust.
Bake in preheated 300°F (150°C) oven for 15 minutes.
(Optional) Start preparing meringue recipe below.
Cool pie 20 minutes before refrigerating.
Serve chilled Key Lime pie with whipped cream topping or meringue.
Meringue (Optional):
• 5 egg whites
• 5 tablespoons sugar
• Pinch of cream of tartar
• 1 teaspoon vanilla
Beat egg whites, sugar and vanilla at high speed.
Add cream of tartar.
Continue beating until whites are stiff.
Use a spoon to top pie with meringue.
Bake for an additional 10 minutes.
For more Florida Keys recipes check out the Keys site: http://www.fla-keys.com/florida-keys-recipes/
Hope you enjoy the recipes and give them a try, I'd love to hear how they turn out!
Recipes and photos courtesy of Chef Bobby Stoky and The Florida Keys
Looking for more Key West articles? Read:
– A One Day Key West Florida No Holds Barred Adventure!
– Tranquillity at Hawks Cay Resort Duck Key Florida
Looking for excursions in Key West? Check out: