Walking into the entranceway of the Maggie Oakes Brasserie in Old Montreal Quebec from our suite at the Hotel William Gray next door I knew that THIS was going to be my favourite restaurant during our visit to the city.
Read on and learn more about Old Port Maggie Oakes Restaurant in this review – I warn you the photos are drool-worthy.
Read our hotel review: Hotel William Gray – An Upscale Boutique Hotel in Old Montreal Quebec.
My travelling companion laughed out loud at the sight of my eyes wide as saucers and my big grin as I stood there like a kid at a toy store, drooling all over the glass room of dry-aged beef — good eats were on the menu!
The restaurant with elegant décor is large with a full-length bar on one side of the restaurant and a large outdoor patio at the main entrance facing Place Jacques-Cartier in Old Port Montreal.
Pro Travel Tip:
Both the full-length bar and the outdoor patio make for perfect spots for cocktails.
Hotel William Gray also has a rooftop bar with a lovely view of Place Jacques-Cartier down below.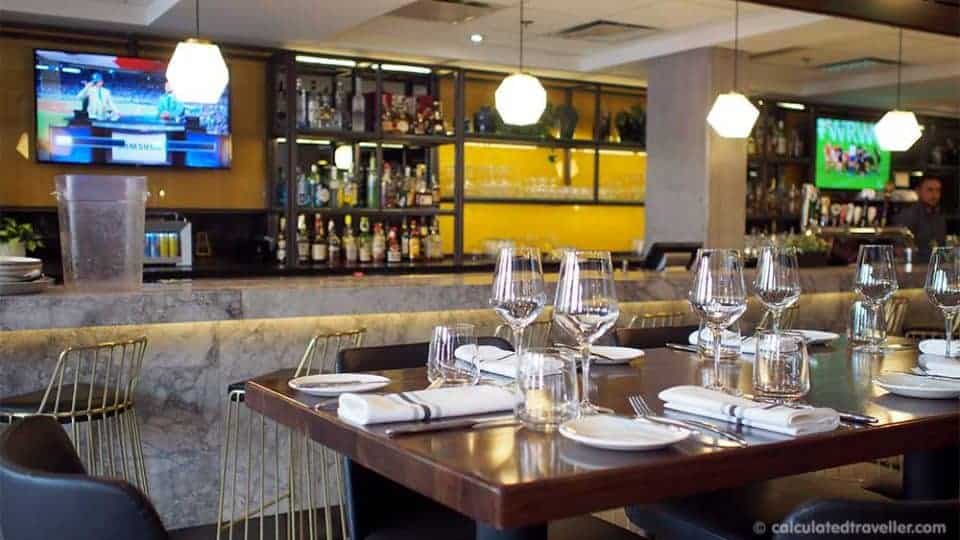 One especially eye-catching piece of décor is the living micro-green garden on the wall. We watched one of the chefs harvesting fresh greens one morning, so it isn't just for looks. Stunning and practical, if you have a green thumb and the room, I think this would look stunning on the wall of a kitchen at home.
Now, back to the food…
Maggie Oakes menu features fresh delights and adds some French classic twists to modern fare. As should be expected, grilled meats feature heavily, but there is plenty from the garden for those guests who don't eat red meat. There is also a raw bar with oysters, shrimp, crab, and lobster.
Here's what we ate at the Maggie Oakes Brasserie during our stay at the William Gray Hotel.
Maggie Oakes Brunch – a breakfast in Montreal old port
The Terroir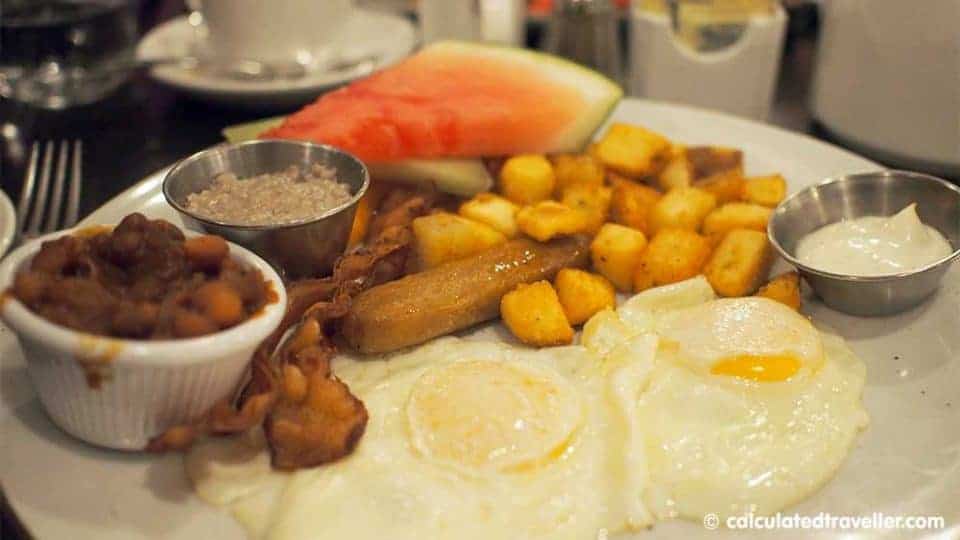 Two eggs, bacon, sausage, baked beans, roasted potatoes, creton, fresh fruit, toast and homemade jam.
Definitely, try the French Canadian classic "creton"; freshly made in-house it's a spiced pork blend that you spread on toast like liverwurst or paté.
Lobster Toast
Decadent and rich French toast – the bread is dipped in egg, grilled and topped with a fried egg, lobster, seared mushrooms and hollandaise sauce.
Maggie Oakes Dinner in Old Montreal Quebec
Charcuterie Platter
A perfect starter if you are looking for something to share
Beautifully presented on a wooden platter, Maggie Oakes charcuterie platter features prosciutto, soppressata, and copa
Rack of Lamb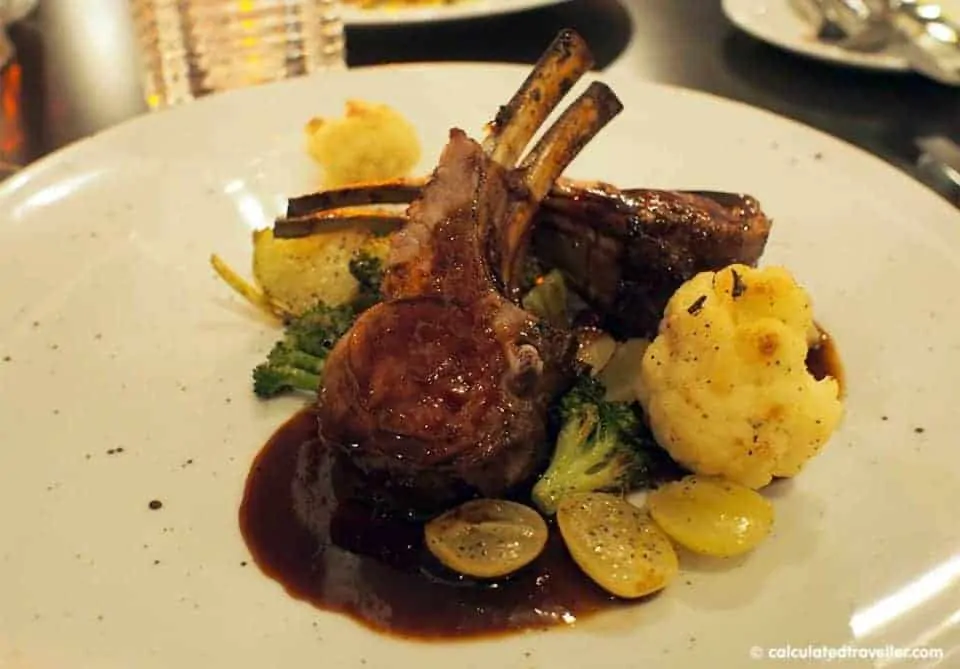 Perfectly grilled and served with sautéed kohlrabi, broccoli, green grapes, and a sumac sauce
The rack of lamb was delicious
Arctic Char
Served with red quinoa, acorn squash, sautéed green beans, fennel and sopressata salad
Passion-Mango Tartlet for dessert
Passion fruit crémeaux, mango, pineapple, lime and vanilla salsa
I highly recommend the charcuterie platter and of course, if you love red meat, then this is the place to eat it since it's one of their specialities.
Portions are significant (between 16-ounces and 32-ounces) and are perfect for sharing as long as you both love your meat cooked the same way.
Featuring AAA Canadian beef cuts, Maggie Oakes dry ages their beef in-house for a minimum of 35 days before grilling.
Unfortunately for us, I prefer my steak on the rare side, and my travelling companion prefers her steak well, so sharing a steak wouldn't have worked out. As a result, we opted to order individual selections from the menu.
I do wish they had smaller portions, but that's okay. It just means that I need to return to Maggie Oakes again with husband Ray and I will be looking forward to ordering the 32-ounce porterhouse steak for 2 next time!
As you can see, we dined at the Maggie Oakes for both breakfast and dinner and found the service and food to be top-notch. Maggie Oakes menu combines French Canadian classics with modern bistro flair and is a great upscale place to dine in Old Montreal Quebec.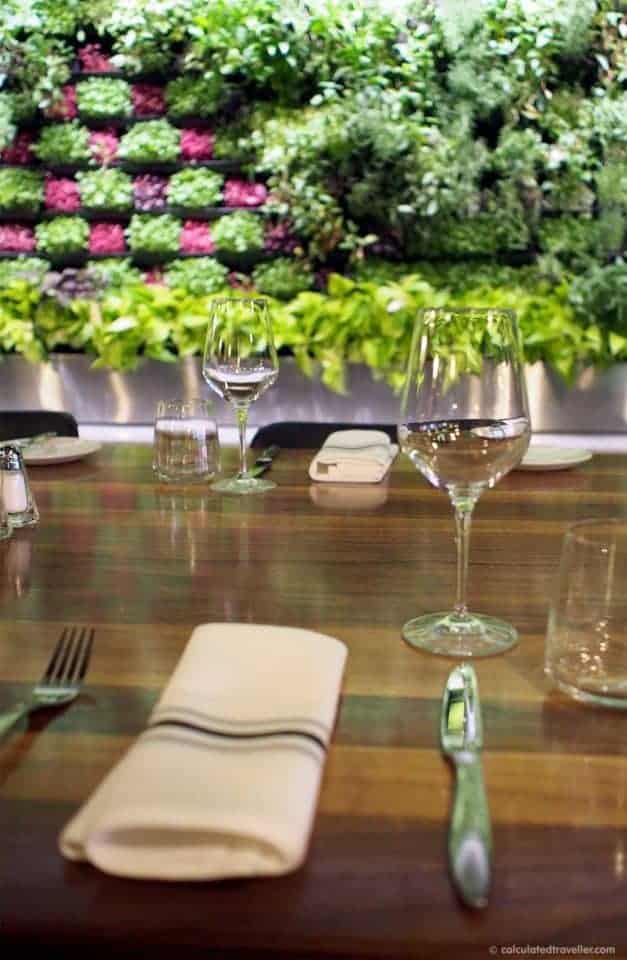 Maggie Oakes Brasserie
426 Place Jacques-Cartier, Montréal, Québec
Have you experienced Restaurant Maggie Oakes in Old Montreal? What did you have from the menu?
Read more reviews of the Maggie Oakes Brasserie on TripAdvisor
Read these related articles:
For tours in Montreal: