San Diego is a fantastic city all on its own, with all kinds of activities for you to fill multiple days exploring. It's "America's Finest City" for a reason, after all.
But San Diego is also an excellent base for some terrific weekend getaways and day trips away from the city to see the best that Southern California has to offer.
Here are 10 San Diego weekend getaways to suit any adventure!
---
1. Los Angeles Day Trip from San Diego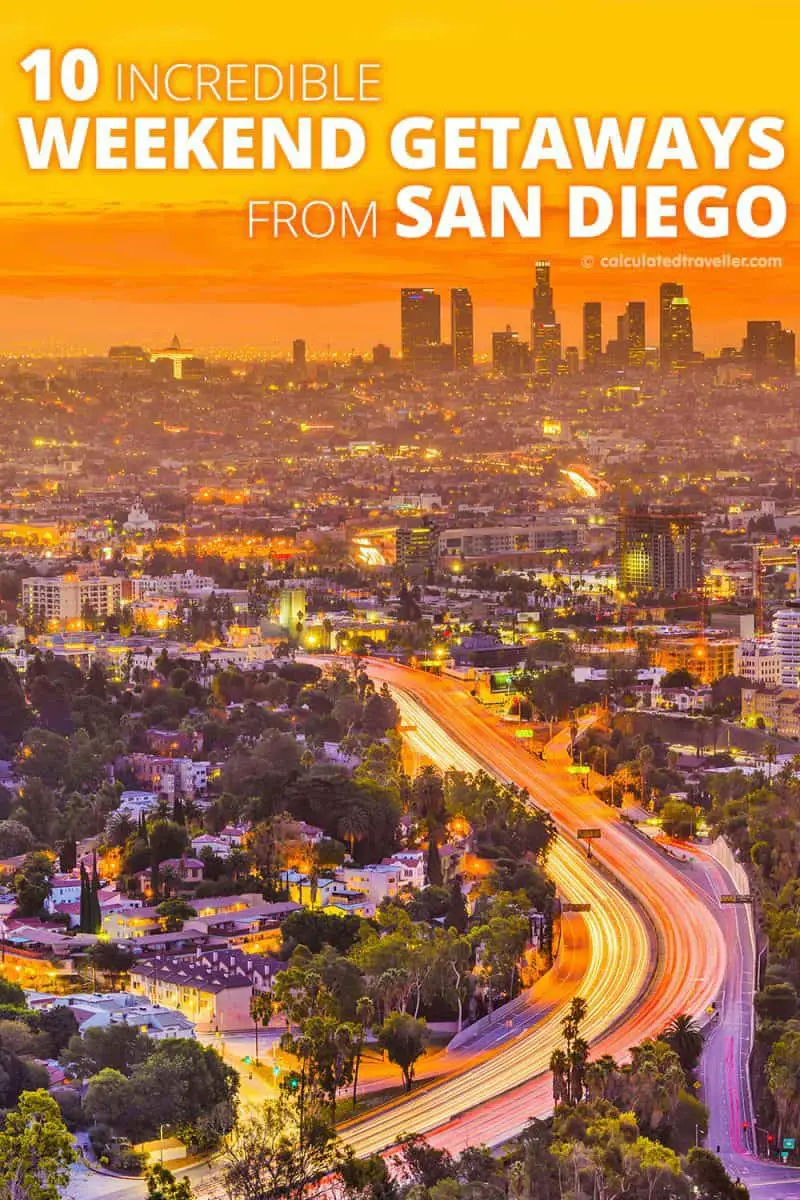 Los Angeles can be a good day trip from San Diego if you're short on time, but extending your time there to a weekend will allow you to see more of the city, conquer more neighbourhoods, and spend less time in the car fitting in everything you want to see.
If you've never been to Los Angeles, do all of the things tourists do on their first time. There's a reason Hollywood's Walk of Fame, hitting the beaches of Malibu, Venice Beach and Santa Monica, window shopping in Beverly Hills, and getting your photo with the backdrop of the Hollywood sign are on most people's to-do lists.
These activities are all fun.
But if you have more time, you're able to get a better idea of what makes Los Angeles unique in terms of people's experiences there. Explore neighbourhoods off the beaten path, and sample some of the ethnic cuisines that make the city so diverse.
It can take as a two-hour drive to get to Los Angeles from San Diego without traffic, but as that's unlikely, expect the road trip to take about three hours. Traffic getting up to Los Angeles – and, frankly, getting around the city – is notoriously slow.
Check out our review of the Hilton Anaheim California if you are in need of a hotel that is walking distance to the theme parks.
2. San Diego Day Trip to Borrego Springs
In less than two hours, outdoor enthusiasts can explore the Colorado Desert landscapes and at times quirky sights of Anza-Borrego Desert State Park with a weekend in Borrego Springs.
The state park has several trails to allow hikers to explore slot canyons and oases that don't seem real in this part of the state. If you time things right and get to the park around wildflower season, the scene is even more spectacular, all purples and yellows and whites as the desert blooms carpet the desert floor.
Once you're done, don't miss out on the metal sculptures of Borrego Springs. That's where the quirk comes in. There are raptors and camels and a giant serpent, to name a few of the more than 100 metal beasts that stalk the desert. They're great props for some fun photography, too.
3. San Diego Weekend Trip to Sequoia National Park
Sequoia National Park and neighbouring Kings Canyon National Park are both doable for a long weekend away from San Diego, and perfect for those looking for extensive hiking opportunities in the southern Sierras.
Depending on where you're headed within the parks, the drive up will take you between 5-6 hours. But it's well worth it to see some of the most massive trees in the world, the giant sequoias, which include the well-known General Sherman Tree.
Visit this land of giants for as long as you're able, but a weekend trip will give you a good taste of a very different landscape than San Diego. Travellers looking to extend their weekend will find themselves well-situated to continue on north to Yosemite National Park.
4. San Diego Road Trip to Santa Barbara
Santa Barbara is the perfect San Diego getaway for travellers looking for a little bit of everything. The coastal city is popular with foodies looking for California cuisine, museum-hoppers interested in the region's colonial heritage, and wine lovers who want easy access to the state's best wines on its urban wine trail and in the valleys beyond.
The drive up to Santa Barbara from San Diego is about three-and-a-half hours. If you have more time, Santa Ynez Valley just north is well-known for its wine tastings. Ojai to the east is perfect for art lovers, with numerous galleries and boutiques catering to artists.
5. Laguna Beach Day Trip from San Diego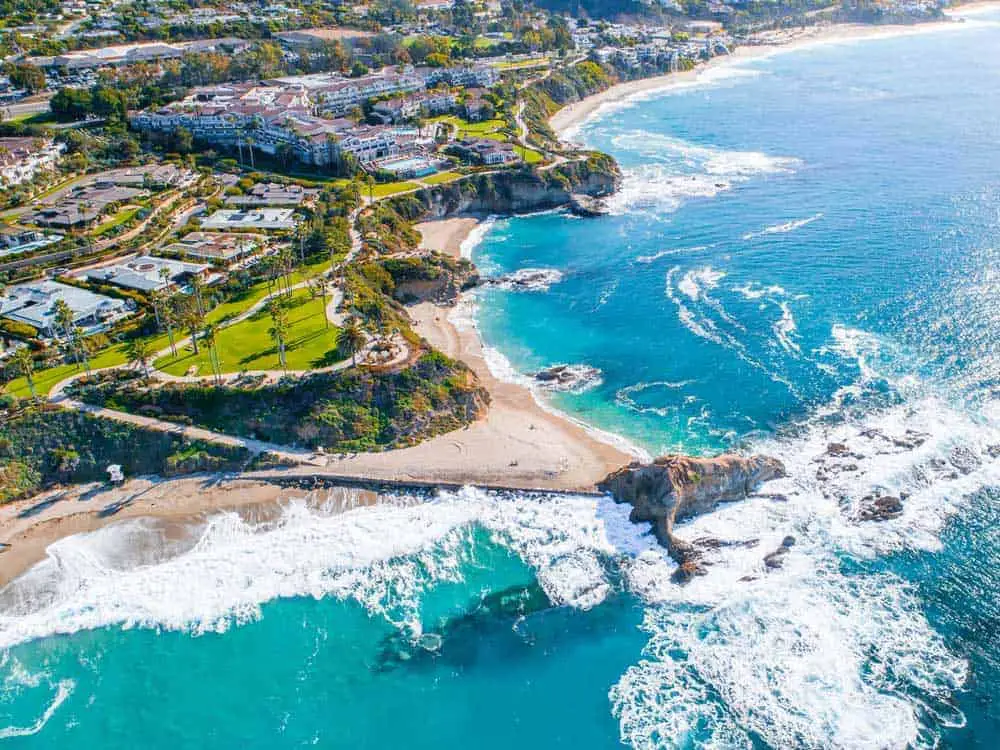 While you're there, the city's vast, sandy beaches are a must for lounging and popular with surfers. If you're looking to stretch your legs a bit, Laguna Beach is also known for its coves, sea caves and tide pools, accessible by foot or by kayak if you're into water sports. Laguna Coast Wilderness Park is home to more than 40 trails at all levels for hiking enthusiasts. Don't miss out on the artist offerings while you're there, too; Laguna Beach is known for its art scene.
With little to no traffic, the drive to Laguna Beach should take just under an hour-and-a-half, leaving plenty of time for you to see the best of this beach city.
Looking for more California beaches?
Check out our article: California Beach Destinations to Visit Today
6. Weekend Getaway from San Diego to San Luis Obispo
San Luis Obispo is referred to as SLO CAL for a reason. The vibes here are a little bit slower, with a focus on sustainability thanks to the bounty of fresh goodies on the city's menus and the city's cultural heritage.
Explore both on Higuera Street, the heart of San Luis Obispo's downtown and mission-style architecture.
If you have even more time, the greater region of San Luis Obispo County offers enough to fill a week with beautiful coastal vistas in Cambria and Morro Bay, the beach scene of Pismo Beach. Other options include wine tastings and luxe spa retreats in Paso Robles and Edna Valley.
The drive up to the central coast city of San Luis Obispo will take you around five hours if you're lucky with traffic.
Check out these related articles in SLO CAL
7. San Diego Getaway to Palm Springs
Palm Springs is my destination of choice for San Diegans looking for a relaxing escape. The desert resort city is home to numerous spas, luxe hotels, boutique shopping, and golf opportunities if you're looking to work on your golf game. That also makes it a well-known destination for romantic weekend getaways.
Once you're done with spa time, experience the Coachella Valley from above with a ride on the Palm Springs Aerial Tramway the world's largest rotating tram. Once you're at the top, you'll be able to access several trails to explore Mt. San Jacinto State Park if you're looking for hiking opportunities or enjoy the views, and an ice cream cone from the eateries and vista points up there.
The drive up will take you about two-and-a-half hours. Those looking to add to the weekend will also be within an hour's drive of Idyllwild, which offers small-town vibes and completely different forest and mountain landscapes than those in the desert.
8. Road Trip from San Diego to Death Valley National Park
Death Valley National Park is often a pleasant surprise for visitors who aren't expecting as diverse a landscape. In addition to vast expanses of desert, you'll also be treated to miles of salt flats, giant sand dunes, unique rock formations, and colourful canyons, all in one of the hottest and driest places on Earth.
The drive up to Death Valley from San Diego is about five hours. The park is best experienced in the winter months, and ill-advised in the summertime when temperatures climb well beyond 100 degrees Fahrenheit. Visiting in the winter will allow you to see the park on your feet, as many of its best features are reached on foot via hiking trails.
9. Island Getaway from San Diego to Catalina Island
Santa Catalina Island, or put more simply, Catalina, is a popular weekend trip for those looking for an island getaway that doesn't involve boarding a plane. Ferries to Catalina are accessible from many ferry points just a short drive away from San Diego. Newport Beach, Dana Point, Long Beach and San Pedro all offer ferry access to Catalina.
Once you're there, most visitors will hightail it to one of two spots, the resort town of Two Harbors or the city of Avalon, which boasts a casino. It's not the kind of casino with slot machines and card tables; it's a theatre and a landmark on the island.
The more adventurous may enjoy extending their trip to visit the five islands that makeup Channel Islands National Park, a cluster of islands north of Catalina that are accessible via ferries that leave from Ventura or Oxnard.
10. San Diego Day Trip Adventure to Joshua Tree National Park
Joshua Tree National Park is known for those twisted Joshua trees that dot its landscapes but if you look deeper, and you'll find hiking trails at all levels weaving you through the valley below and up to vistas above. Rock climbers will love opportunities to test out their bouldering skills, as Joshua Tree is very popular with climbers.
If you're looking to get away from the city, it's perfect for that, too. The star-gazing here is truly out of this world.
The drive to Joshua Tree will take about three hours from San Diego. Travel tips to Joshua Tree revolve around weather; it's best enjoyed in the spring and fall when desert temperatures are most bearable.
This list only scratches the surface of San Diego weekend getaway possibilities for those looking to escape the city. What are your favourites?
---
Agnes is a travel and humour blogger behind Travel on the Reg, a blog for regular people looking to travel in a regular fashion. A native Chicagoan, she currently lives in San Diego with her husband and dog Kimmy Kibbler where the weather is much more agreeable for outdoor adventures.