Paso Robles is wine country at its best. Located halfway between San Francisco and Los Angeles and nestled along the central coastal mountains of San Luis Obispo county California is where you'll find this sprawling wine region. Paso Robles meaning "Pass of the oaks" has a unique climate and topography that make the area ideal for wine-making. Because of its distinctiveness, it has become the fastest growing wine country in California and is home to over 200 wineries.
Visitors to Paso Robles will find award-winning wines and world-class wineries. While varieties vary in this region, the most produced wines are Cabernet Sauvignon, Merlot, Zinfandel, Syrah (Shiraz), and Chardonnay. Visitors will also find a diverse landscape that includes mountains, rolling hills, valleys, beaches, and deserts. Notable tourist attractions in the area include the Salinas River Valley, the Pacific Ocean, the Lucia Range, and Hearst Castle.
I thoroughly enjoyed my stay in Paso Robles wine country, but as it was a short visit during a California press trip, I reached out to friends Amy, Priscilla, and Debbra for their recommendations on places to visit while in the city of Paso Robles California.
Tablas Creek Vineyard
Renowned for their Rhone-style wines, Tablas Creek Vineyard has pioneered the use of Rhone-style blends throughout California. They aim to use sustainable, biodynamic principles in their wine production and, as a result, have produced some of the best-tasting wine in Paso Robles. Located in the Santa Lucia mountains of Paso Robles, visitors to the winery can taste a selection of both the white and red varieties of these French-style wines. Visitors are also encouraged to tour the vineyard and nursery.
Tablas Creek Vineyard Tasting Room is open daily from 10 am – 5 pm.  9339 Adelaida Road, Paso Robles, California 93446.
Opolo Vineyards and the Inn at the Opolo
Located along the beautiful countryside of Paso Robles, down Vineyard Drive, you will find Opolo Vineyards. Home to award-winning wines, Opolo Vineyards boasts a relaxing atmosphere where visitors can experience wine tasting and cheese pairings or take a tour of the distillery. The Inn at the Opolo promises a luxurious stay, and the on-site restaurant provides quality fare. According to my friend Amy Hernandez from California, "Opolo has a great patio, and they make an excellent wood fire pizza. They also have great coffee liqueur at the distillery".
Opolo Vineyards is open daily 10 am -5 pm. 7110 Vineyard Drive, Paso Robles, California
Pasolivo Ranch and Tasting Room
Take a break from the wine tasting tours in Paso Robles and stop in at Pasolivo Ranch for a special treat. Here you'll find award-winning olive oil and one-of-a-kind goods. Pasolivo Ranch carries speciality food items as well as unique products for kitchen, bath, and body. Visitors to the ranch can enjoy olive oil tastings as well as tastings of vinegar, spice combinations, and condiments. If you love what you've tasted, you can join their member's club and have these speciality items sent to you. Amy is a huge fan and says, "Pasolivo Ranch is next to all the wineries and has a gorgeous tasting room. They also sell olive oil soaps and gifts. I'm a member there and have olive oil and vinegar delivered to my home!"
Pasolivo Ranch is open daily from 11 am – 5 pm. 8530 Vineyard Drive, Paso Robles, California 93466.
Tooth and Nail Winery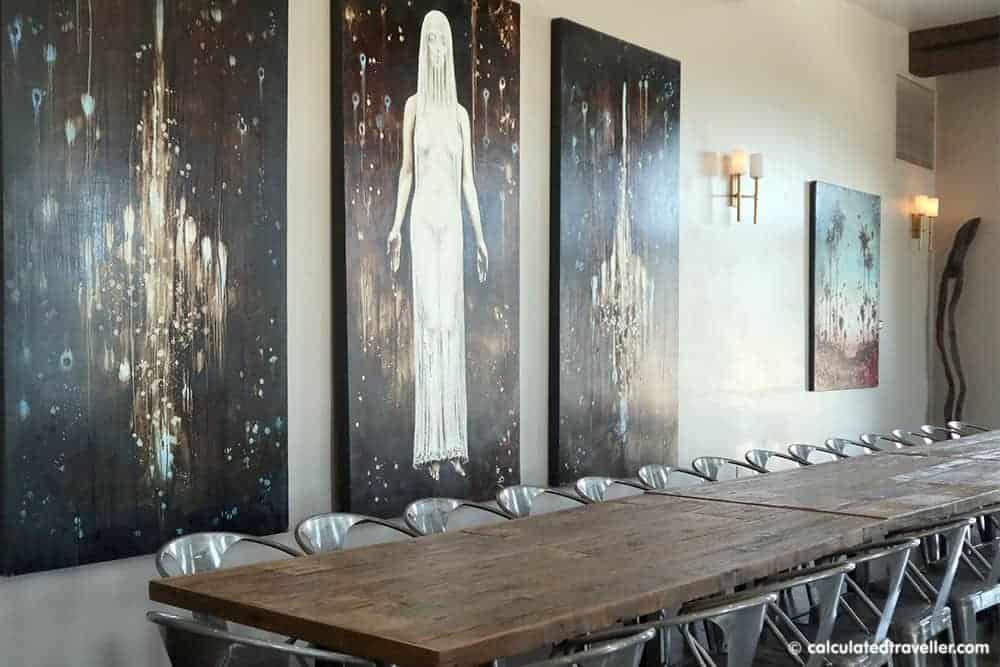 Located in a castle-like setting complete with a moat and drawbridge Tooth and Nail Winery provides a beautiful locale for their exceptional wines. Within the castle, you'll find the Rabble Wine Company tasting rooms, where visitors can experience the selections of wine that Tooth and Nail Winery has to offer. Bold flavours like the single-varietal Rabble wine and Tooth and Nail blends to the flavourful Stasis and Amor Fati brands are what make this winery unique. They incorporate historical works of art on their wine bottles that represent their brands. But the bottle art isn't just beautiful; it's also interactive. With the use of an app, the labels come to life and animate when you hold your phone over the picture. In keeping with the goth-style of the brand, original art covers the walls and is available for sale.
Rabble Wine Tasting Room is open daily from 10 am – 6 pm. 3090 Anderson Road, Highway 46 West & Anderson Road, Paso Robles, California 93446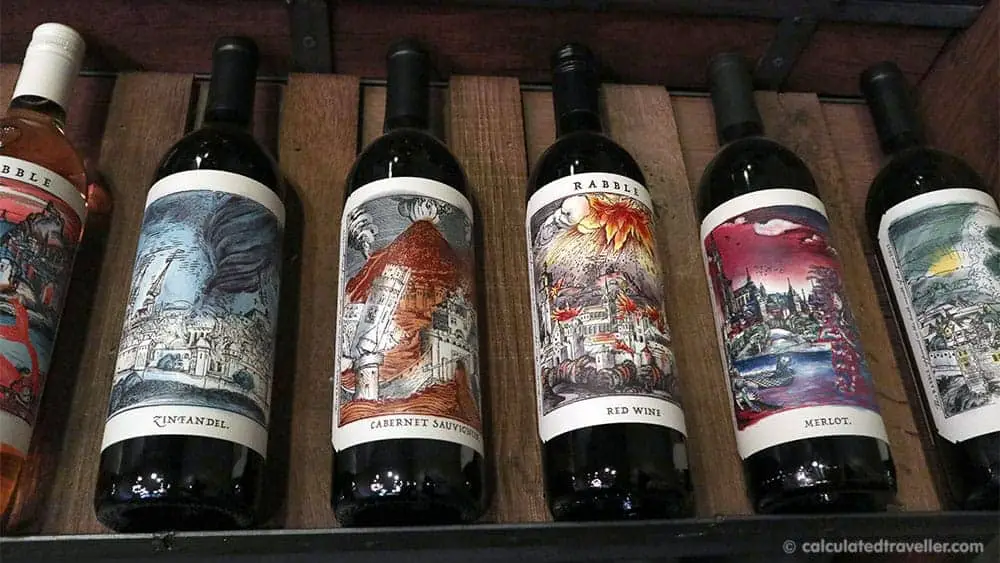 Allegretto Vineyard and Resort
Contributed by Priscilla Willis of She's Cookin'
If you're like me, a feeling of peace and well-being washes over you as you approach a winery with its gentle slopes and orderly rows of flourishing vines. Indeed, a visit to the winery tasting room at Allegretto Vineyard Resort exceeded expectations with tastings of some of Paso Robles most excellent wines while lifting me spiritually and artistically.
A joyful homage to Northern-Italian villas, Allegretto is an artful refuge where no detail has been overlooked. Enveloped by 20 acres of vineyards and olive and fruit trees, you are transported to an elegant European retreat and surrounded with incredible art and artefacts from around the world.
The tasting room exudes old world charm and, if you're lucky, John Stallcup, Allegretto's Director of Wine Hospitality, will be pouring that day. Stallcup has vast wine cred and happily shares his knowledge while you sip. Ask him anything!
The Allegretto Tasting Room's wine tasting list offers both estate and single vineyard wines from the Allegretto vineyards that surround the property and the nearby Willow Creek District. Visitors also have the unique opportunity to enjoy tastes from the region's best award-winning wines, including the 2013 and 2014 gold medal winning Willow Creek Vineyard cabernet sauvignon.
Afterwards, be sure to meander the grounds, soak up the rustic ambience, and see the incredible collection of Italian sculptures, paintings by local and European artists, religious art, and extraordinary artefacts. To complete your other-worldly experience, walk the first Sonic Labyrinth and depart with an elevated sense of relaxation and focus.
Allegretto Vineyard Resort earned a top-10 placement for resorts in Northern California in the 2018 Condé Nast Readers' Choice Awards where they received a total score of 94.16, placing it sixth among the list of fifteen winners.
Allegretto Vineyard Resort 2700 Buena Vista Dr, Paso Robles, California 93446
For a detailed resort review with lots of photos read our article.
Dunning Vineyards Estate Winery
Contributed by Debbra Dunning Brouillette, Tropical Travel Girl
Dunning Vineyards, a small estate vineyard located on the Westside of Paso Robles just 3 miles off Hwy 46 West in the "Willow Creek" AVA District, is worth a visit. I was initially interested in visiting since my maiden name is Dunning (long-lost relatives, perhaps?). After spending time at the family owned and operated winery, established in 1991, and tasting several of their award-winning wines, my interest grew beyond our sharing of a name.
Dunning Vineyards is known for producing Premium Quality highly rated Estate wines featuring Estate Zinfandel. Cabernet Franc, Meritage, Cabernet Sauvignon, Pinot Noir, Chardonnay, Petite Sirah and Grenache. Award winning Private Reserve Estate wines include Estate Chardonnay, Vin De Casa, Pinot Noir, Meritage, Cabernet Sauvignon, Ridge Top Zinfandel, Private Reserve Zinfandel, Grenache, Petite Sirah and Cabernet Franc. My personal favourite was Pinot Noir.
The vineyard consists of 16 acres of vines on 40 acres, producing limited production, award-winning Artisan wines from their secluded mountainous vineyards.  Dunning Vineyards is open for wine tastings on Friday, Saturday and Sunday from 11 a.m.-5 pm.  1953 Niderer Road, Paso Robles, California, (805) 238-4763.
You can also arrange to stay at Dunning Vineyards Guest Villa, a private one-bedroom suite overlooking the vineyard and coastal mountain views.
---
Paso Robles, California
There is so much to experience at Paso Robles in the state of California. Everyone from the discerning wine enthusiast to newbies can enjoy their visit to this beautiful wine region. Enjoy unique estate tours and wine tasting experiences throughout the area as well as great shopping and contemporary restaurants downtown.  With varied tourist attractions to visit, seasonal climates and lush landscapes, Paso Robles has something for everyone.
Looking for some wine tours to taste and explore in Paso Robles?
Travel assistance provided by Visit California. All opinions are those of the author and contributors.
Check out more in California:
– Sequoia National Park
– Gorgeous California Beach Destinations for all ages
– Hilton Anaheim Convention Center Hotel for Work and Play