The beautiful city of Victoria British Columbia can be found on the southern tip of Vancouver Island. This charming coastal town is the capital city of British Columbia Canada. After spending just a few hours in Victoria, it will be easy to see why almost four million people visit here annually. The old town feel of this small city, and the incredible range of activities make it a hotspot for tourists. Continuing reading more about Victoria and find out all the fantastic things to do in Victoria BC!
Read the article: A Local's Guide for a Perfect Weekend in Vancouver, British Columbia
Here are our suggestions for things to do in Victoria BC
Explore the Inner Harbour
This picturesque city is built around Victoria harbour, and it is definitely the beating heart of the city. Ferries from Vancouver and Seattle arrive several times a day, seaplanes are always on the move, and water taxis ferry tourists around for a view of the city from the water.
The hustle and bustle of the inner harbour make it a great place to sit and watch the world go by. Thankfully there are numerous bars and restaurants located right on the water so you can stop inside for a cold drink or a bite to eat while enjoying the views.
Afternoon Tea at The Fairmont Empress Hotel
If you are looking for an extra special way to enjoy the inner harbour, then afternoon tea at the Fairmont Empress is a must. The Empress is a stunning castle-like building overlooking the sparkling inner harbour, and it is famous for its selection of 21 loose leaf teas including their own unique blend. If you are looking for something a bit stronger, then try the purple Empress Gin that they distill, which is popular with both tourists and locals alike.
Stroll Butchart Gardens
One of the most popular things to do in Victoria is to visit the nearby Butchart Gardens, a National Historic Site of Canada steeped in history. The gardens began in 1912 when Jennie Butchart decided to cover the old limestone deposits on the family land and create something much more beautiful. After over 100 years of operation and expansion, the gardens are still run by the same family.
The Butchart Gardens offer more than 900 varieties of plants across five different gardens. These five gardens are the Sunken, Rose, Italian, Japanese and Mediterranean gardens. The gardens often host concerts, shows and fireworks display, so make sure to check for any special events they may be hosting during your visit.

Here are a few tours that might interest you:
Fan Tan Alley
Fan Tan Alley is the narrowest street in Canada and the gateway to Canada's oldest Chinatown. This tiny street is very easy to miss, so make sure you keep an eye out for the small sign that depicts its location. It runs between Fisgard Avenue and Pandora Avenue in the heart of downtown. The alley is home to many boutique clothing stores and is also where you will find the best ice cream in the entire city. Kid Sister creates delicious hand made ice-cream that you absolutely have to try when you are in Victoria.
Floating Homes of Fisherman's Wharf
A short ten-minute walk from the inner harbour will take you to Fisherman's Wharf. This wharf is home to 33 floating houses, each designed and decorated in a completely unique style. Fisherman's Wharf is also home to a few different restaurants serving locally caught, fresh seafood.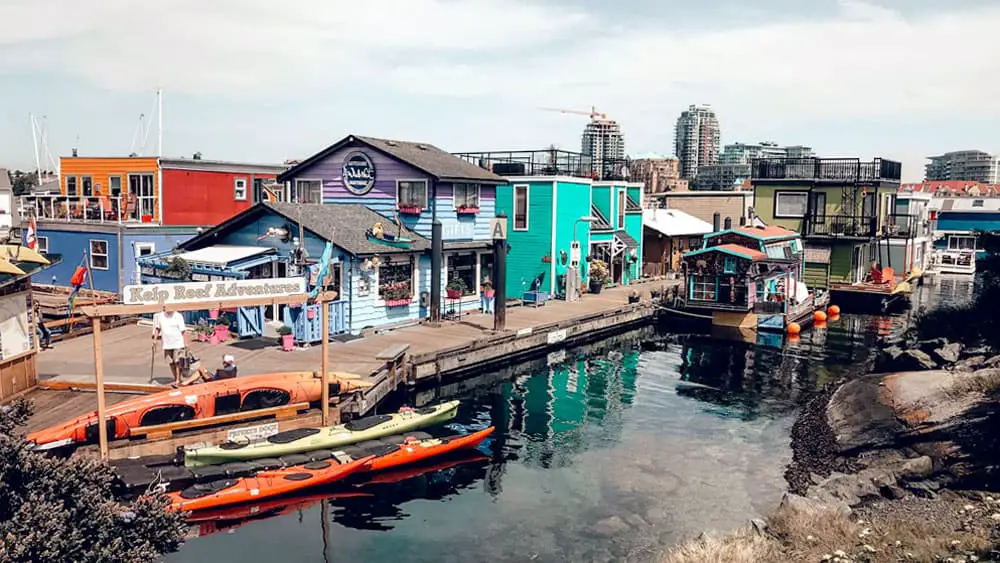 A great way to get here from the inner harbour is by taking a water taxi. The journey by water only takes a few minutes, but it is great to see the city from this perspective. While walking along the pier keep an eye out for the friendly local seals who love to come and swim near the surface of the water.
Have Brunch at Jam Café
Victoria is not short on amazing places to have brunch, but the pick of the litter has to be Jam Café. This small, rustic venue is always packed with people, so be prepared for long queues out the door. Don't let this discourage you – it is for good reason as they serve some of the best brunch food in Canada. A favourite dish is their signature Charlie Bowl, a breakfast hash of sorts with crumbled biscuits, peas, ham, sausage gravy and more.  If you want to eat here though you're going to have to get up early or be willing to wait in line.
Hike Mount Douglas
For a different view of the greater Victoria area, then head to Mount Douglas. The viewing platform at the top offers incredible 360-degree views of the entire area, and on a clear day, you can see for miles. Take in the city, the ocean and mountains from this unique viewpoint. You can drive to the top, making it easily accessible although many people choose to hike up from the bottom to earn fantastic views at the top.
Take a Craft Brewery Tour
Like many cities around Canada, Victoria British Columbia is in the midst of a boom in the craft beer industry. They have popped up all over the city, and it is now a favourite activity to spend the day hopping between the breweries and sampling all the good stuff they have to offer. Many of the breweries also operate restaurants offering tasty pub grub so you can get your fill of good food as well as good beer. There are a couple of different companies offering brewery tours, or you can rent a bike and do it yourself.

Below are some beer tours that might interest you:
Beer fan? Check out these other articles:
– Exploring the craft beer scene in Western Canada
– Toronto's Festival of Beer
– Temperance and Temptation in Durham Ontario
Go Whale Watching
The waters around Vancouver Island and the west coast are home to numerous species of whales including humpback and killer whales. Whale watching boat tours regularly leave from the inner harbour. Seeing whales in their natural habitat is truly incredible and should be on your list of things to do in Victoria British Columbia. These animals are amazing, and you can fully appreciate them while you're out in the open water from a small Zodiac boat.

Check out these great tours:
Where to Stay in Victoria, British Columbia
Victoria British Columbia is one of the prettiest Canadian cities in North America to travel with the perfect mix of historic architecture, great food and endless amazing activities. There is no shortage of things to do in Victoria, and this guide has just highlighted the very best there is. Victoria is the perfect city for a day trip, long weekend or extended holiday. There is something for everyone here, and a visit to Victoria will only leave you wanting to come back for more.
If you are exploring the area further, check out our Guide to Capilano Suspension Bridge Park in Vancouver.
---
Guest Author Luke Storey is one of the two faces behind The Coastal Campaign, a couple of twenty-something adventure travellers. The Coastal Campaign is all about exploring off-the-beaten-path destinations and, once they get there, ripping around on scooters, cliff jumping, hiking, finding amazing beaches and other epic locations.