When I was a child, my mom bought me a tea set. I remember it being very special because it wasn't plastic like the ones my friends had. Mine was white china, and it was decorated with little pink flowers, ribbons and bows and even came complete with "silverware". I hosted tea parties, as all children do, with my "stuffed" friends but served orange pop and Chinese almond cookies instead of orange pekoe and scones.
With childhood memories like this, it's a surprise that I've never experienced high tea as an adult before – on my travels or at home in Toronto.
It wasn't until my friend in travel – Sharon of Dream Travel Magazine, invited me to join her for afternoon tea at the Windsor Arms Hotel did I finally experience a traditional high tea.
There are a few places in Toronto to have high tea, but at the Windsor Arms Hotel, High Tea isn't a trend or a fad it's a tradition that they have done continuously since 1927. In fact, with two seatings per day (Afternoon and Twilight), I was told that they serve about 600 tea services per week.
Tucked down a small side street in the Yorkville area of Toronto, the Windsor Arms Hotel is a bit hidden and on the surface seems out-of-place amongst the glitz and glamour of the high-end stores along Bloor Street.
But if you are a guest of the 28-suite boutique hotel – you will beg to differ. You've entered into the élite where the photos on the walls of the corridors showcase the celebrities who have stayed here. Barbra Streisand, Frank Sinatra, Liz Taylor, Mick Jagger, Elton John and more have stayed in this boutique hotel.
The Tea Room is located on the ground floor of the hotel and consists of 3 separate rooms all decorated in different colours; white, vibrant purple and red.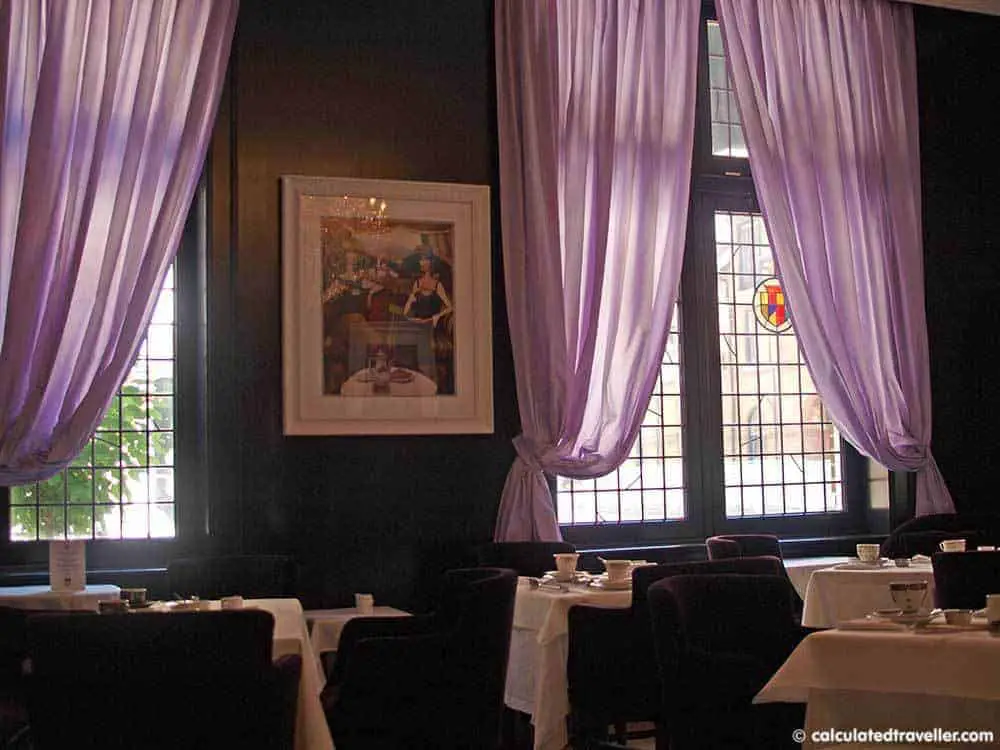 We dined in the deep purple room with its opulent sizeable white chandelier overhead and mirror over the stone fireplace. Quite a striking centrepiece indeed! As the service was about to begin, I noticed that each table had a different set of china – each teacup and teapot a different design and pattern.
On the Menu for High Tea
Fresh Scones with House Made Preserves (mixed berry and strawberry) and Devon Cream
Goat Cheese and Caramelized Shallot Tart
Tea Sandwiches:

Cucumber with Sundried Tomato Paste and Dill Cream Cheese
Smoked Salmon with Wasabi Sour Cream and Salmon Caviar
Grilled Chicken, Granny Smith Apples, Citrus Mayonnaise, Greek Yogurt and Chives

Petit Fours
There are 30+ varieties of tea to choose from.
It was a lovely afternoon I spent catching up with a Sharon on her travels and our server Nakul was delightful – with 15+ years experience in the Tea Room – he was the perfect person to suggest a tea blend for me to try based on my likes and dislikes.
The food itself was tasty and satisfying for two women. However, a man may leave hungry. With 2 of each type of sandwich and scone, it worked out perfectly except when it came time for dessert and the petit fours. We had to "fight" it out, as there was only 1 of each type.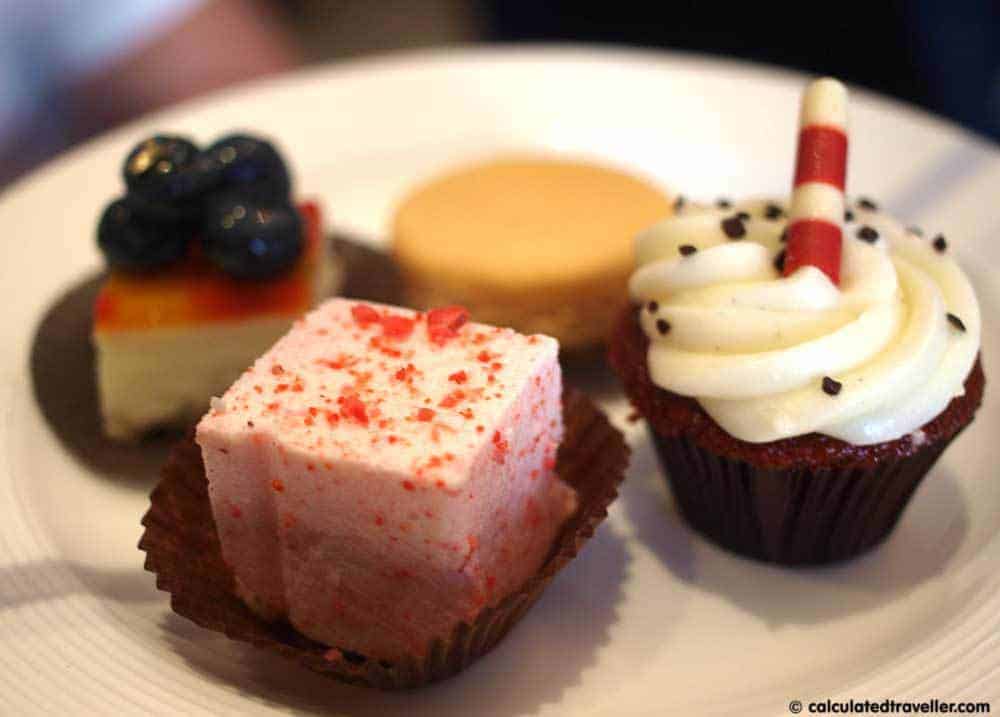 My first afternoon tea experience at the Windsor Arms Hotel was lovely, and it has encouraged me to seek out more high tea experiences the world over in cities such as London and Hong Kong.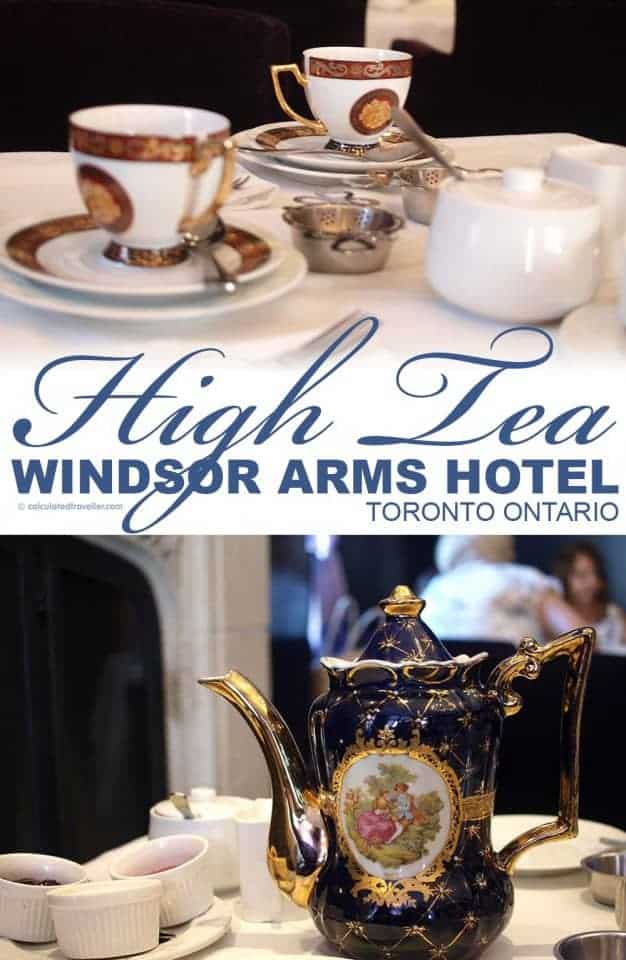 High tea when travelling to a city that you've never been to before is an especially nice treat that you'll remember for years to come.
I was a guest at the Windsor Arms Hotel. This did not affect my opinion of this experience.
Read other reviews of the Windsor Arms Hotel Tea Room on TripAdvisor.com.
For other Toronto adventures, read:
– Photo Essay: High Park Toronto Through the Seasons
– Art from Dusk to Dawn – Nuit Blanche 2013, Toronto