If you are planning a trip somewhere soon the chances are high that a visit to an airport is in your future. With more than 43,000 airports in the world and 100,000+ flights happening every day, there is zero room for error for YOU the passenger when it comes to air travel.
With that in mind, we thought that we'd share our airport and airplane travel tips and tricks with you whether you are flying first class, have a short flight, a long international flight, or are flying for the first time.
Travelling Tips and Tricks at the Airport
1. Boost your immune system
With all those people at the airport and on the plane you want to make sure that you board healthy, land healthy and stay healthy throughout your entire journey
About 1-2 weeks pre-flight we start boosting our immune system by taking probiotics, Vitamin C and Oil of Oregano. Check out this article for 4 Natural Remedies for Travel Ailments
This is a great airplane travel tip but also an ideal travel tip for any holiday adventure
2. Prepare your technology at home
Download the airline's app to your mobile device before you get to the airport
A lot of airlines have done away with the tiny TV screens built into the seat and instead offer in-flight entertainment streamed directly to your tablet, or cell phone provided that you have downloaded their app.
Check in to your flight and download your boarding pass once it becomes available
Ensure your frequent flyer miles number is linked to your ticket
3. Pack the same way every time
We are often moving from hotel to hotel, especially when we are on a road trip and found that it's easier to remember where things are in our carry-on or purse if we pack the same way every time. It's a muscle memory trick we use so that we instantly know where to find something or we know if something is missing. This method of packing saves you from wracking your brain wondering if the earplugs are in the left pocket or the right pocket.
The same goes for packing cubes if you use them (if you don't, you really should). Put the same items in each colour coded packing cube and you'll always know where everything belongs in your checked bags.
Another reason to use packing cubes is should your carry-on bag need to be inspected by security, they don't need to rummage through your bag. They can take the cube out and rescan it through the x-ray machine without opening the cube.
When it comes to packing cubes there are so many on the market and in Amazon.
These are the ones I personally own and use:

4. Wear proper pants and a jacket with pockets to the airport
Yoga pants and a sweatshirt are comfortable especially for long haul flights. A better idea would be to wear pants with pockets or at least a jacket with pockets so that you have somewhere to tuck your boarding pass, passport, mp3 player, cell phone, etc.
Also, your chances are higher of getting an upgrade to first class if you dress up a bit and look presentable to the flight attendant.
5. Don't wear a belt to the airport
A great air travel packing tip is to arrive at the airport without a belt.
You're just going to have to remove your belt when going through security anyhow and this will cause a delay.
If you must wear a belt, put it in your carry-on bag before you leave for the airport and put it on after you go through security.
6. Empty your pockets before you get to security
You are going to have to empty your pockets at security so, put everything into a zippered pocket in your jacket or carry-on bag before you even think of walking towards the security area.
7. Wear compression socks and proper footwear
If you travel carry-on only as we do, wear your heaviest shoes or boots on the plane so that your bag is lighter.
It may seem like a good idea to wear sandals or flip-flops to make it easy to remove your shoes at security but walking around barefoot is plain nasty. Also, in case of emergency on your flight, you will want to be wearing proper footwear.
Wearing compression socks when flying is good for your health. Read why here.
8. Bring an empty water bottle and pack a snack
Stay hydrated. Get to the airport with an empty bottle. Go through security and fill it at the water fountain once you arrive at your gate.
Pack a couple of cereal bars or granola bars in case of a flight delay. Shopping at the airport is expensive, and they may not have your favourite snack.
Check out the article Pack This! Eating and Drinking on the Road
9. Pack an extra collapsible bag
Our favourite collapsible bag is this Gonex backpack because it packs small and is fairly durable. It's great as a day bag around town but also is great on flights, and it's still looking brand new. It's an essential part of our travel gear.
10. Get to the airport early
If the airline recommends that you arrive 2 hours before your scheduled flight – do it. We know it's a pain but you never know if there will be delays at security and you don't want the extra stress of rushing around the airport at the last minute.
11. Fly hands-free
The more loose items you have in your hand, the more items you need to keep track of. One of my favourite traveller tips is to have all your belongings in your backpack and with roll your carry-on bag with one hand and keep your other hand free to hold your boarding pass/passport, the escalator handrail or your cup of tea.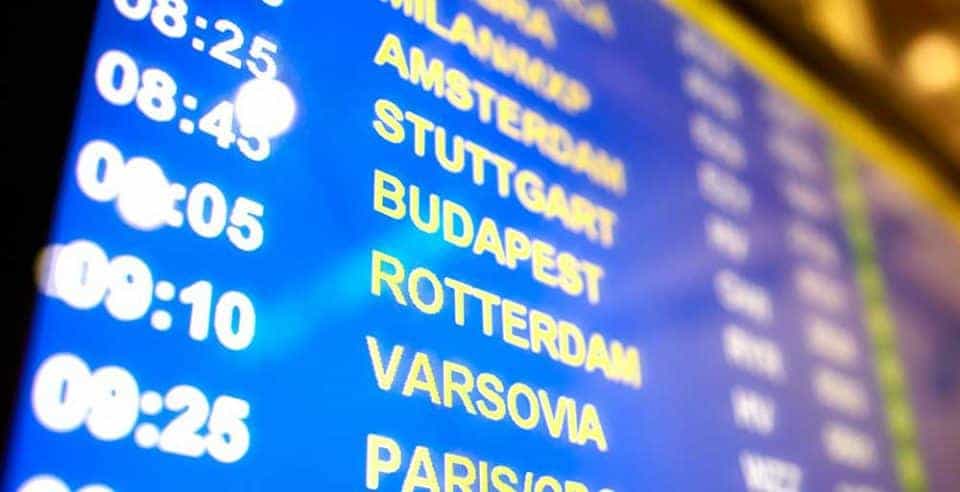 12. Find your gate
Once you pass through security, go directly to your gate before you shop duty-free. We find it's best to know where you ultimately need to be before you start wandering around wasting time. You don't want to be rushed to locate the gate later on.
Scope out where the closest restroom is to your gate.
Find a seat facing the gate agents so that you can keep watch in case of a gate change, upgrade opportunity etc.
While you are waiting, charge your electronic devices.
13. Hope for a gate check!
People always complain when the flight crew/flight attendants insist on checking your luggage at the gate because it won't fit in the overhead compartment. Me on the other hand, I welcome it because I just got a checked bag for free and saved $25! The key is to be prepared ahead of time and to have anything you'll possibly need during the flight in your "other bag" such as your backpack before you reach the gate.
Go online and look for the type of plane assigned for your flight. It often states if there is the possibility of a gate check.
14. Airplane restrooms are cramped and nasty
Use the bathroom in the airport before you board the flight, and you might be able to avoid using the onboard lavatory.
15. Disinfect your zone on the plane
The first thing we do after we stow our carry-on bags in the overhead compartment and put our backpack/purse under the seat in front of me.
Next, we disinfect anything that we will potentially touch — the armrest, any buttons, the seat belt, and the tray table. We pack travel size disinfectant wipe packs specifically for this purpose, but you can quickly grab a few from a larger container from home and carry them in a small ziplock bag.
Don't forget to wipe the headrest!
Don't put anything into the seat-back pocket — nasty because it never gets cleaned and people often put their garbage in there.
During the flight, we don't touch our face or mouth, and we disinfect our hands before eating.
Turn on the overhead air vent. It may be purely in our mind, but we feel as if it's blowing away the germs from coming near us.
16. Our final airplane travel tip — 'X' marks the spot
If a friend or family member is picking you up when you return home, have them pick you up at departures instead of arrivals. The departure area at the airport is less crowded than arrivals.
If the person that dropped you off is also returning to pick you up, use the same drop-off spot for pick up, so you won't get lost or miss each other.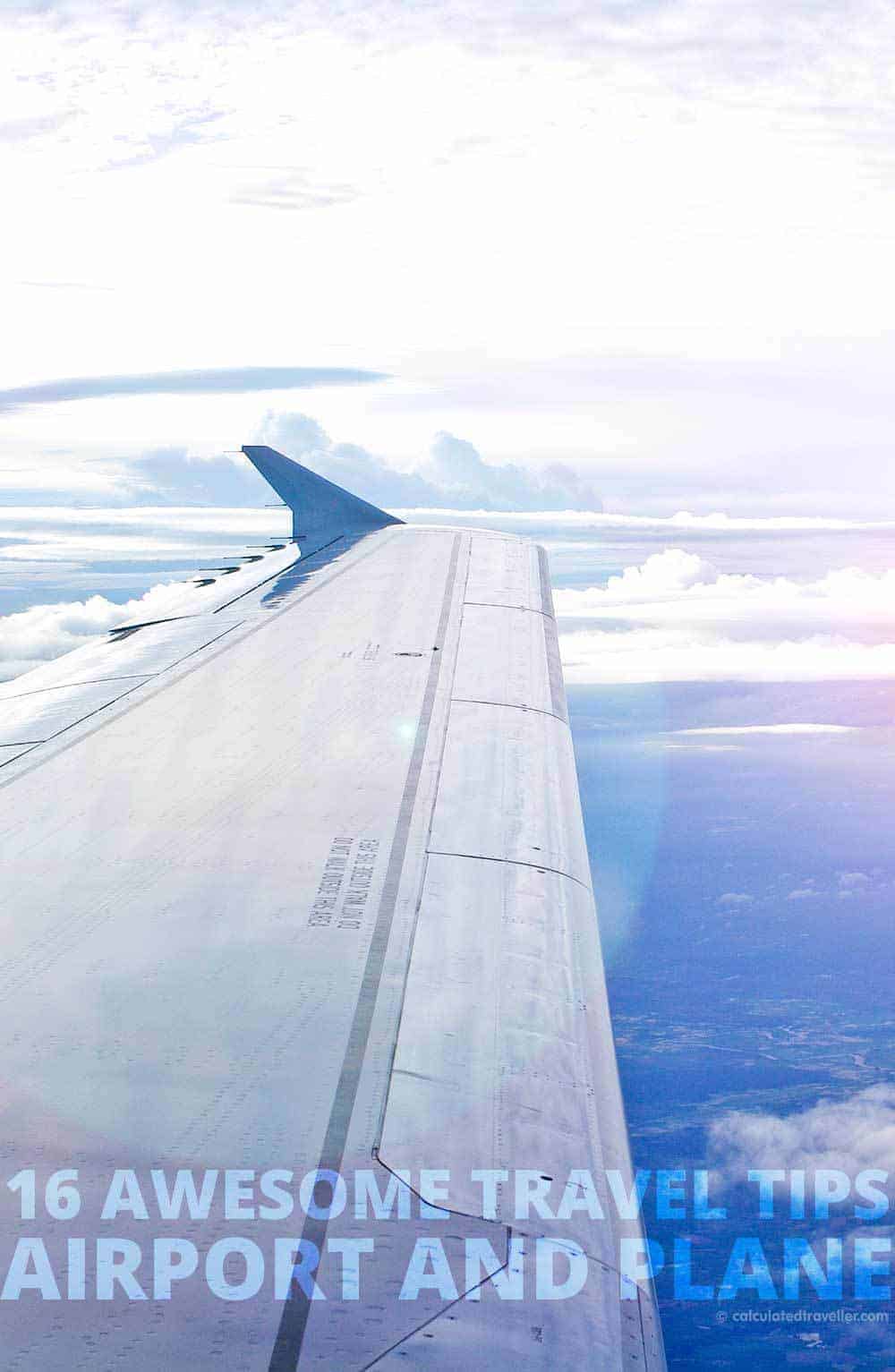 Smile! You're going on a journey! There may be delays or ticketing issues but if you stay positive and smile it will go a long way. Remember sugar is always better than vinegar if you want excellent customer service.
I hope you find these air travel tips and tricks helpful for your next trip to the airport.
Happy Travels!
Did we miss any tips for flying? Please share your airport and airplane travel tips and tricks when flying.
In case you missed it check out these other articles:
– Quick Travel Tip #3 – Book an Extra Day off Before and After a Trip
– Quick Travel Tip #9: Clean Your House Before you go on a Trip
– Tips for a 26-Hour Stopover in Doha, Qatar
– Top 10 Tips for Flying with a Toddler