You've found that fabulous travel deal and you are super excited to get away. It isn't just your normal everyday travel deal – it's a great big huge steal of deal!!
BUT
Be careful because before you know it…
BANG
It's dead.
You've killed it.
Here are 9 Easy Ways to Kill a Travel Deal
1. Drink it away
If you didn't book an all-inclusive resort holiday, a sure-fire way to kill a deal is to spend a fortune on alcoholic drinks. Those Pina Coladas and Margaritas can quickly add to the bar bill as well as your waistline!
1 frozen drink will set you back $7+ not to mention 400+ calories.
Ouch!
Next time pay a bit more and go all-inclusive, drink during happy hour when drinks are 2 for 1 or see if there is a drink package and drink a mojito instead (which has fewer calories).
2. Pre-trip shopping spree
New skiis?
New golf clubs?
New bathing suit?
New shoes?
A brand new wardrobe or brand new equipment purchased specifically for a trip is a sure-fire way to drive up the ticket price of your travel deal.
Buying a new bathing suit in December for a trip to the beach means that you'll be paying a lot more than if you bought that same suit in August at the end of season sales.
Plan ahead, buy on sale and compare the costs of renting or better yet borrow gear versus buying.
3. Not paying in full / Buying on credit
It's a great idea to pay for your trip with your credit card to gain points and other perks. In case you missed the article where I discuss this in detail: 10 Ways to Pay & Save by using a Credit Card for Travel
But, this strategy only works if you pay it off in full once the bill arrives. Once you start paying upwards of 20% interest on the balance due means that any savings you would have gained on the travel deal are now gone.
4. Taking time off work without pay
If you don't have vacation time left at work – your trip is actually costing you the ticket price plus 1 weeks salary. Is it still a deal?
5. Gamble it away at the casino
There's a reason they keep building casinos and the odds are rarely in your favour.
6. Expensive airfare
Before you book that fabulous ski package… check the prices for air to make sure that you can get to your destination inexpensively. Sometimes, it's less expensive to fly into an alternate airport or to book a packaged holiday instead.
7. Expensive excursions, show tickets / activities
Whale watching, swimming with the dolphins, Vegas show tickets, Broadway shows… they'll all add up. Look for discount tickets, last-minute deals, discount coupons or try to find a group to join to take advantage of group discounts. You can still take that amazing excursion or watch that great show – just do it wisely.
8. Transfers / limos / taxis
Limousine, taxi and transfers can be expensive. Sometimes when you are on a budget, you just got to do what you got to do in order to afford the trip. See if there is public transportation – if you are travelling carry-on only you won't be lugging around heavy luggage and you'll be able to move around with ease.
9. Buying souvenirs
Does Aunt Esther really need that thimble or spoon? How many t-shirts do you really need with a city or country name on it?
I travelled with a friend once who bought almost every tourist trinket she could find – bags of polished rocks, t-shirts and nail polish that glow fluorescent in the sun and seashells! To this day she still chastises me just because on a trip to Key West Florida I wouldn't let her buy the US dollar bill with Batman sitting in for the President!
I am not totally innocent because I do like my Starbucks "you are here" mugs but that is the only souvenir I ever buy and to justify it – I do use them everyday at home.
Don't be a travel deal killer!
The next time you grab a hold of that amazing travel deal – don't kill it! Come back home relaxed and full of great memories instead of with pocket-book regret.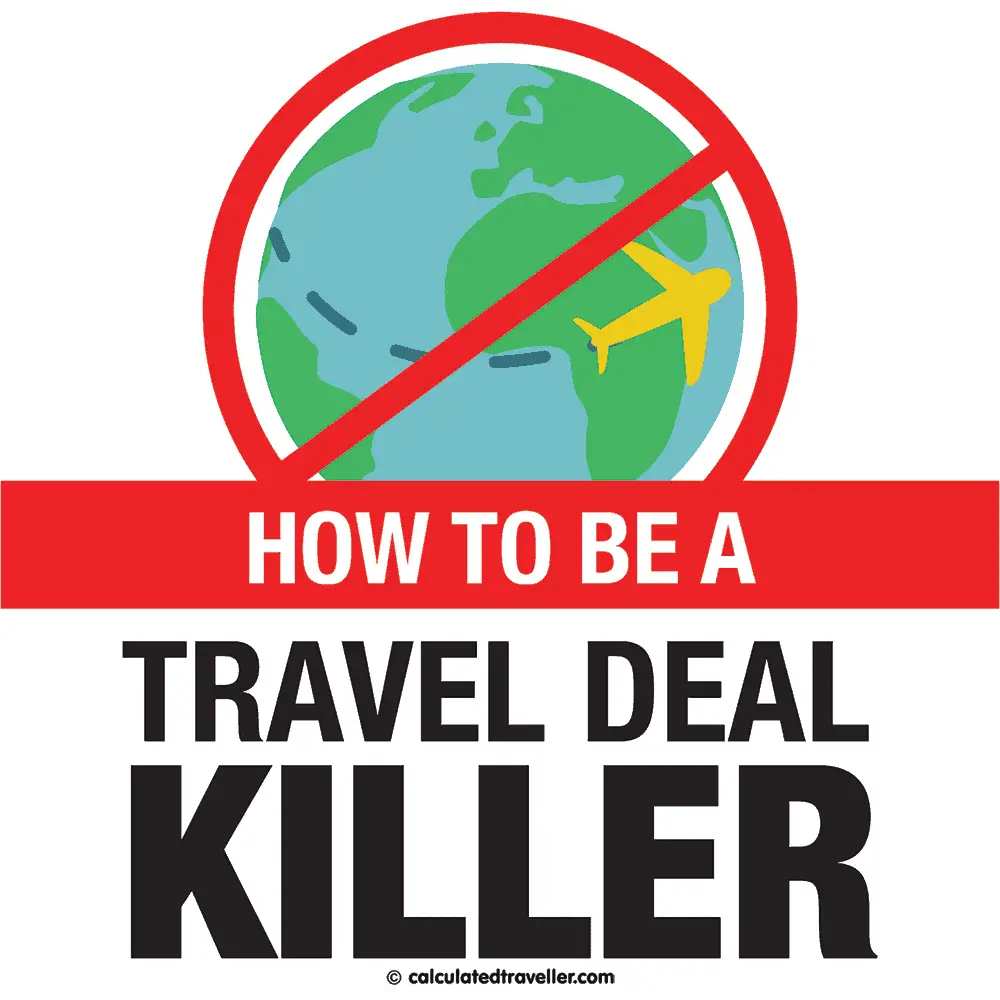 Do you have anything to add to this list?