Oak, hickory, cherry, pecan and cows are in a bar.
No, this isn't an attempt at a joke. This is what greets you in the entryway of The Rustic in Dallas Texas. All good signs that they mean smoky business when it comes to Texas barbecue.
In a large warehouse space with polished cement floors, industrial style tables, a giant bar area and a backyard concert stage this restaurant screams "Friday Night Party" spot. There are a reported 40 beers on tap, 30 of them local craft beers, as well as local spirits and wines.
Today isn't a Friday though. It's a Sunday night, and the place is packed – so much so that there was a line up at the door and there isn't even a free concert on!
TIP: Travelling through Texas? There are 2 other The Rustic locations — San Antonio and Houston
A backyard concert stage in a barbecue restaurant
Do what??
Yes, we are in Dallas Texas after all and Dallas is known for doing it BIG. They even have signs all over the city proclaiming it!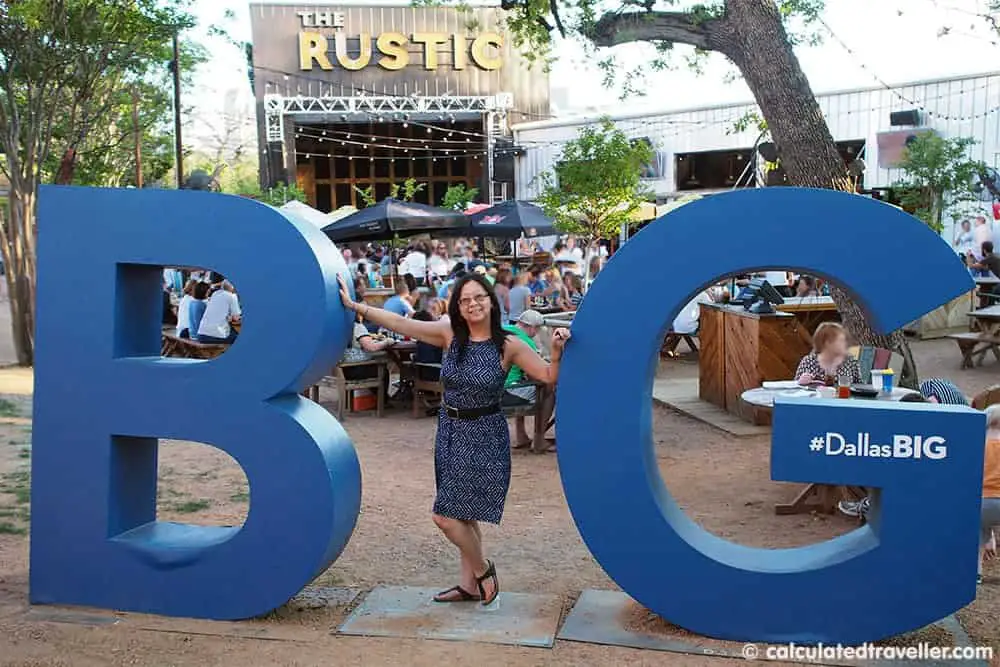 If you are a fan of country music then you'll already be familiar with one of the original The Rustic Dallas owners — Pat Green, a local Texan, regularly performs here in what they call "Pat's Backyard".
With big trees, picnic tables, fire pits and patio lanterns strung through the trees this looks like a great place to kick back, and hang out for a while.
But we aren't here for the live music show — we're here for food from The Rustic Kitchen. Everything is made daily from scratch and features Gulf seafood and local produce and local ranch-raised beef.
Here's what we ate at The Rustic Dallas Texas
The home-style meals on the Rustic Dallas menu are mostly what you would call "Tex Mex" but I say it has an authentic Texas twist to it courtesy of all the farm-to-table ingredients. (I've heard they have the best brunch in Dallas)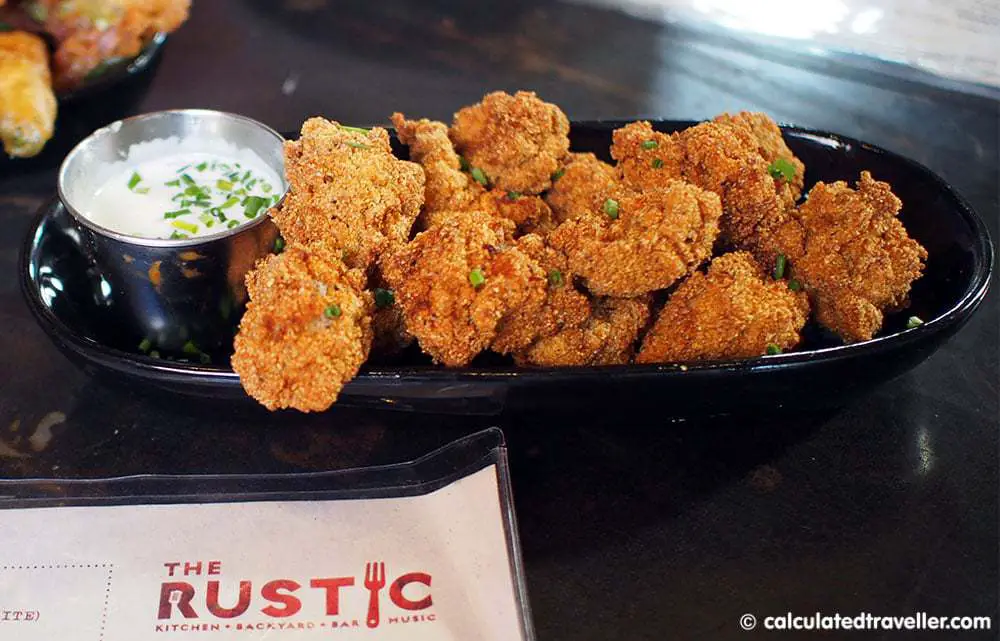 Calf Fries with Buttermilk Dip
Calf fries = bull testicles
Yep, you read that correctly.
When in Rome – or in this case Texas…. You have to do as the locals. So calf fries it is.
They were surprisingly delicious, and I'm not bull sh*tting you! AND no they didn't taste like chicken!

Cactus Fritters
Cactus – beer battered and served with red buffalo ketchup
Again, another first-time experience for me, but I wasn't a fan of the cactus fritters. The flavour was bright and fresh, but texturally it was a bit jelly-like – similar to if you had deep-fried kiwi.

4 Napkin Onion-y Rings
Pile of extra crispy rings over our signature onion-y dip
Go big or go home!
Remember when I said that Dallas does it BIG – well upon reading the description the 6 of us ordered two plates thinking "4 onion RINGS per plate". Nope. In reality, it's four whole onions per plate!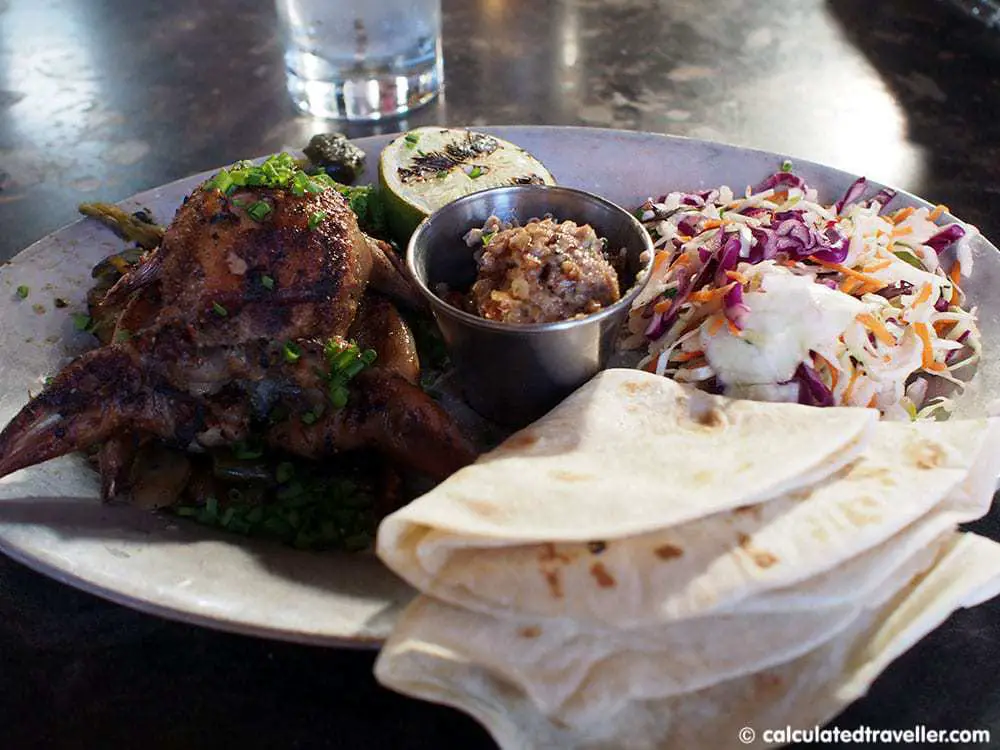 Texas Quail
Molasses brined Bandera quail served with a side of chipotle-pecan sauce, "bright slaw" (cole slaw) and tortillas
The quail was very flavorful, tasty, smoky and tender – it was fabulous.
The pecan sauce was tasty but a bit dry and not creamy as I expected since it's called a sauce. The slaw was also dry and not creamy enough for my taste.
The entire dish though was a bit confusing to eat. I wasn't sure just how to do it. Do I pull the meat off and place it on the tortilla with the sauce and coleslaw?? I apologise for my ignorance here, but I didn't have a clue.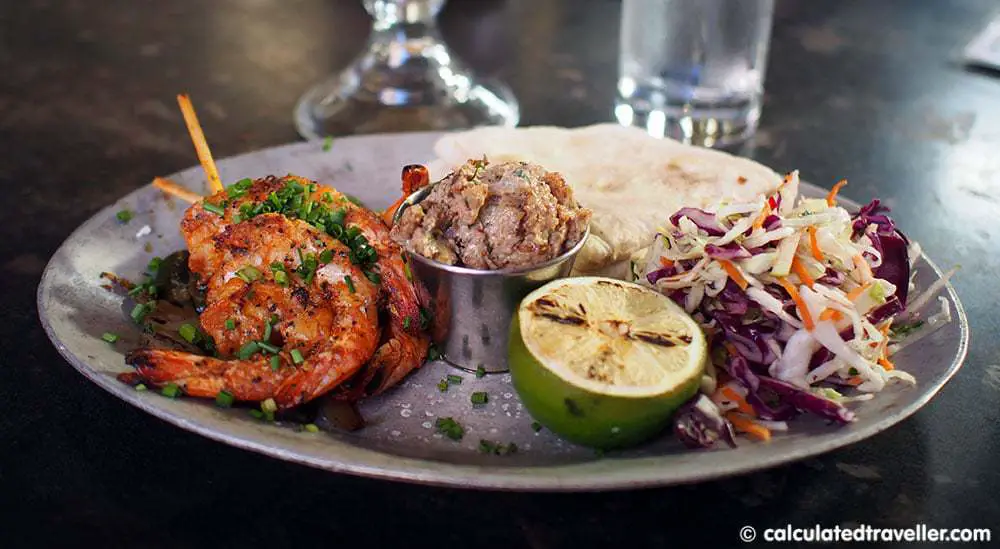 Gulf Shrimp
half-dozen large, sweet shrimp marinated with earthy achiote & fresh citrus

Wood Grilled Turkey
Texas gouda, smoked ham, slaw and apple butter on a baguette served with smoke salt chips and pickle trio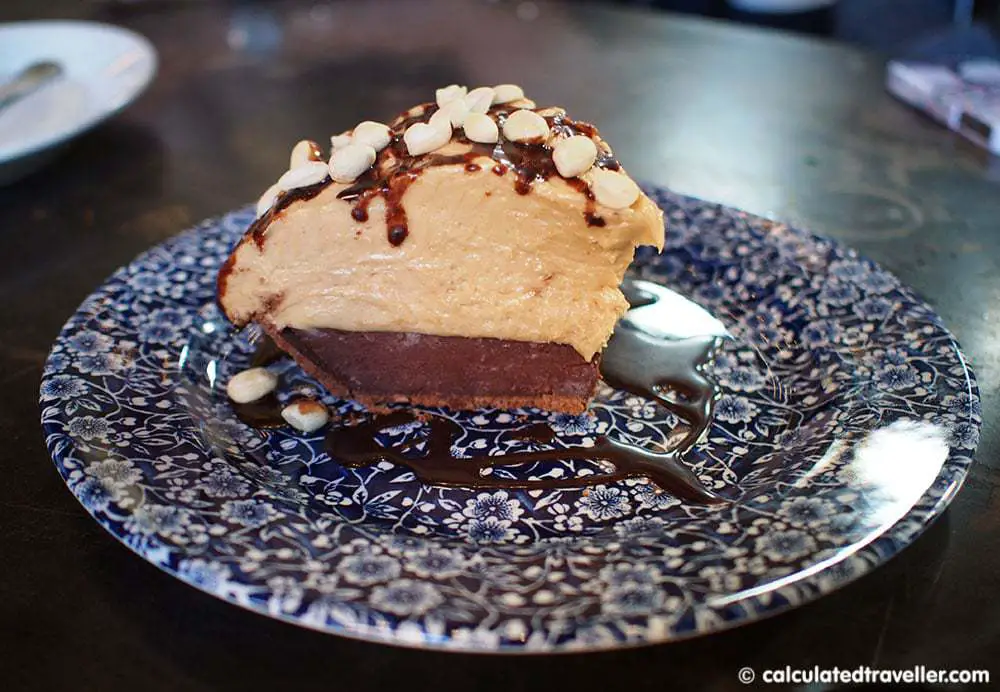 Peanut Butter Pie
Crum crust with peanut butter cream, fudge chocolate layer, Spanish peanuts and warm bittersweet chocolate sauce
Large enough to share and very satisfying
The Rustic – Kitchen – Backyard – Bar – Music Venue
Sure it was a bit loud and echoing inside, but the atmosphere is part of the ambience. I'd love to come back and sit for a while, listen to some country music under the stars, eat some more quail and have a local beer with some good friends – and that's no bull.
The Rustic Dallas
3656 Howell Street, Dallas, Texas 75204
Members of the military and uniformed police officers, firefighters and paramedics receive 25% off food, every day.
Travel assistance provided by Visit Dallas and Texas Tourism. As always, all opinions are entirely my own.
Looking for more stories near Dallas?
– Street Art Photo Essay of Deep Ellum Dallas, Texas
– Messina Hof Winery and Painting with a Twist Grapevine Texas